Coffee Gift Baskets – Coffee and Crafting Party | This shop is #sponsored by #CollectiveBias and its advertiser. The story and opinions read here are entirely my own ~ #SipIndulgence
No matter how busy life can be, I consider myself pretty lucky to know a group of girls
that are always up for a fun night of crafting.
There is nothing like taking a moment for yourself and gathering with like-minded souls
to create, make and connect.

This month we came together, not only to craft –
but to assemble some gifts to pass along to others and pay it forward. 
I love the idea of random acts of kindness and with the help of NESTLÉ® COFFEE-MATE® Liquid Coffee Creamers we are sharing our coffee love this week with our Coffee Gift Baskets in-a-jar.
All of the details for the Coffee Gift Baskets can be found below,
along with the full party set up, two simple and fun craft tutorials
and, of course, a recipe to compliment the coffee.
If you have ever thought of hosting your own crafting party, or simply thinking of paying it forward, I hope you're inspired!
The Coffee and Donut Cart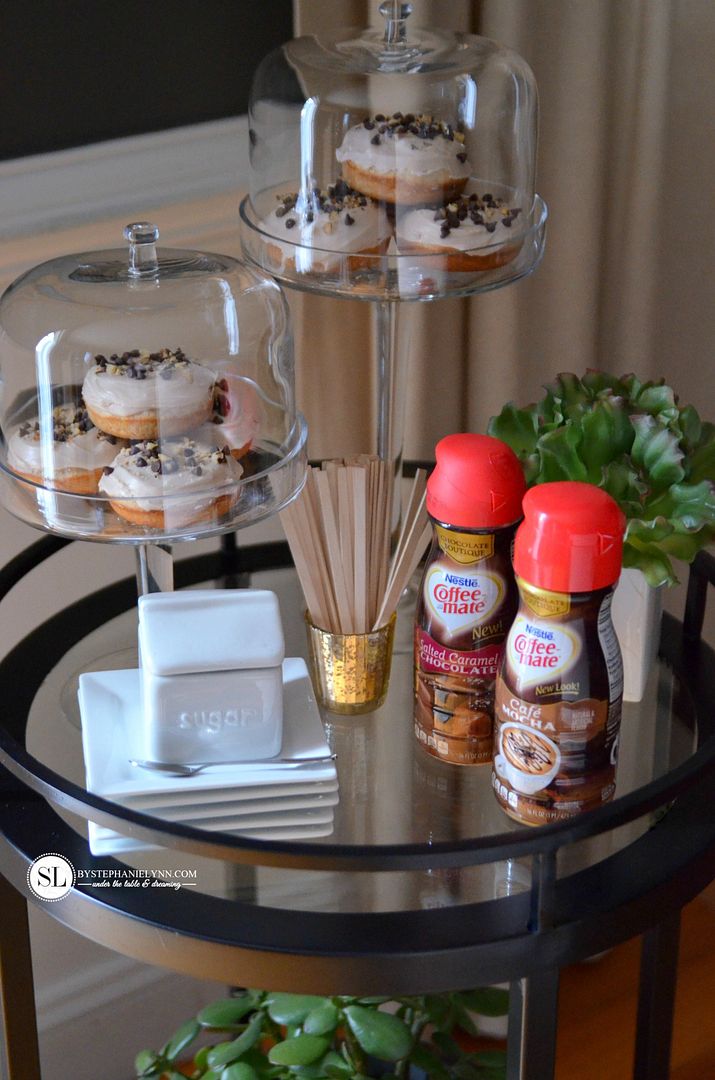 Every party needs some snacks. Keeping with our coffee theme I created a simple coffee and donut cart for our crafting soiree.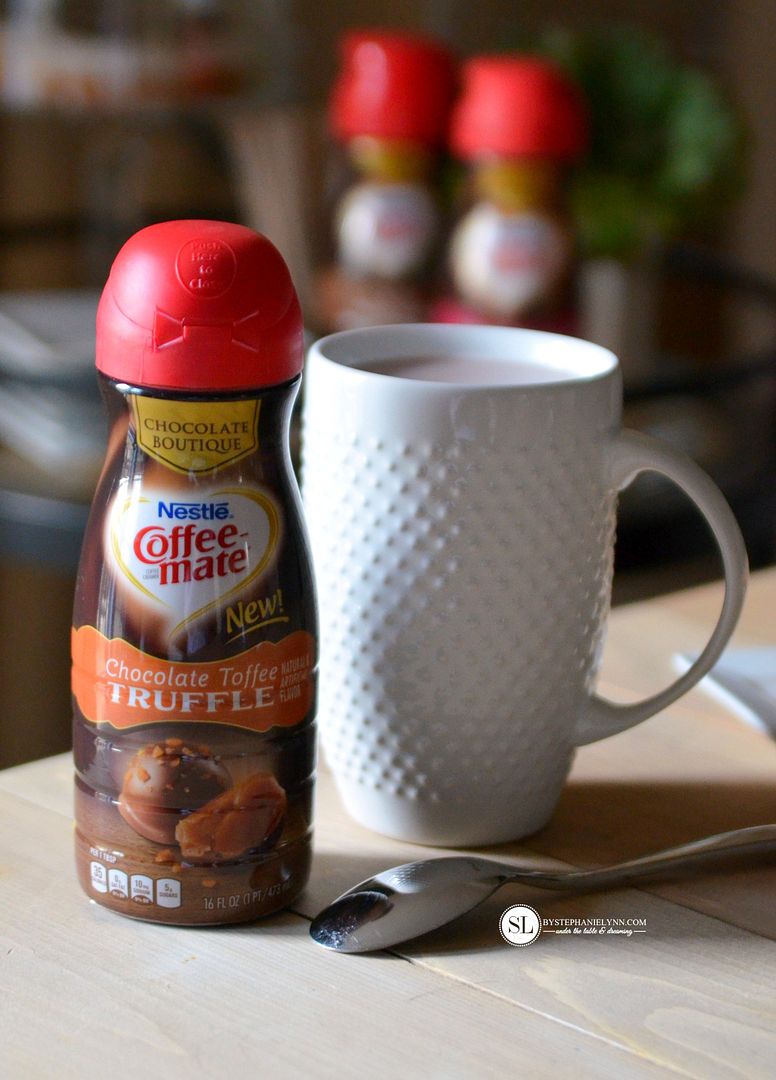 Each of us has been known to indulge in our everyday morning cup of coffee to get us going. I never mind adding new flavors to my cup and always look forward to checking out the current creamer lines.
The NESTLÉ® COFFEE-MATE® Chocolate Boutique Liquid Coffee Creamers are now available in three new flavors;
Chocolate Toffee Truffle,  Salted Caramel Chocolate, and Cafe' Mocha.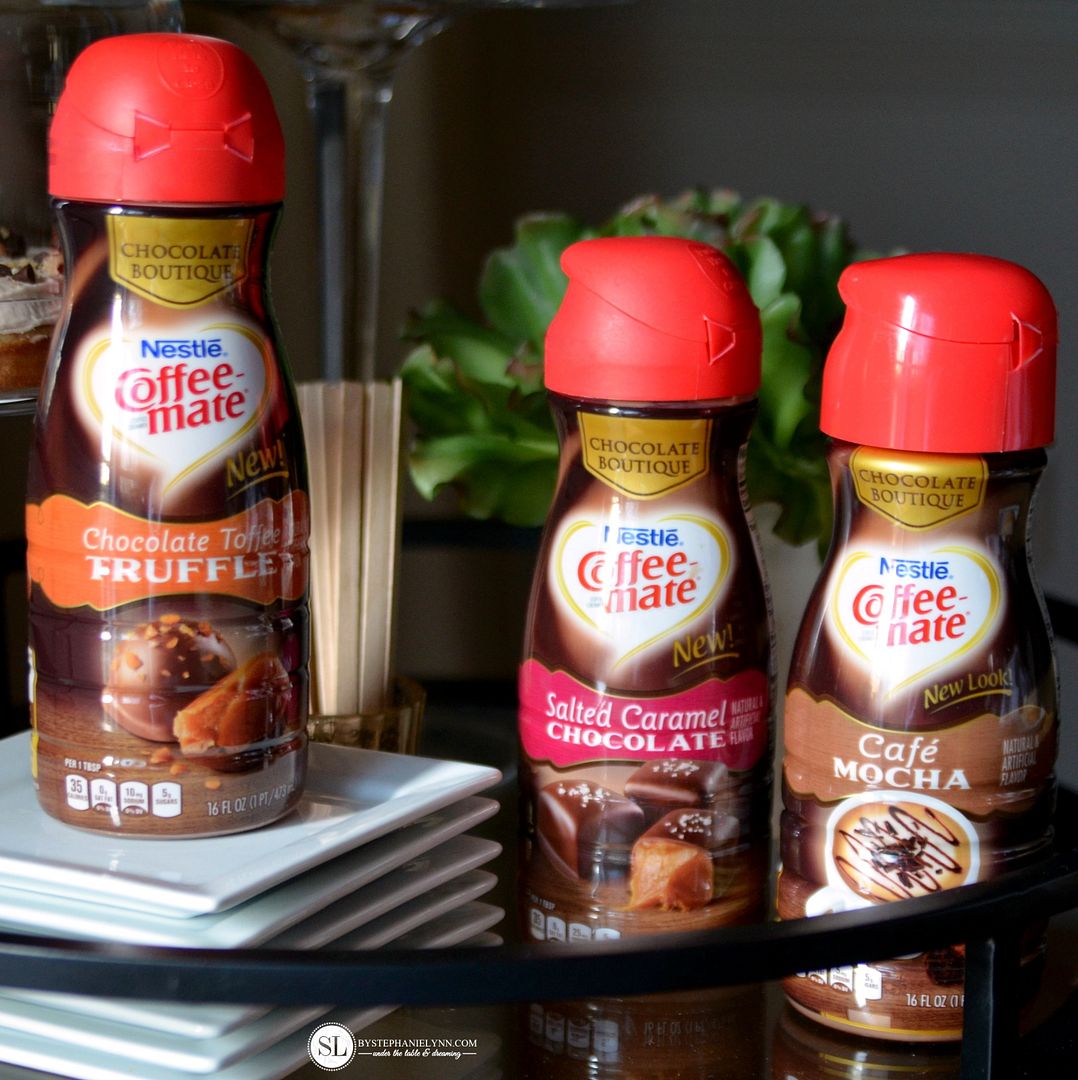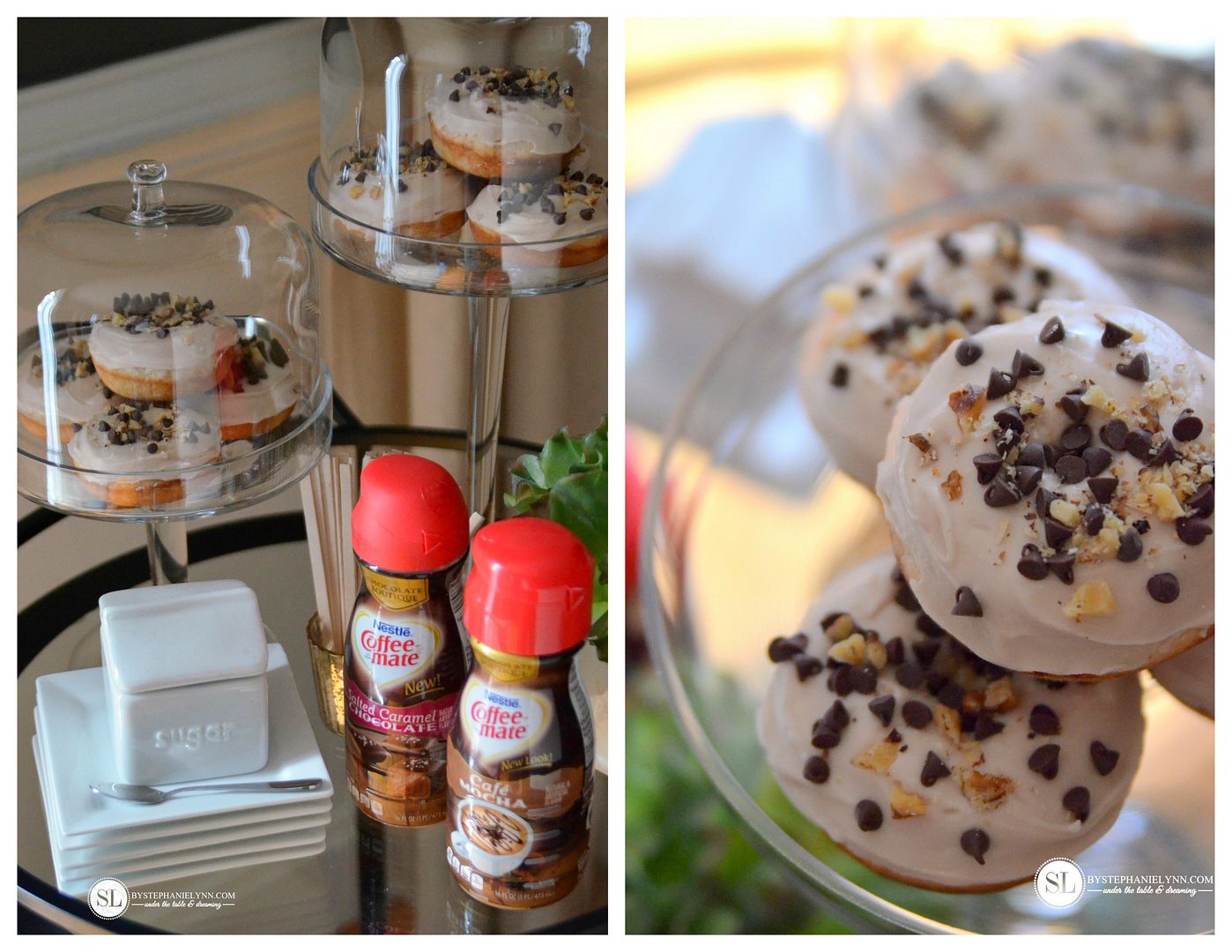 The homemade Salted Caramel Baked Donuts were inspired by the creamers and can be made using any of your favorite flavors.
*The full recipe can be found at the bottom of the post*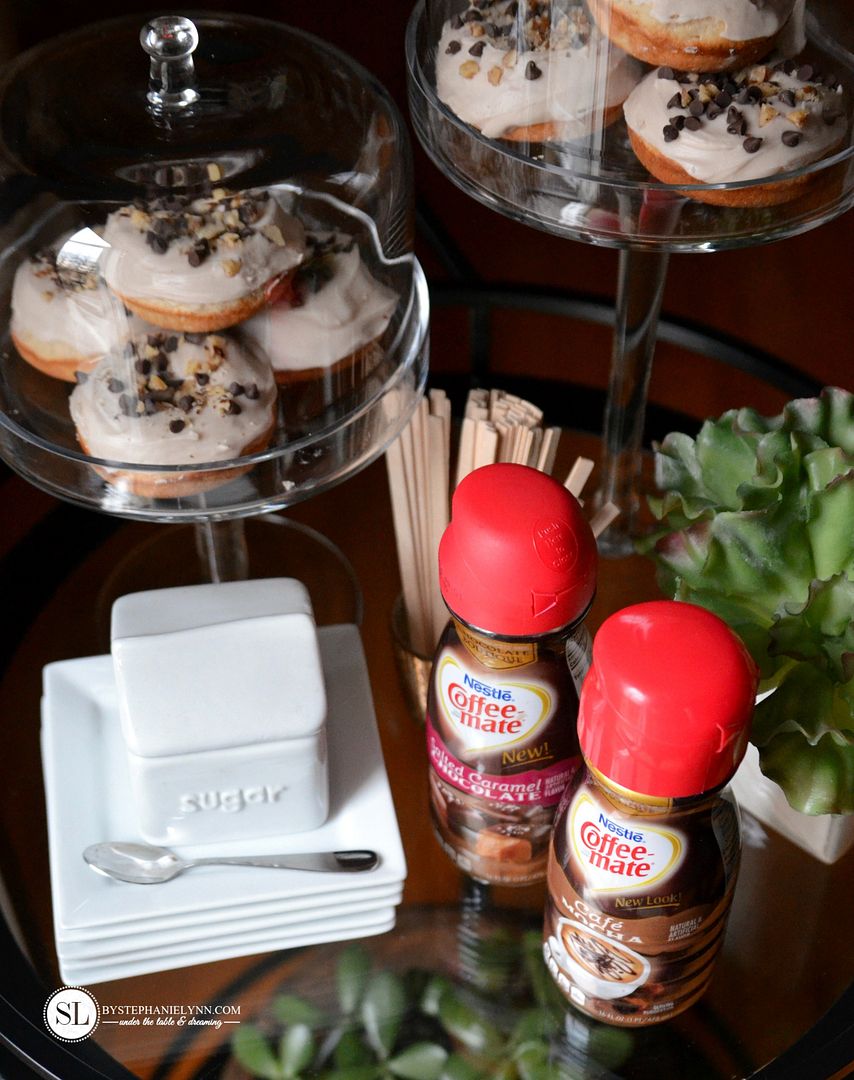 The Party Set Up
For crafting parties I like to either set up supply stations or actually set the table, like I did for our Coffee Gift Baskets. This gives me a chance to gather all of the supplies and make sure we have everything we need for our projects, prior to the guests arriving.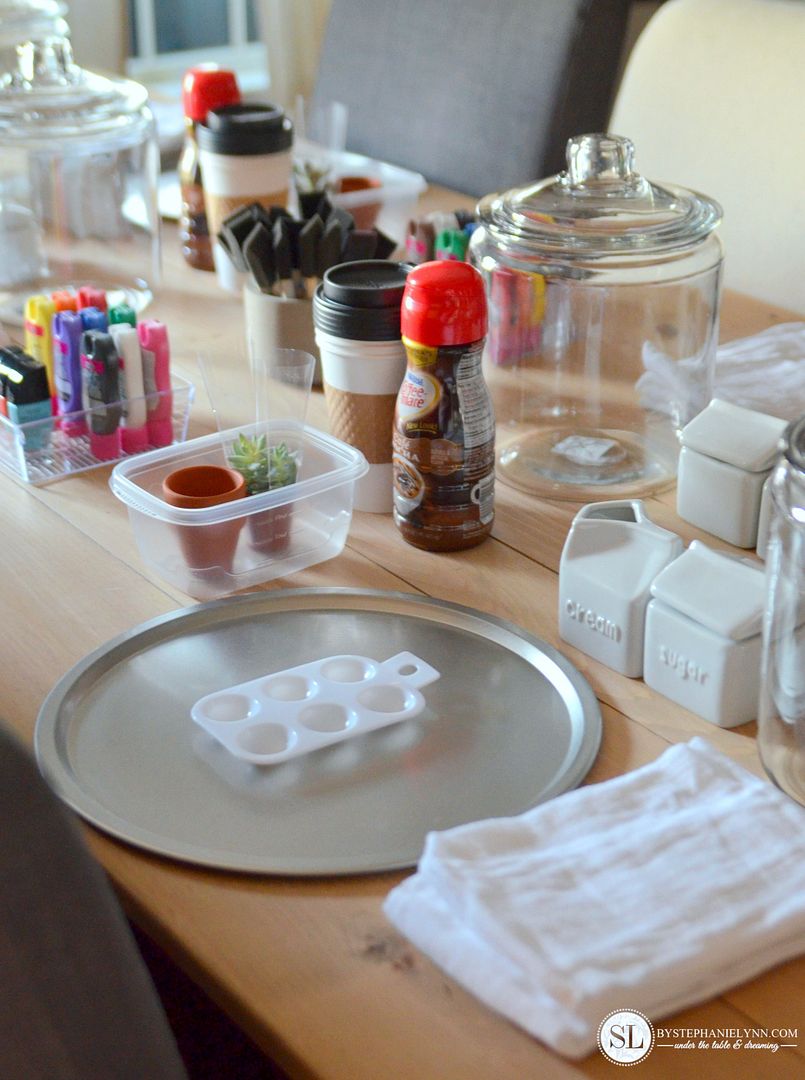 The theme for this craft party was Coffee Gift Baskets.
Two fun and simple crafts were on our agenda for the night,
in addition to assembling the gift baskets themselves.
Inexpensive pizza pans not only protect your table,
but create a perfect individual workspace for each guest.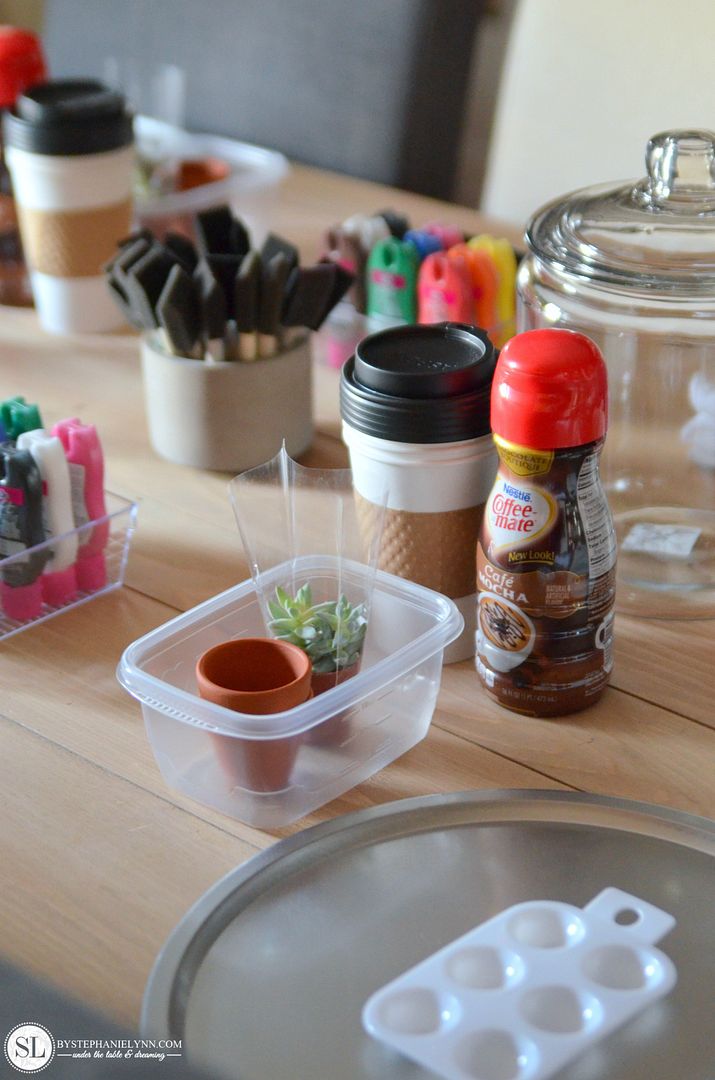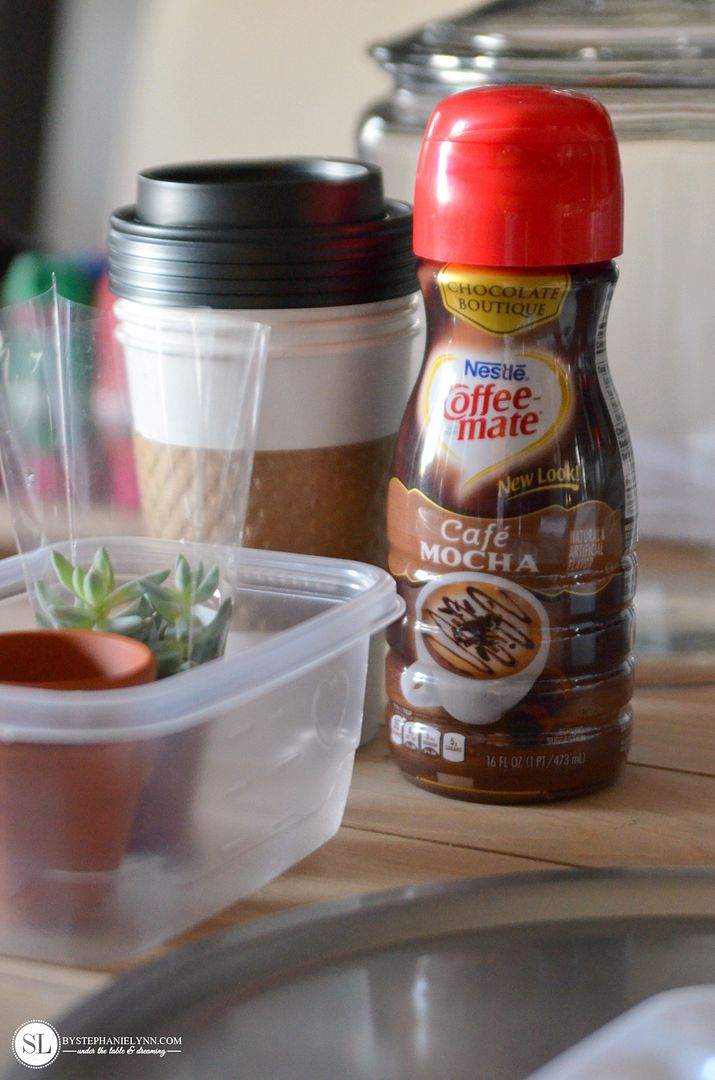 More details about the goodies we tucked into our Coffee Gift Baskets can be found below.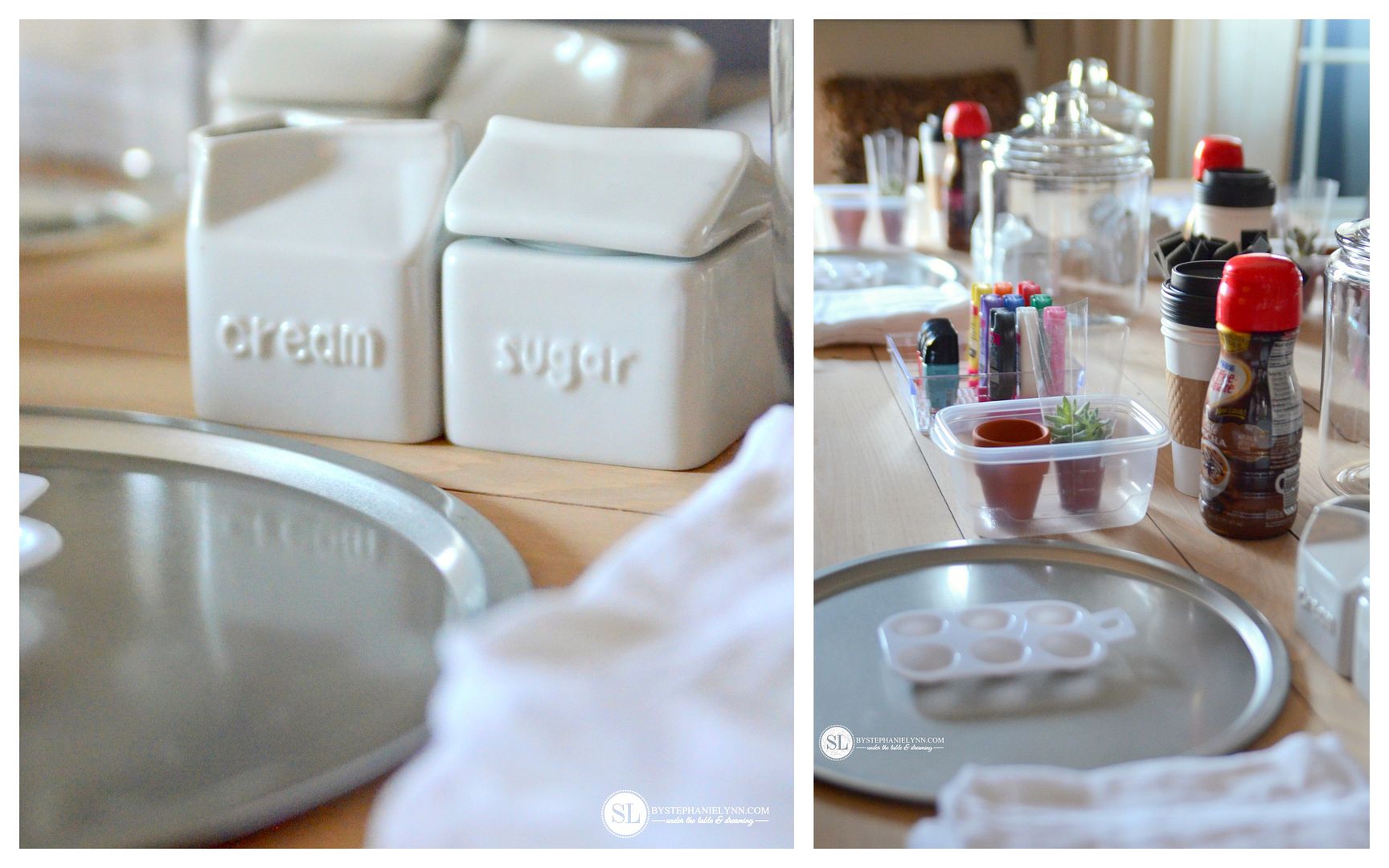 Since the Coffee Gift Baskets were being made to pay it forward, I picked up some small favors for the girls to take home for themselves.
I just couldn't resist these ceramic cream and sugar milk cartons to go with our theme.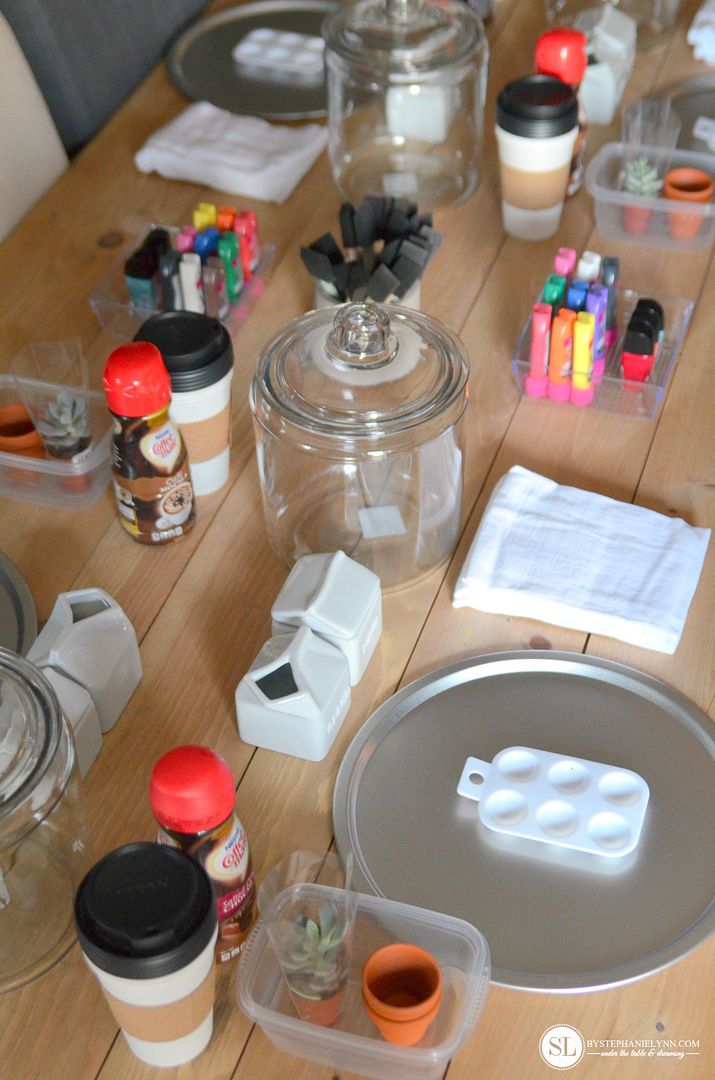 Our two craft projects for the night included stenciled kitchen towels and mini succulent planters, embellished with glitter.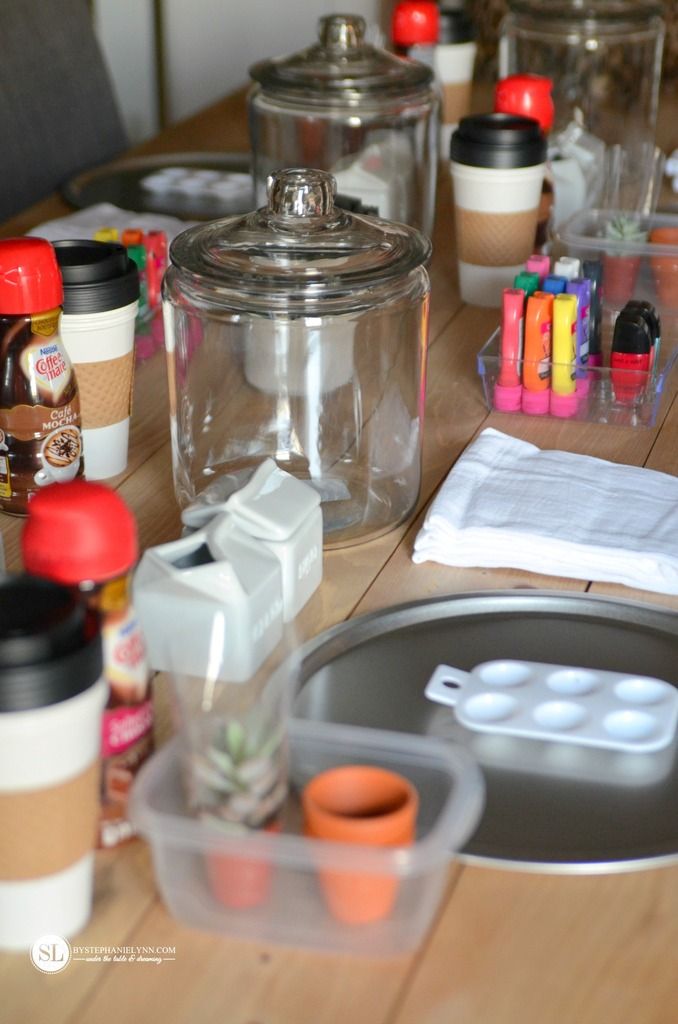 Craft No. 1 ~ Stenciled Kitchen Towels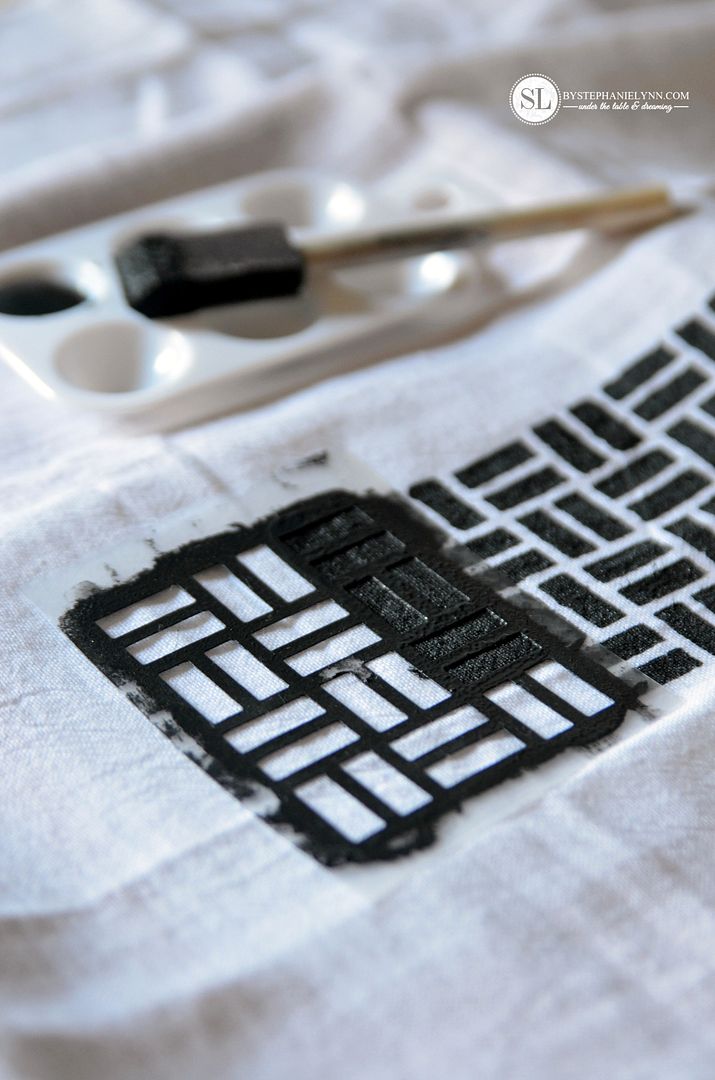 Stenciled Kitchen Towels
Materials Needed:
Flour Sack Towels
Craft Stencils
Soft Fabric Paint
Additional Supplies Needed: Foam Applicators, Paper Towels
Directions: 
Lay out the flour sack on a flat protected surface. A quick pressing may be needed to iron out any major creasing.
Use the patterned stencils to come up with a design idea, prior to beginning.
When you are ready to start stenciling, hold the stencil in place with one hand and dab the paint on with the other hand, using a foam applicator.
Once the entire stencil is filled in with paint, gently remove it from the towel.
Note: To keep the continued stenciled design sharp, occasionally wipe any excess paint off of the stencil, in-between uses. 
Repeat the stenciling process until a desired pattern is created on the towel. 
Drying times and instructions to set the paint will vary depending on the brand of fabric paint being used. We started with the towels and by the end of the night they were completely dried and ready to be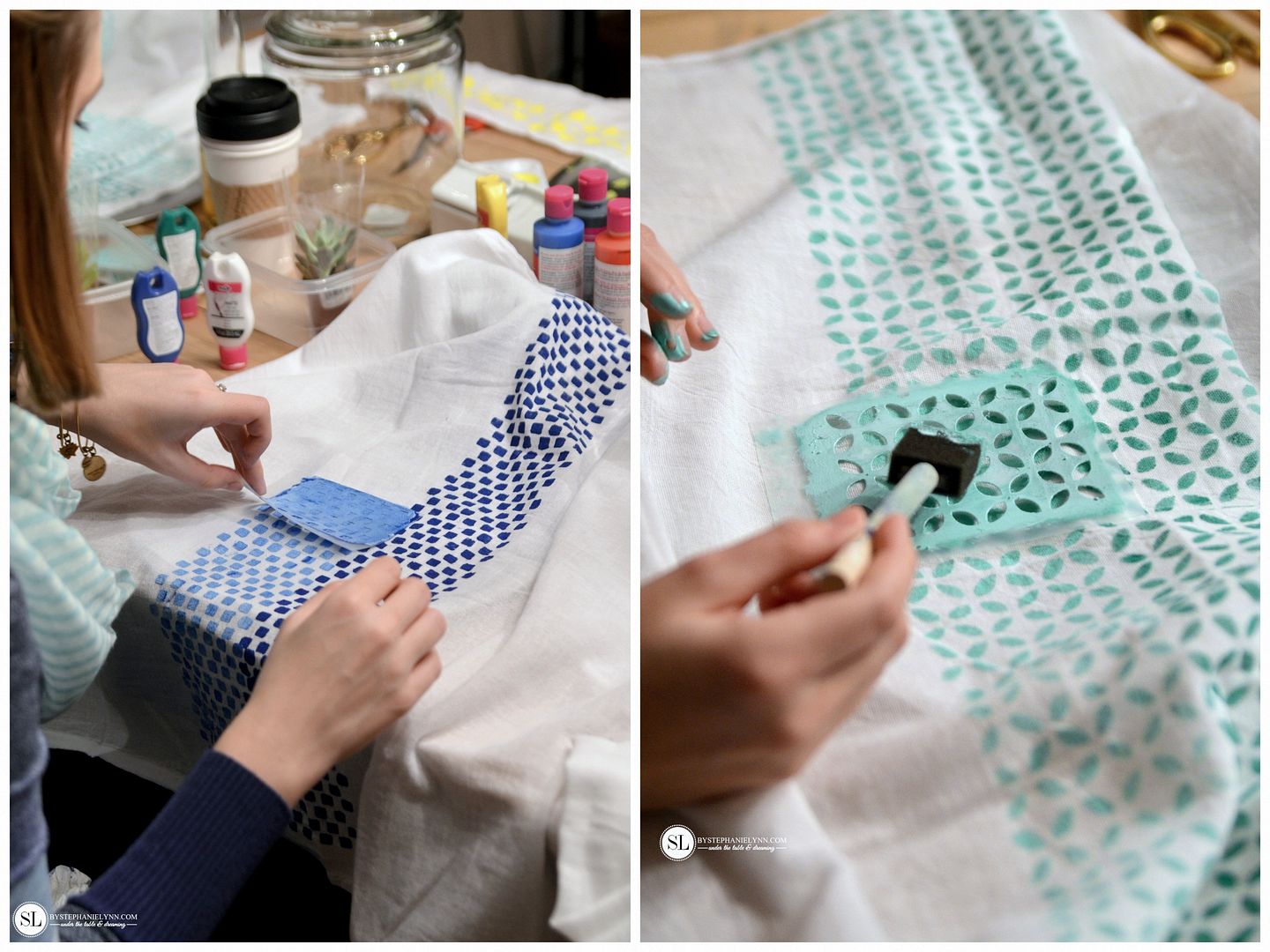 Craft No. 2 ~ Glittered Mini Succulent Planters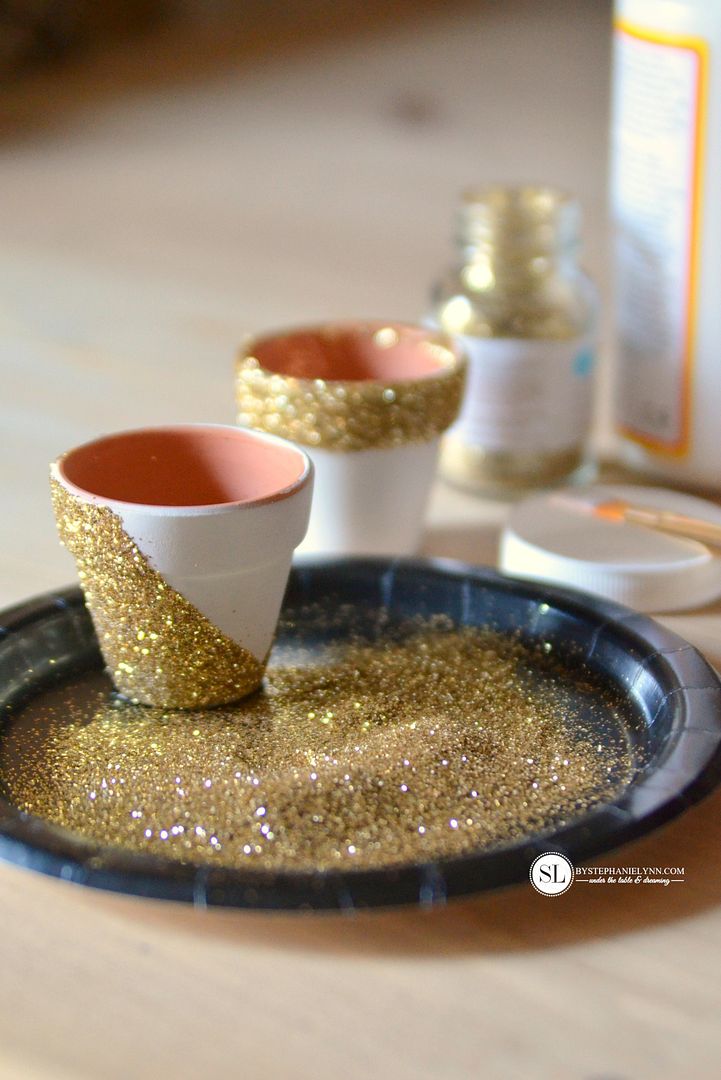 Mini Succulent Planters
Materials Needed:
Terra Cotta Flower Pots, 2 inch
Spray Paint or Acrylic Paints
Decoupage Medium
Glitter
Mini Succulent Plants
Additional Supplies Needed: Paint Brush, Small Paper Plate
Directions:
Apply a base coat of paint to the terra cotta pots. We gave our pots a quick coat of white spray paint.
Brush on a thin layer of decoupage medium and sprinkle with a generous amount of glitter.
Let sit to dry.
Tuck in a mini succulent plant.
When working with glitter it's a good idea to sprinkle it over a flexible paper plate. The plate will catch any excess glitter and it can easily be recycled back into the original container by slightly bending the paper plate in half, using it as a funnel.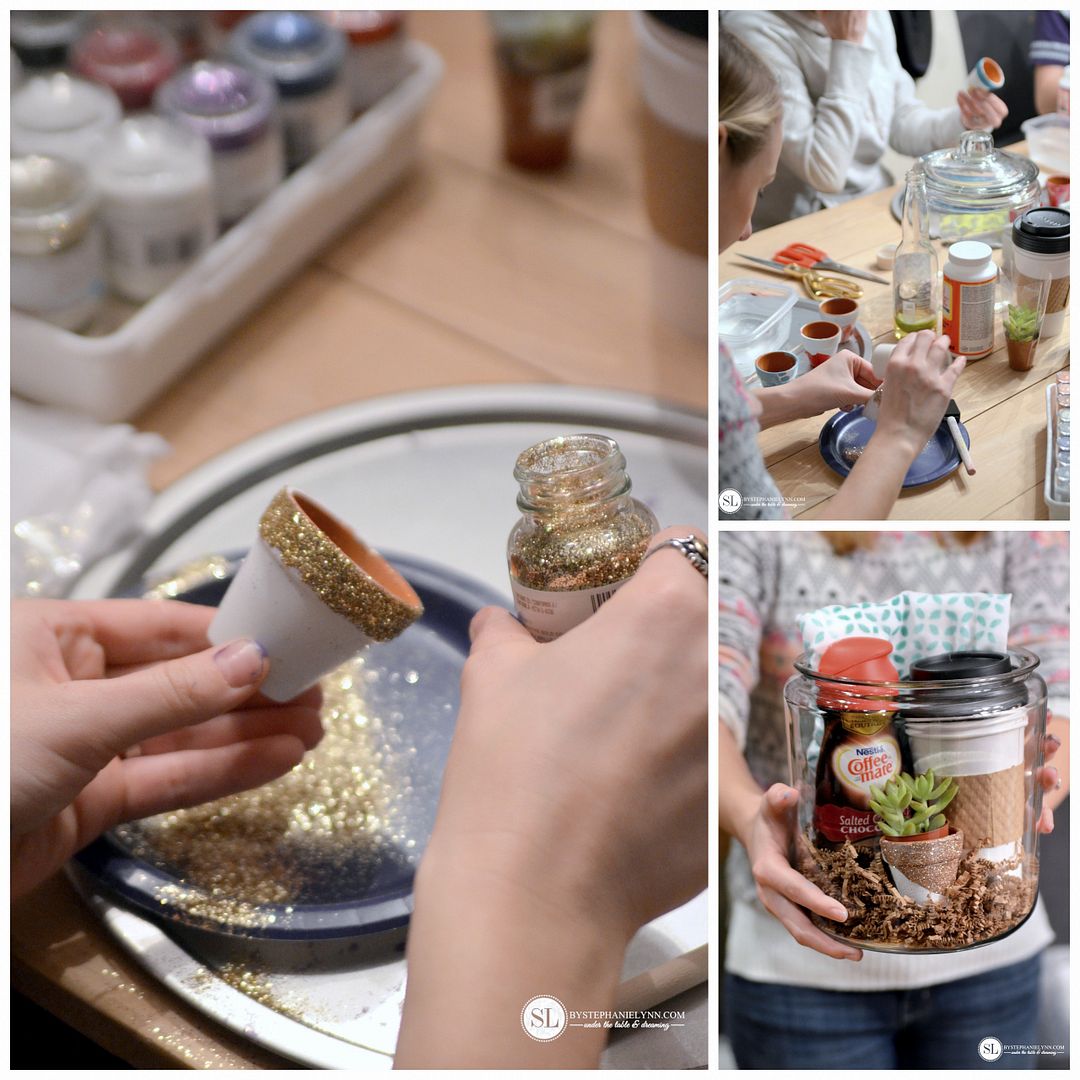 Coffee Gift Baskets ~ In a Jar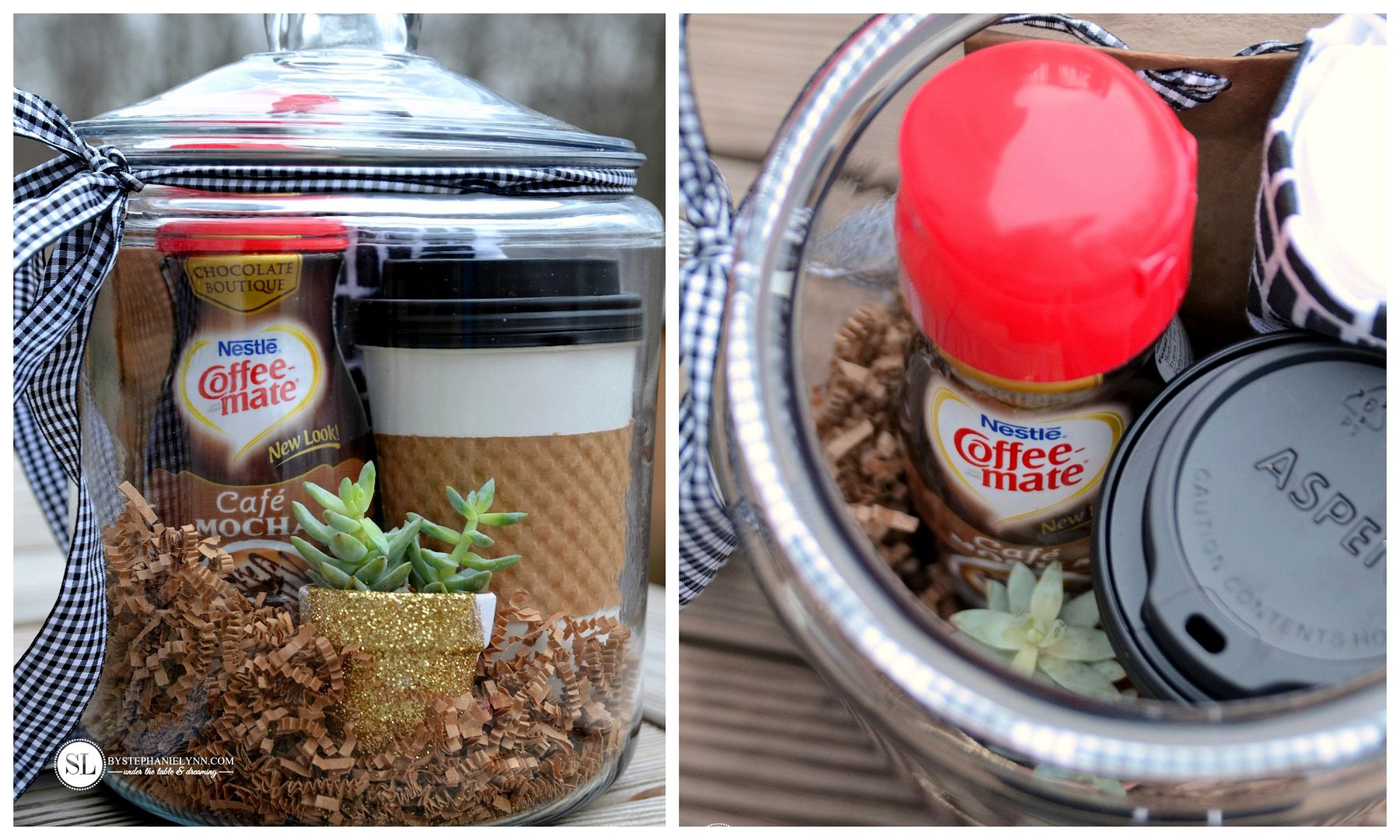 Coffee Gift Baskets – In a Jar
Glass Jar with Lid, 1-Gallon Size
Crinkled Shredded Paper Filler
Stenciled Kitchen Towel
Ground Coffee
COFFEE-MATE® Liquid Coffee Creamers
Disposable Coffee Cups with Lids
Mini Succulent Planters
Decorative Ribbon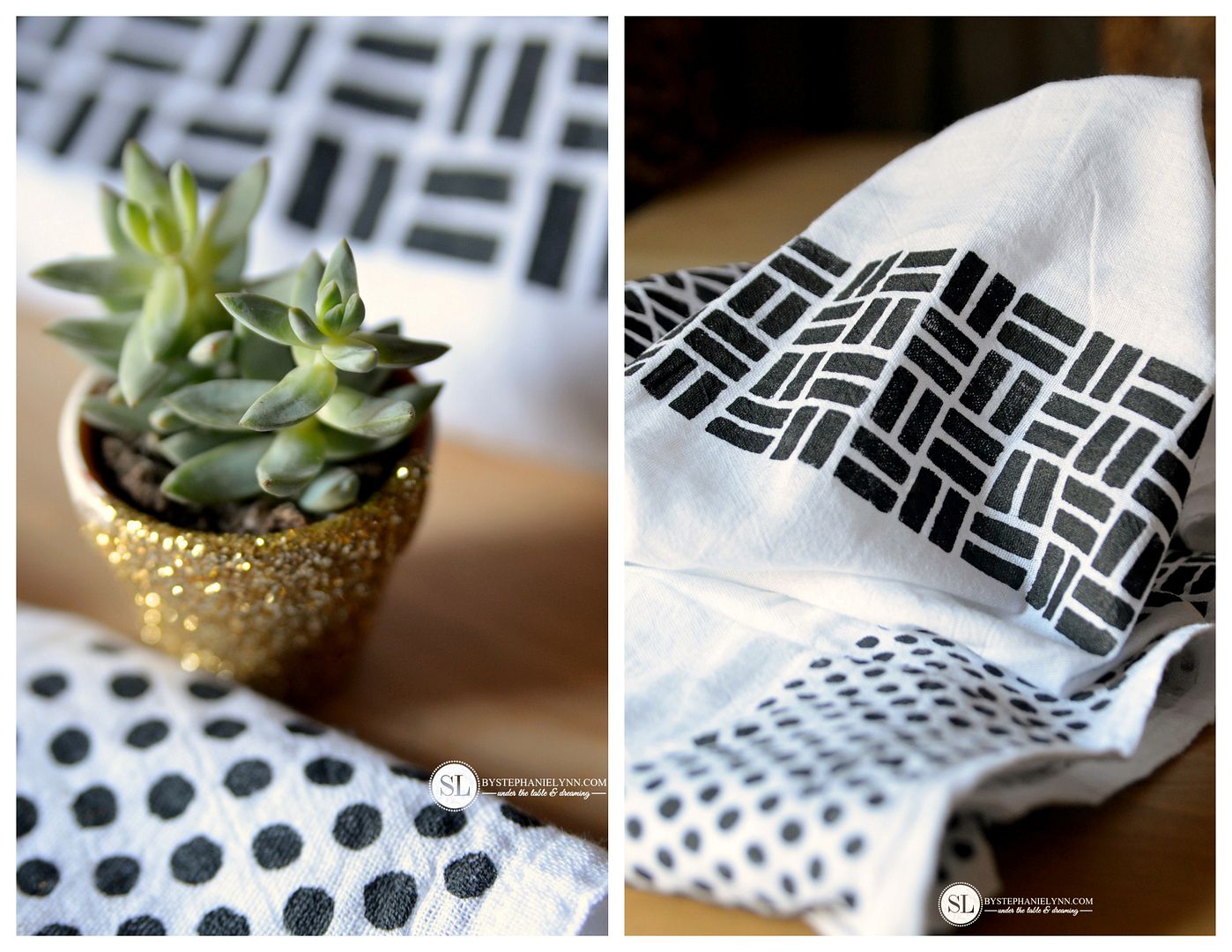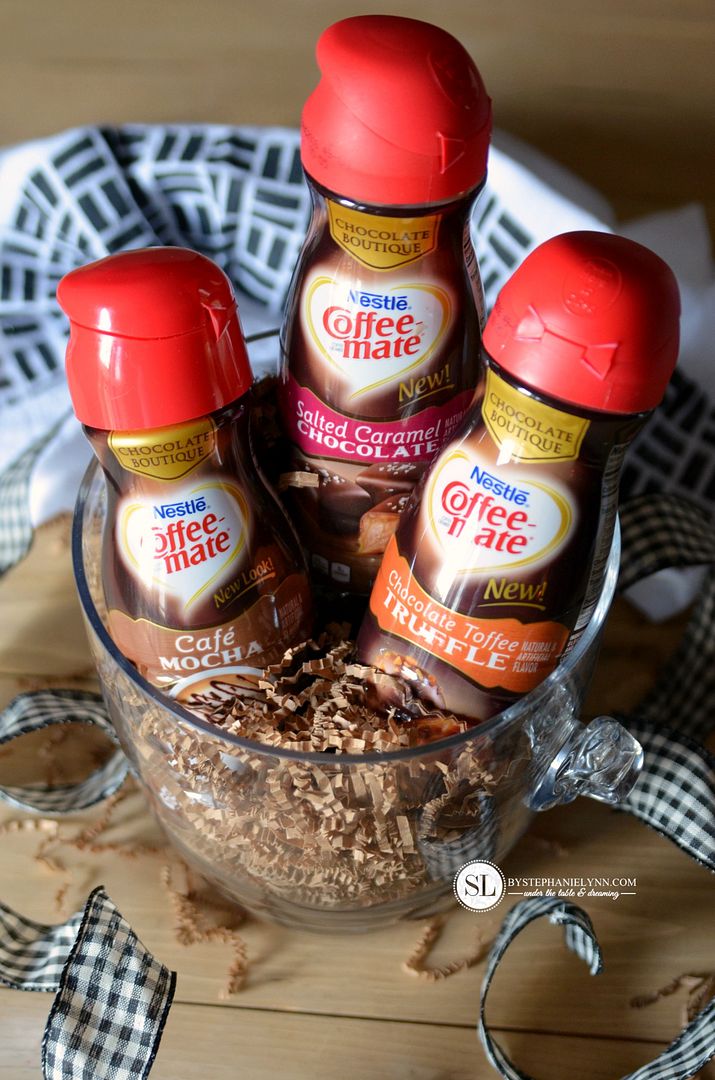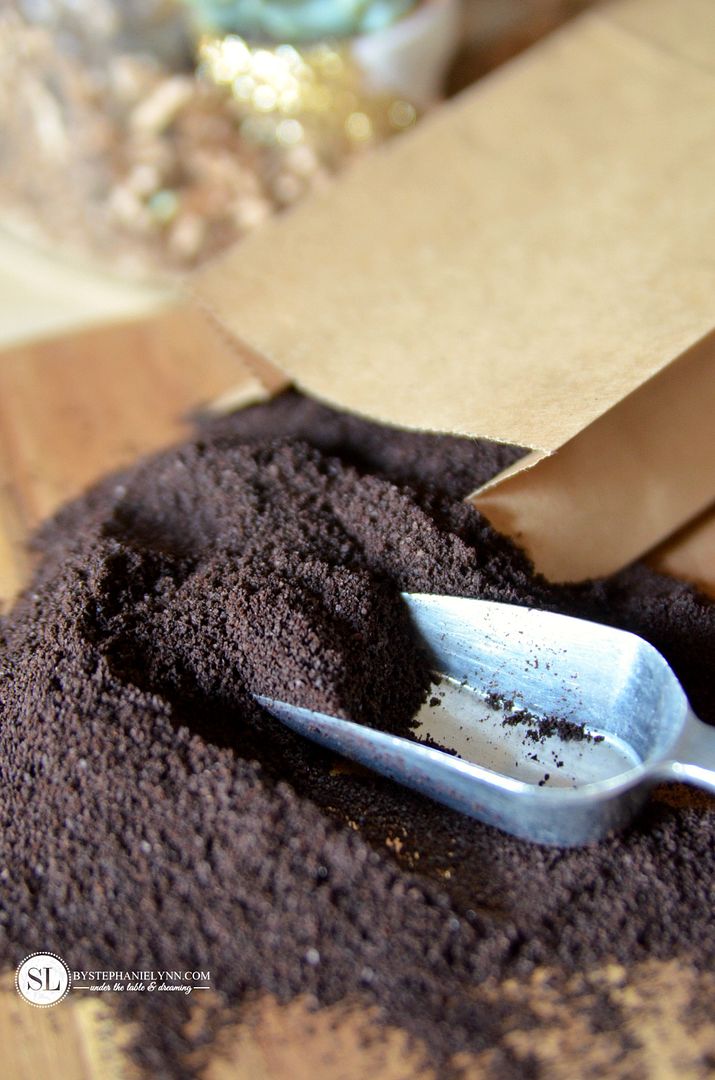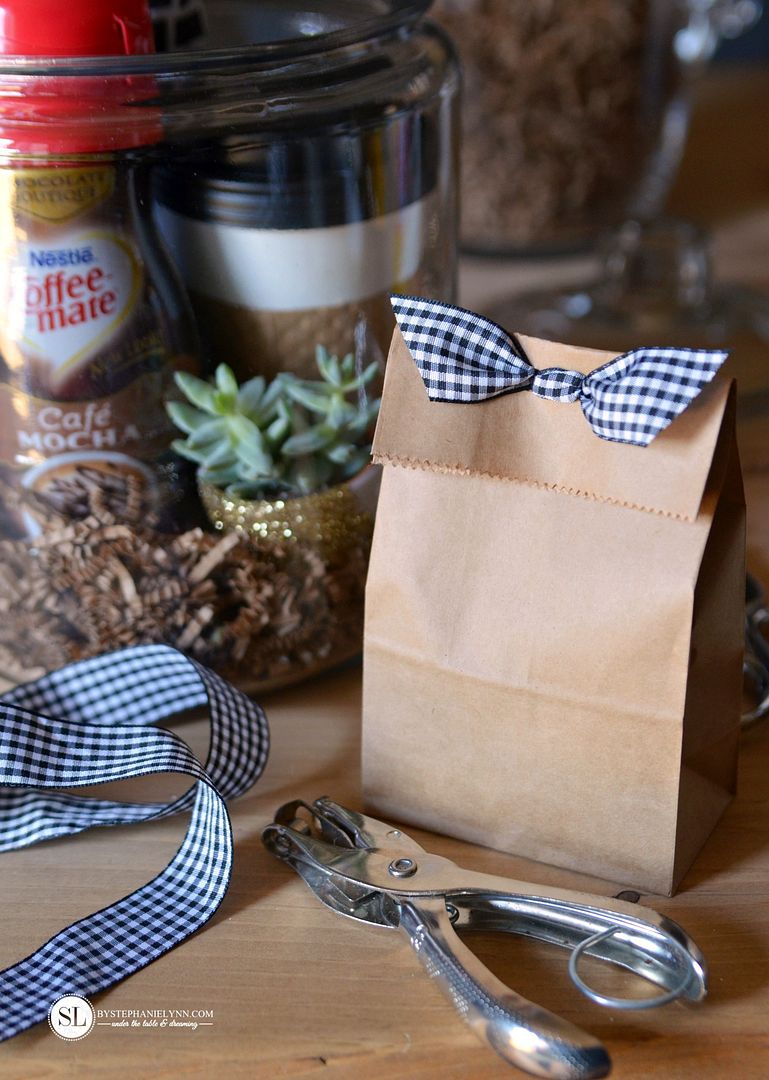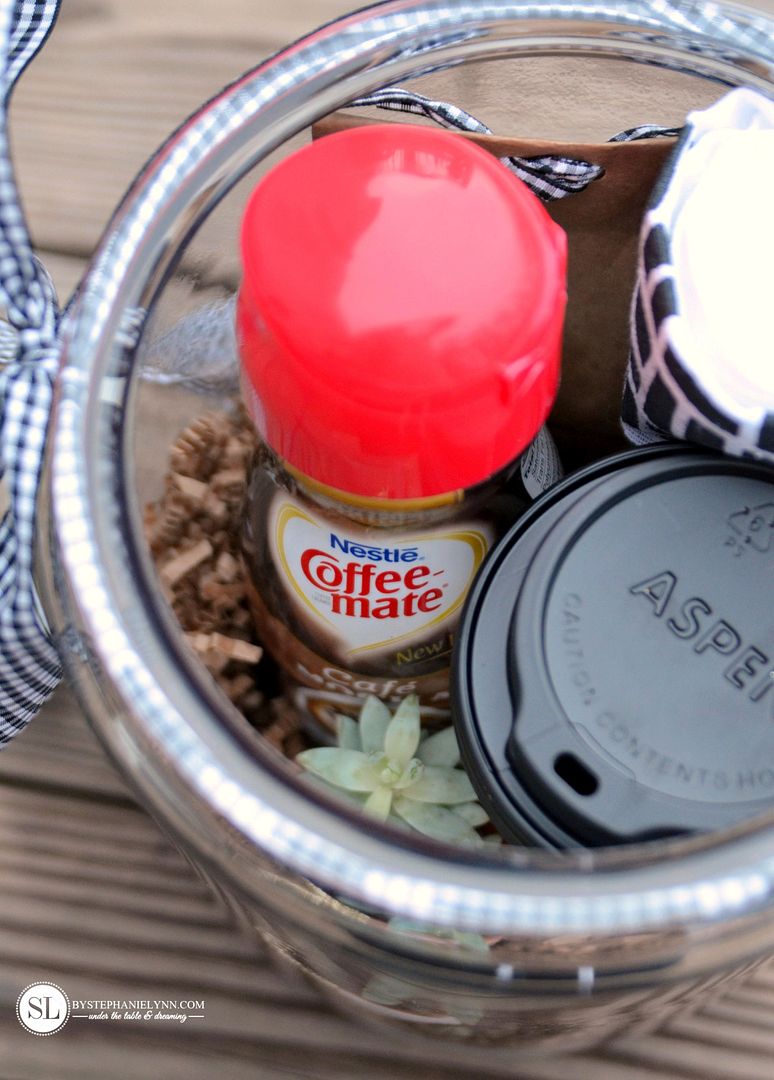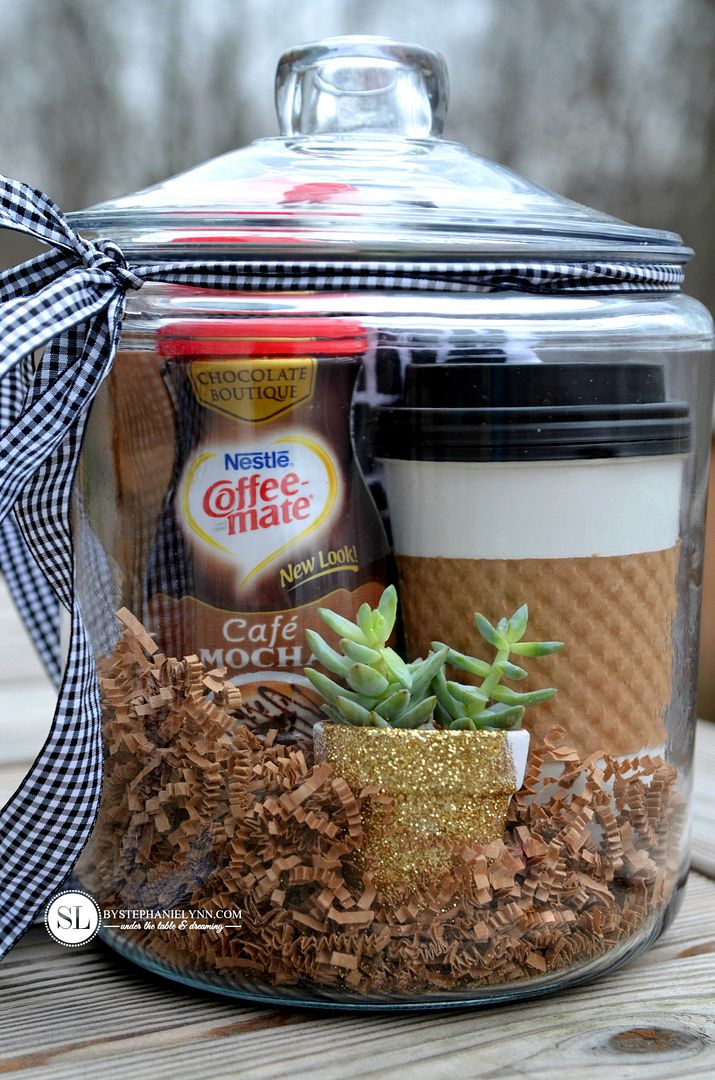 Salted Caramel Baked Donut Recipe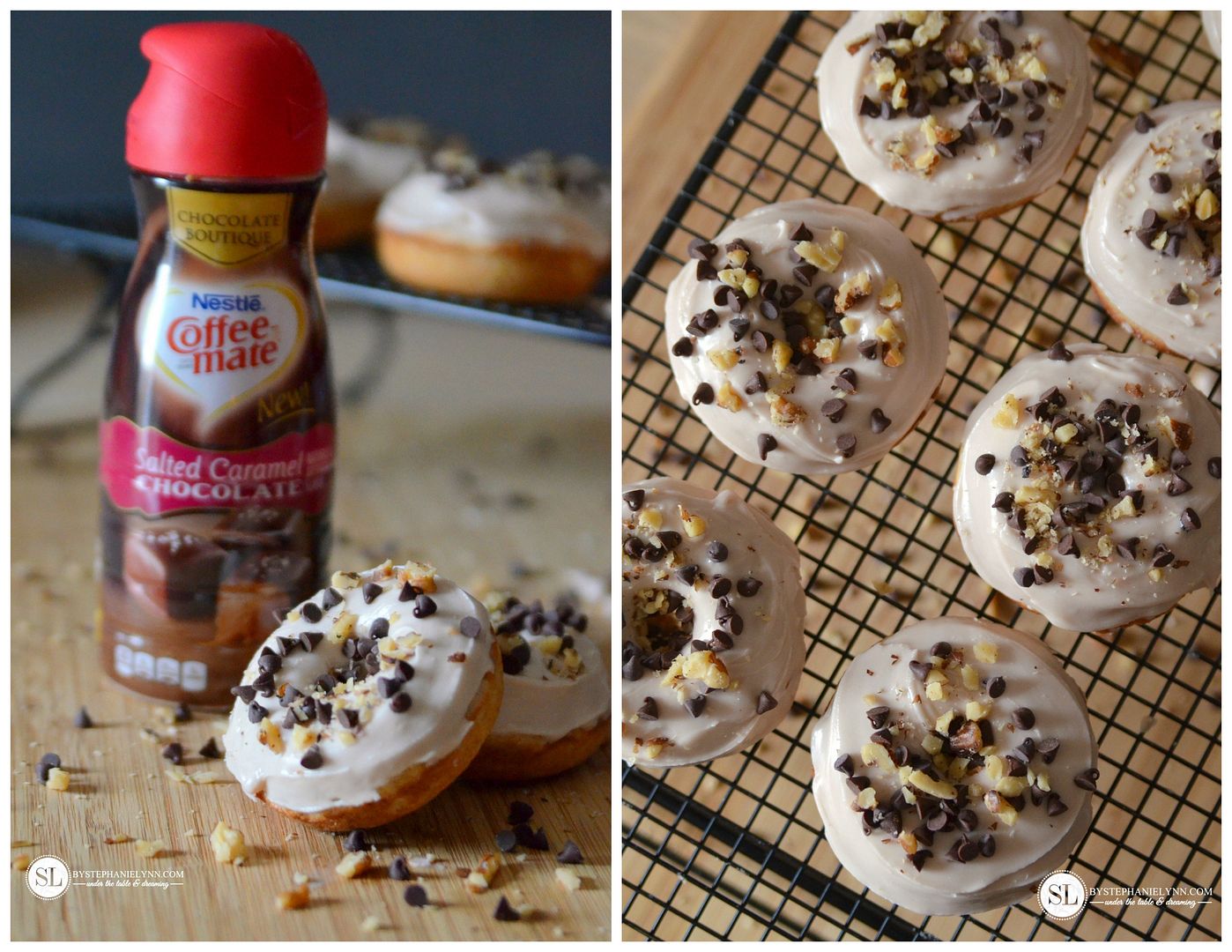 Coffee Gift Baskets | coffee and crafting party #SipIndulgence
Salted Caramel Baked Donuts
Author:
www.bystephanielynn.com
Ingredients
Baked Donuts
2 Cups of All Purpose Flour, sifted
¾ Cup of Sugar
2 Teaspoons of Baking Powder
¼ Teaspoon of Ground Nutmeg
1 Teaspoon of Salt
½ Cup of Buttermilk
¼ Cup of NESTLÉ® COFFEE-MATE® Liquid Coffee Creamer, Salted Caramel
2 Eggs, lightly beaten
2 Tablespoons of Butter, melted
Salted Caramel Icing
2 Cups of Powdered Sugar
2 Tablespoons of NESTLÉ® COFFEE-MATE® Liquid Coffee Creamer, Salted Caramel
½ Teaspoon of Vanilla Extract
Instructions
Donuts
Preheat oven to 425°F.
Spray doughnut pan with cooking spray and set aside.
In a large bowl, sift together the flour, sugar, baking powder, nutmeg and salt.
Add the buttermilk, coffee creamer, eggs and butter.
Mix together, until just combined.
Fill each donut pan cavity approximately ⅔ full.
Bake 7-9 minutes or until the tops of the donuts spring back when touched.
Let cool in the pan for 4-5 minutes before removing.
Icing
In a small bowl, stir together the sugar, coffee creamer, and vanilla extract until the sugar is completely dissolved.
Use immediately to finish the donuts.
The donuts are best served fresh.
Notes
Other NESTLÉ® COFFEE-MATE® Liquid Coffee Creamers can be substituted with this recipe to create an array of flavored donuts and icing.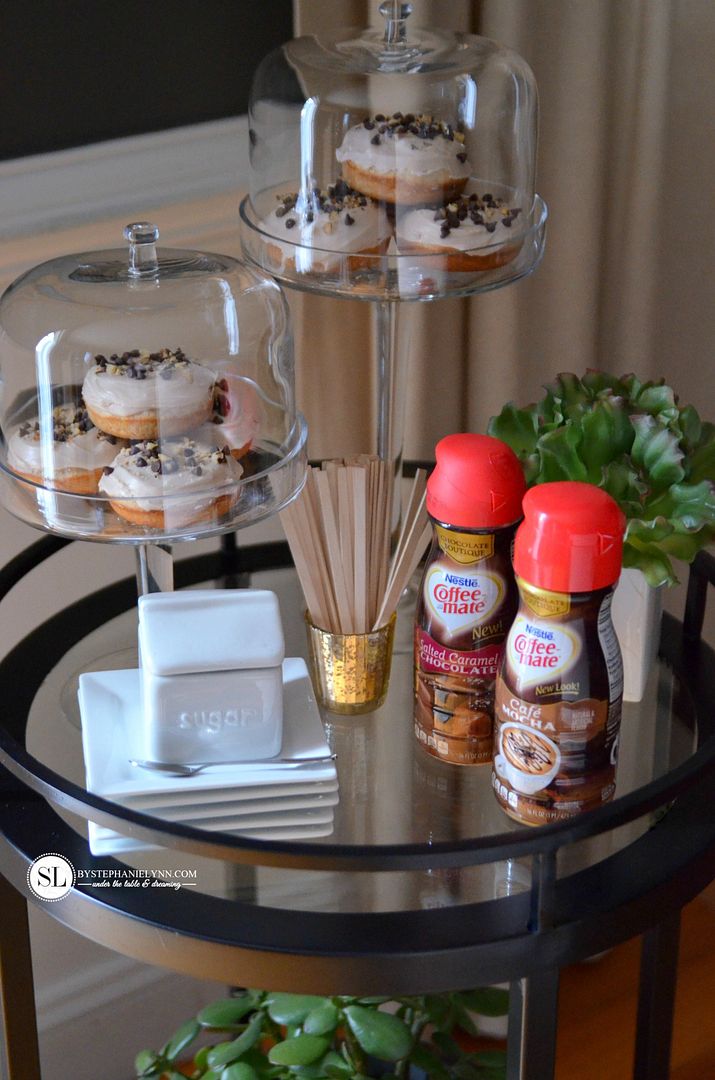 All of the ingredients to make the Salted Caramel Baked Donuts, along with the NESTLÉ® COFFEE-MATE® Liquid Coffee Creamers, were conveniently picked up at our local Walmart. Check out the three delicious new NESTLÉ® COFFEE-MATE® flavors and receive a special Ibotta offering.  Are you passionate about what goes into your cup of coffee?