Flower Pot Miniature Fairy Gardens #michaelsmakers | From terrariums to fairy gardens, putting together mini landscapes combines the beauty of mother nature with imagination and creativity.
There are no rules when it comes to creating these miniature magical worlds. It is truly a project full of ingenuity and fun for any age. The mini living gardens are created with just a few basic supplies and brought to life with the simple addition of mini accessories.

We still have a few more weeks to go before I can begin to play in the outside gardens and planters. So when Michaels challenged the Michaels Makers team with a project dedicated to Mom, I jumped at the chance to get my hands in the dirt.
I enlisted the help of my two favorite guys and embarked on a early Mother's Day project I have been longing to create – a set of Flower Pot Miniature Fairy Gardens.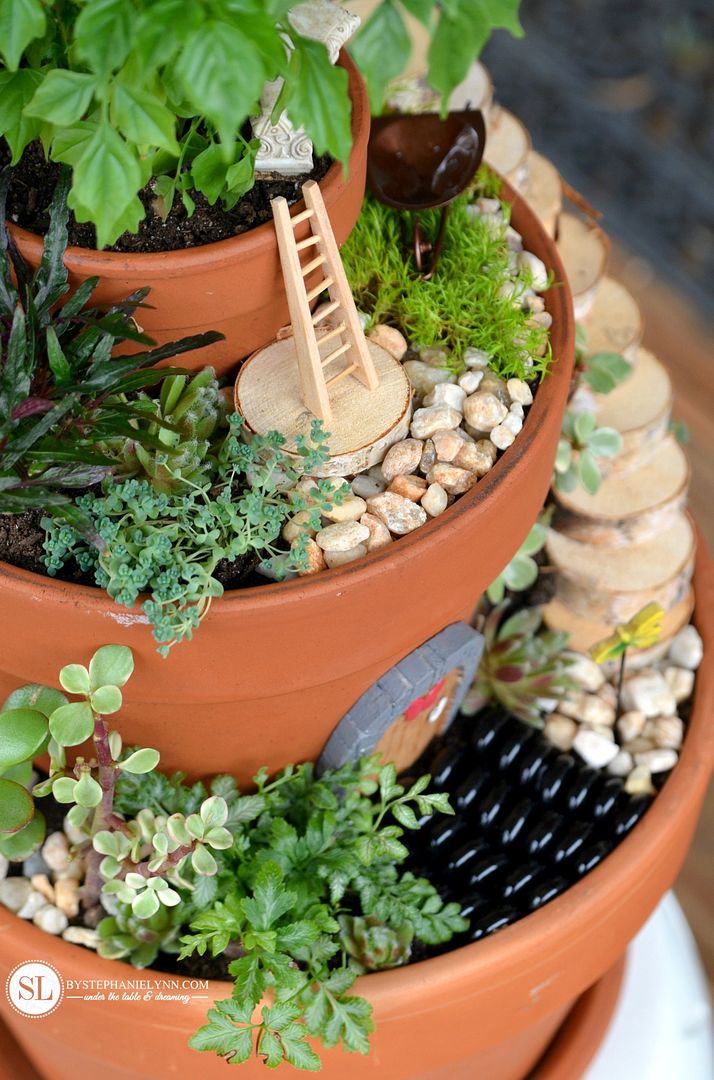 It doesn't take much to turn a few plants and a couple of planters into these miniature worlds full of magical fun. The possibilities are endless when it comes to selecting accessories to create the enchanting, whimsical scenes. 
While we enjoyed a full day of designing four separate gardens for our own patio, the accessories alone are a perfect way to add a little charm to single gifted plant, any day of the year.
Below are a few tips on how we created our Flower Pot Miniature Fairy Gardens. There are also some detailed shots and supply lists at the bottom of the post of our finished pieces.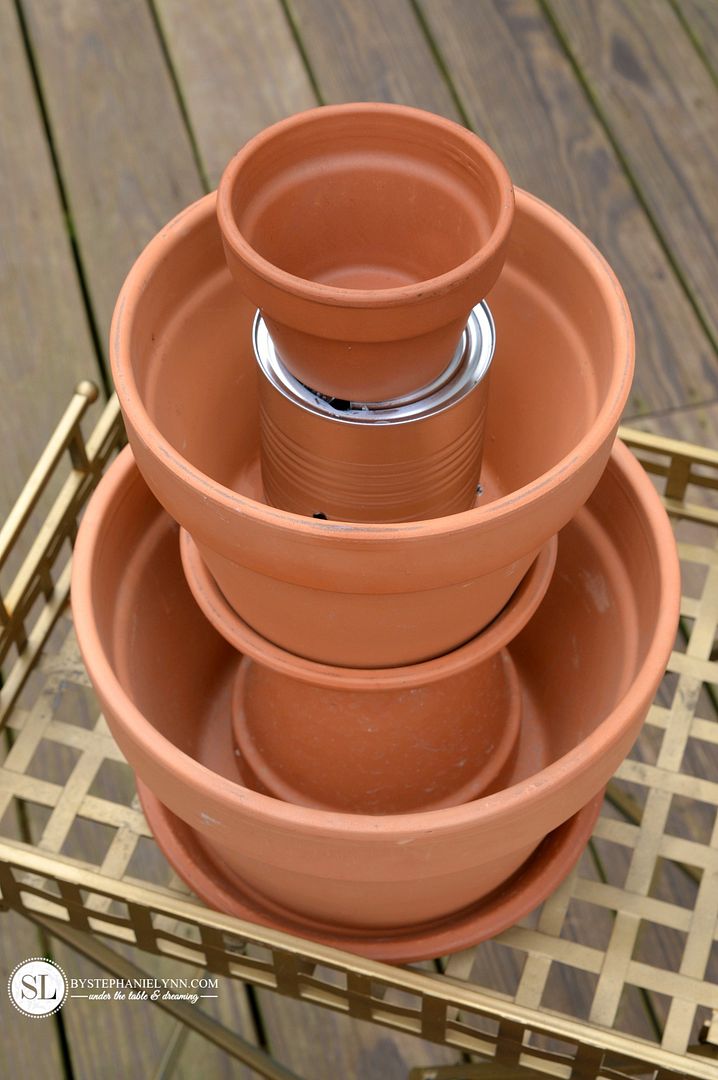 Containers
There are so many options when it comes to choosing containers for your garden. Adequate drainage is a must, so keep that in mind.
*For more information, check out How to Drill Drainage Holes in Ceramic Flower Pots and Planters
Consider stacking a variety of pots together for added interest and elevation. I love using this idea, especially for the fairy gardens, as it creates multiple levels for more accessories and 'scenes'.
For our first fairy garden we used a variety of inexpensive clay pots. The levels are created by stacking the pots inside one another, as shown above.
In this example, 4 pots, 2 saucers and 1 'riser' were used. (the riser being a can because we could not find a pot the necessary size needed)
From the bottom to the top, the following pot sizes were used:
10 inch Saucer
10 inch Clay Pot
6 inch Clay Pot (turned upside down)
8 inch Saucer
8 inch Clay Pot
4 inch Riser (can w/ drilled drainage holes)
4 inch Clay Pot
Things to keep in mind when stacking pots:
• All of the pots should be level, secure and stable. For added strength and security, outdoor construction adhesive can be used when stacking.
• The pots intended for planting should be buried in the pot below at least two inches or more. This helps keep the pots secure and in place.
• Adequate drainage is important. Make sure each pot and saucer that is being stacked has proper drainage holes so water has the ability to drain from each level.
*For more information, check out How to Drill Drainage Holes in Ceramic Flower Pots and Planters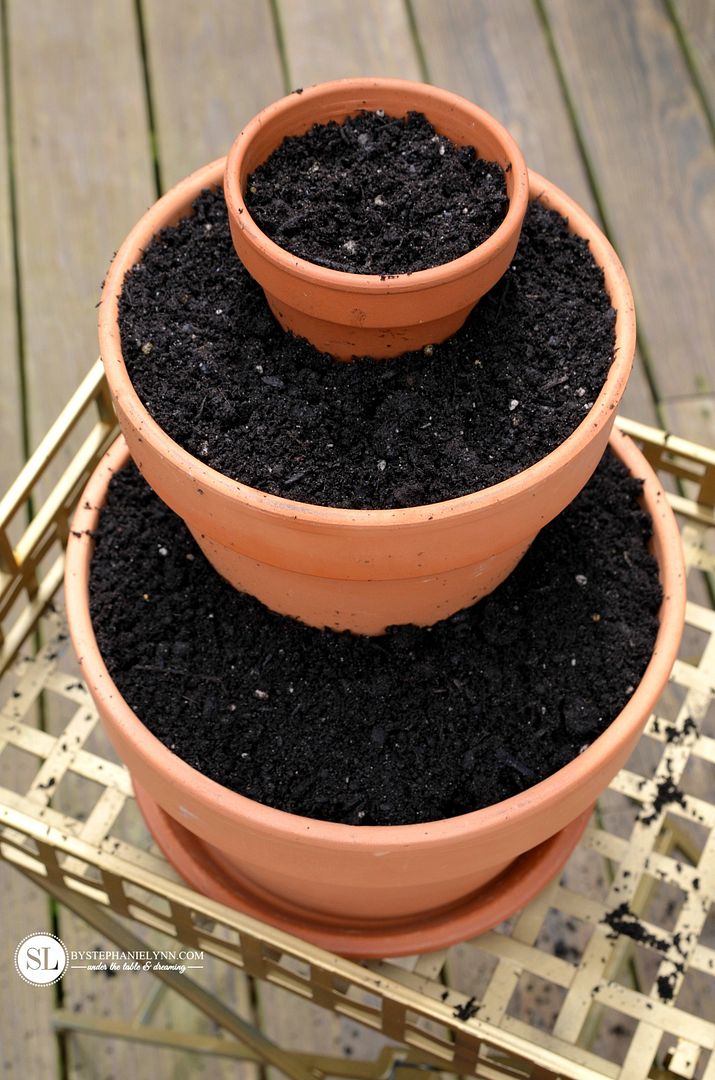 Soil
When choosing the soil for a fairy garden, pay close attention to the plant selection that is being used. Different plants will require different soil conditions. Succulents, for example, do not like wet roots and require a very fast draining, porous soil – opposed to a typical well-drained potting mix used for regular houseplants.
Make note of the care instructions on the plants information tag and plan accordingly.
Regular organic potting soil mix containing perlite is a good choice for most miniature garden plants. This mix will provide good drainage, yet it is able to retain enough moisture and nutrients the plants require.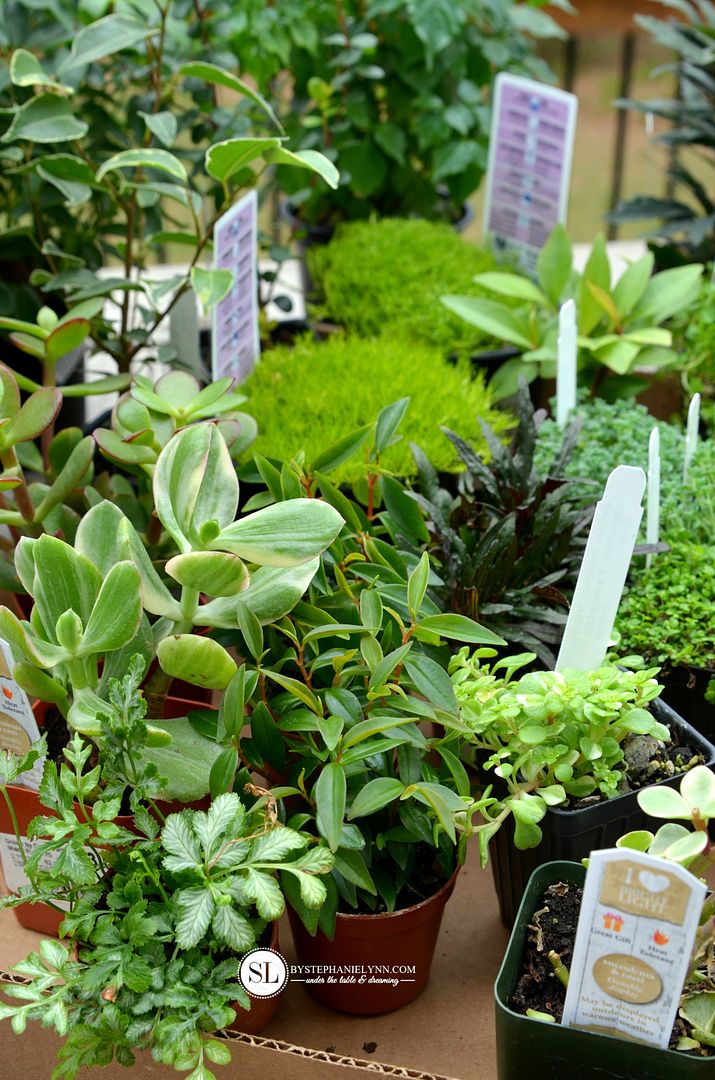 Plants
When choosing plants for your fairy garden, keep in mind where the garden will be placed and choose a variety of plants that all require the same watering and lighting needs.
Look for small leaved and slow growing plants.
I love the look of plants trailing over the edge of the pots which can be achieved with using different ground covers and sedums.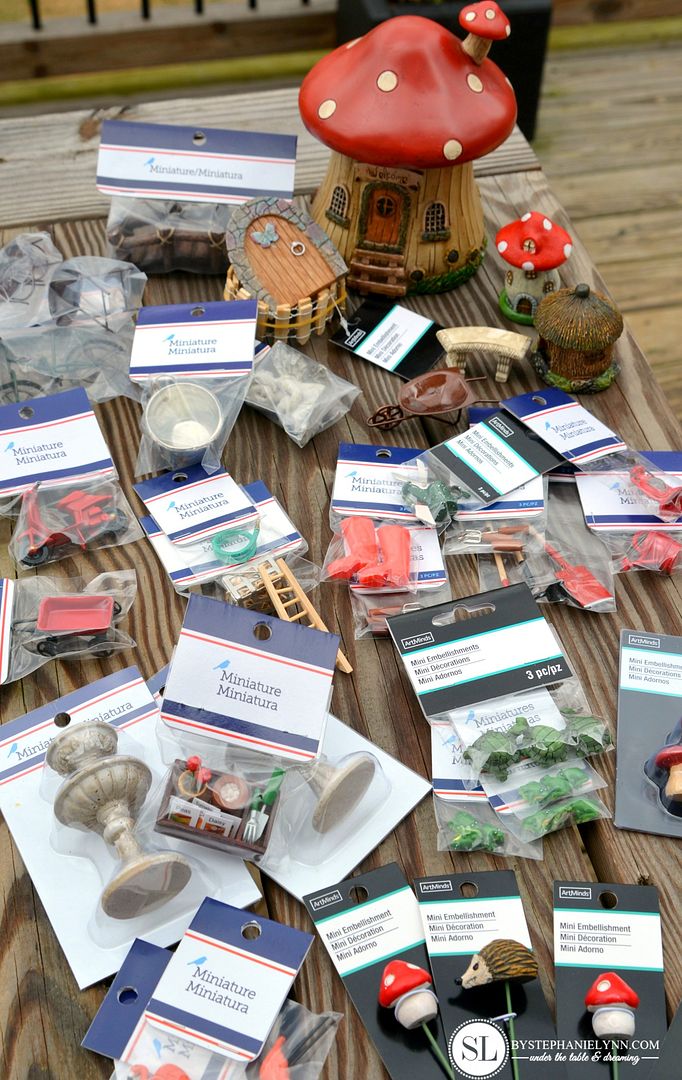 Accessories
Accessories bring the mini garden to life and Michaels has everything you need to create any enchanting scene imaginable.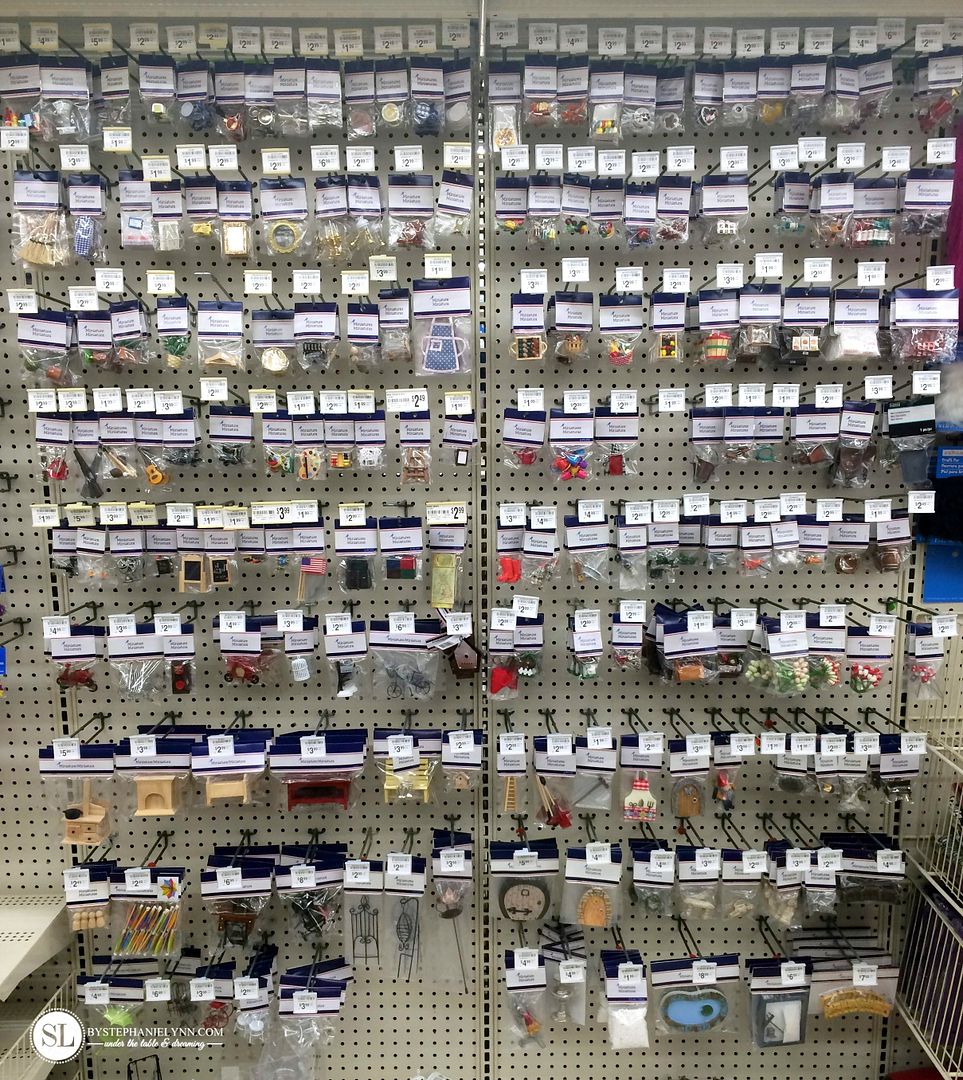 Along with seasonal end caps of mini embellishments, they also have a large assortment of doll house miniatures.
Most of the accessories are made of resin or metal – though there are a few made of wood. To give the wooden accessories a little protection in your garden it's a good idea to coat them with an outdoor sealer designed specifically to protect wood.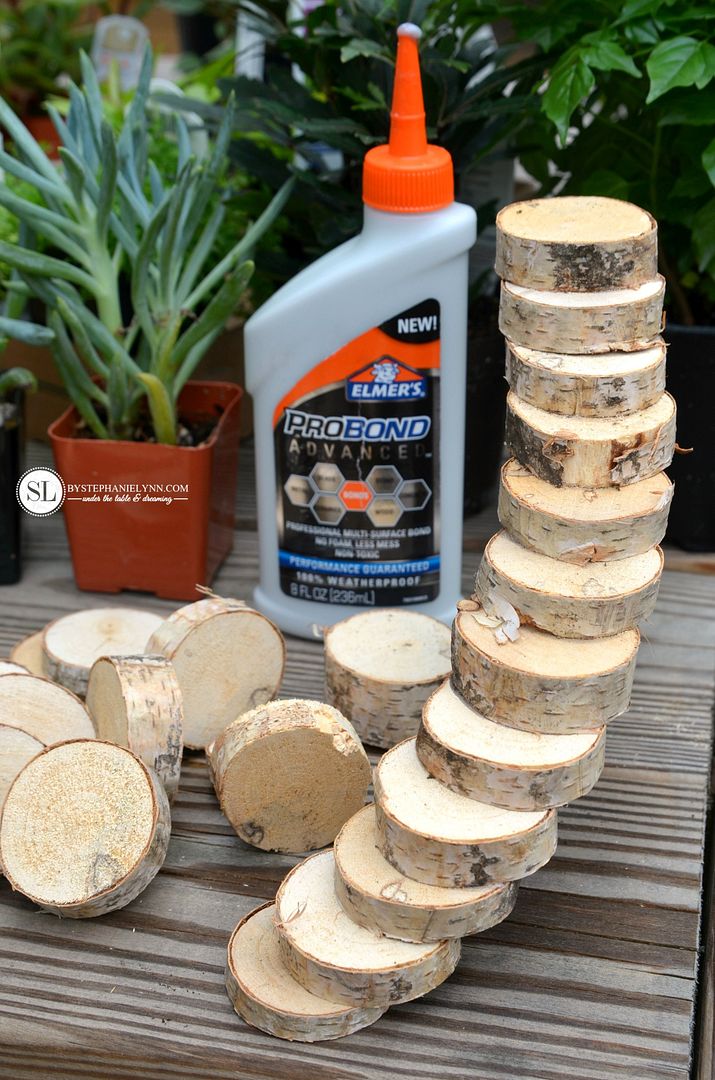 Fairy garden accessories can be handmade as well, if you can't find exactly what you are looking for.
We put together a couple sets of wooden steps to fit our planters using birch logs.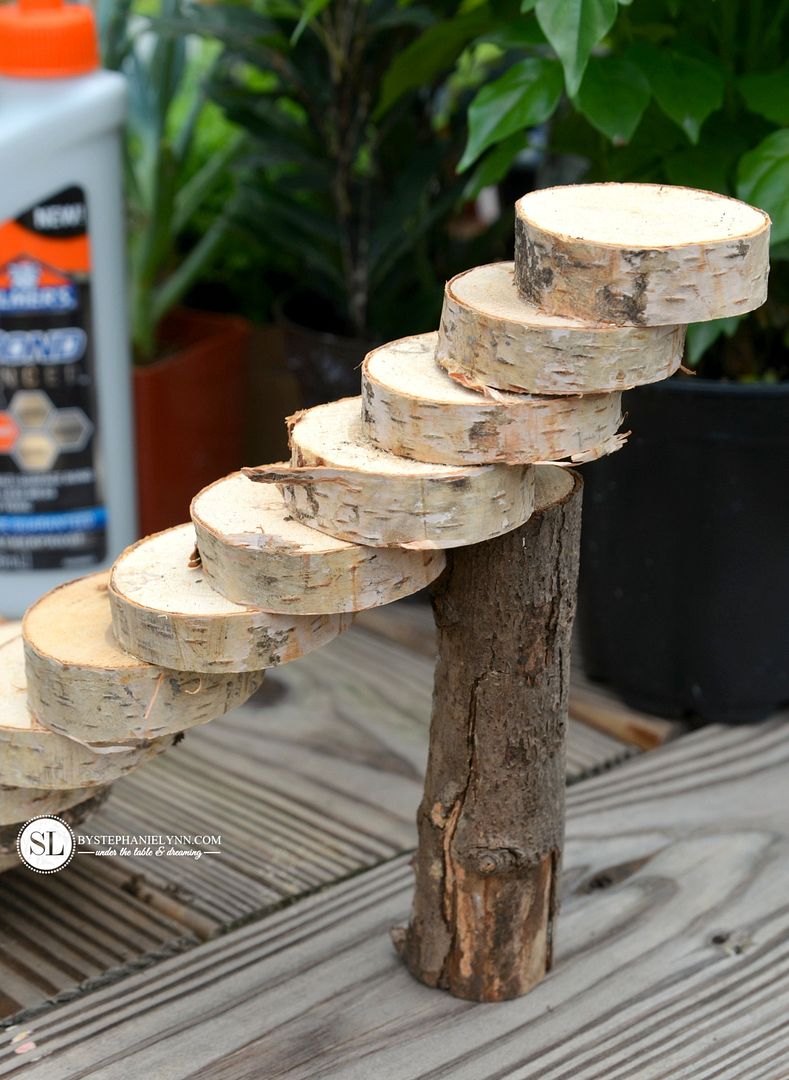 The logs were simply cut into slices and glued together using Elmer's Pro Bond.
A cut branch was used to stabilize the top of the stairs.
They can be seen on display in our gardens below.
We had fun creating four different Flower Pot Miniature Fairy Gardens. The details and supplies we used are listed with each garden.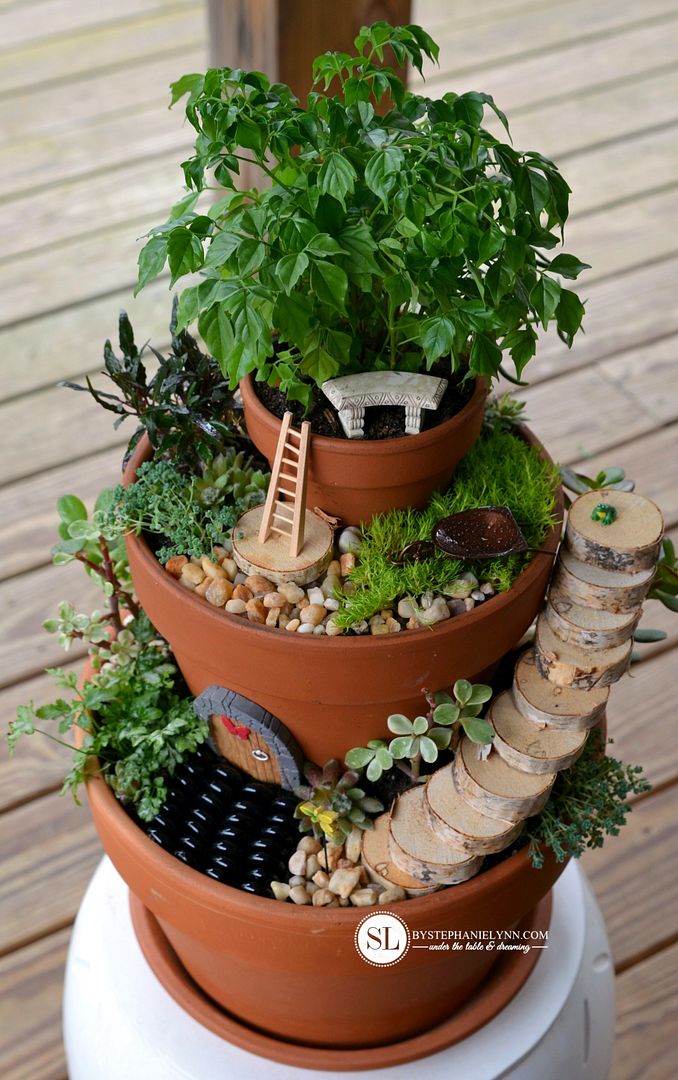 Fairy Garden No. 1
• Birch Logs
• Miniature Garden Bench
• Mini Wooden Ladder
• Miniature Wheelbarrow
• Sitting Frog
• Dragonfly Pick (available in-stores)
• Fairy Door
• Black Decorative Gems
• Pea Gravel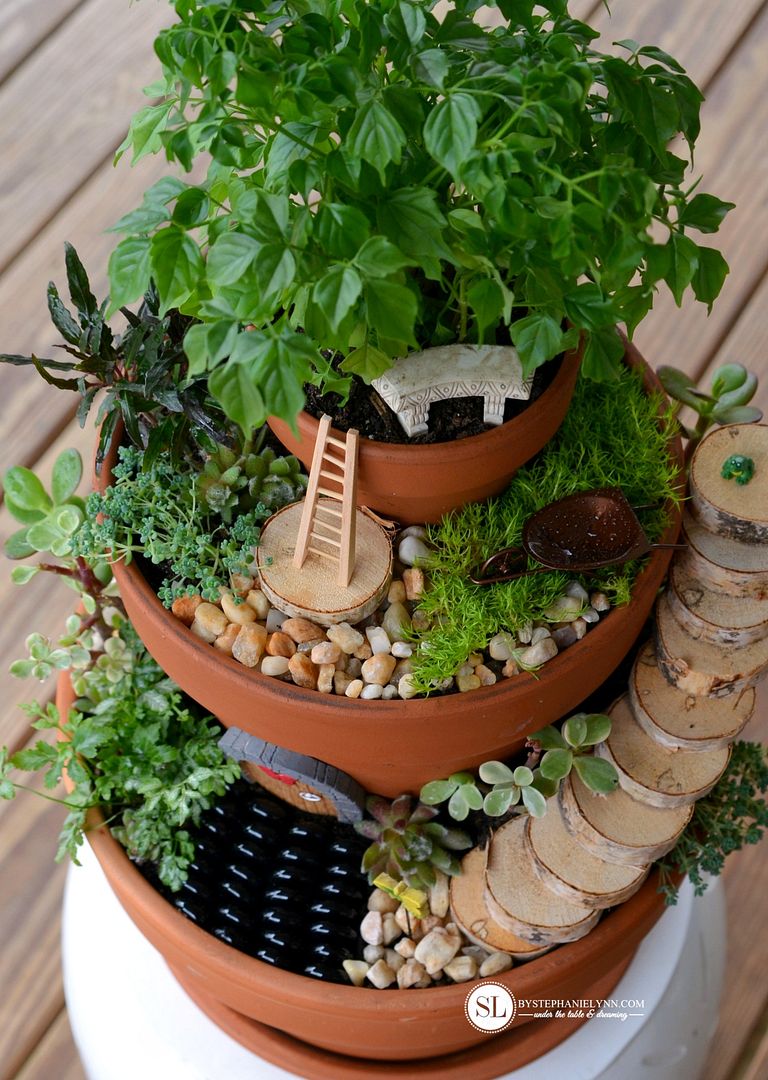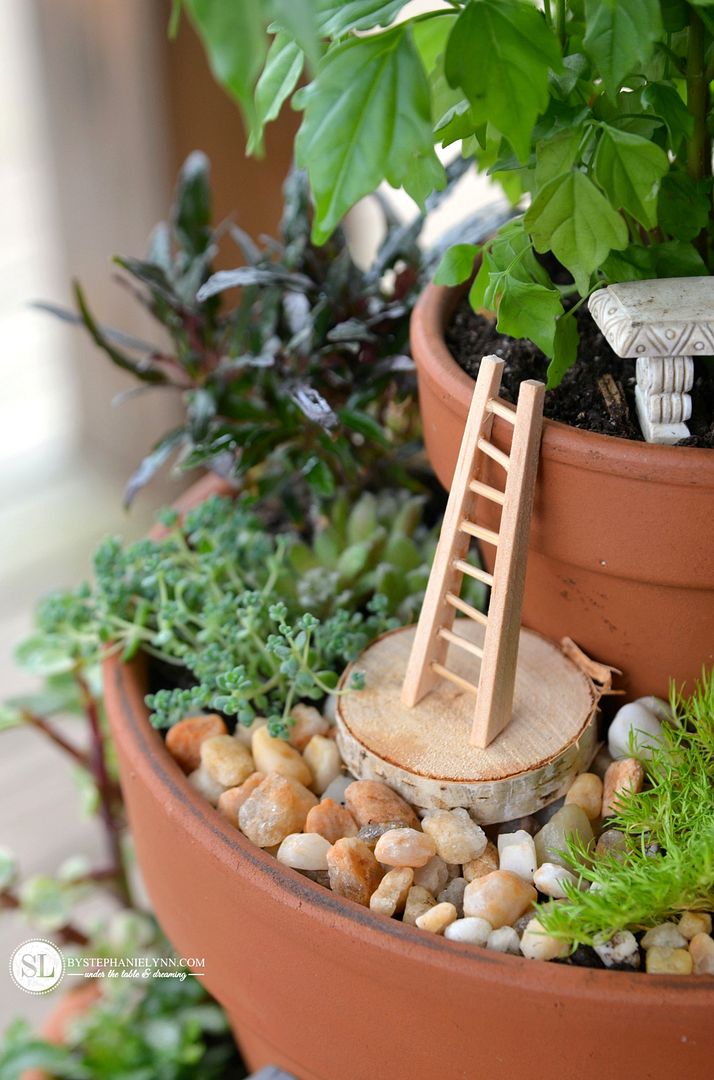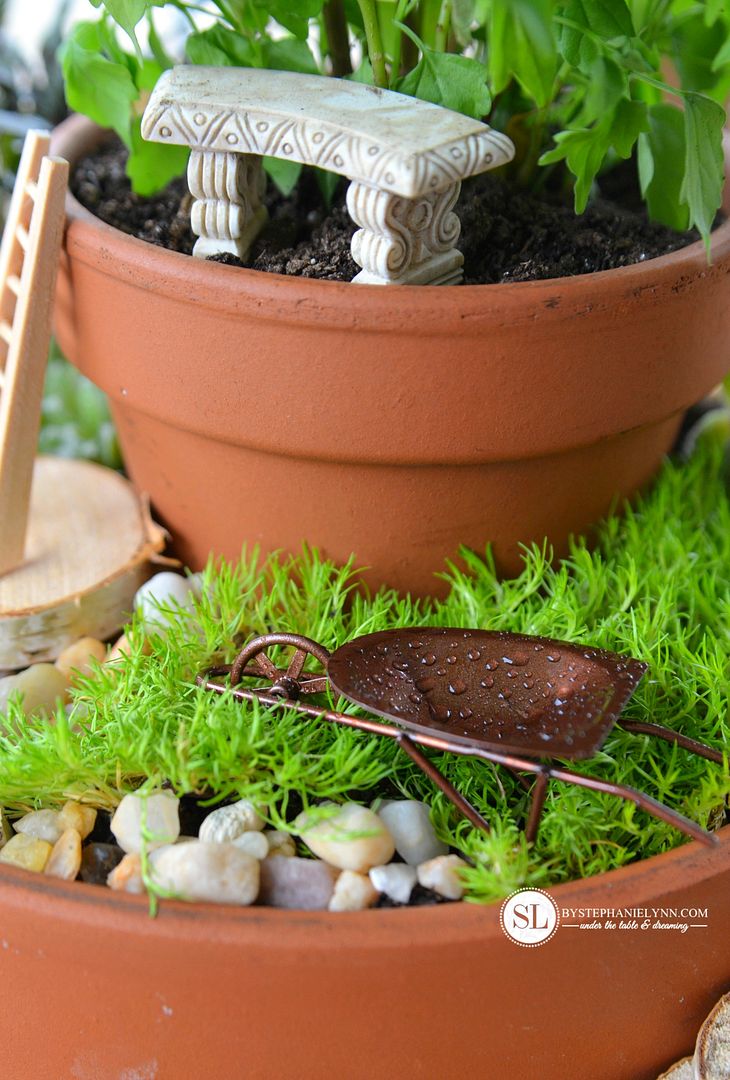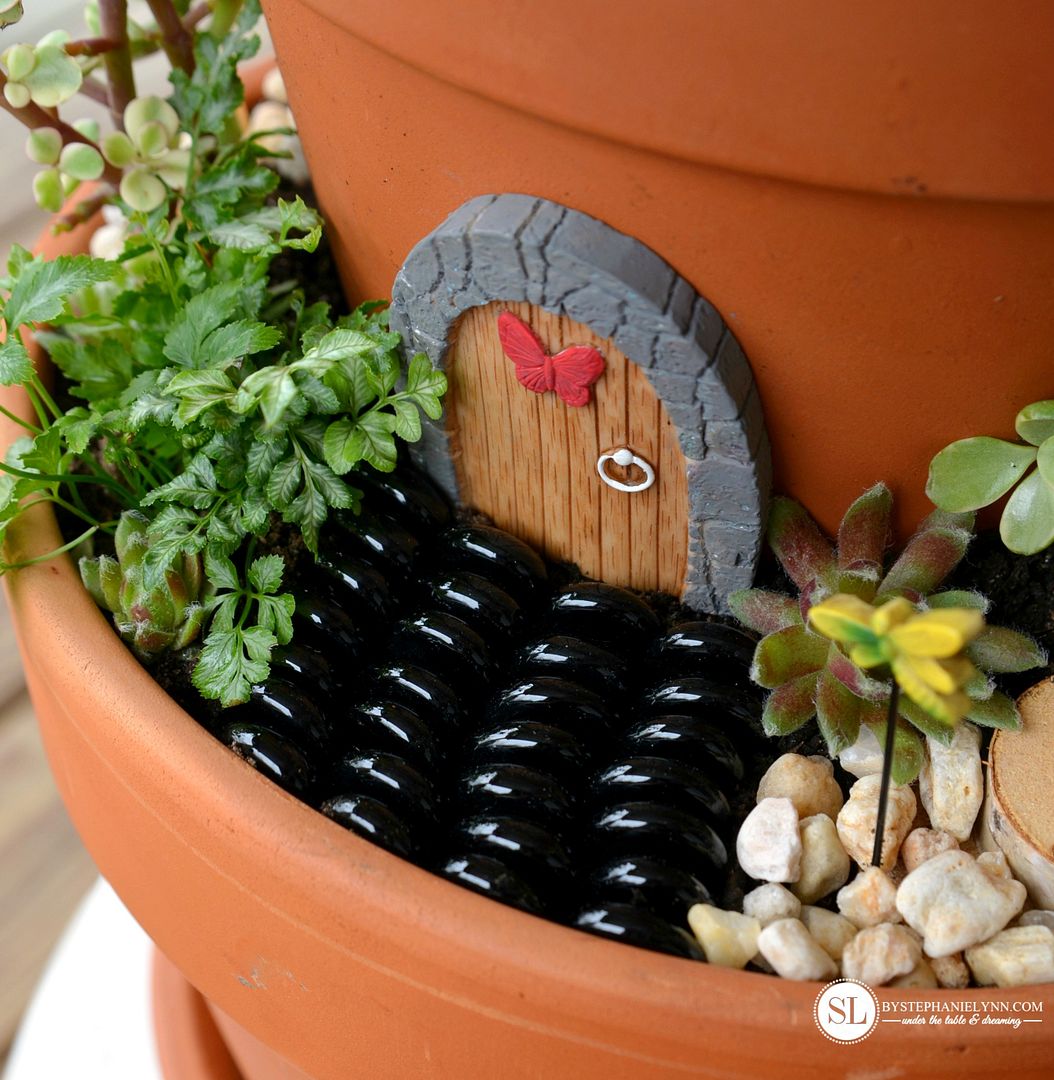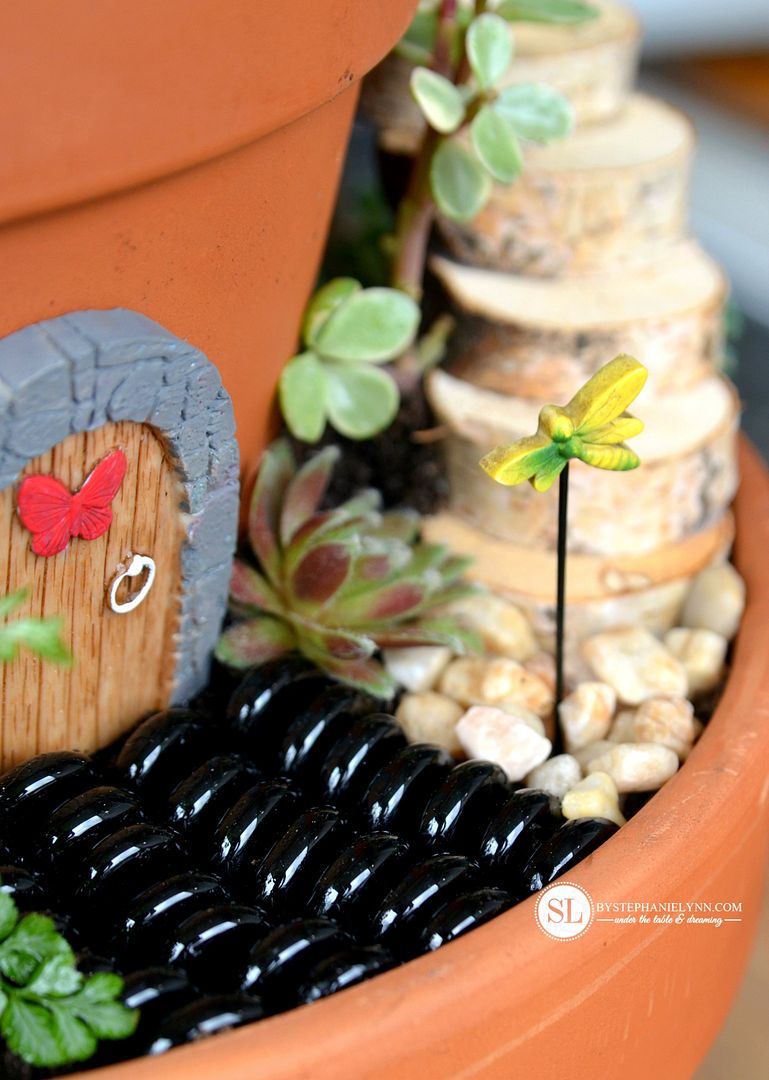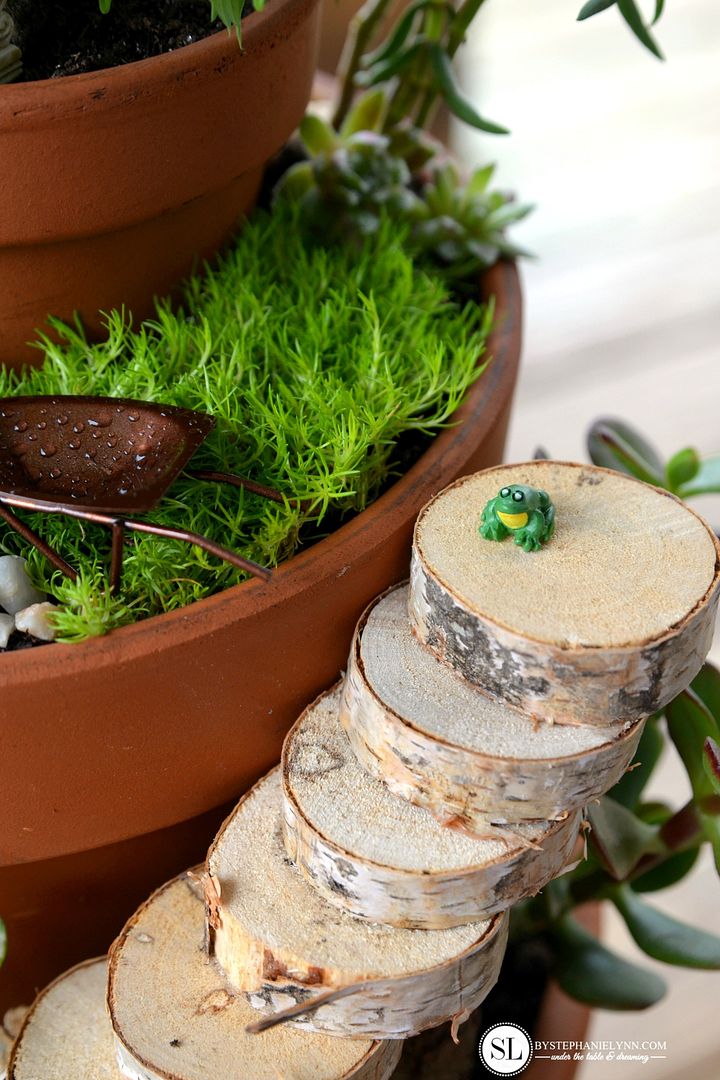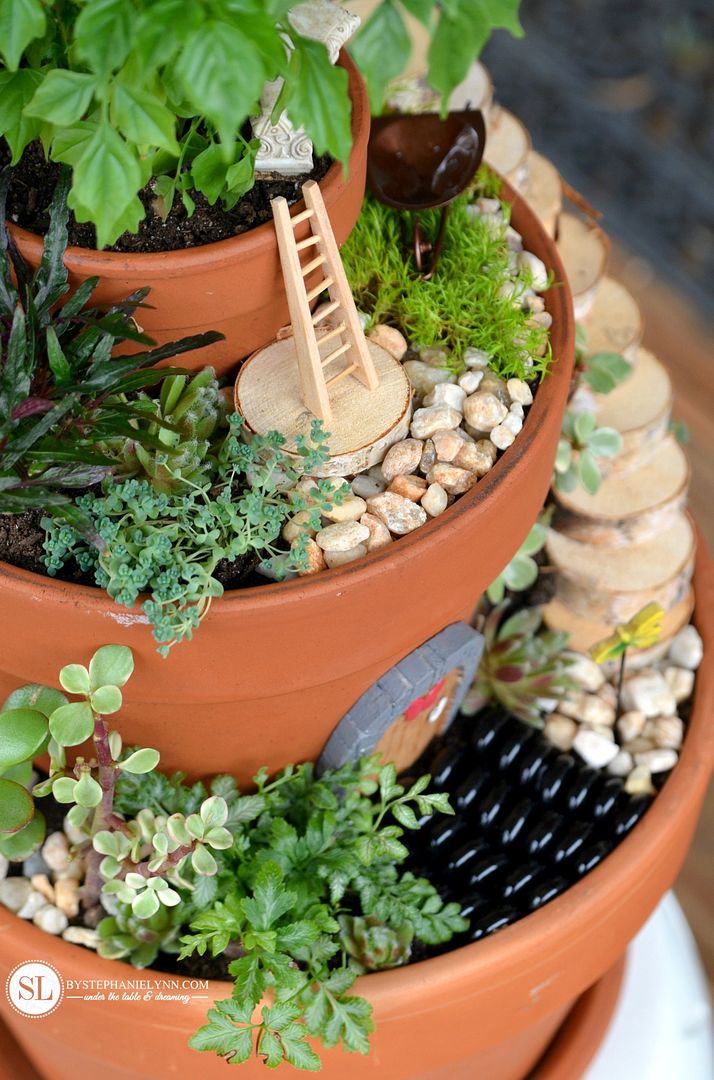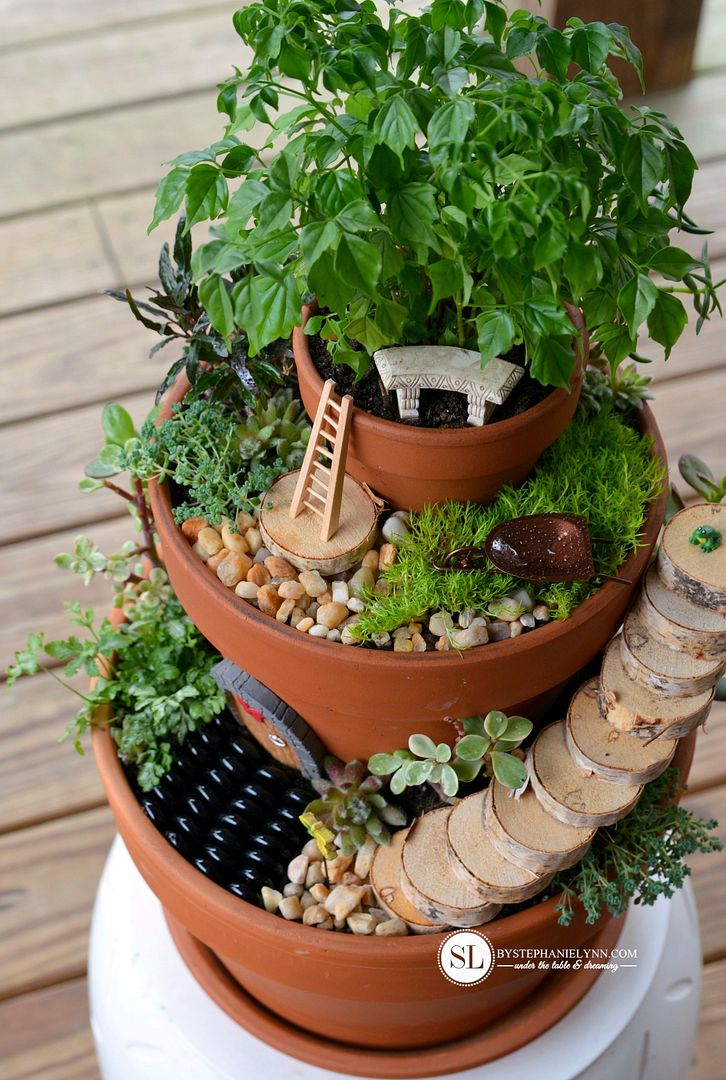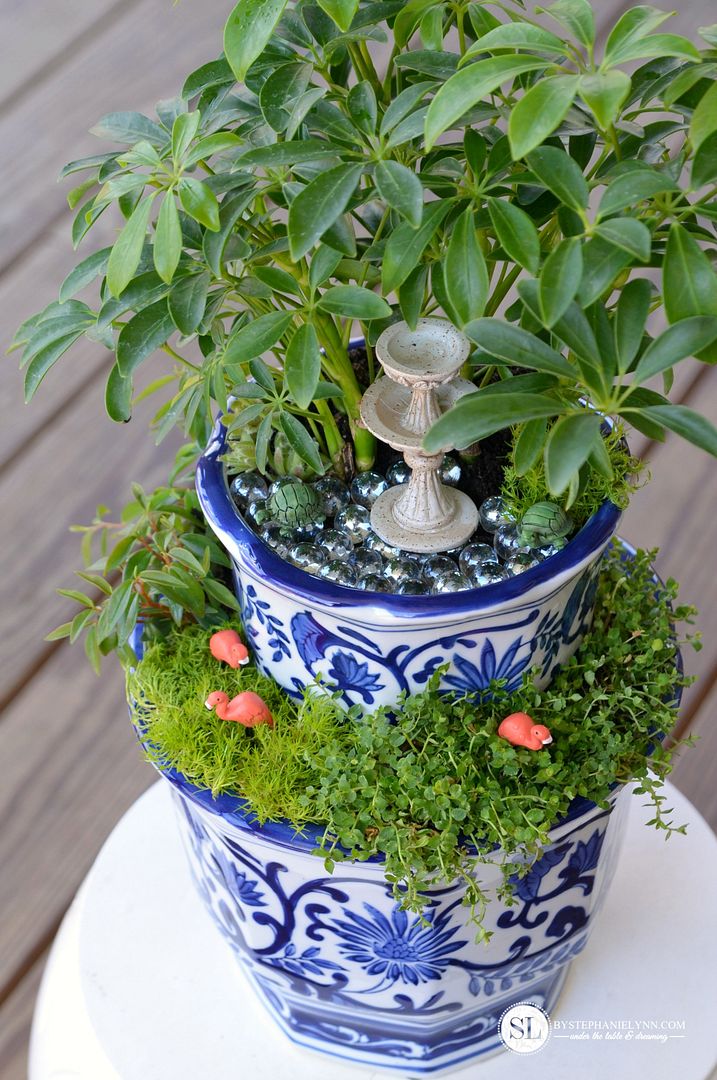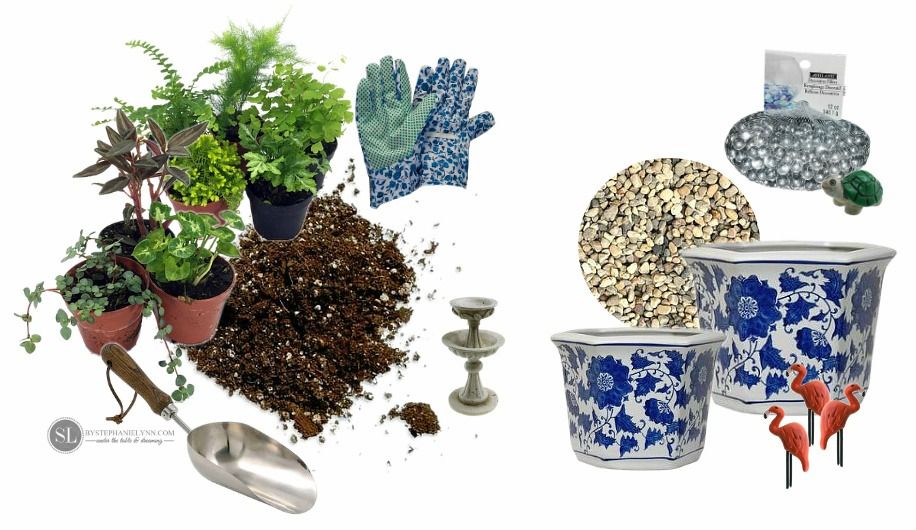 Fairy Garden No. 2
• Mini Marbles
• Pea Gravel
• Miniature Birdbath Fountain
• Turtles
• Flamingos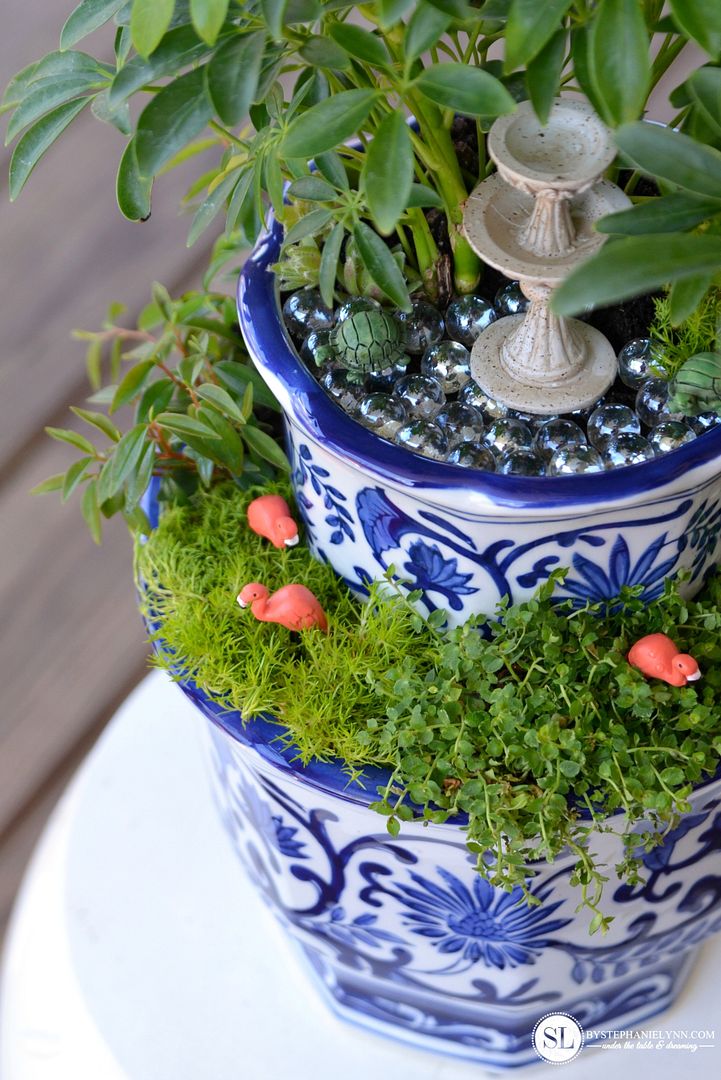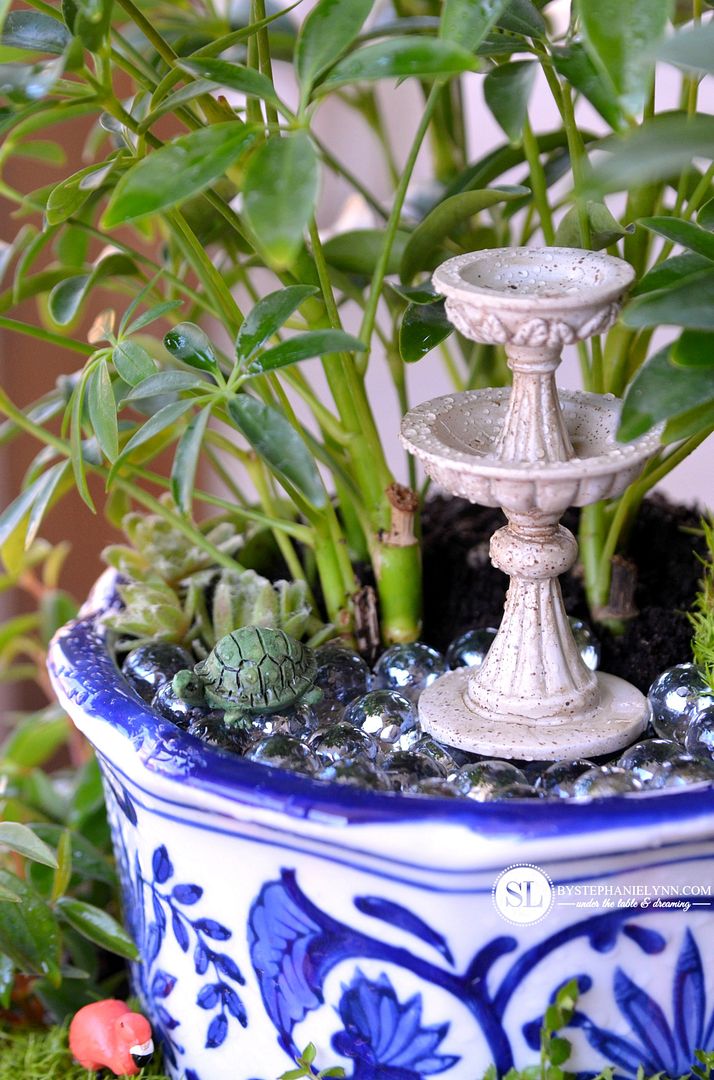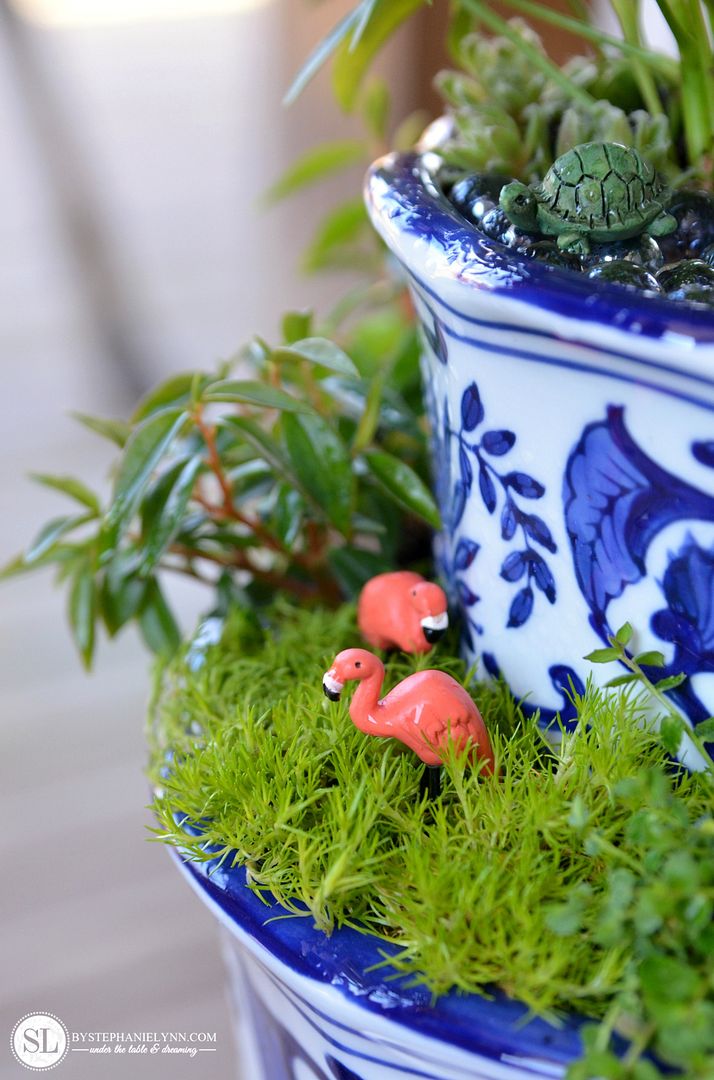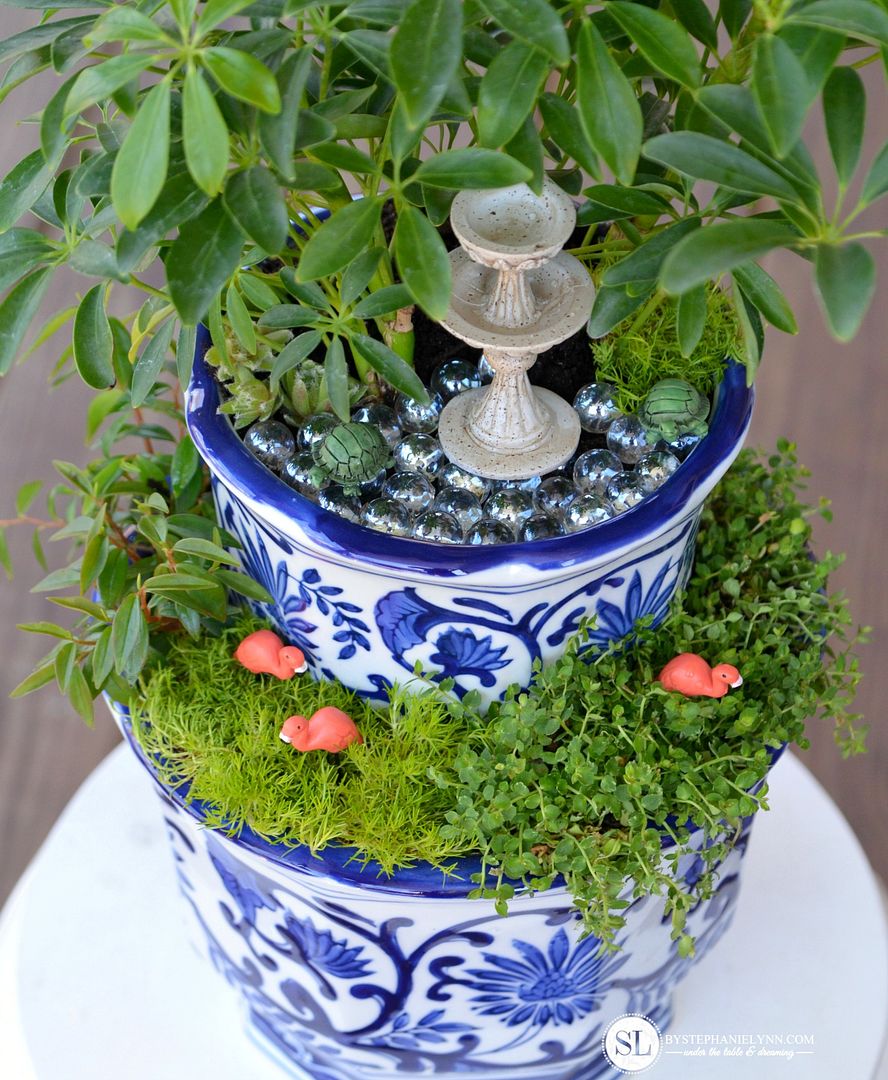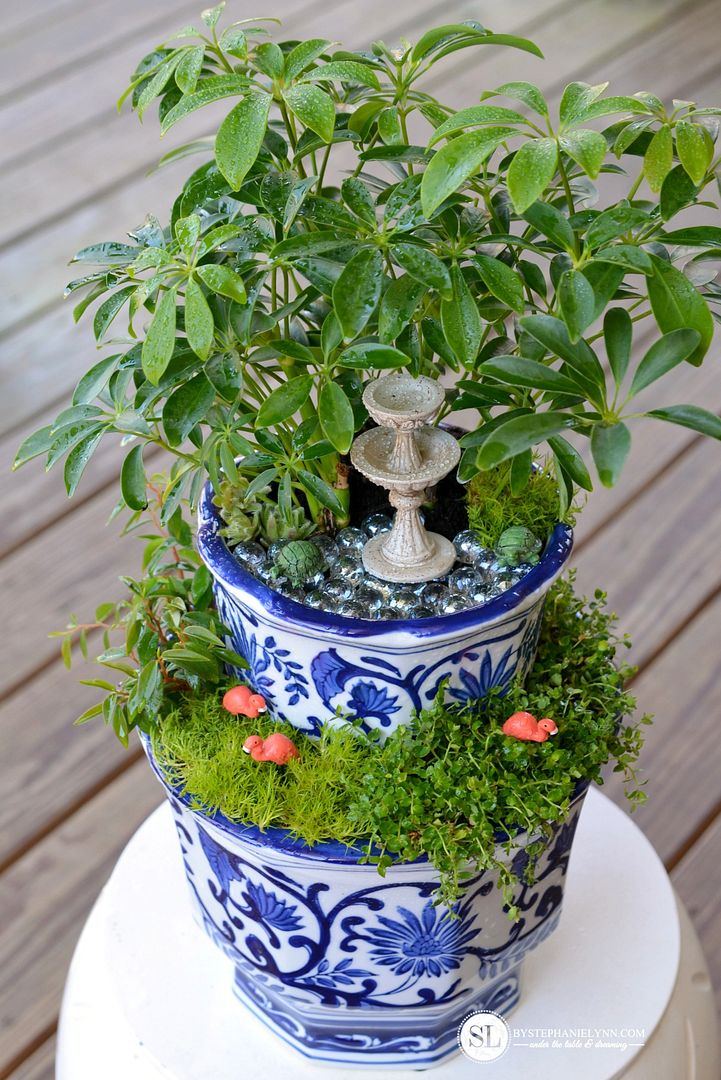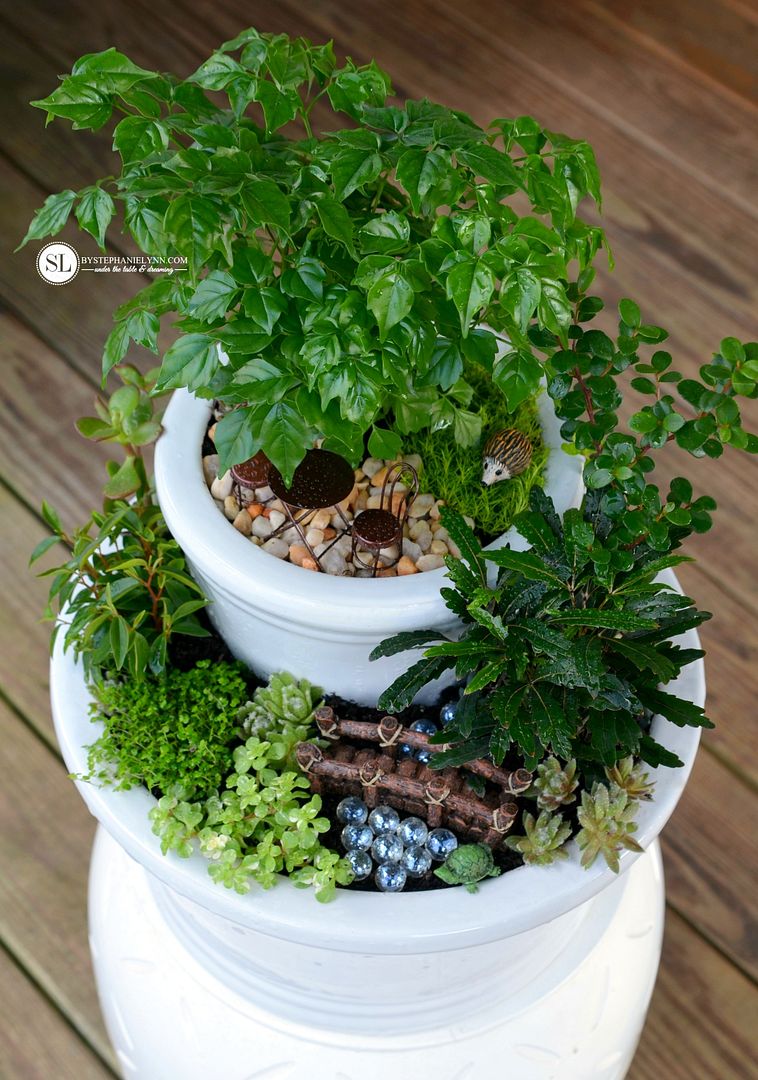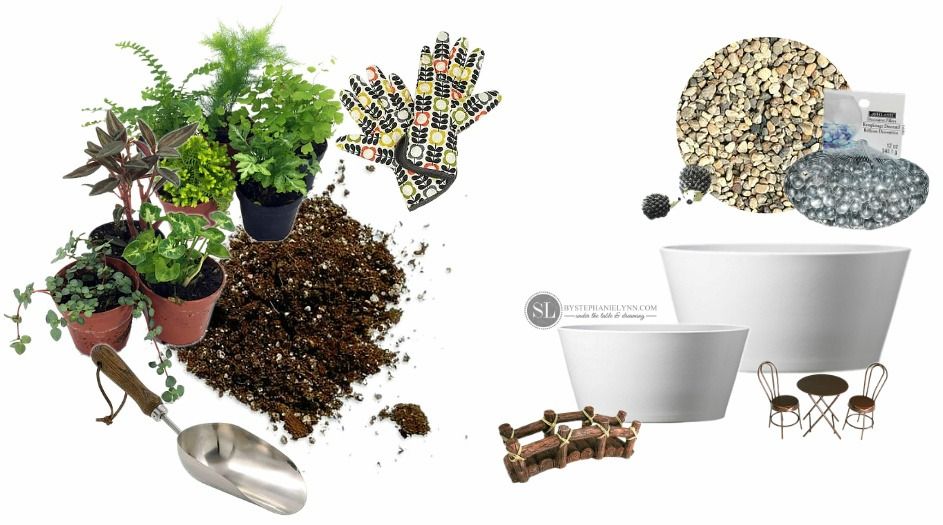 Fairy Garden No. 3
• Mini Marbles
• Pea Gravel
• Miniature Table and Chairs
• Bridge
• Turtles
• Hedgehog Pick (available in-store)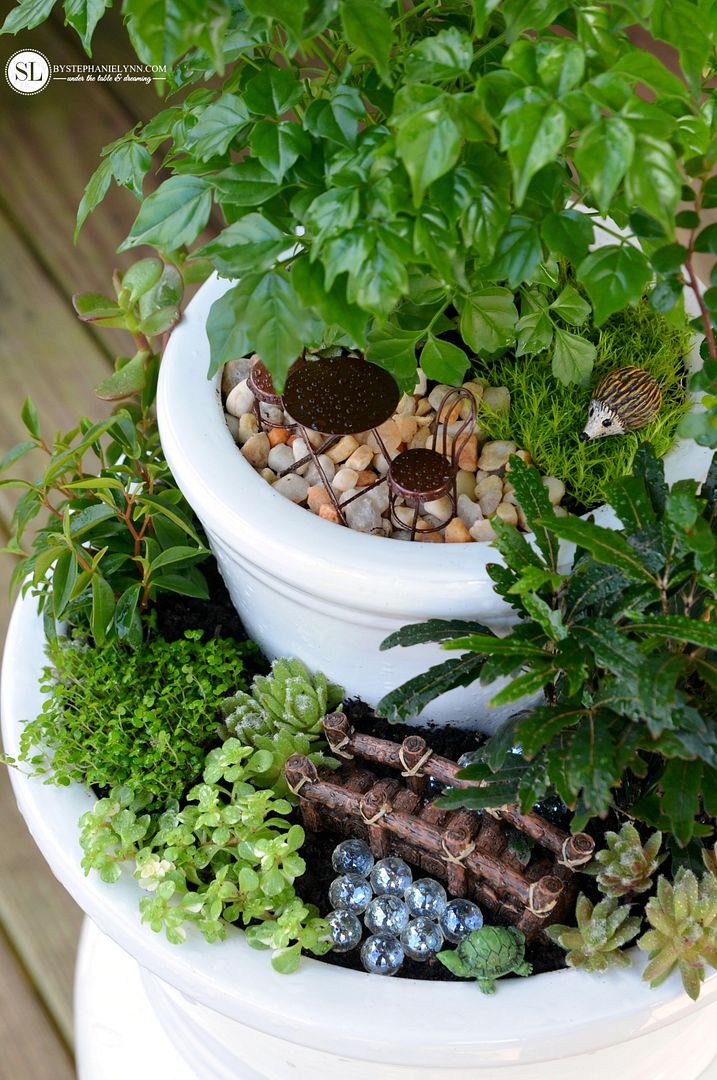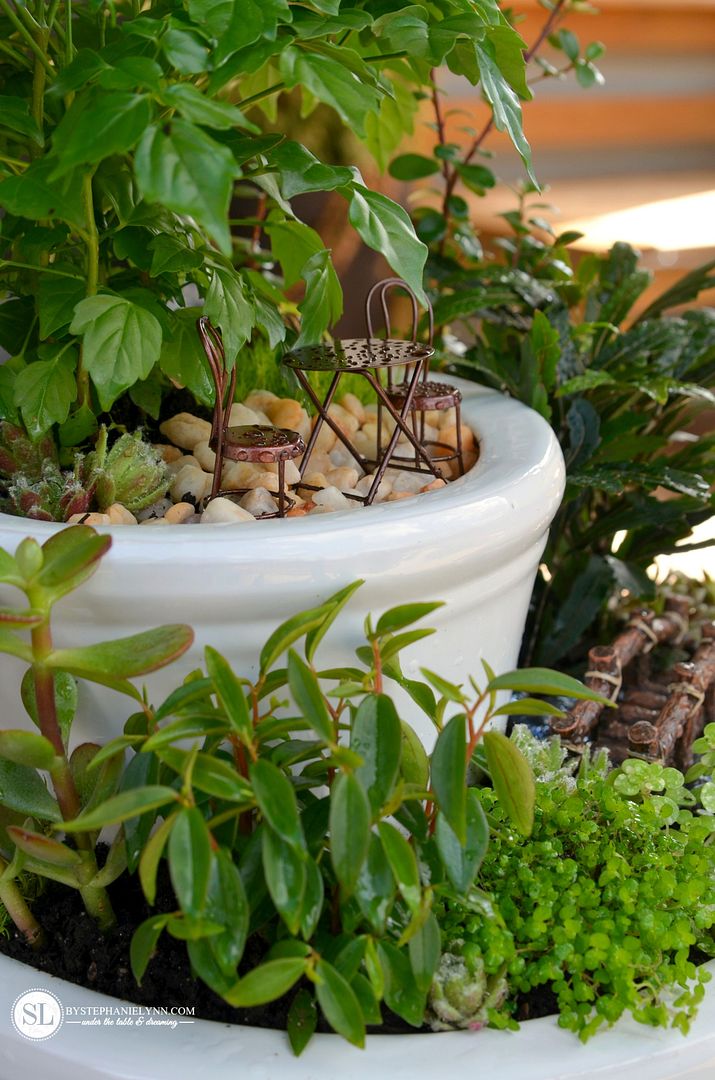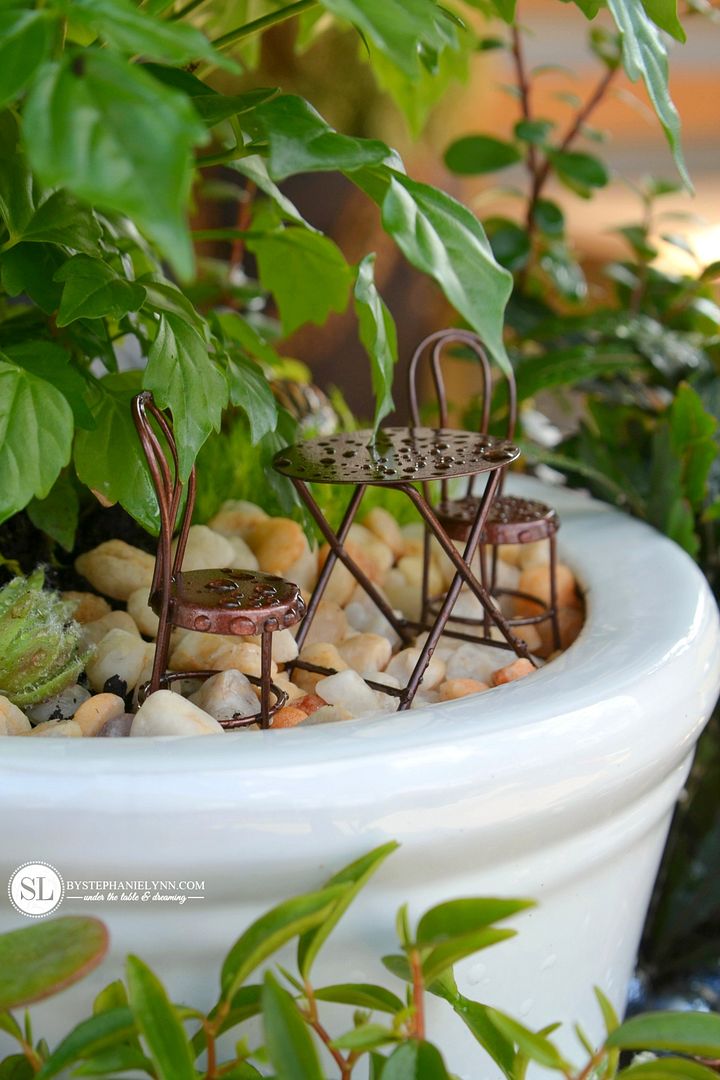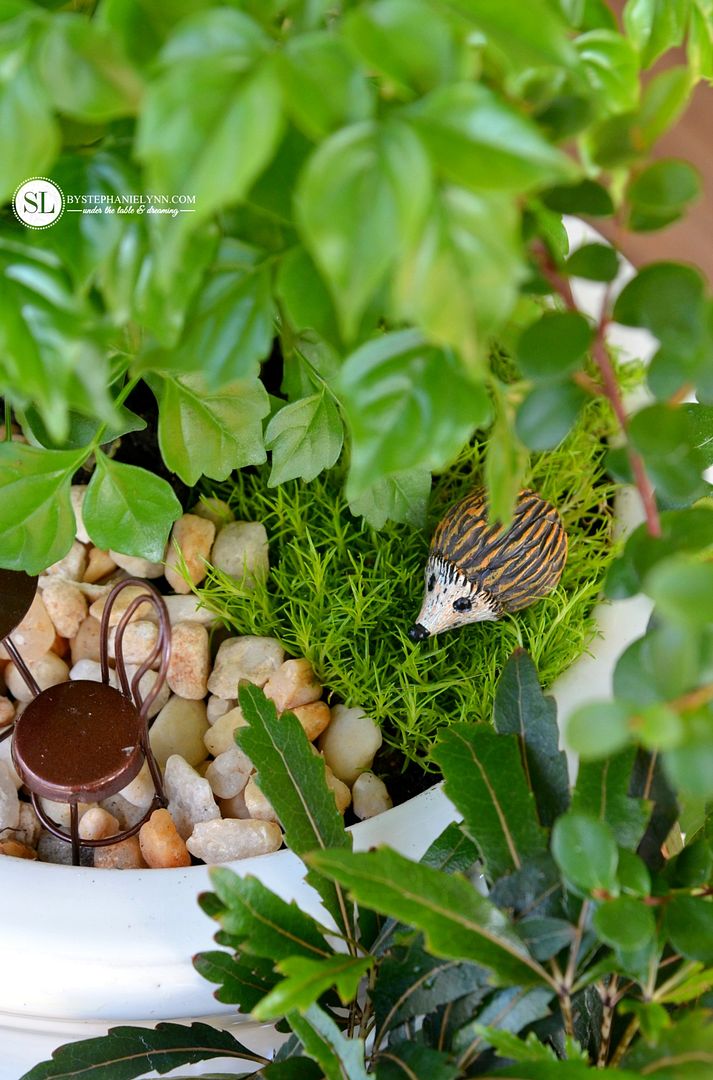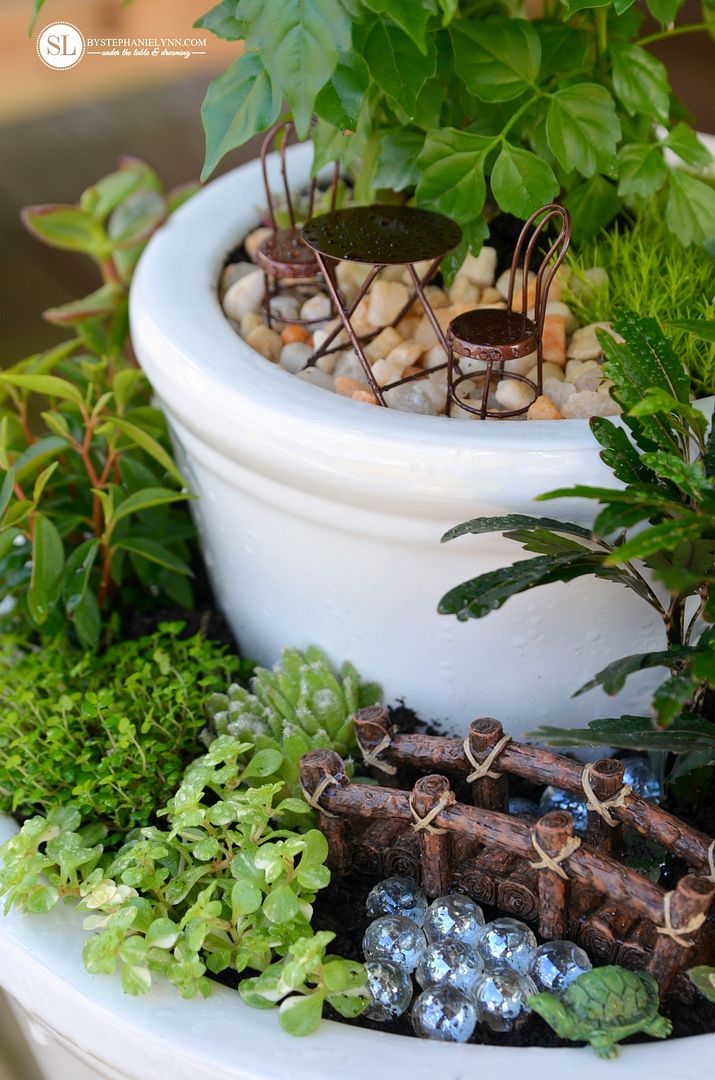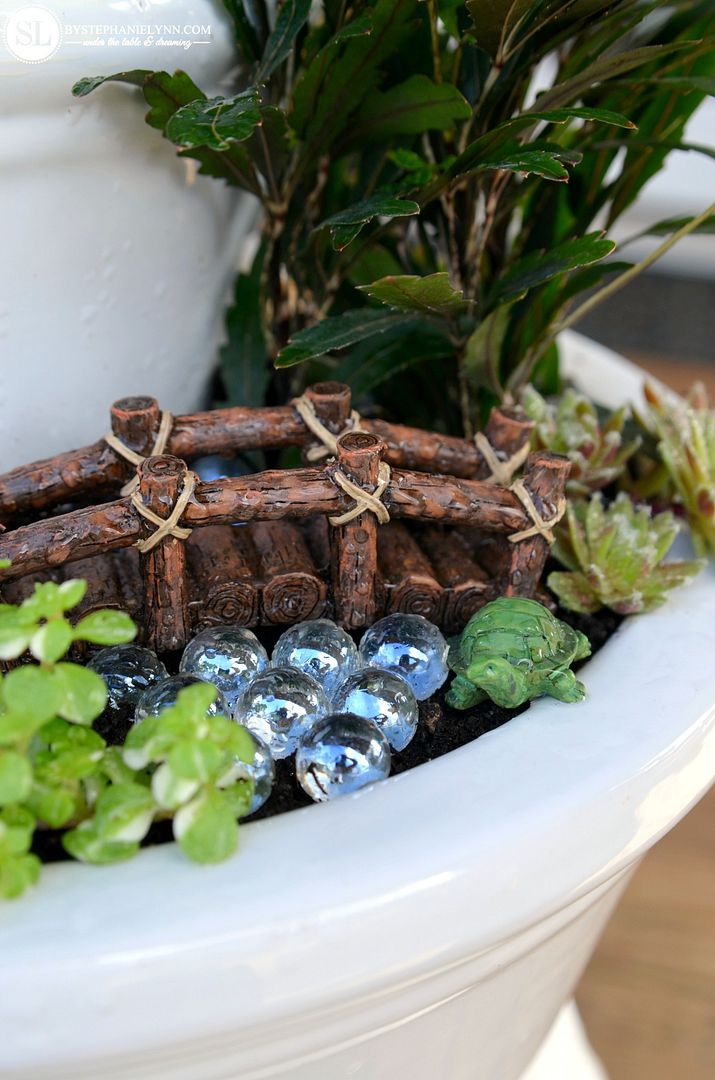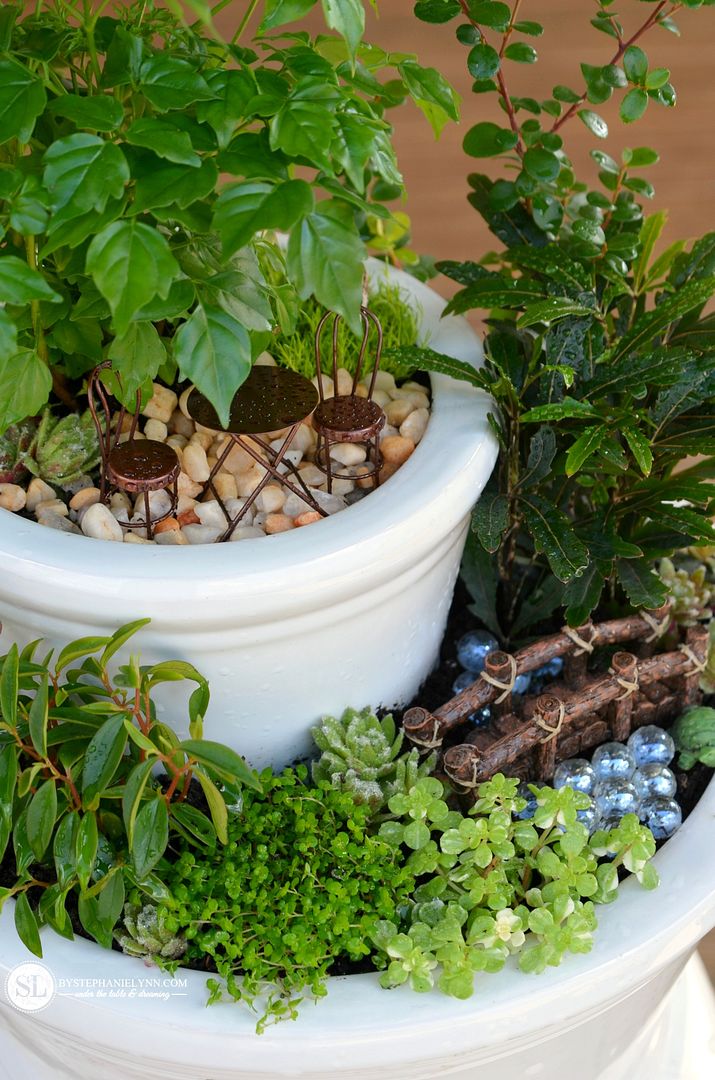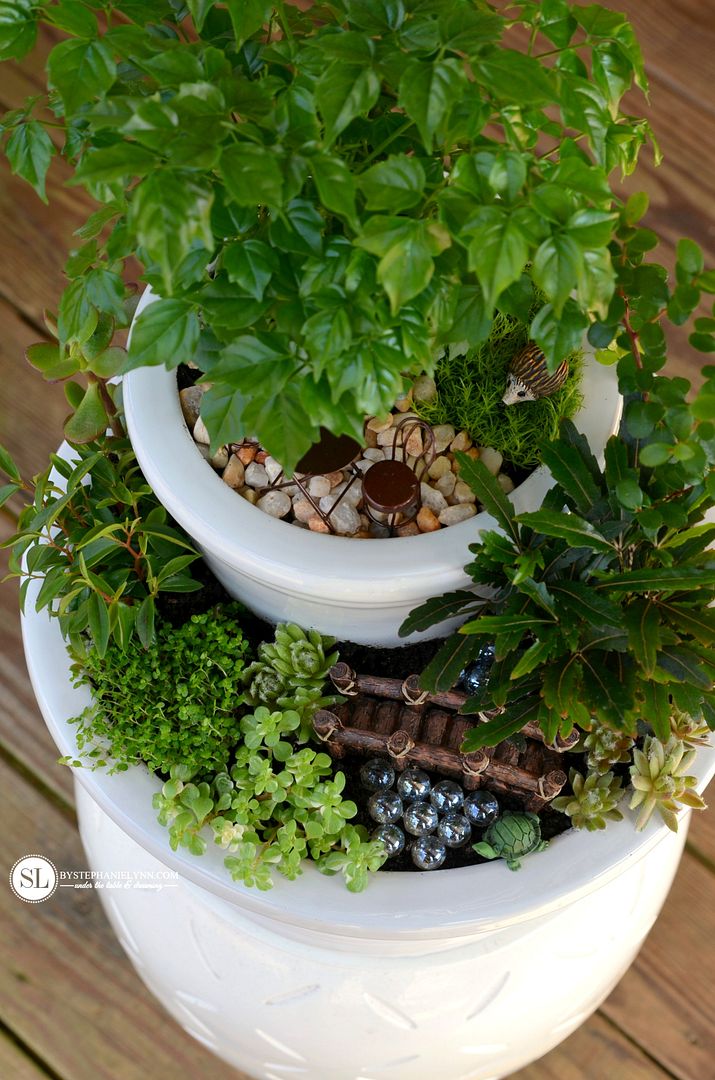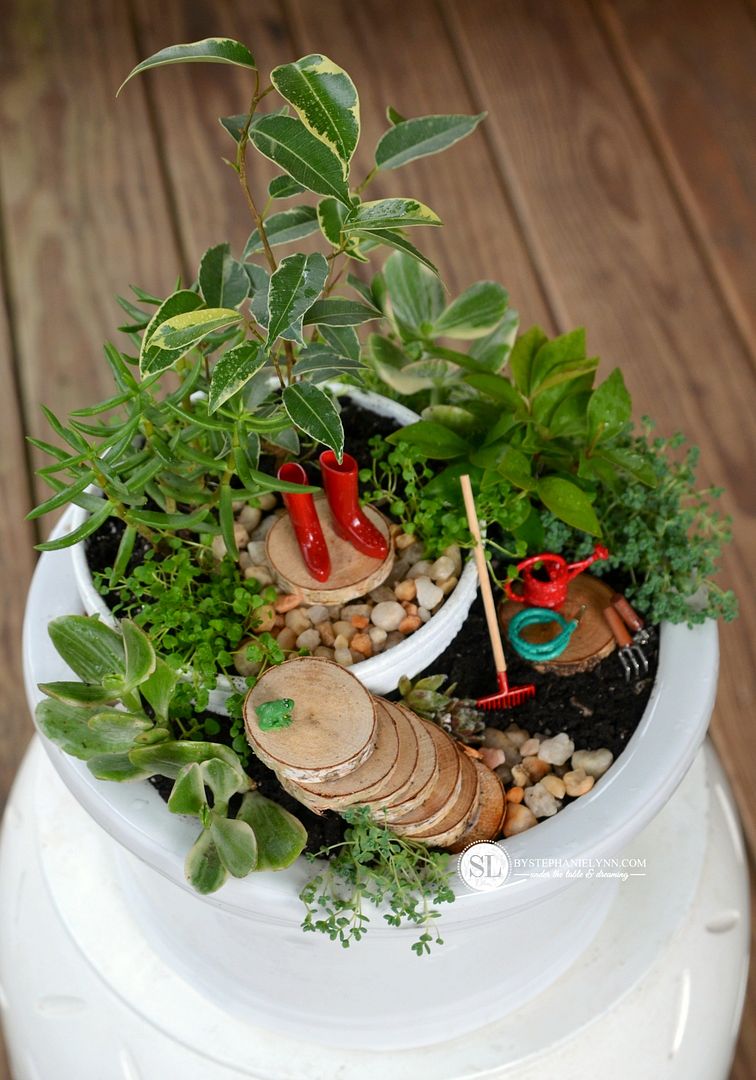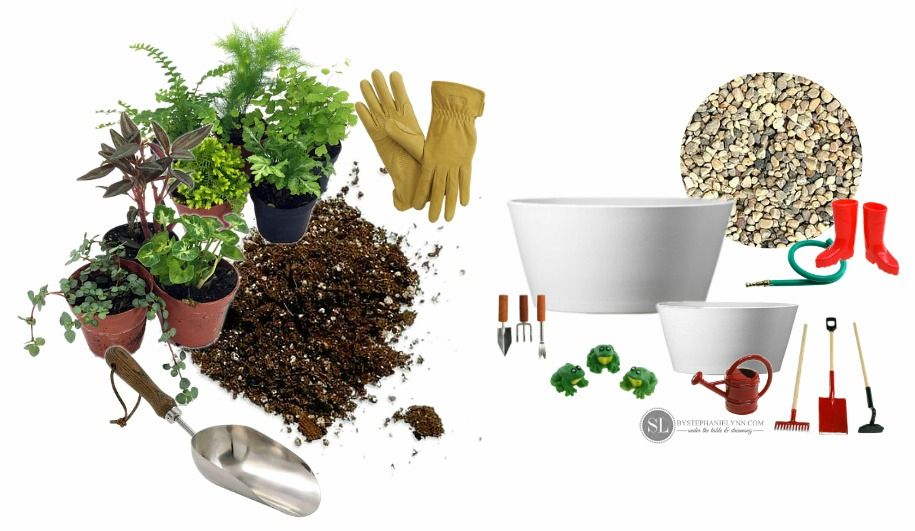 Fairy Garden No. 4
• Birch Logs
• Pea Gravel
• Red Rain Boots
• Sitting Frog
• Miniature Garden Rake
• Hose
• Red Watering Can
• Miniature Garden Tools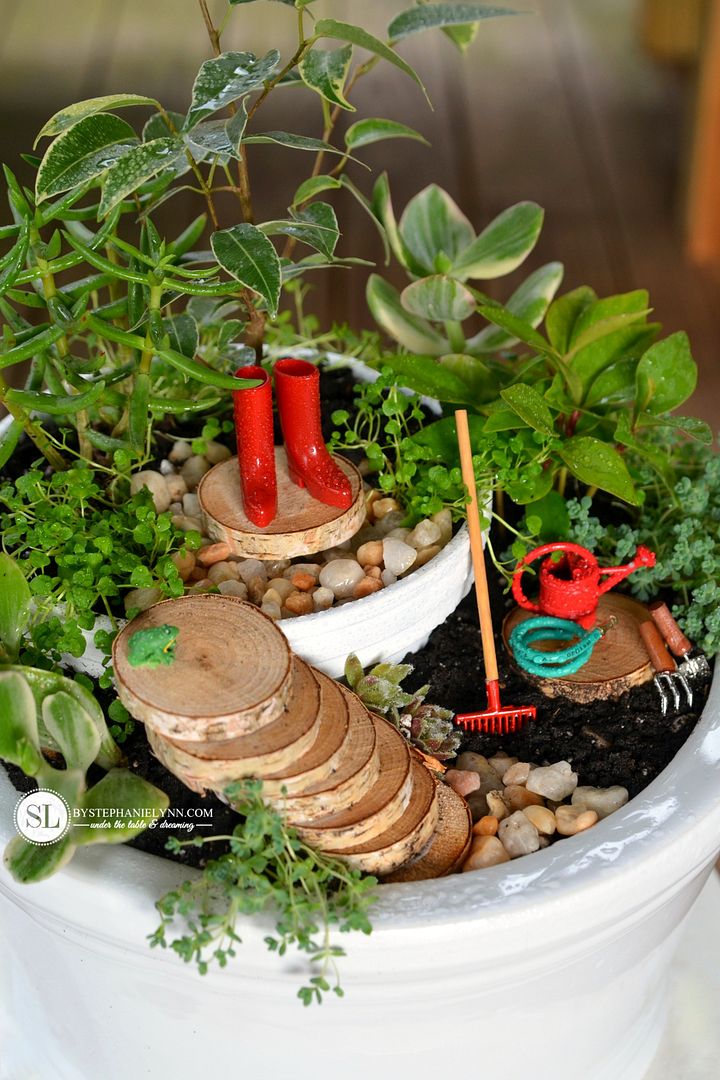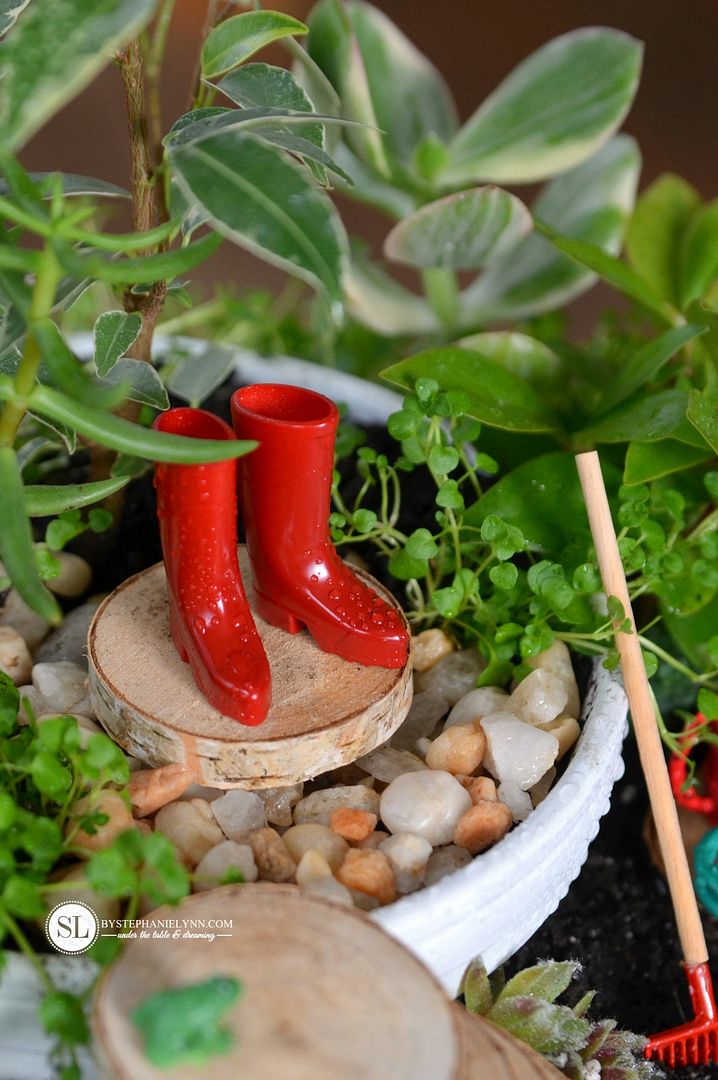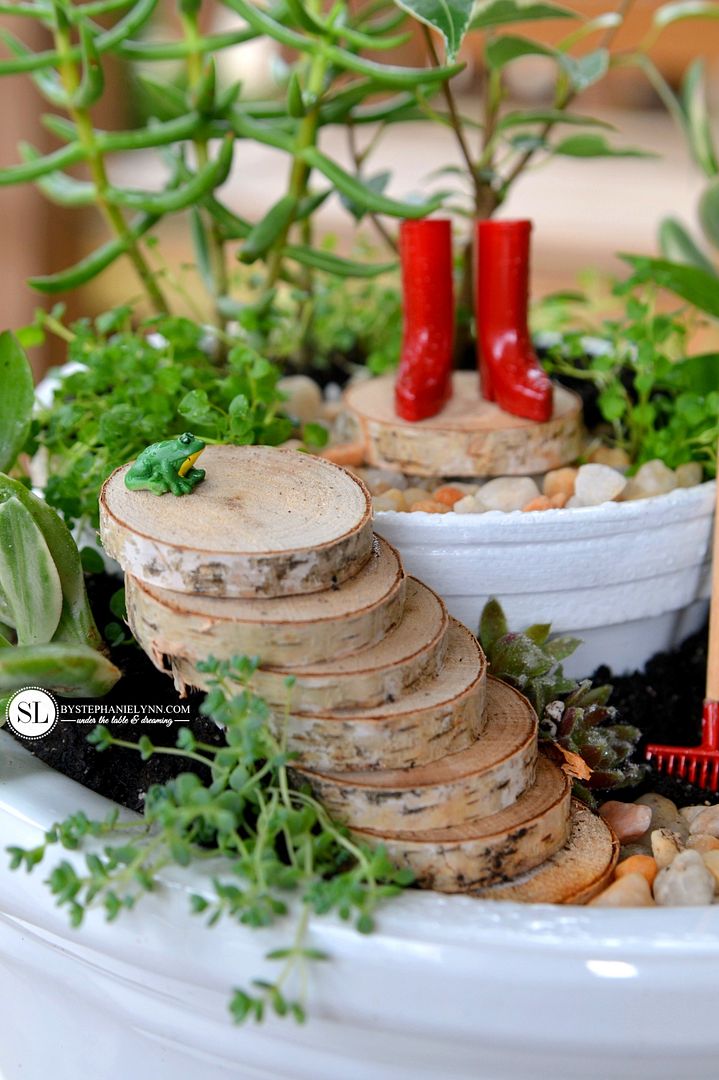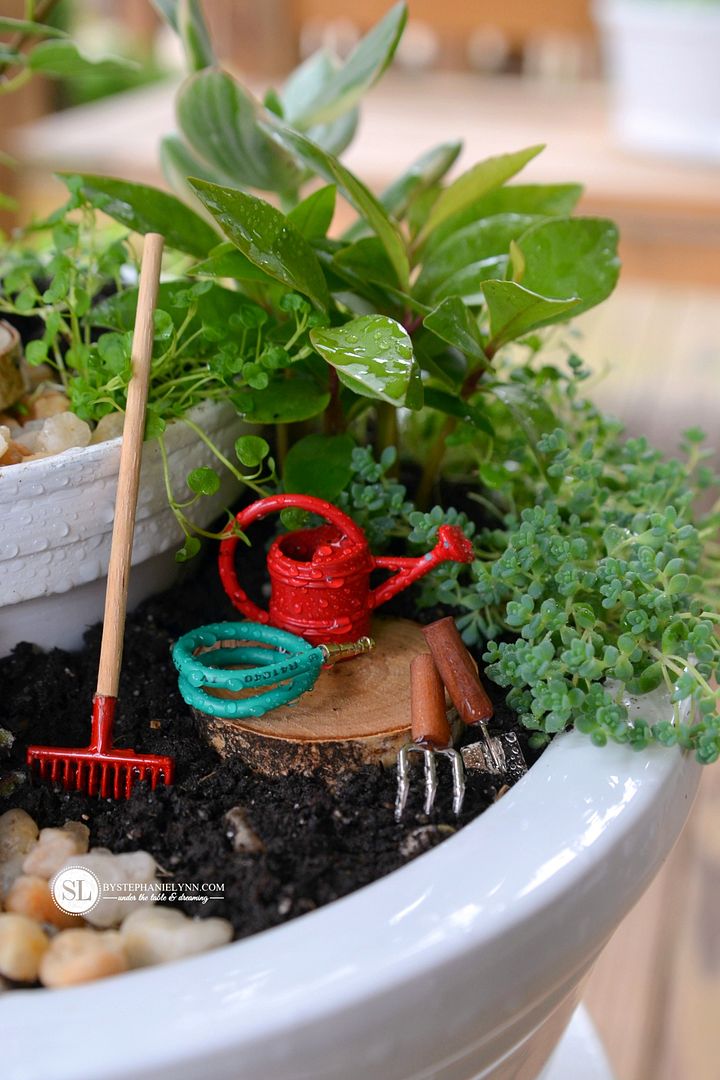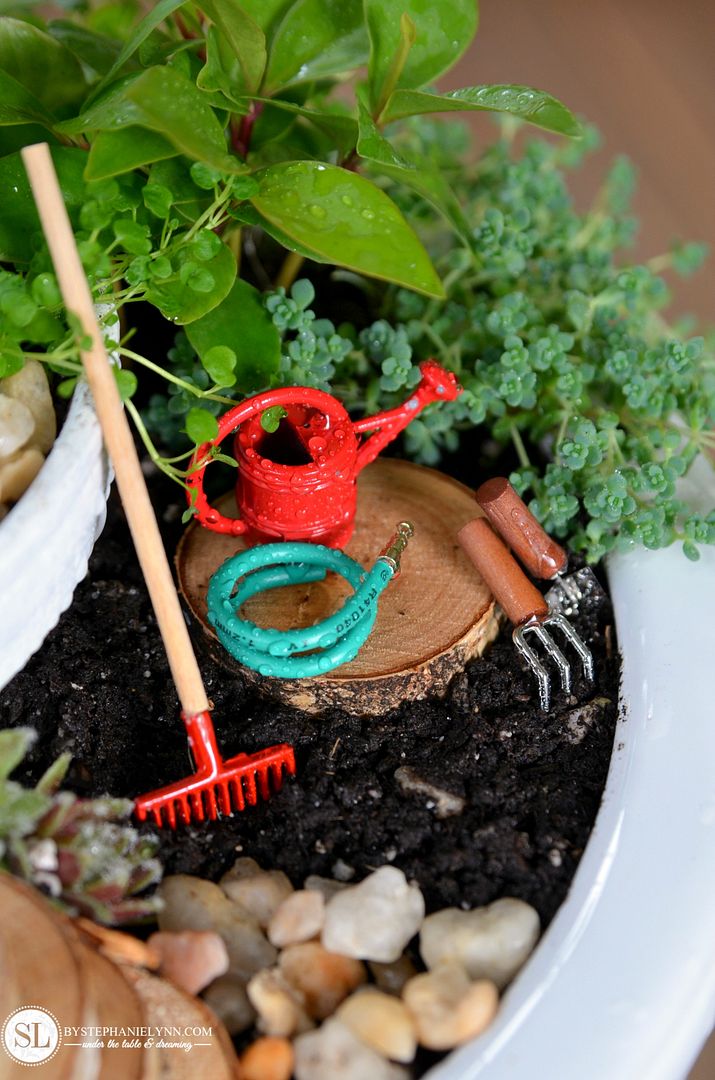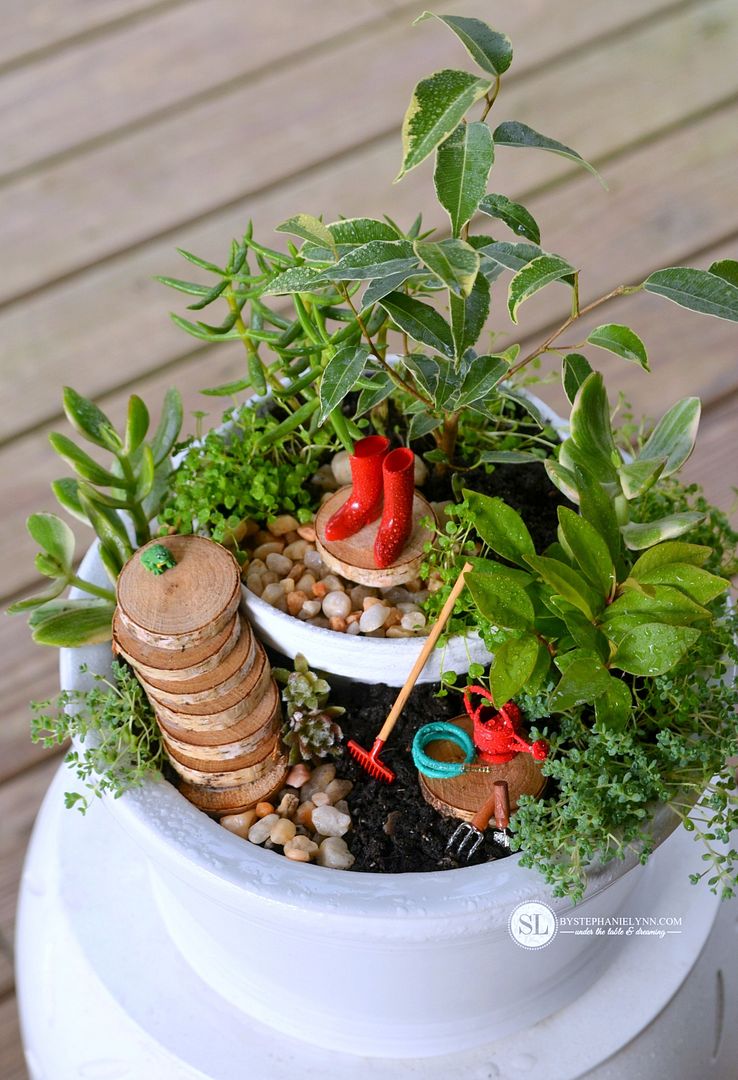 Hope you are inspired to create your own Flower Pot Miniature Fairy Gardens with your loved ones (or for your loved ones) this year! What would you add to yours?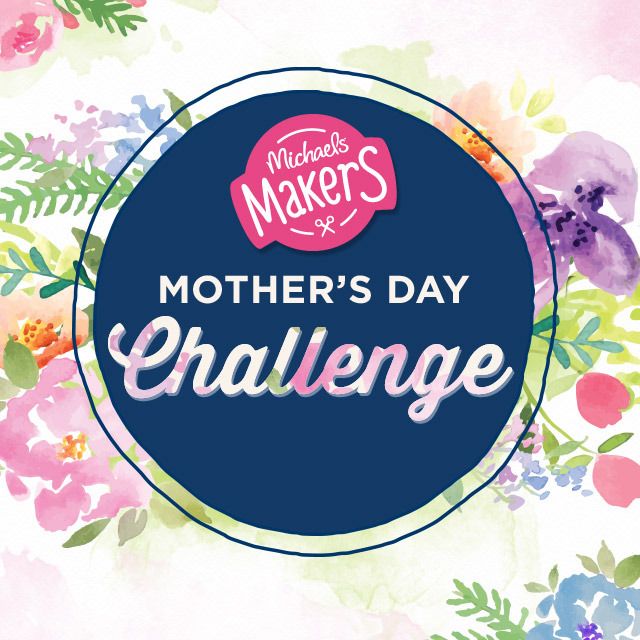 This post is brought to you by Michaels
. The opinions read here are entirely my own. Michaels has everything you need to craft the perfect handmade gift that will make Mom's day. If you don't know where to begin, you can always take a look at some of the fun projects on Michaels.com or the other 49 Makers' ideas on The Glue String for to see how they personalized their crafts! Happy Planting!