Outdoor Wine and Pizza Bar Party | This shop is #sponsored by #CollectiveBias and its advertiser. The following content is intended for readers who are 21 or older. The story and opinions read here are entirely my own ~ #BlackBoxSummer
Summer presents so many opportunities for entertaining outdoors.
Simple food, exceptional weather and a relaxed atmosphere are the prefect components for any social gathering.

Take full advantage of the grill this summer and host an Outdoor Wine and Pizza Bar Party.
Classy meets casual with this hands-on food bar that transforms your typical pizza menu into a playful and stylish, interactive experience.
The wine and pizza bar gives guests the option to create their own customized grilled pizza, paired with a selection of premium wines.
The menu is not only a satisfying meal, but simple to put together – as all of the preparation for this Outdoor Wine and Pizza Bar Party can be completed in advance.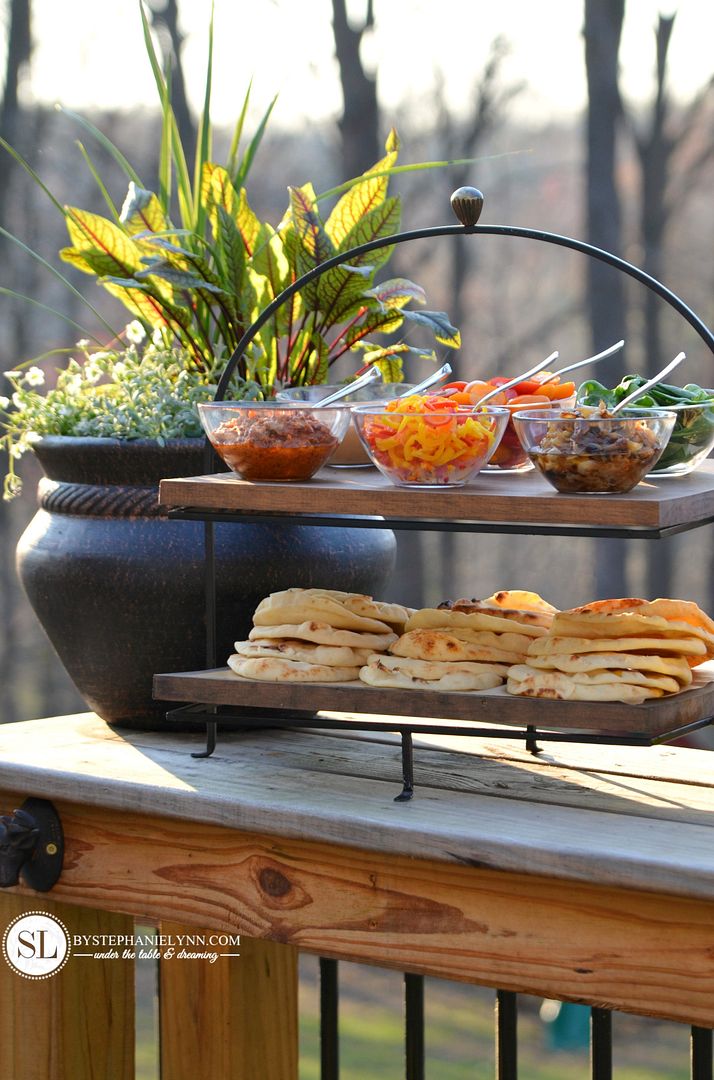 When choosing pizza toppings for the bar think about the wine selections being offered during the party.
Although guests will ultimately customize their pizza with their own personal favorites – it's fun to encourage guests to step outside the norm and try some pairings that elevate the tasting experience.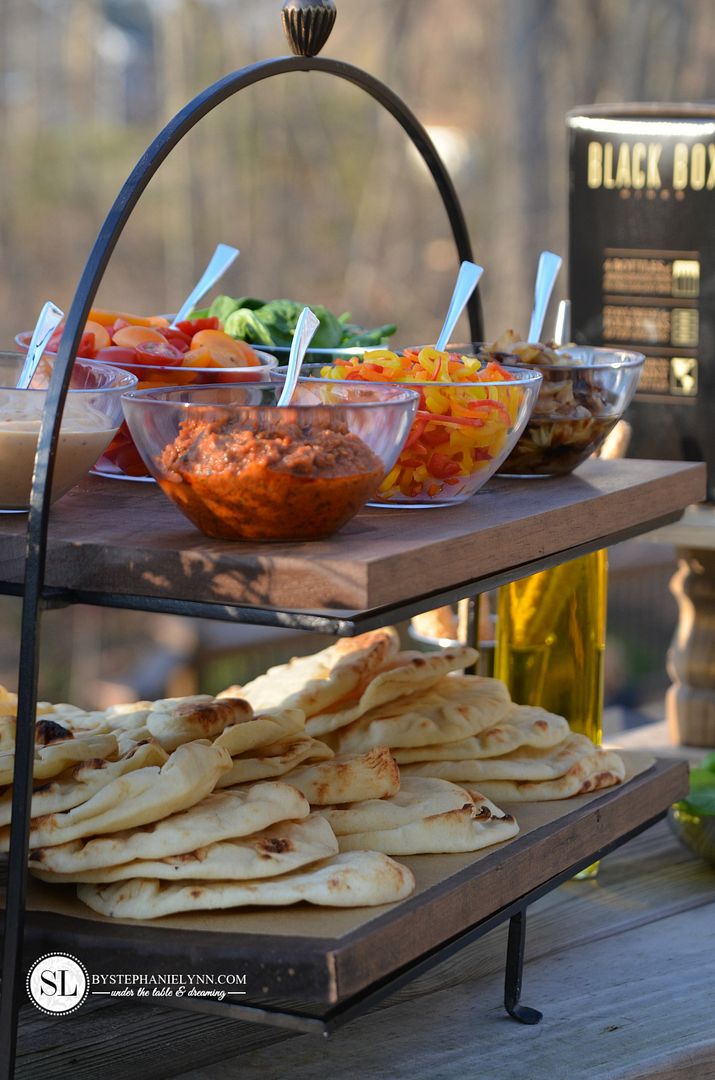 Compliment the hearty flavors of a mushroom and pepperoni with a full bodied Cabernet Sauvignon.
Elevate the natural creamy notes of white pizza with a rich Chardonnay.
Pair the complex flavors of a veggie pizza with a delicate Pinot Noir.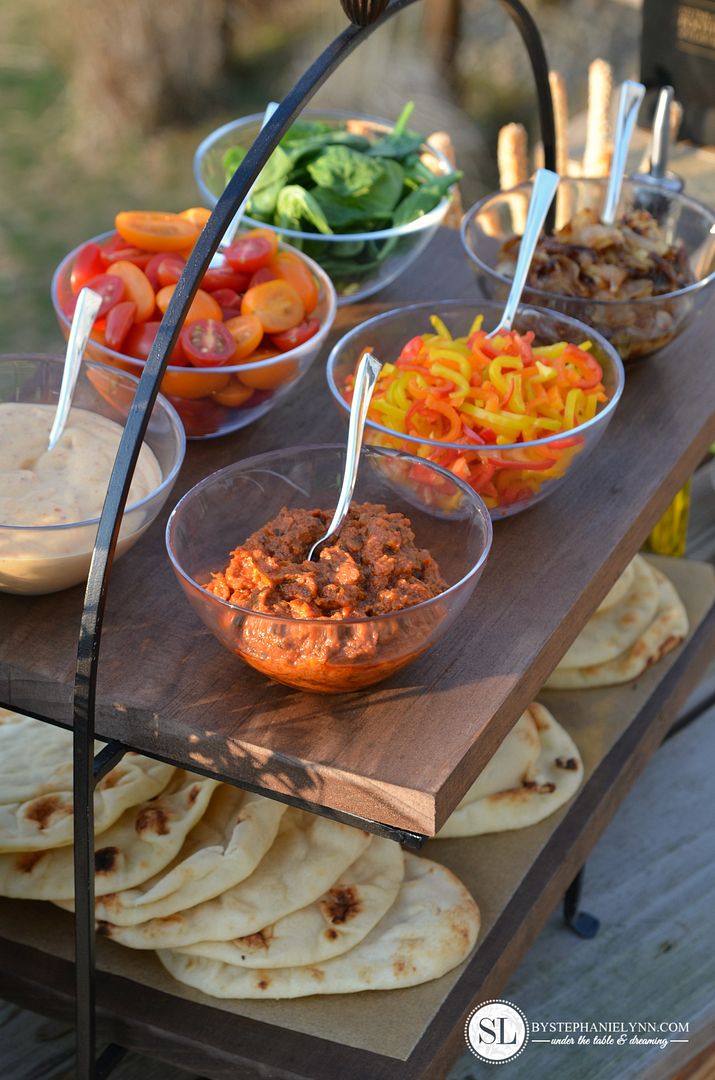 Our Outdoor Wine and Pizza Bar Party consisted of three Black Box Wines, eight different pizza toppings, two sauces, and four cheese selections.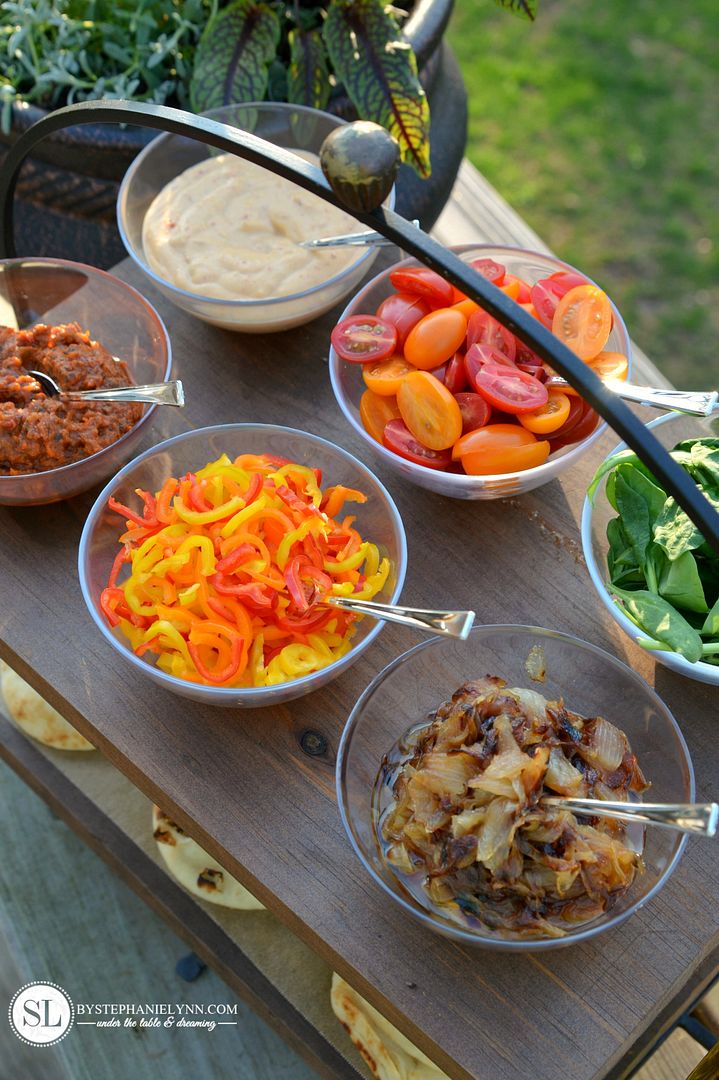 Sauces: Sun Dried Tomato Pesto • Creamy Sun Dried Tomato Alfredo Sauce
Veggie Toppings: Cut Tomatoes • Thin Sliced Sweet Peppers • Fresh Spinach Leaves • Caramelized Onions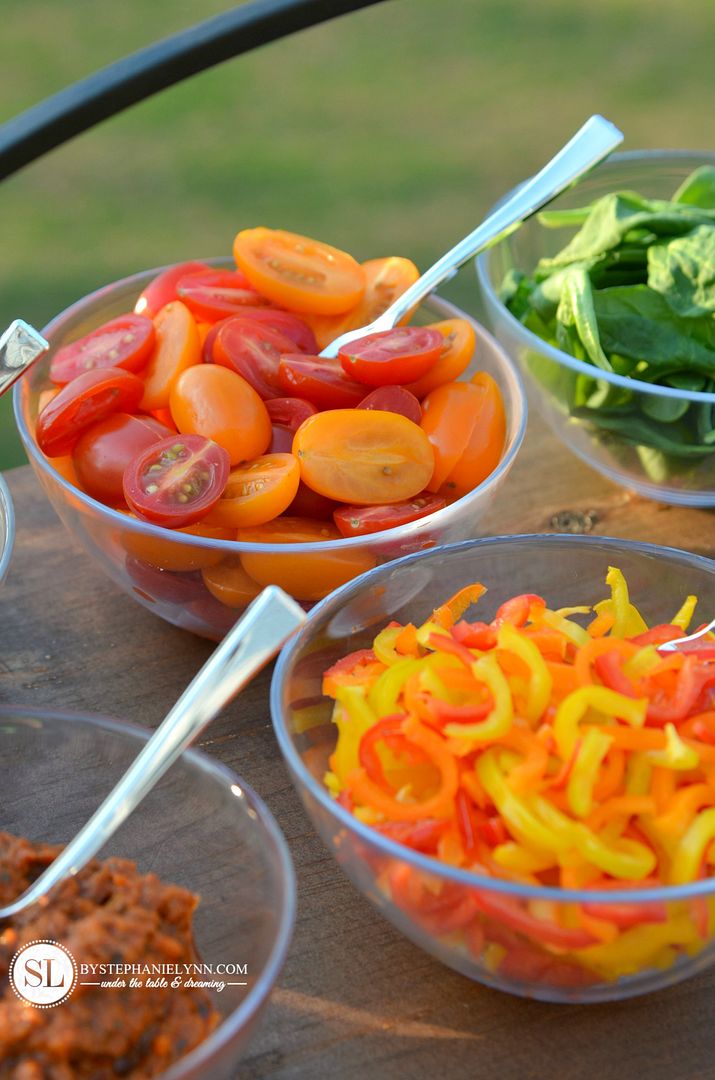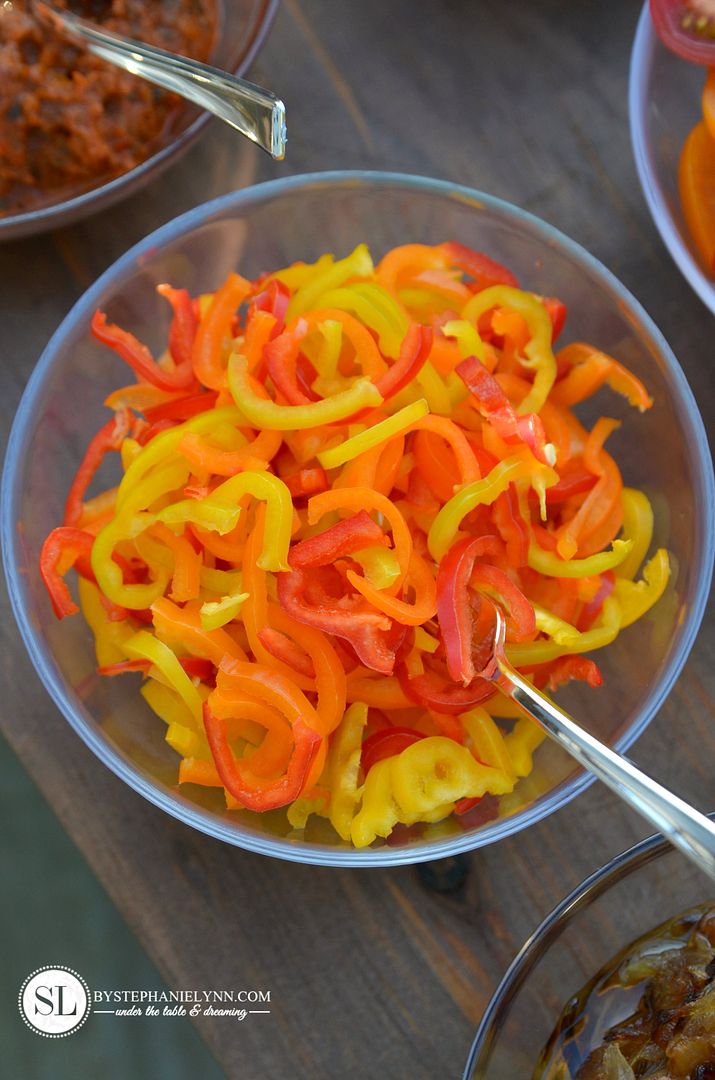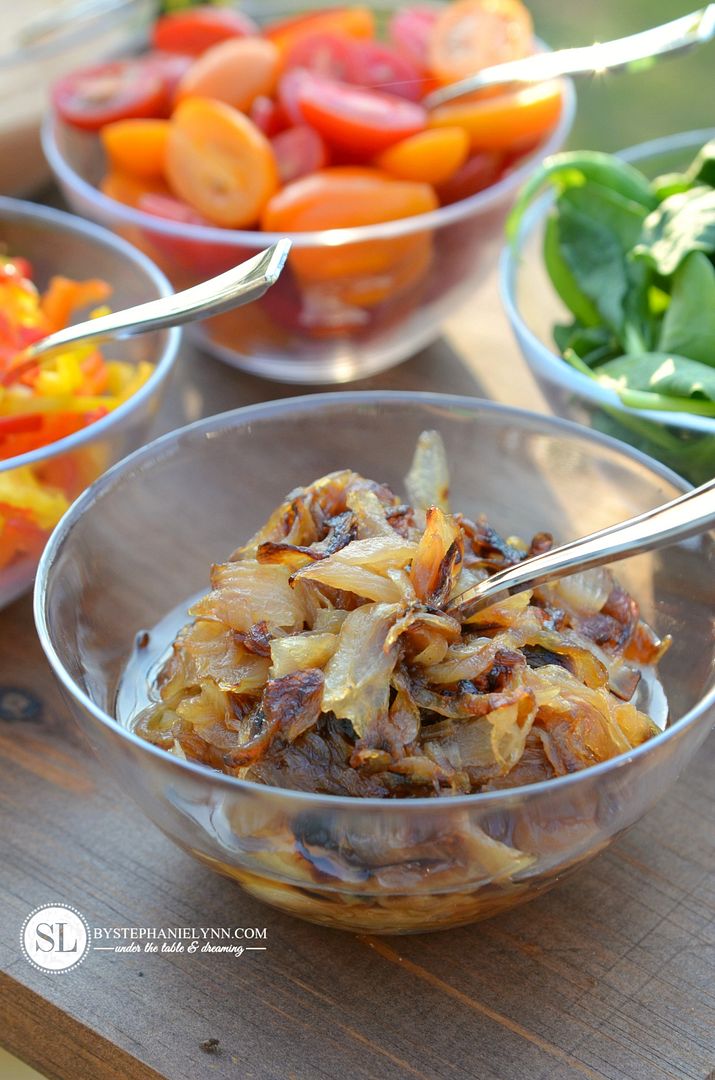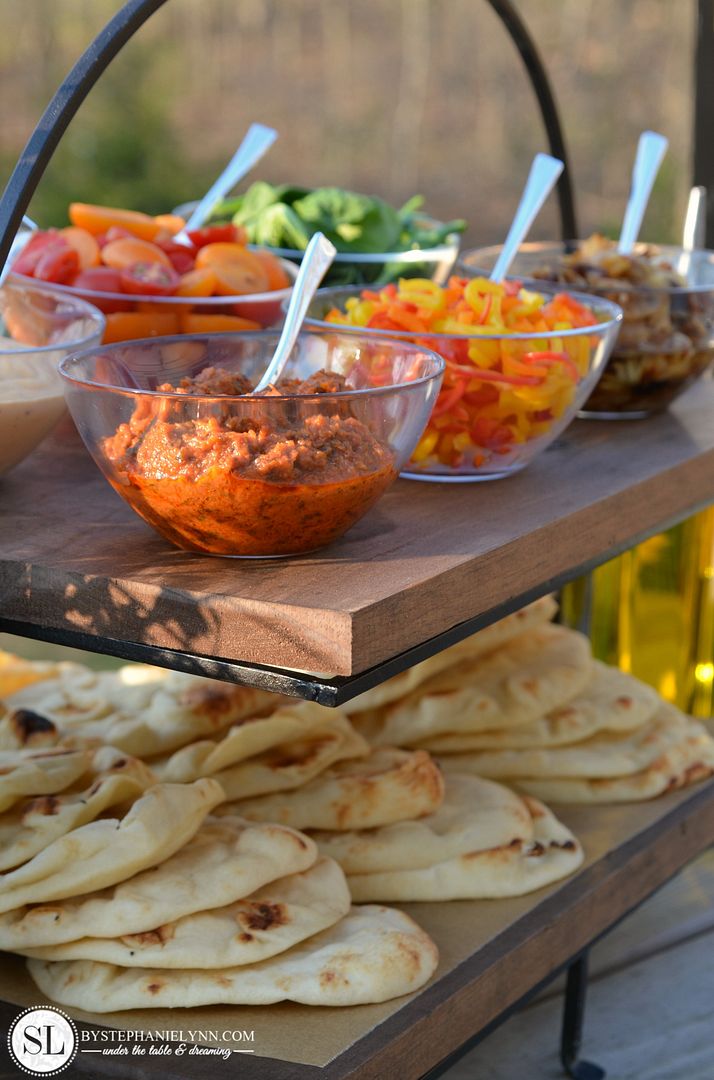 Fresh pizza dough can be prepared the night before or opt for pre-made flat bread for convenience.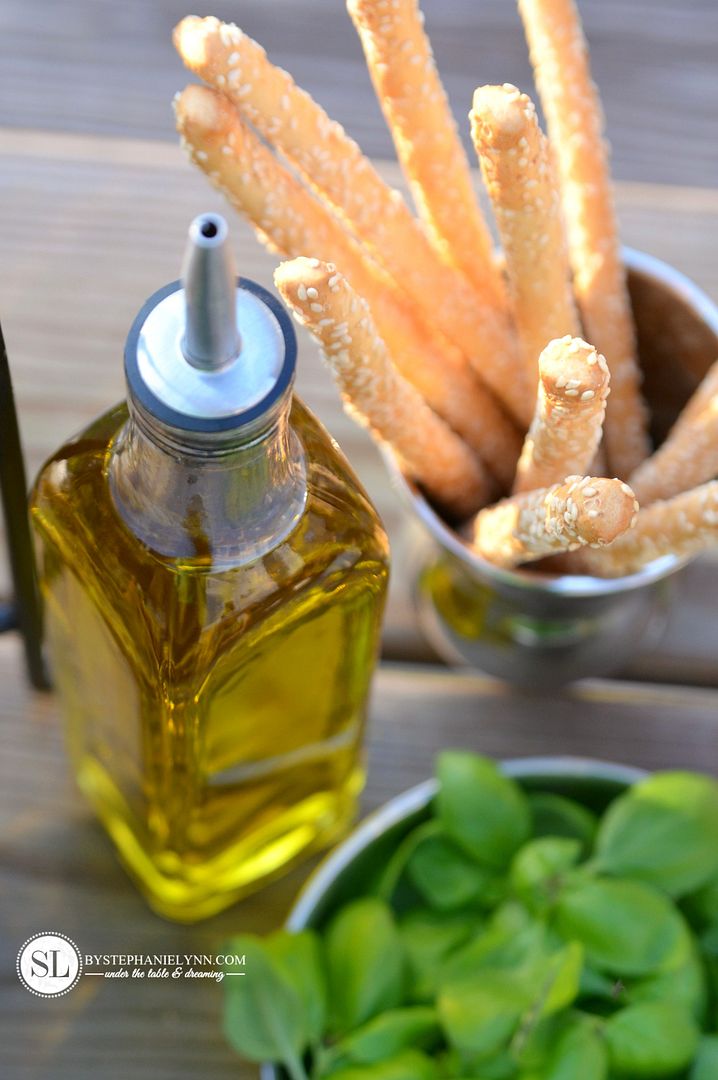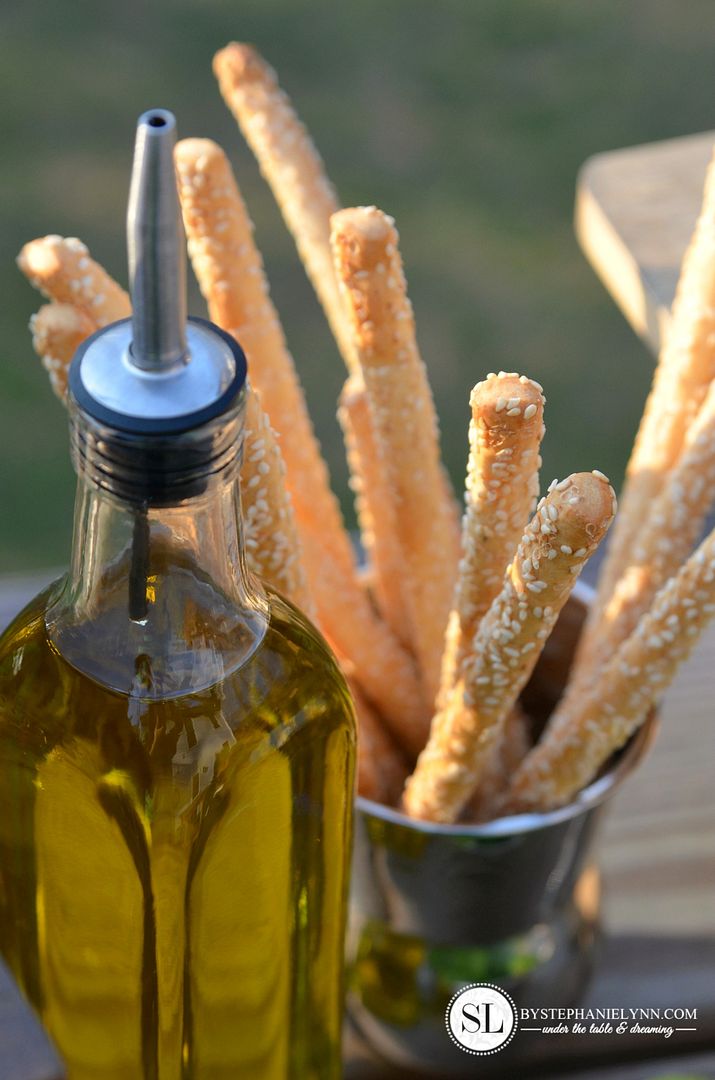 • Olive Oil • Sesame Bread Sticks •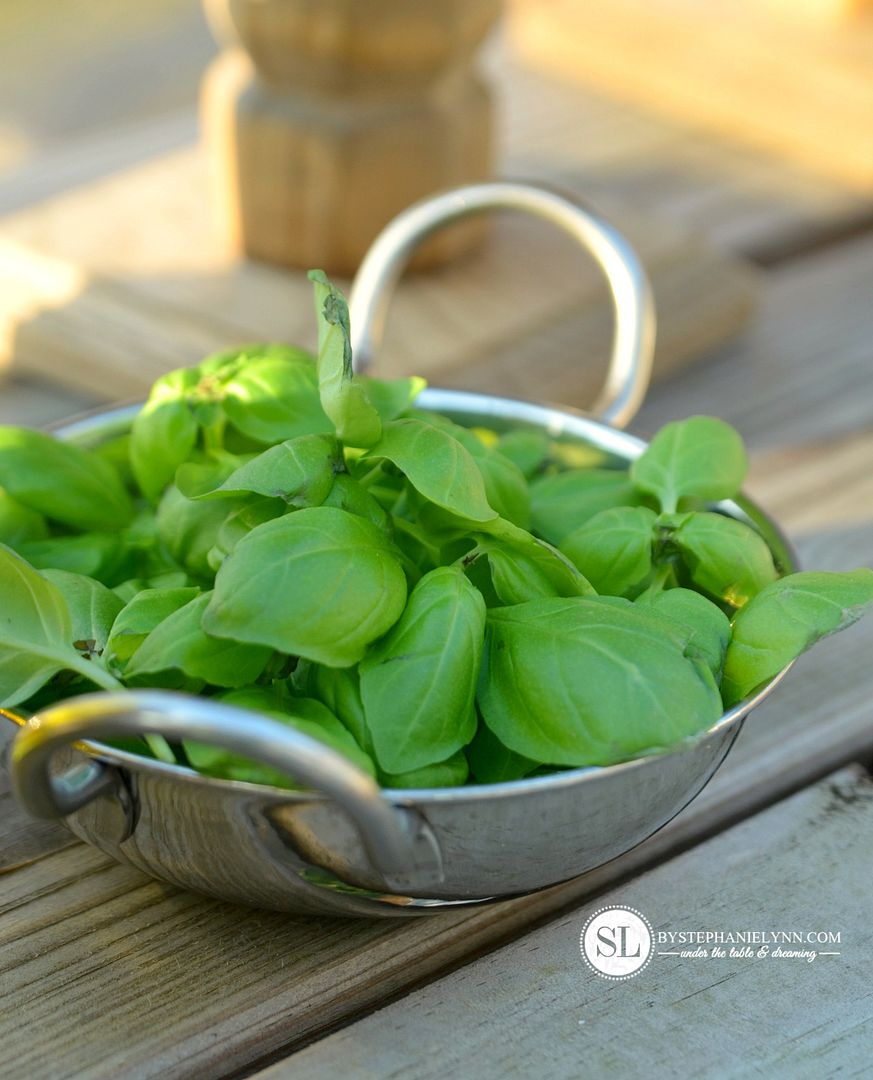 • Fresh Basil Leaves •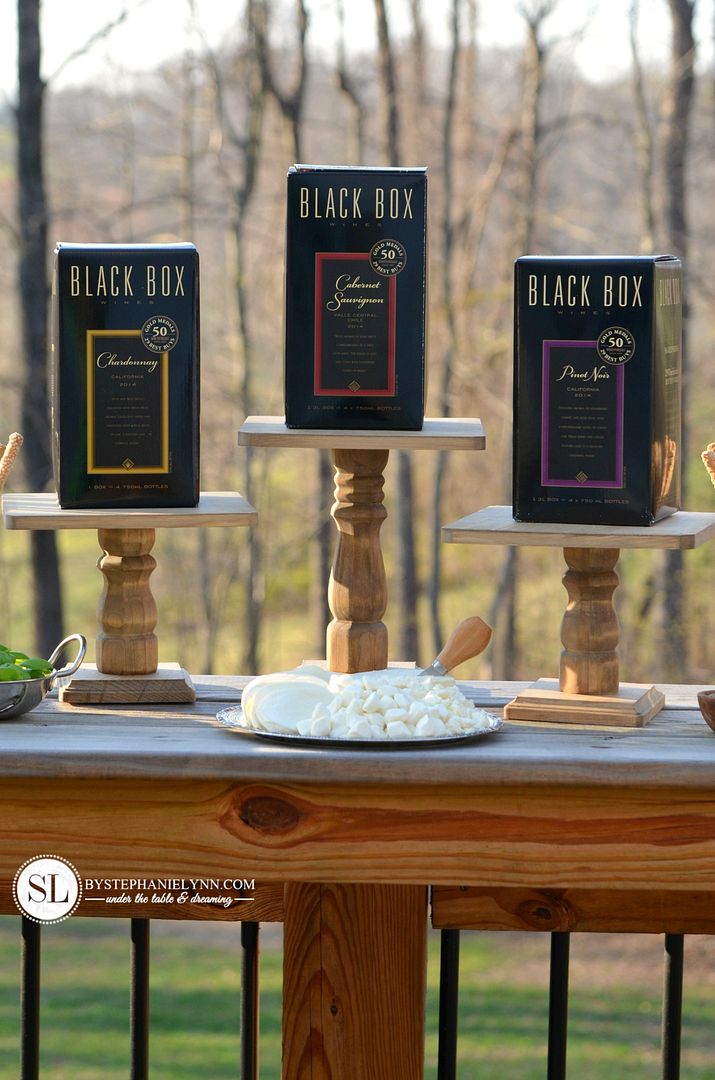 Black Box Wines are the perfect fit for parties as each eco-friendly bag and box contains the same amount of wine as four 750ml bottles.
Black Box Wines also stay fresh for six weeks, making the first glass as fresh as the last.
Our selections included three Black Box World Class Wines: a California Pinot Noir, Cabernet Sauvignon from Chile, and a Chardonnay from Monterey County.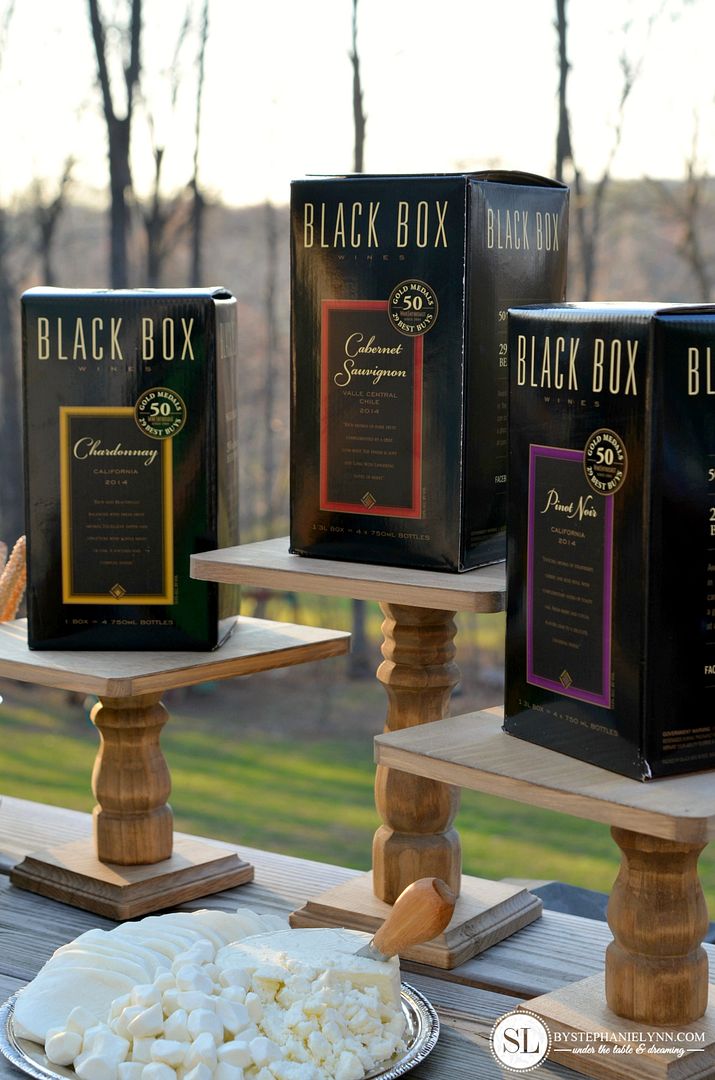 For easy serving, we perched our Black Box Wines on top of some wooden dessert stands.
The stands are an easy diy project requiring just a few simple supplies. Details and full tutorial can be found here: DIY Cake Plate Dessert Stand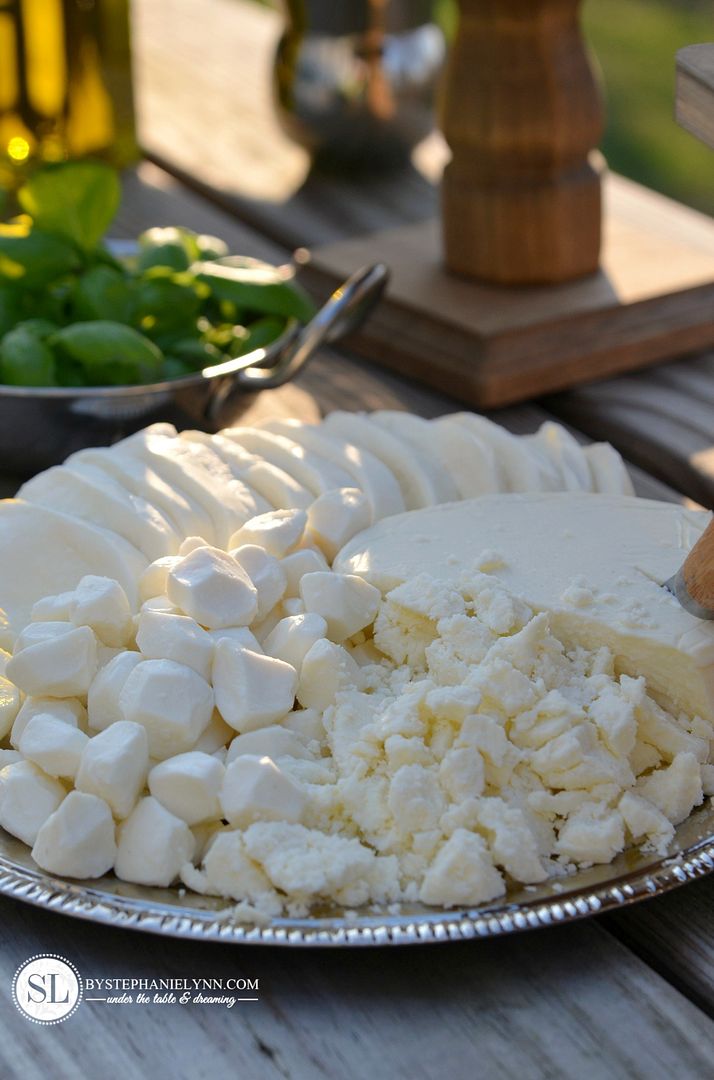 • Mozzarella Slices • Fresh Mozzarella Balls • Crumbled Queso Fresco •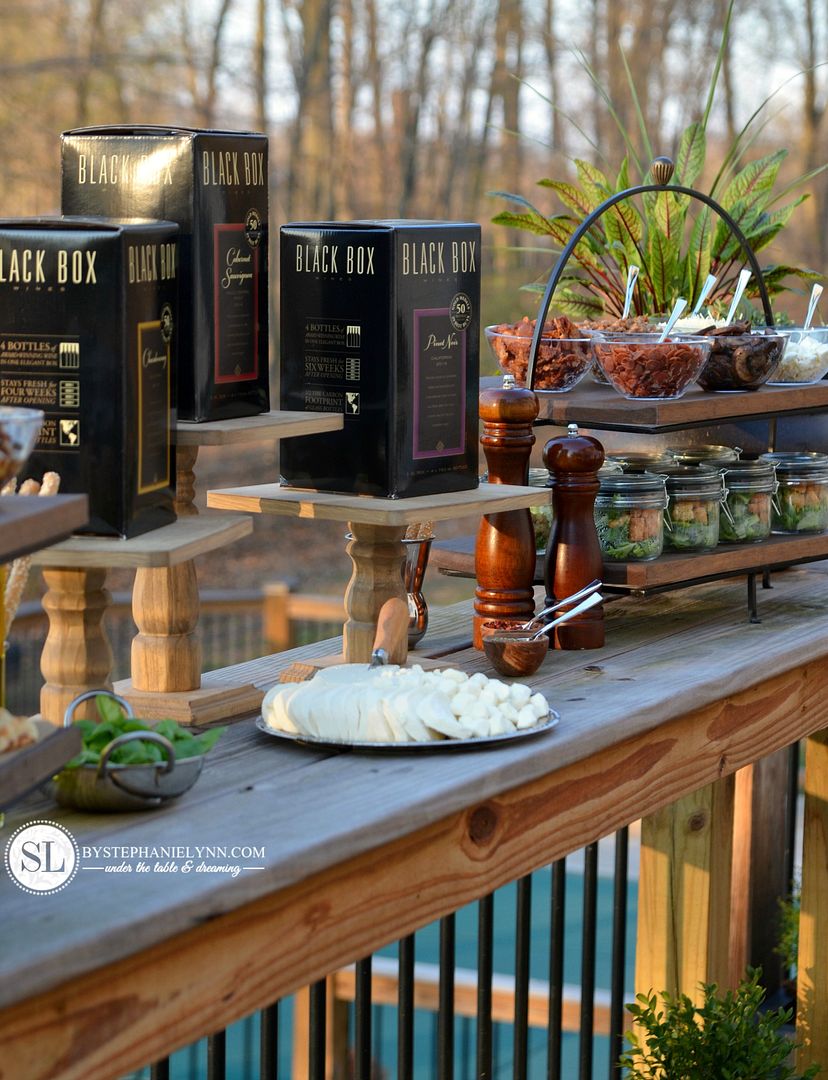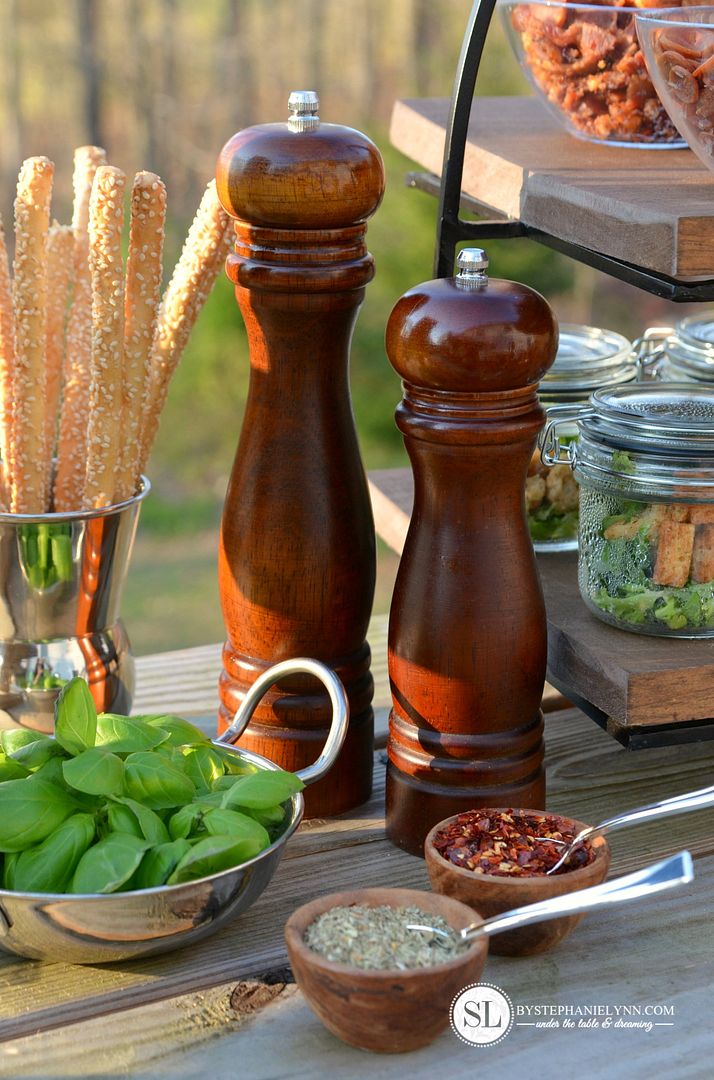 • Fresh Ground Pepper • Himalayan Pink Seas Salt • Italian Seasonings • Crushed Red Pepper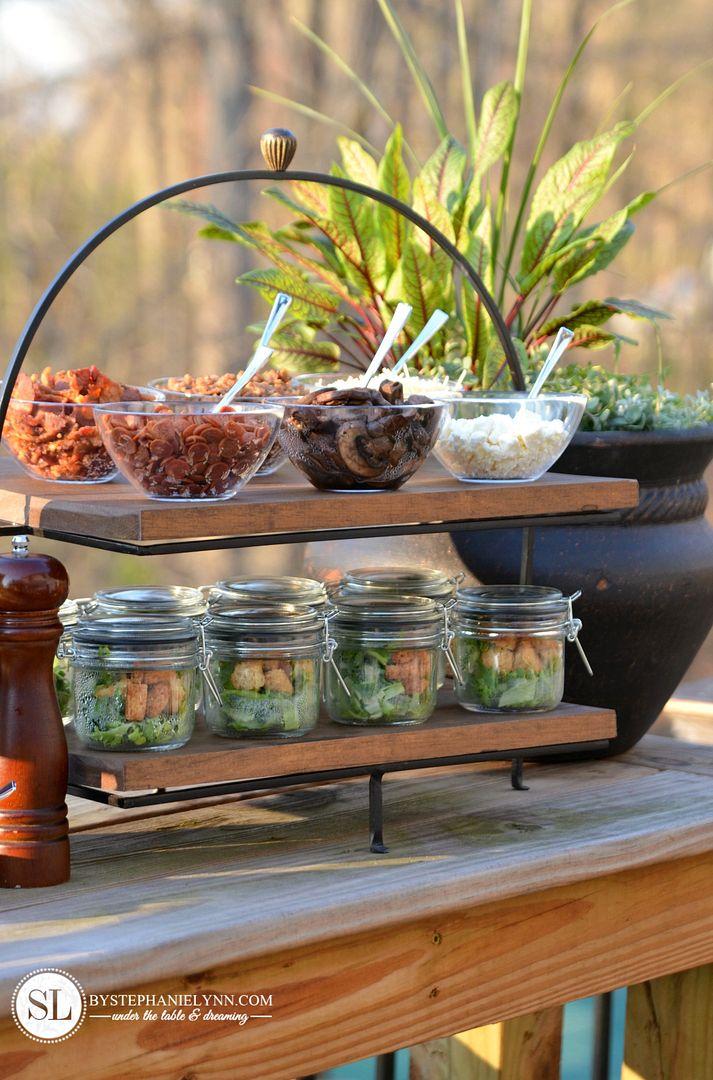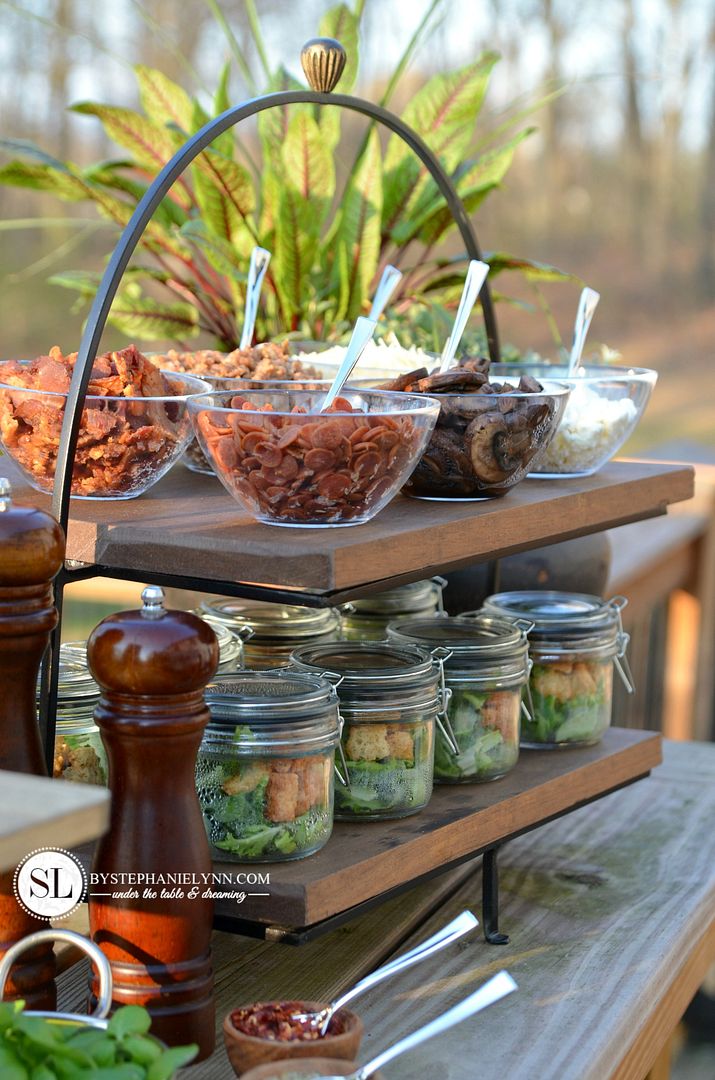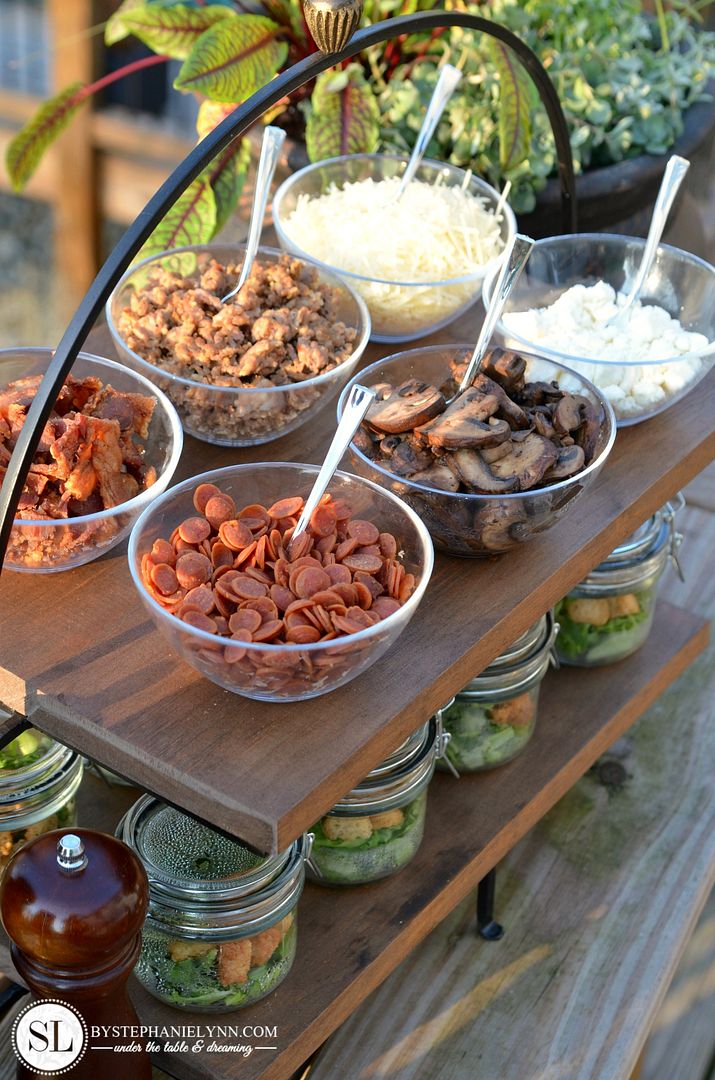 Meat Toppings: Crumbled Bacon • Pepperoni • Ground Sausage • Sautéed Mushrooms
Additional Cheese Selections: Shredded Parmesan • Crumbled Feta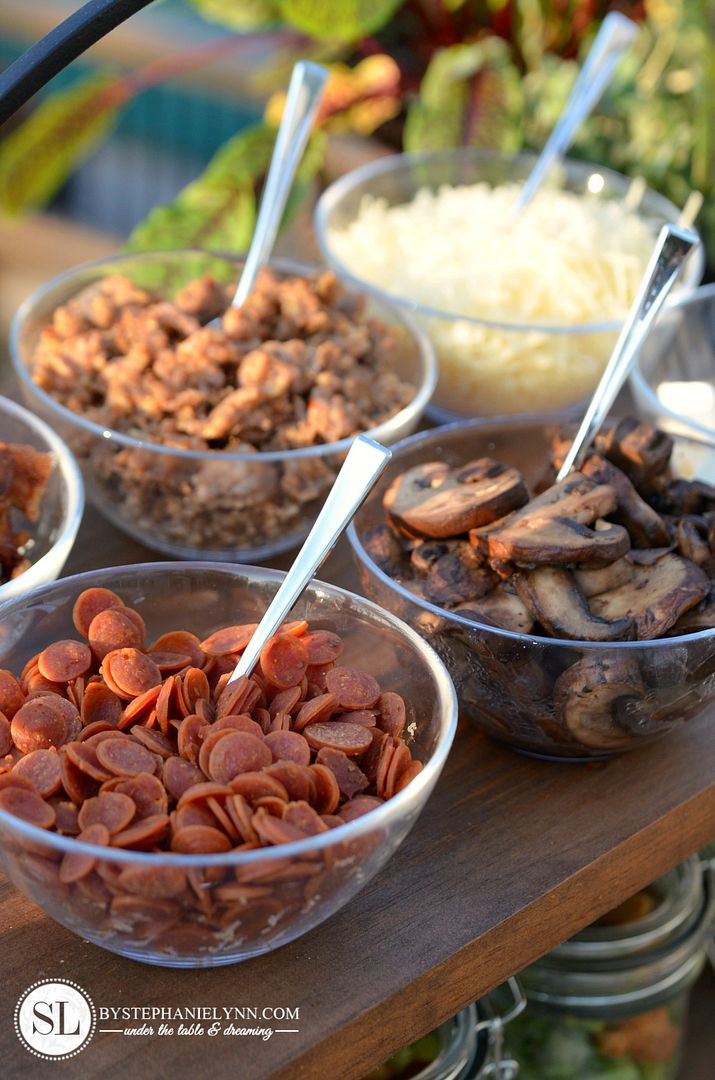 Since grilled pizzas bake quickly, it's a good idea to pre-cook all of the meat toppings ahead of time to ensure they are throughly done.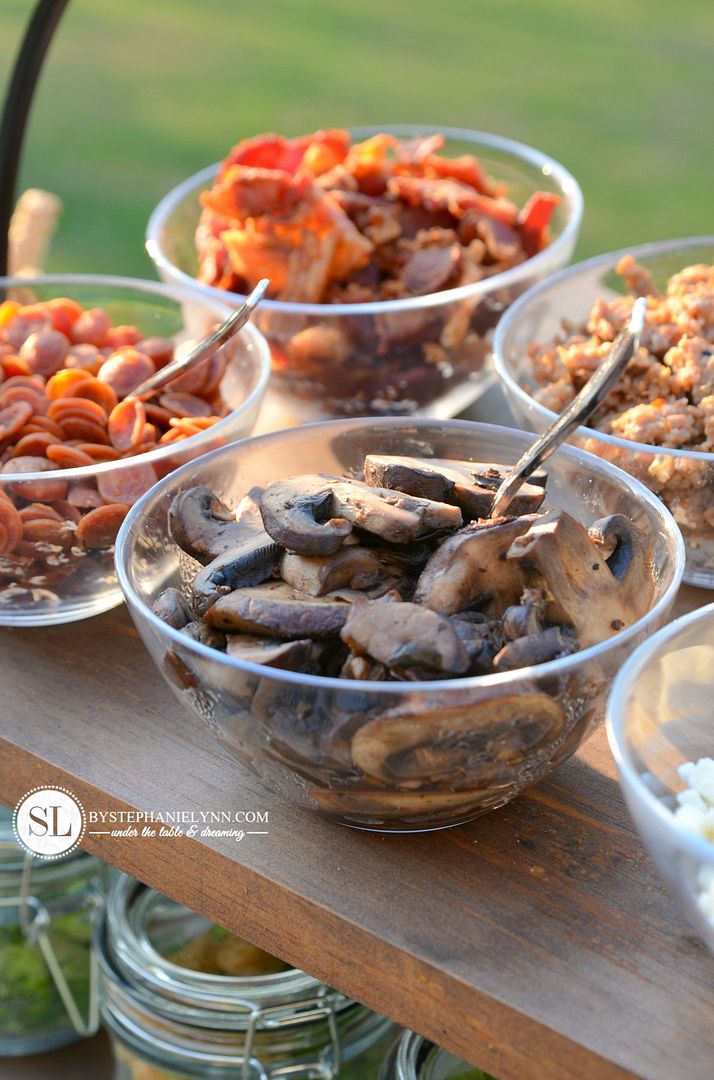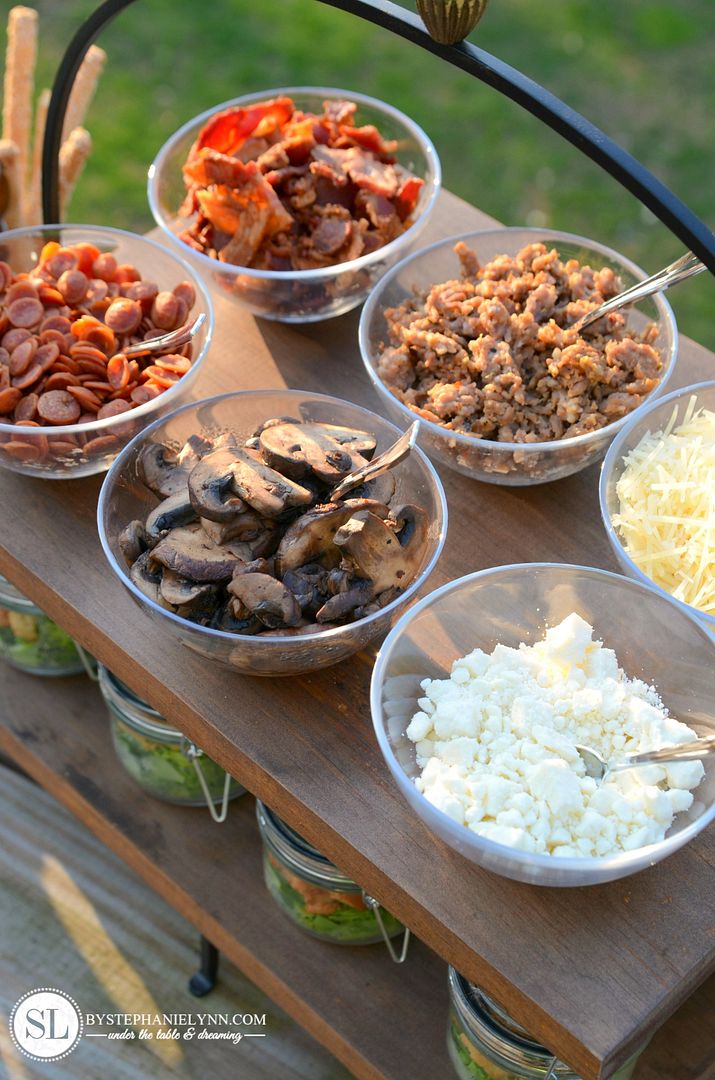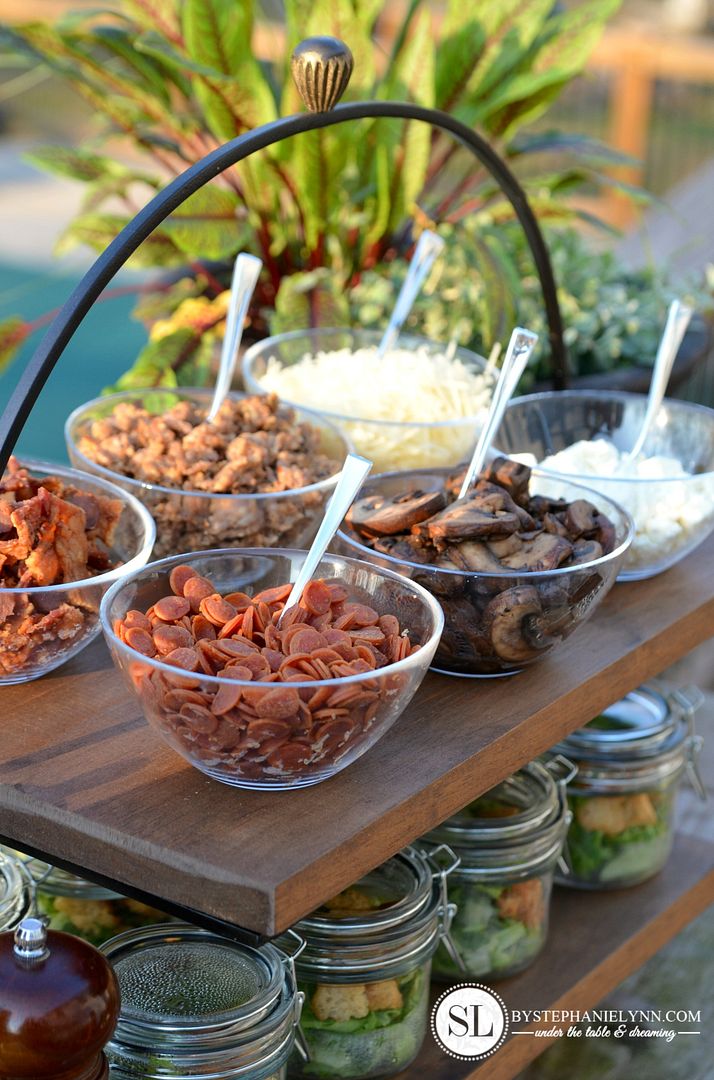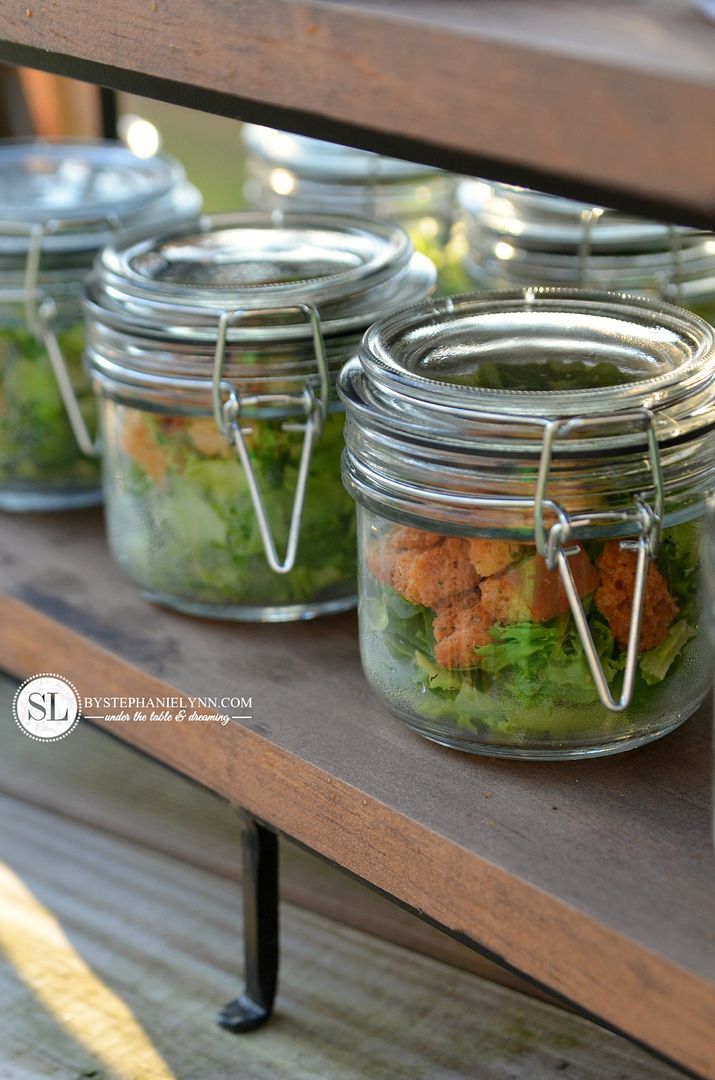 Small salads were prepared to compliment the pizza menu.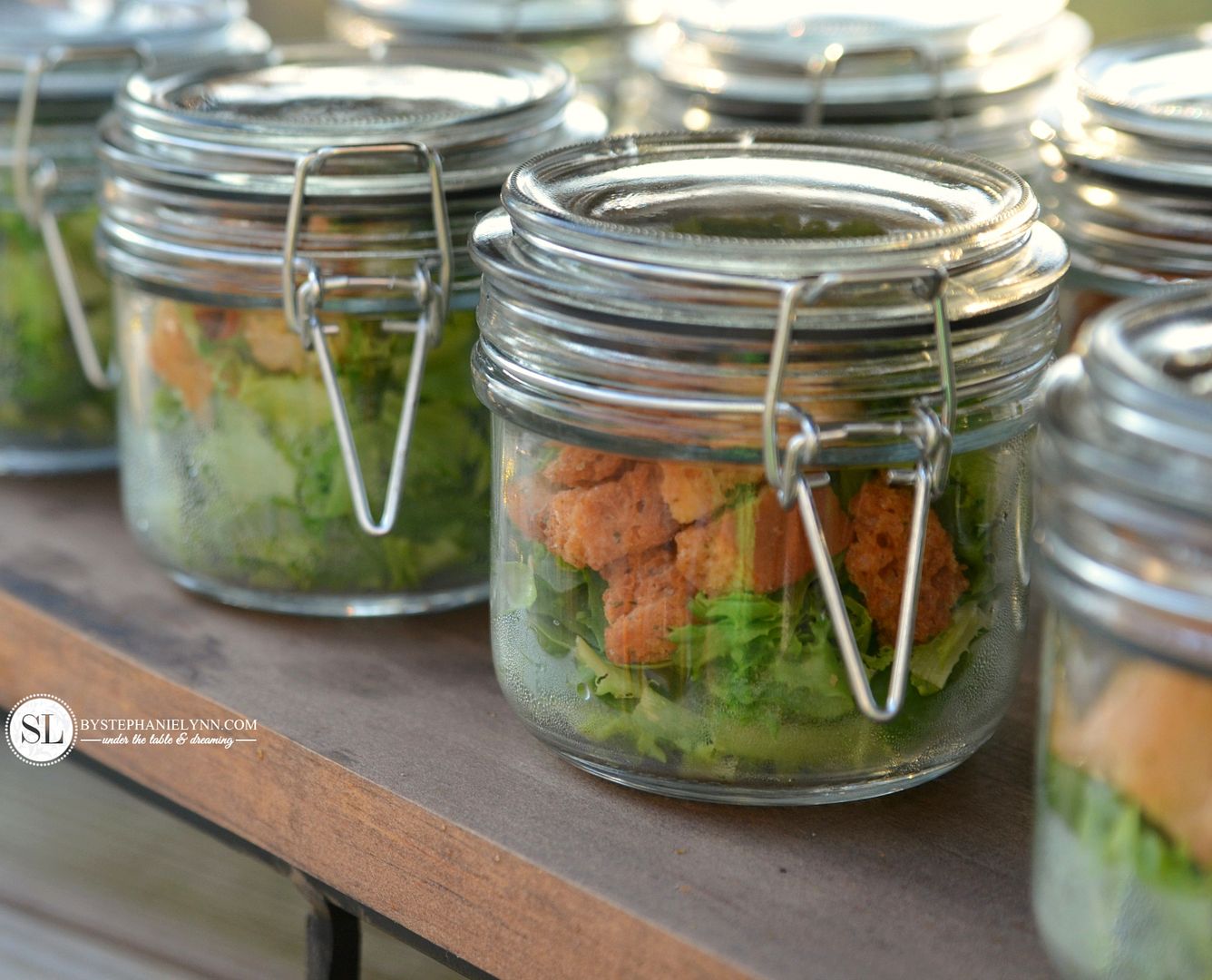 The salad was tucked into small mason jars for quick, grab and go outdoor convenience.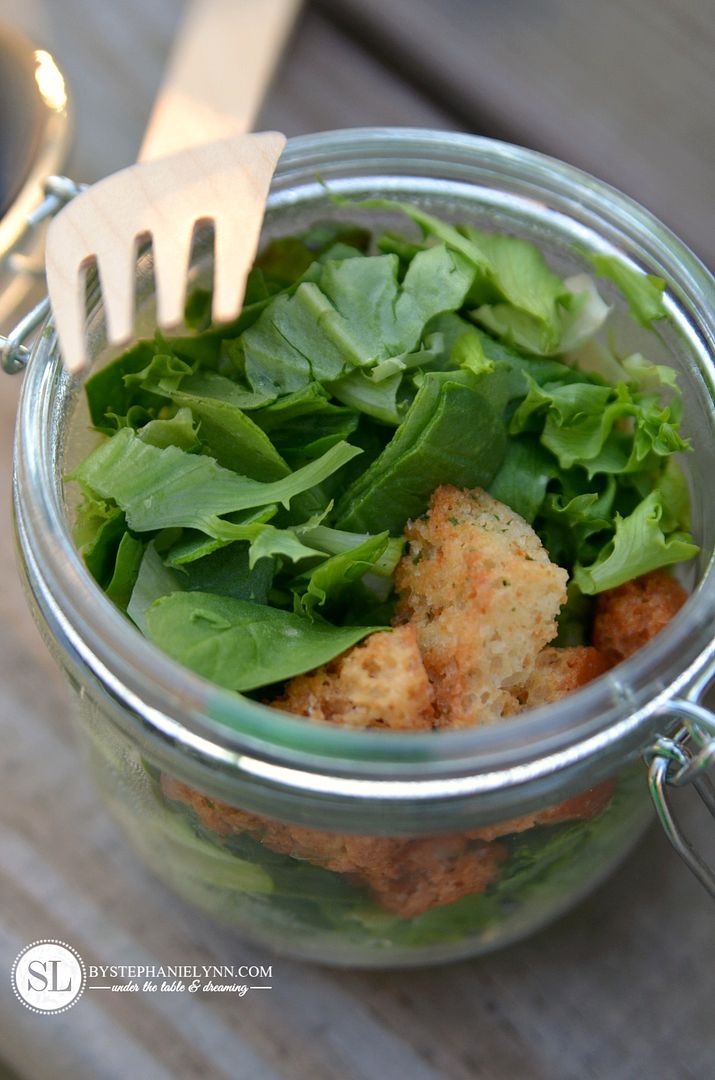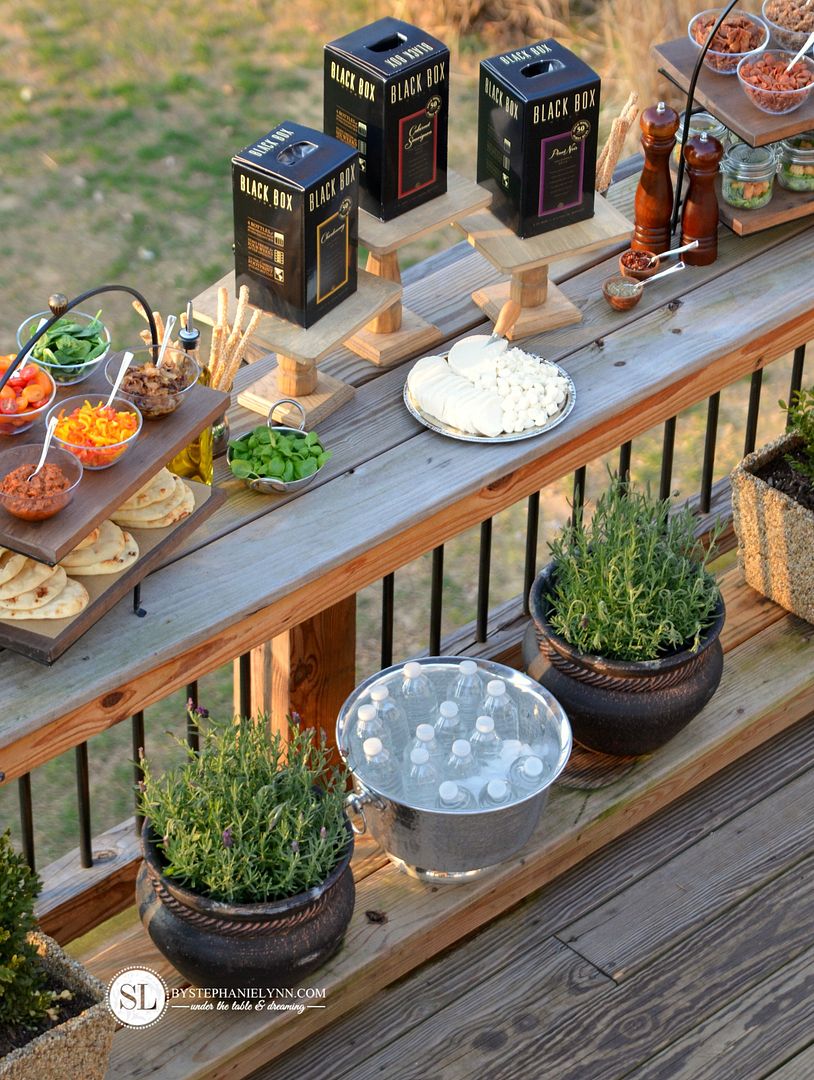 Make sure the grill is fired up ahead of time and ready to go.
Small wooden cutting boards, or actual pizza peels, make great surfaces for each guest to prepare their pizzas and transfer them directly to the grill.
This is one party you can forgo the dinnerware, as the individual cutting boards can also double for serving.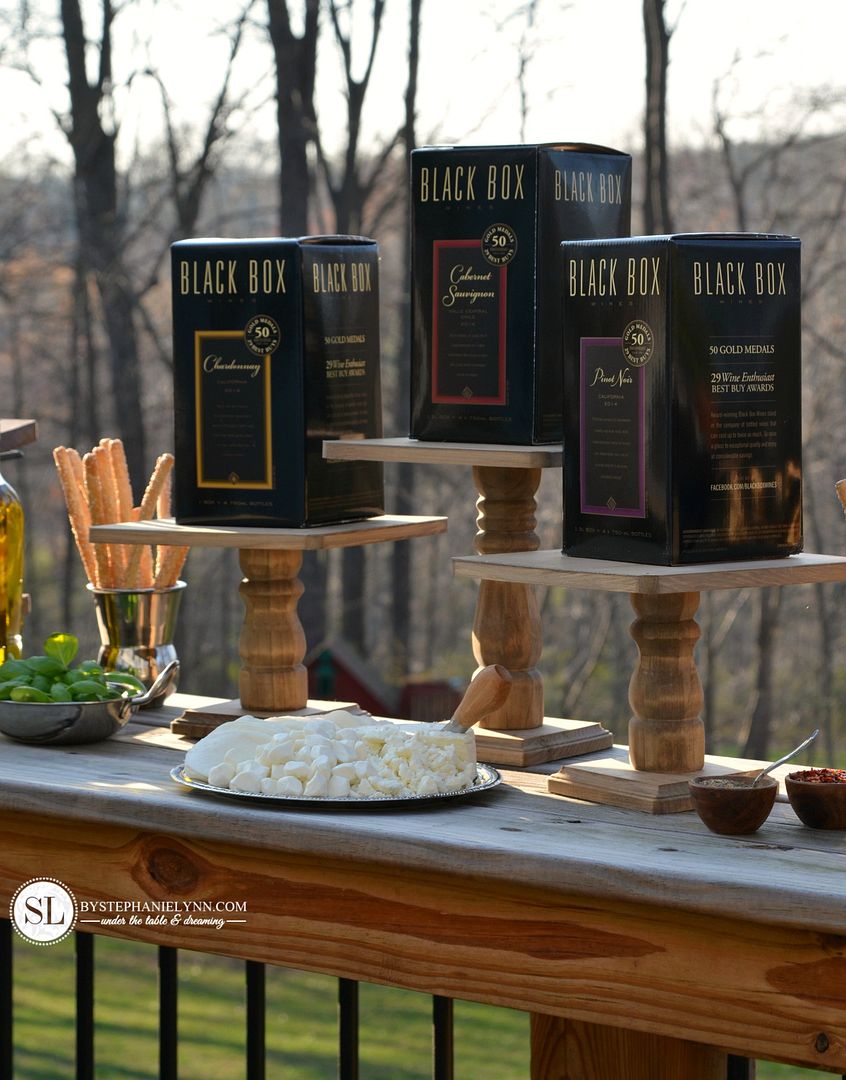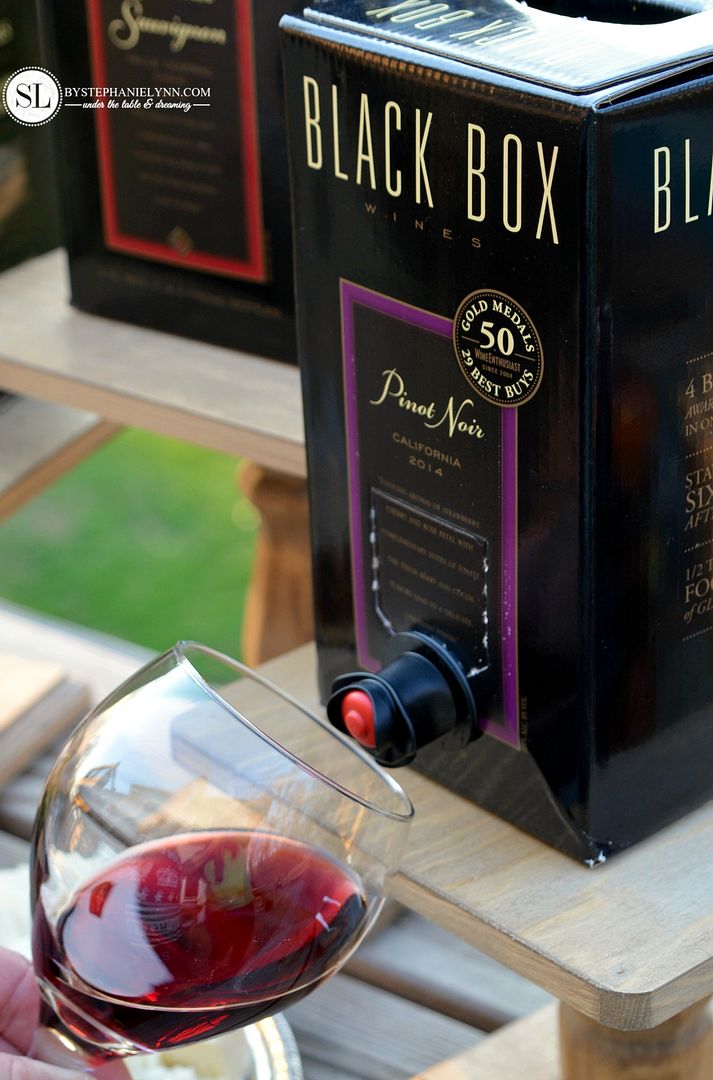 One of the joys of hosting an Outdoor Wine and Pizza Bar Party is the fact that guests can fill their glasses and socialize, in one convenient area during the whole preparation and cooking process.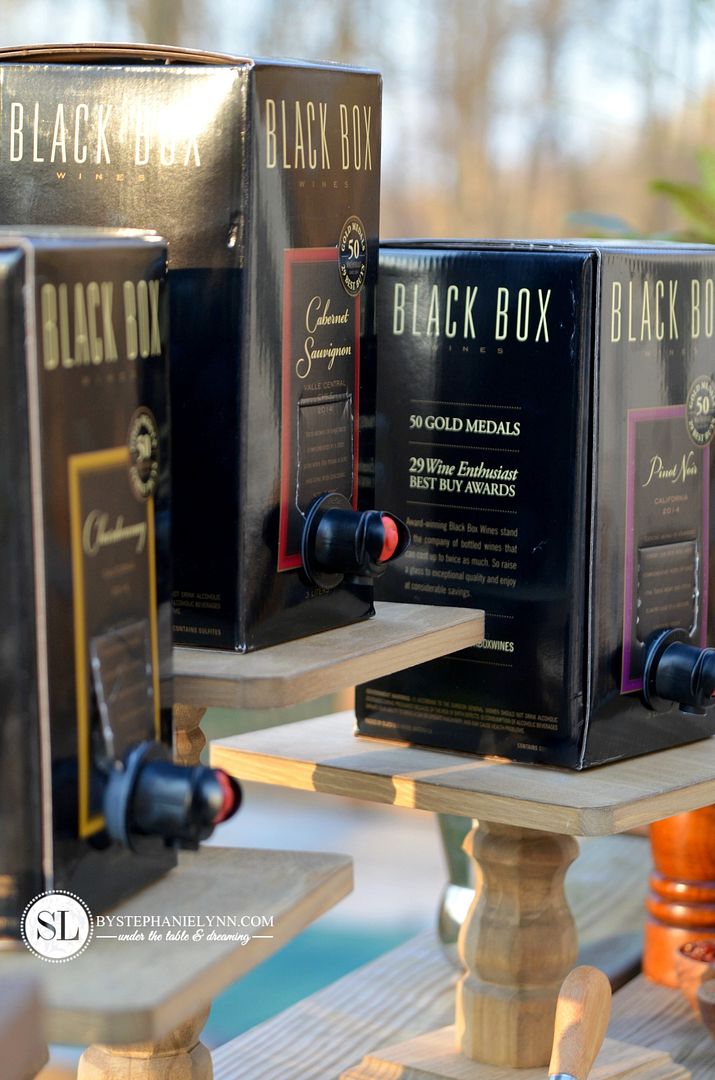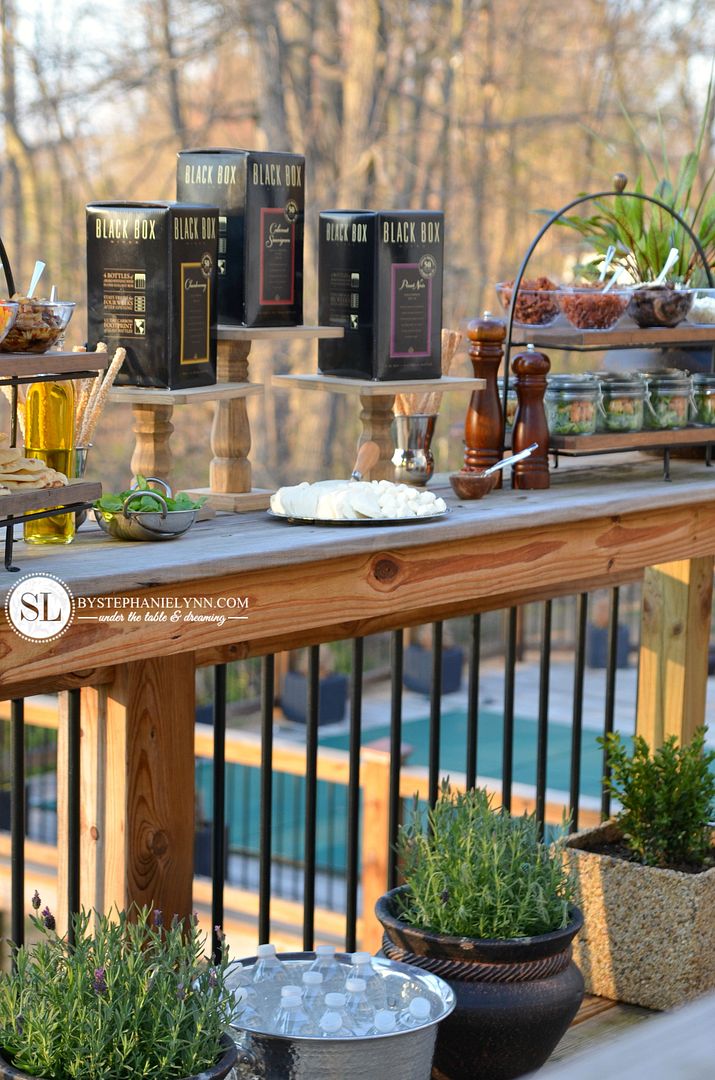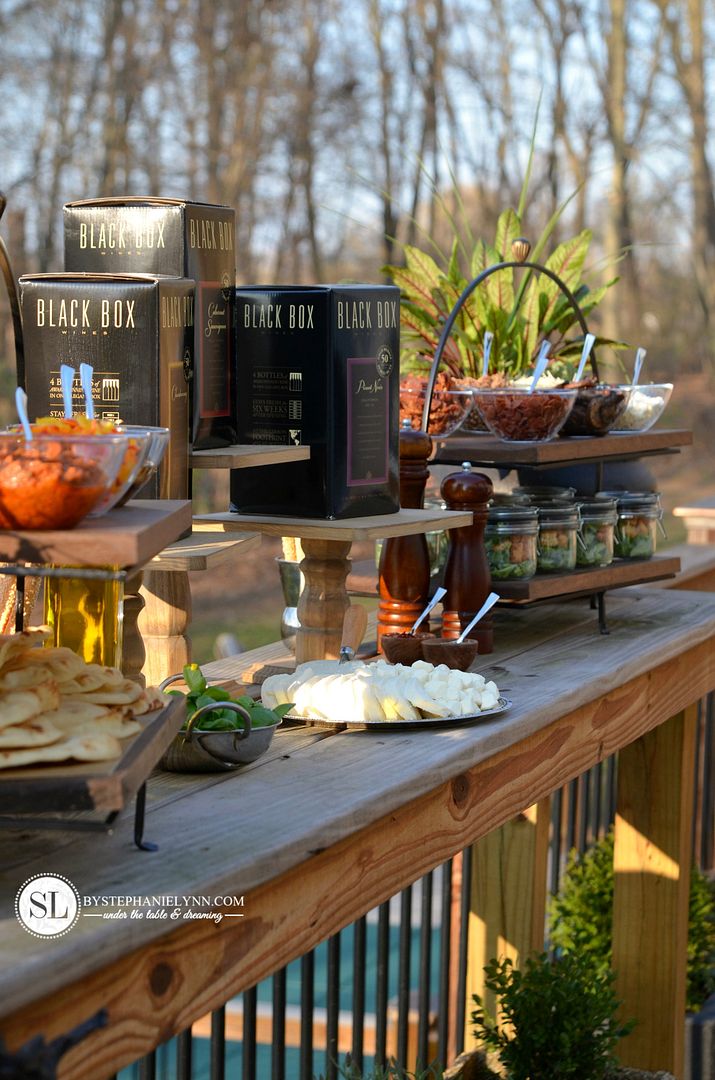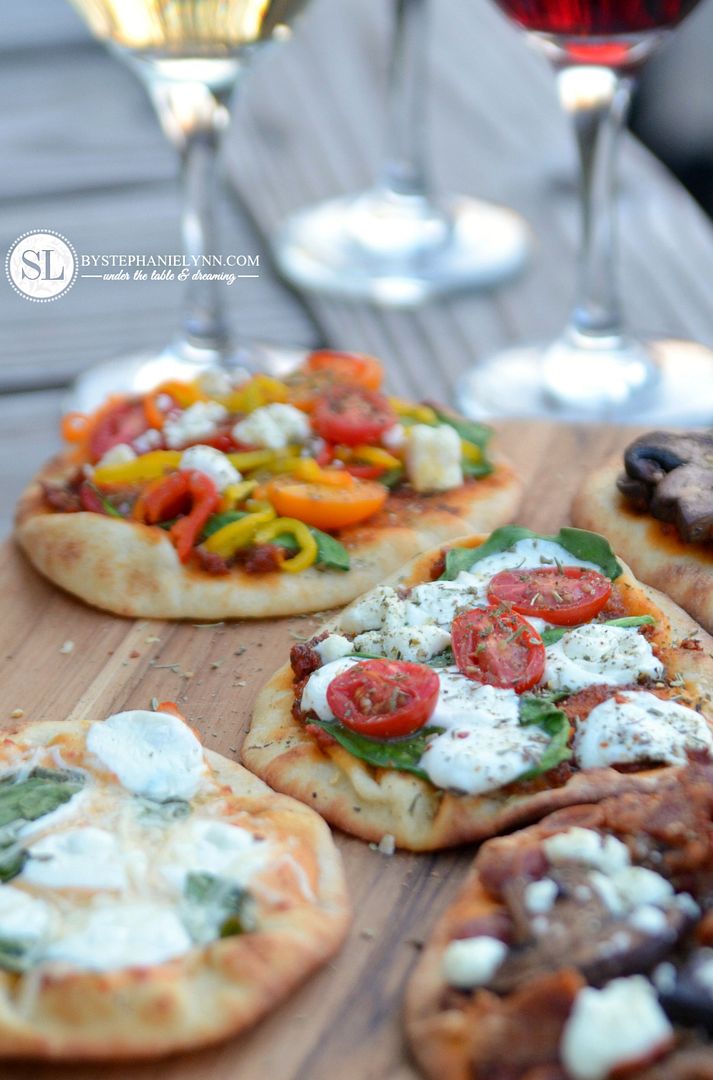 While suggesting new wine and pizza pairings is fun and exciting, keep in mind the guests are going to be creating the best combinations, composed of flavors and tastes that they individually love.
Keep it simple, casual and have fun!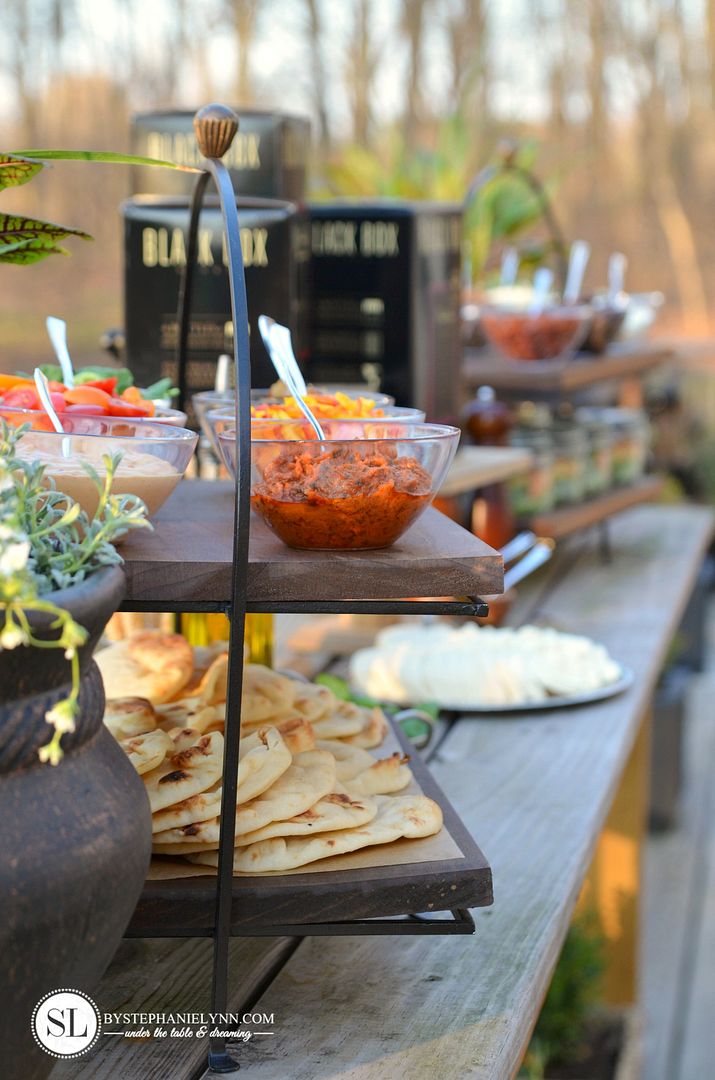 Are you ready for some outdoor entertaining this summer?
 Thinking of hosting your own Outdoor Wine and Pizza Bar Party? Black Box Wines has not only won over 50 Gold Medals for its quality, but is the winner of 29 Wine Enthusiast Best Buys. One box contains the same amount of wine as four 750ml bottles, available for 40% less than comparable brands – making Black Box the smart choice for your next summer soirée.
For more great entertaining ideas visit the Simple Entertaining Social Hub.