Planting Container Evergreens ~ patio paver planters | This shop is #sponsored by #CollectiveBias and its advertiser. The story and opinions read here are entirely my own. #ReadySetGro
No matter where you live or how much space you may have, the simple addition of container plantings can instantly make any outdoor space feel cozy and inviting.

This time of year our deck transforms into a much-used outdoor extension of our indoor living space.
After all of the cleaning, maintenance and staining is done – plants and flowers are one of my favorite – and one of the easiest – ways to decorate the space.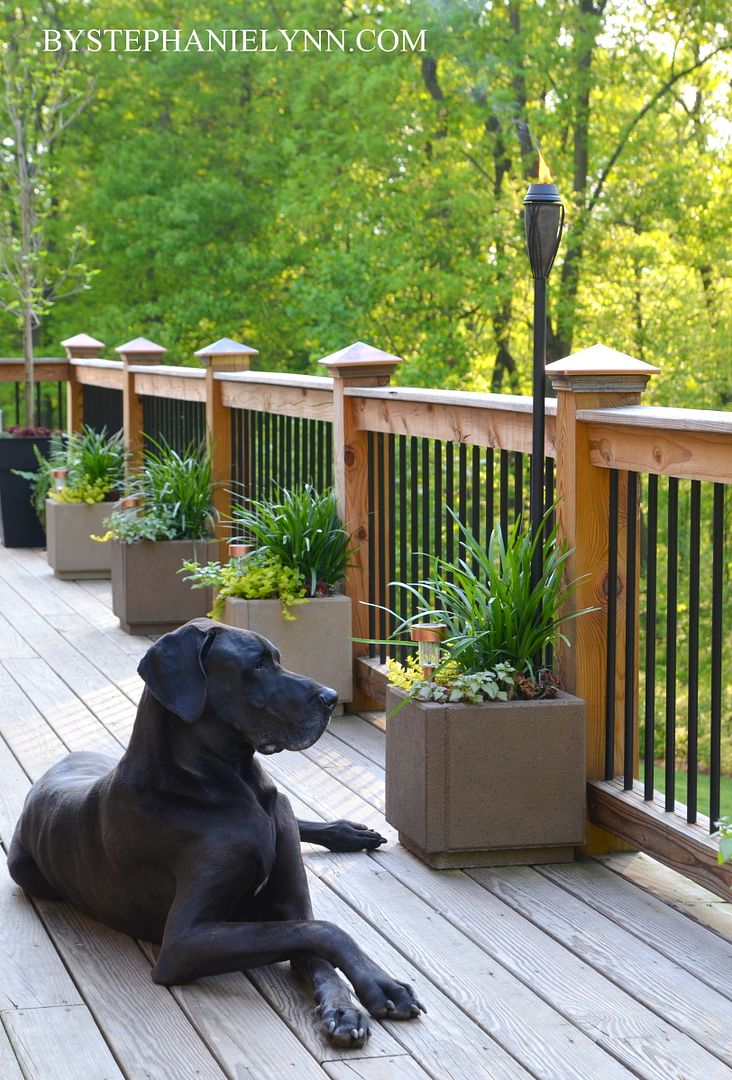 Adding a series of container plantings was one of first projects we tackled once our deck was complete.
We built these simple diy Patio Paver Planters over five years ago and they continue to add life and set the tone for our deck decor year after year.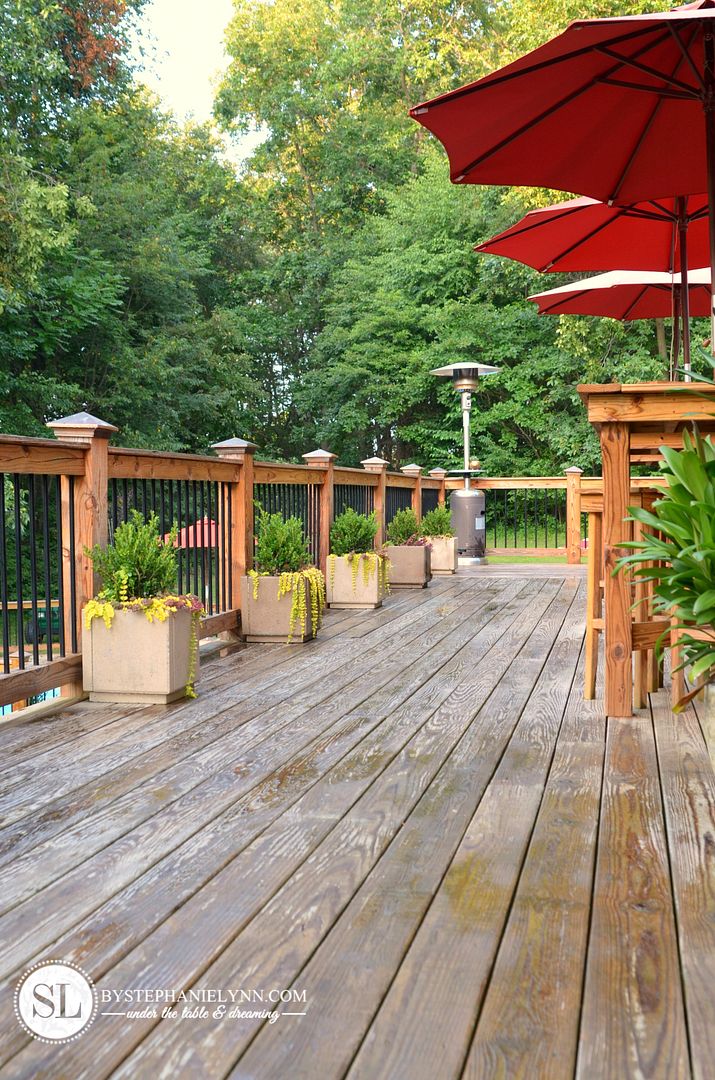 The planters can easily be built in under an hour, using pre-made patio pavers,
and run about $6 a planter.
They are very durable and sturdy – and can even withstand harsh freezing temperatures.
The complete step by step directions can be found here: How to Make Patio Paver Planters
• Note: The planters provide adequate drainage for any plant or shrub when assembled using the tutorial linked above •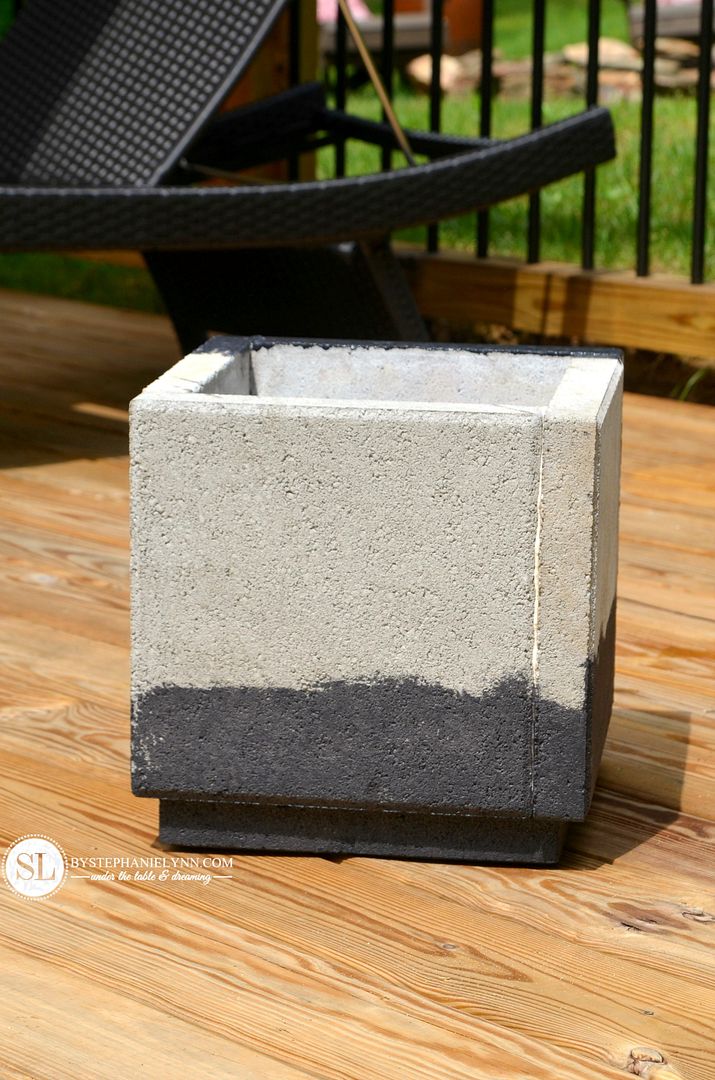 The Patio Paver Planters can be painted any color to match your outdoor decor.
We recently gave all of our planters a little update and painted them all black.
We used a Semi-Transparent Concrete Stain, which can picked up at your local hardware store
and tinted any color you prefer.
Only the outside and top lip of the planters were painted – leaving the inside natural stone.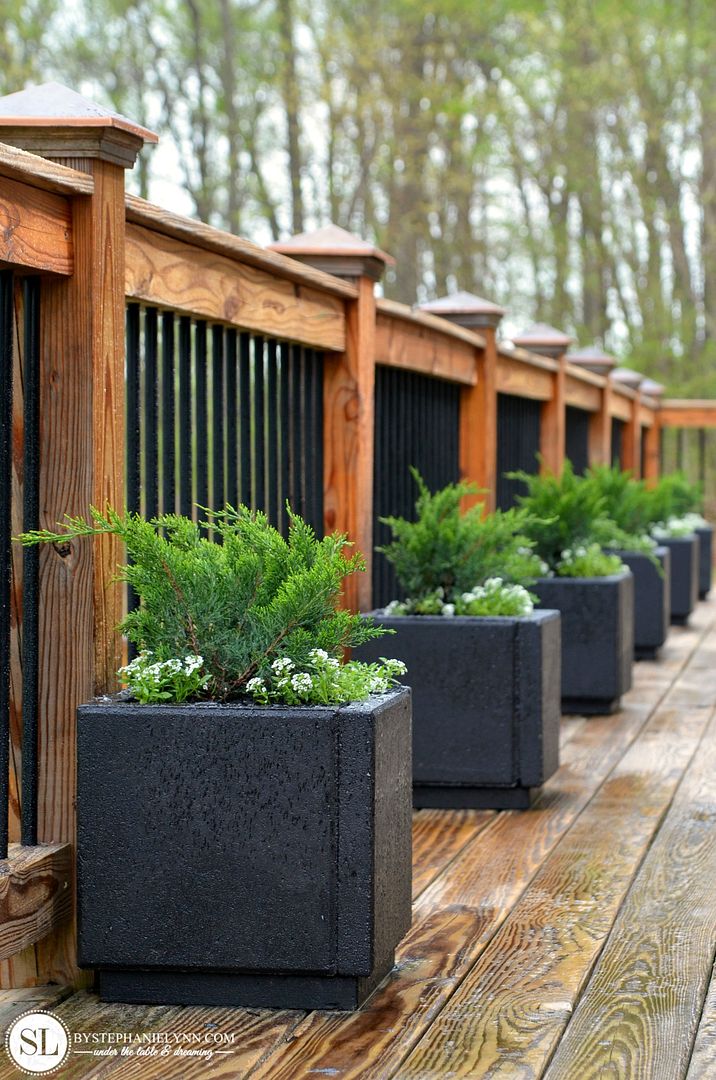 Over the years we have had a variety of plants in the planters. I have enjoyed using a mix of perennials and annuals, though my favorite is compact shrubs.
I love evergreens in particular, as they provide color and interest to the planters year-round.
When selecting container plants I always look for small, compact, slow-growing shrubs or evergreens.
• 2.5 quart nursery shrubs work perfectly •
These are typically re-planted every other year to accommodate the root growth.
Another reason I love using perennials and shrubs in containers – as once they have outgrown the planter they can be moved to the garden and enjoyed years after their 'container life'.
If your region is prone to freezing temperatures, try to choose shrubs that are at least 2 planting zones lower than your normal zone – since the soil in containers freezes much quicker than the soil in the ground.
• When choosing shrubs and flowers for your own space, always keep in mind where the planter will be placed and the specific lighting conditions it will be subject to •
This year we planted a mix of Sea Green Junipers and White Alyssum.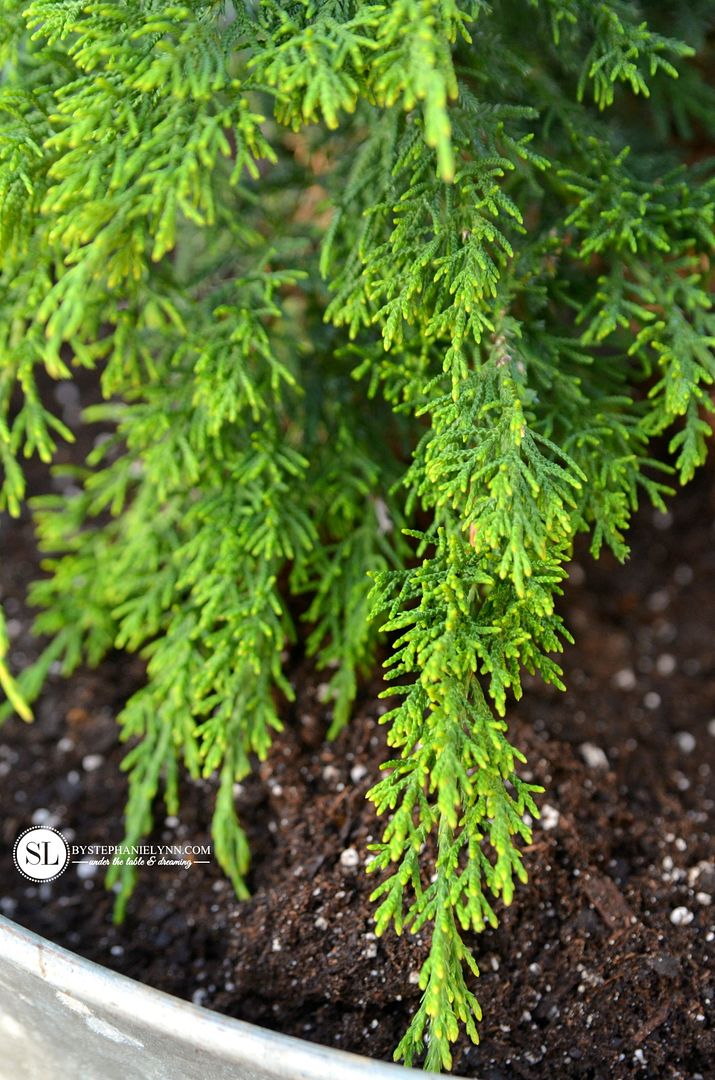 Sea Green Juniper
Conifer/Evergreen, Zones 4-9
Compact evergreen shrub with multi-stem fountain-like, arching branches.
Slow growing.
Lush green foliage is attractive year-round.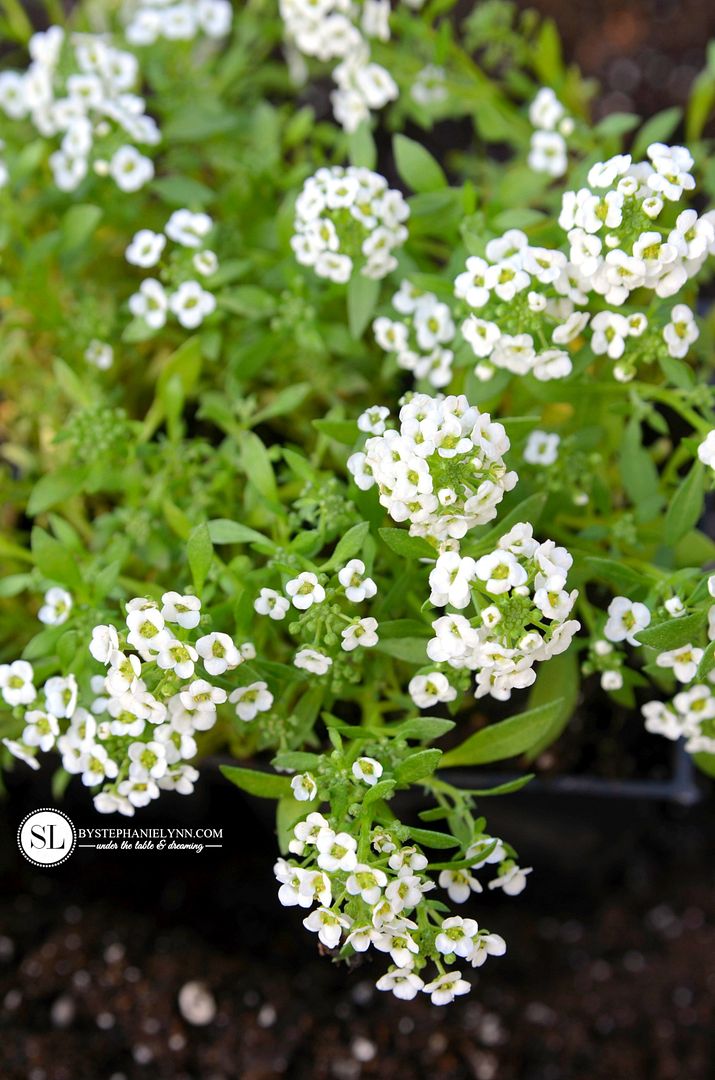 Alyssum
Often grown as an Annual, though it is a perennial in zones 9-11
Well branched plant producing dense clusters of flowers all summer long.
Fast growing, mounding carpet, perfect as a container filler – with a creeping habit – doubling as a spiller.
Sweet smelling flowers attracts beneficial insects, butterflies and pollinators.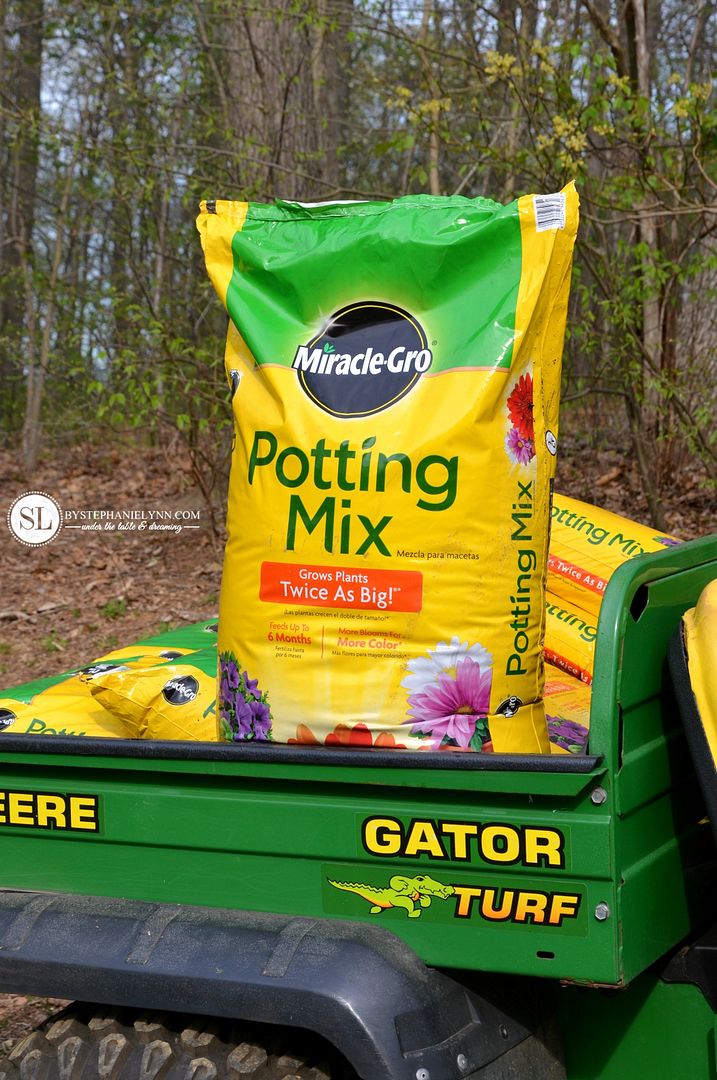 For plants to grow a healthy root system, always use a premium potting soil specifically formulated for containers.
A good potting soil (or potting mix) will provide the perfect balance of air space, moisture retention and nutrition for the roots of your plants.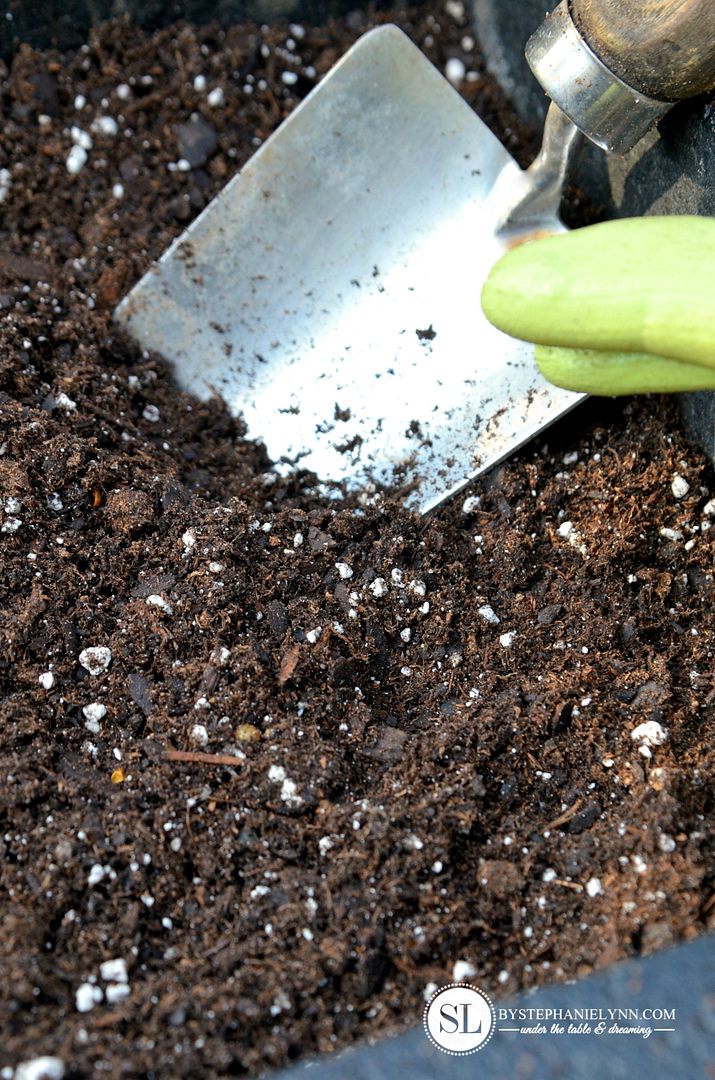 Some potting mixes include a balanced fertilizer,
like Miracle-Gro® Potting Mix, which feeds up to six months.
Though during the summer, with hot weather and frequent waterings – a regular feeding program should be started thirty days after planting.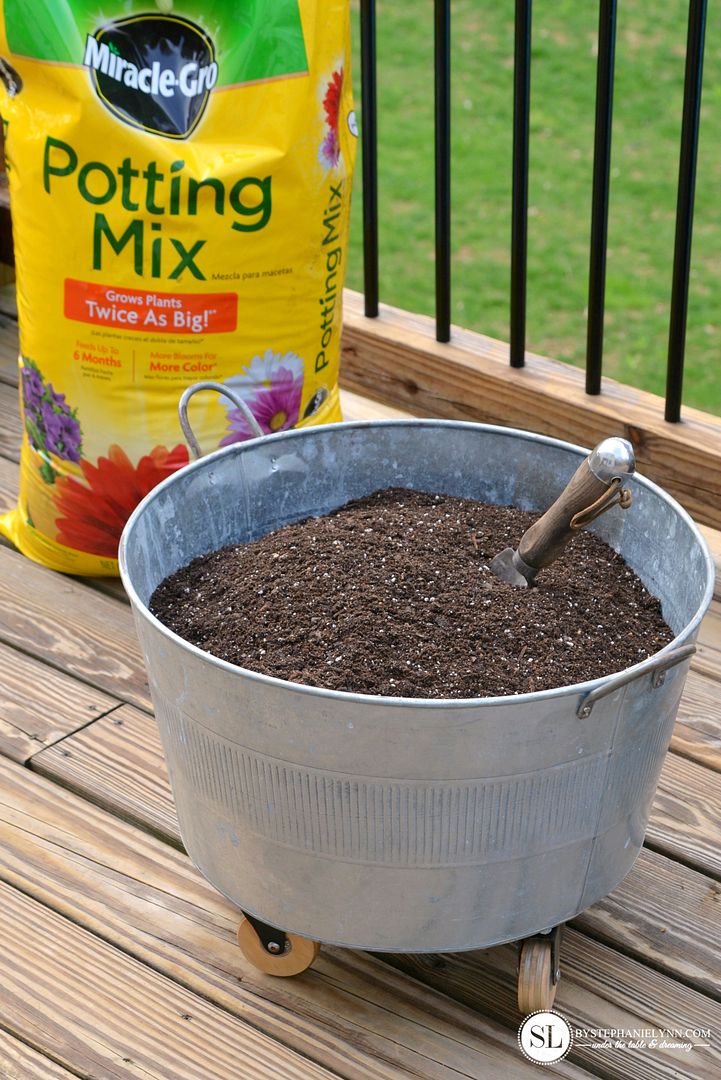 Since there is a lot of container planting going on, our rolling galvanized tub  is always filled with potting mix this time of year.
The tub is another simple diy that has stood the test of time. It keeps the potting soil contained and much easier to move around when planting.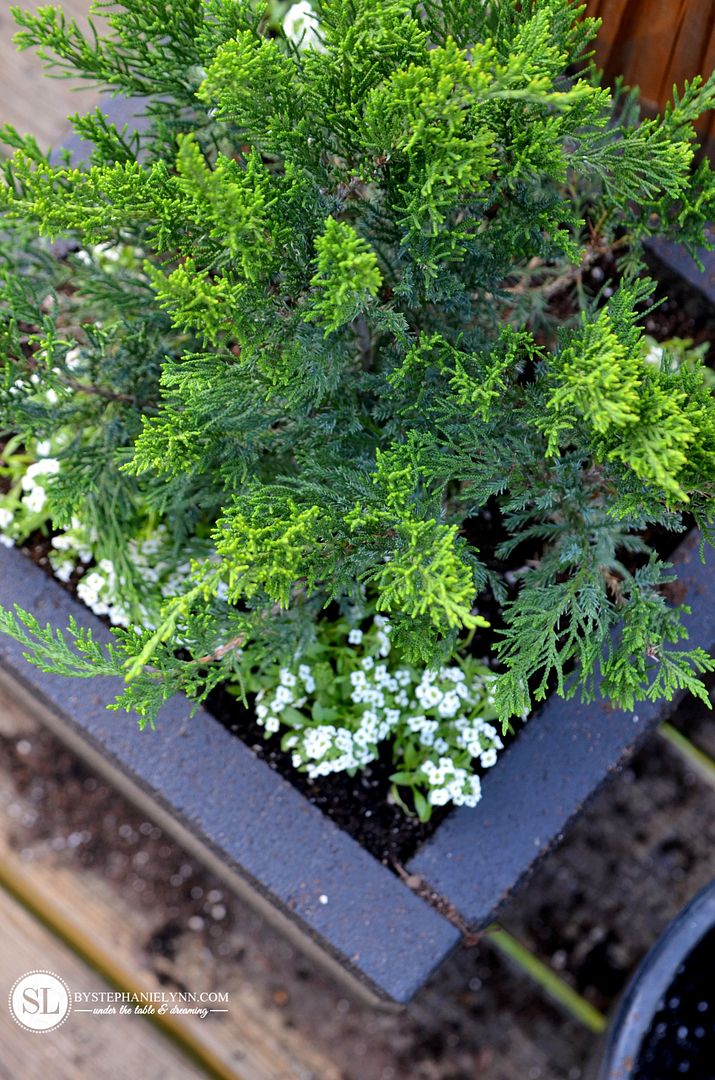 Things to keep in mind when Planting Container Evergreens :
Make sure the container has adequate drainage.
Gently loosen the root ball and carefully untangle any bound roots at the bottom.
Water the container and allow it to drain, then top off with additional soil if any settling occurs.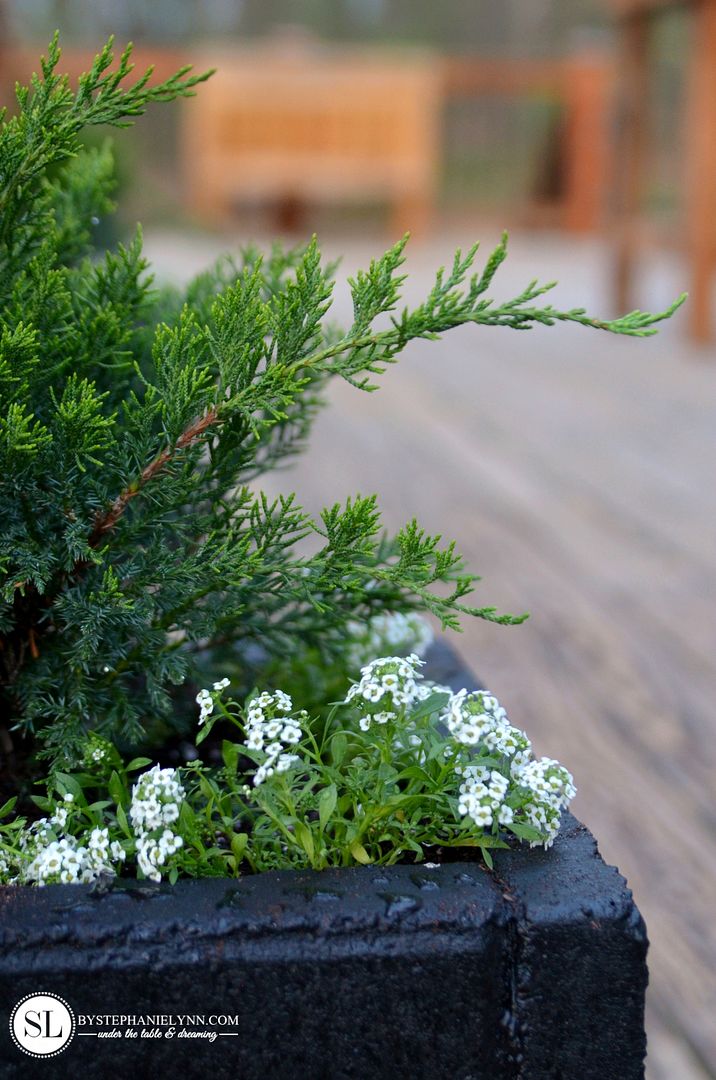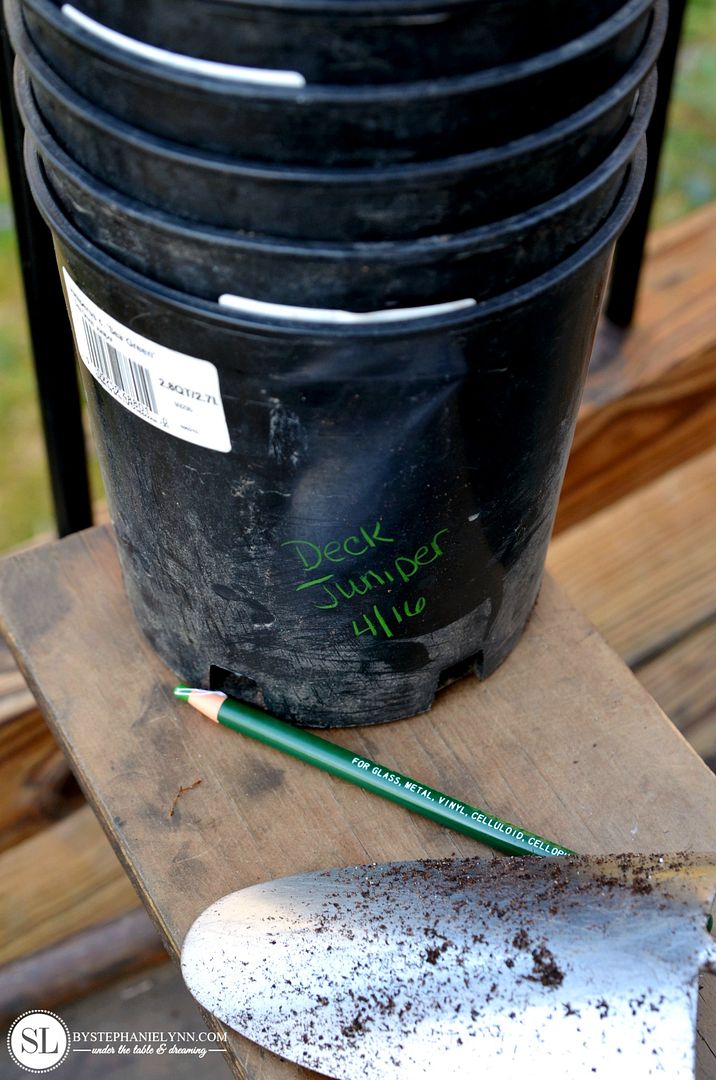 Most of the nurseries and garden centers in our area guarantee all of their perennials and shrubs
for at least a year.
We have gotten into the habit of labeling the pots – since this is where the barcode generally tends to be located – if there is ever a need for returns.
• Tip: Labeling the pots with the month/year not only helps when trying to locate a receipt – but also lets you know when you can discard the pot •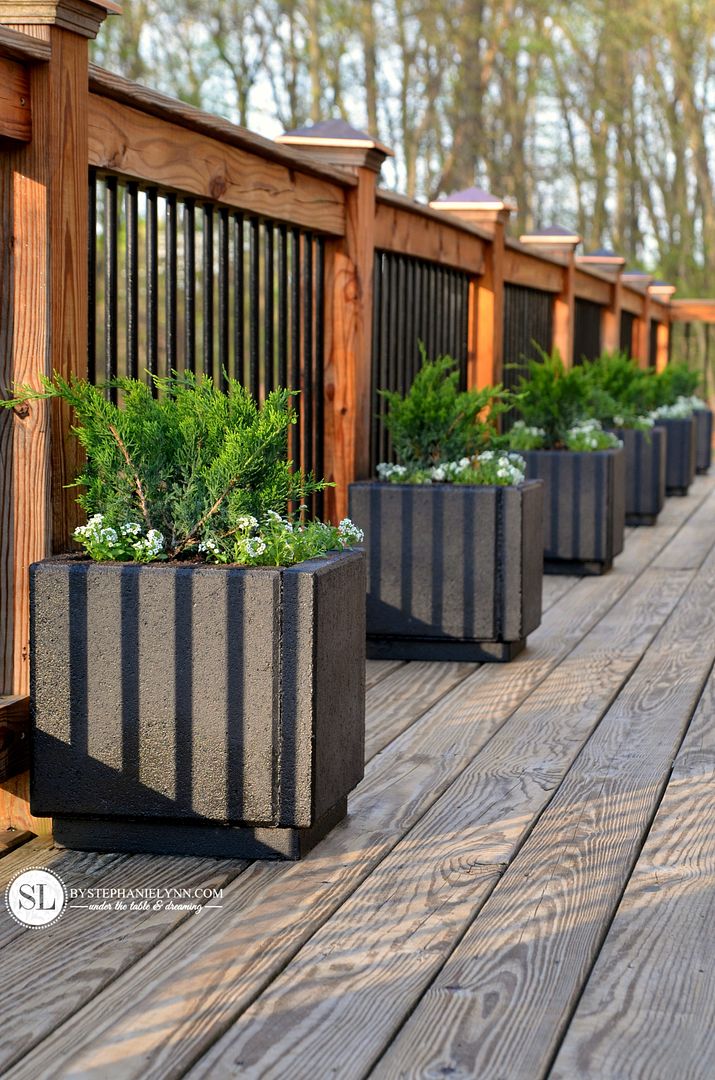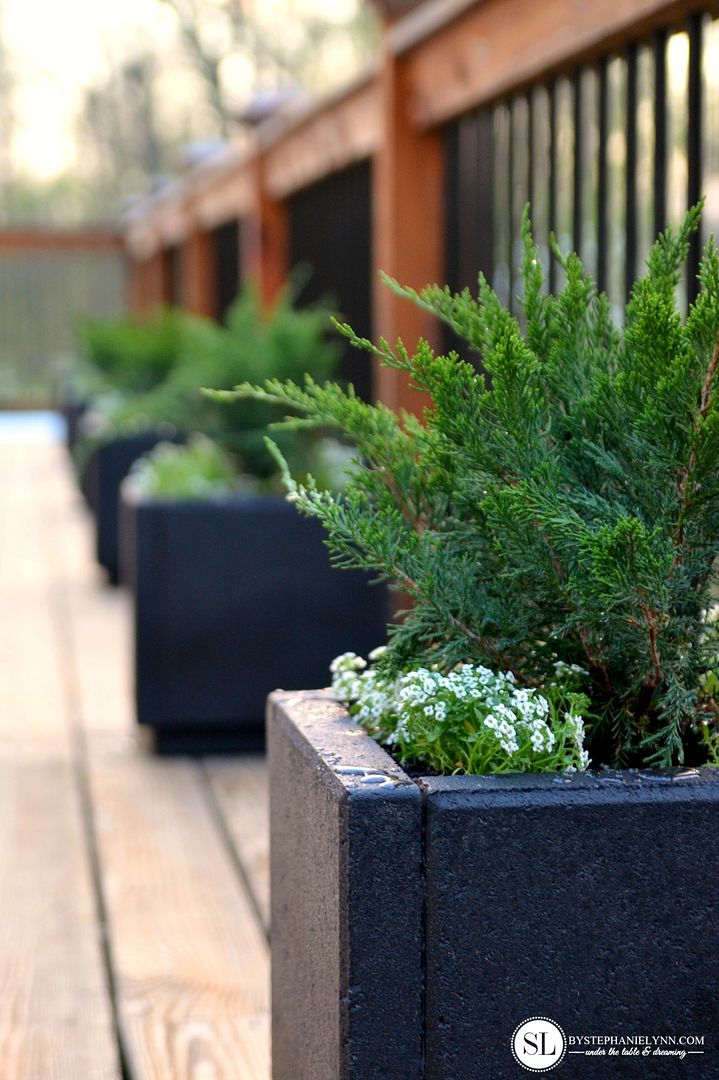 Container planting have a tendency to dry out very quickly so be sure to water them on regular basis.
Evergreens do not show their stress quickly.
During the excessive summer heat they may need to be watered daily.
Light pruning and shaping will keep the shrubs looking well-tended, as well as limit the growth –
which is particularly important when Planting Container Evergreens.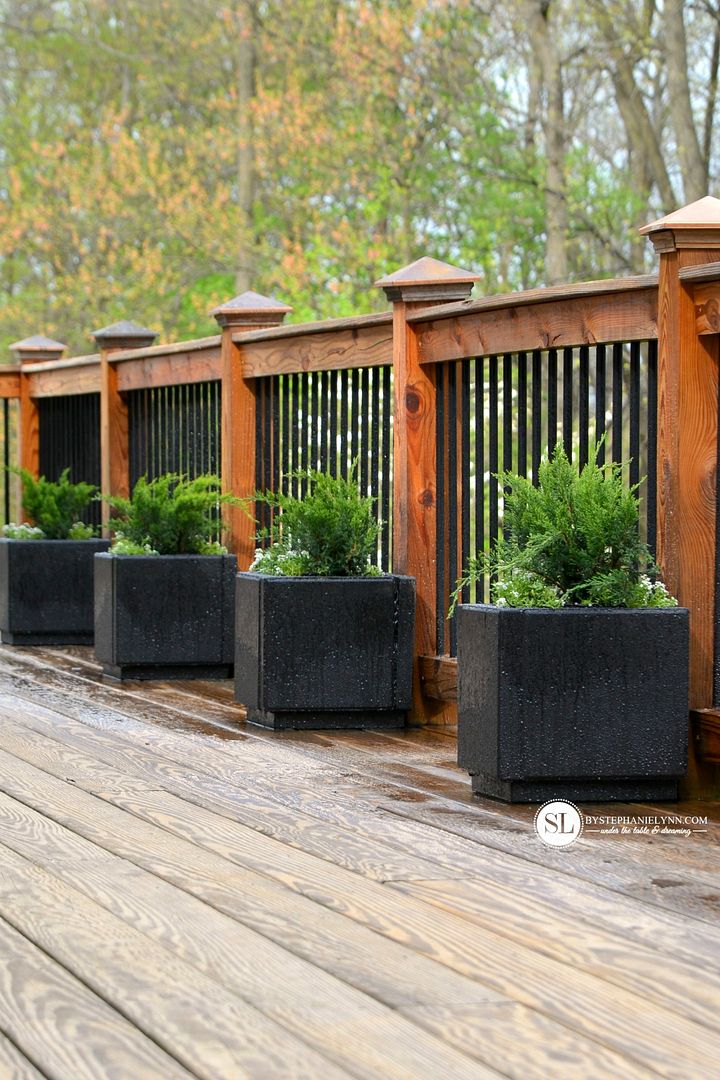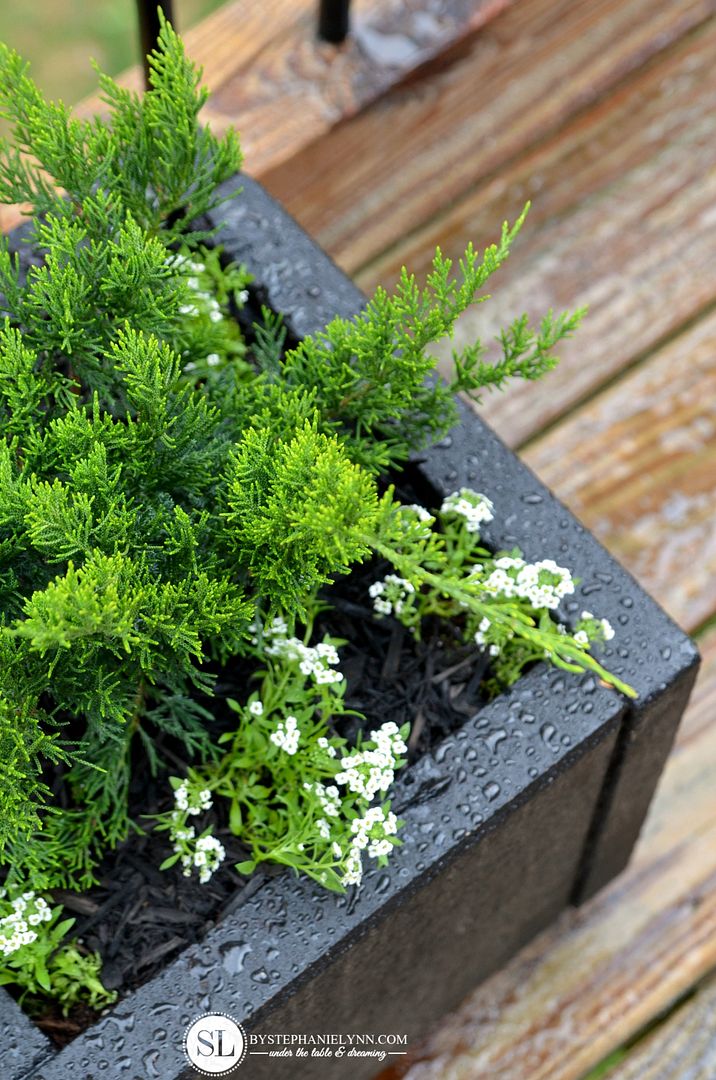 Since we are working with smaller sized planters, the shallow root system of Alyssum pairs well with the Juniper.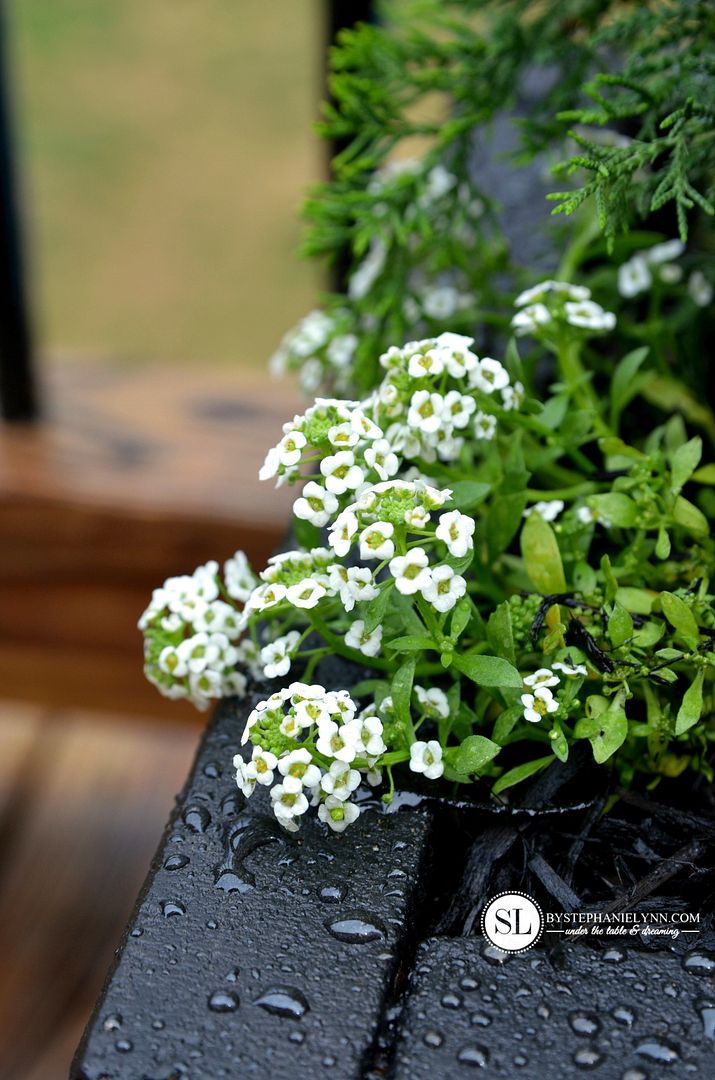 Although the flowering blooms appear to be delicate and dainty, this hearty annual is very tolerant of heat and drought conditions.
As it grows, the sweet fragrant flowers will not only mound to fill any empty spaces in the container, but spill over the edges creating a soft, billowing look.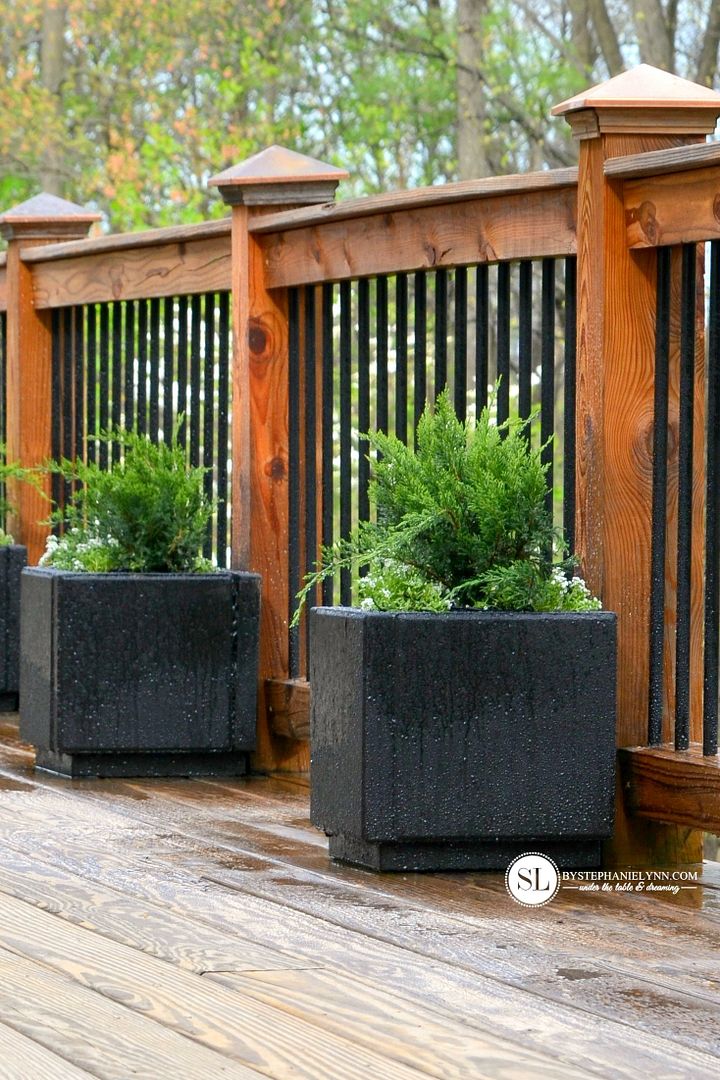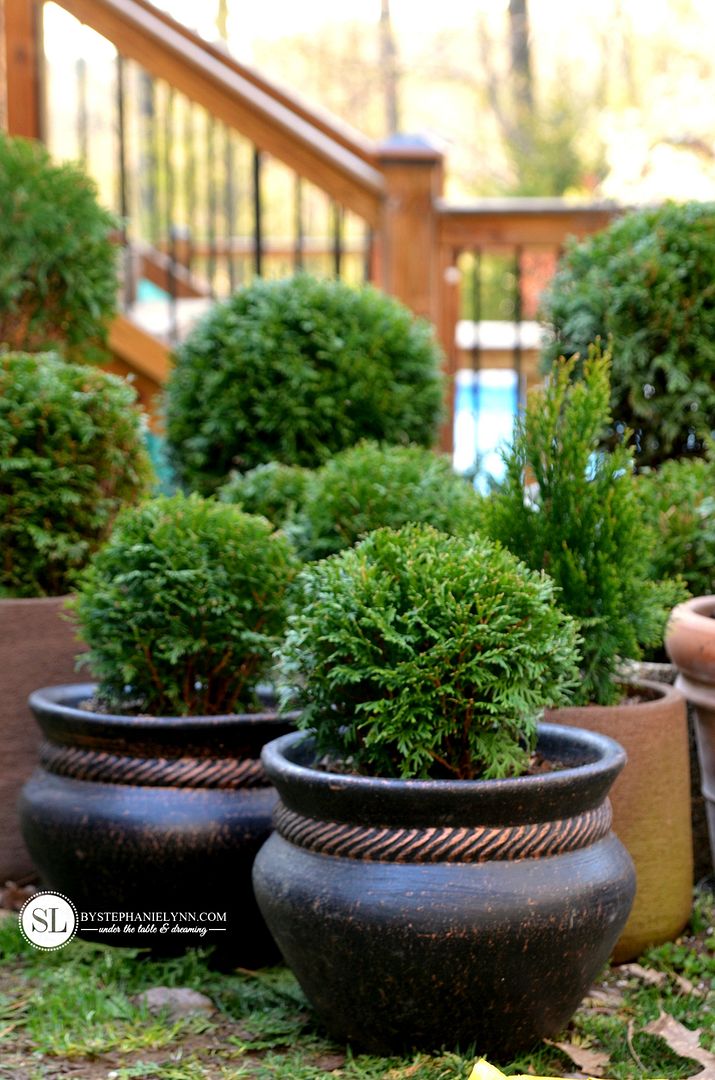 Planting Container Evergreens has year-round rewards.
We have used several different varieties on our deck year after year that not only create various focal points, but help define each little section of our outdoor space.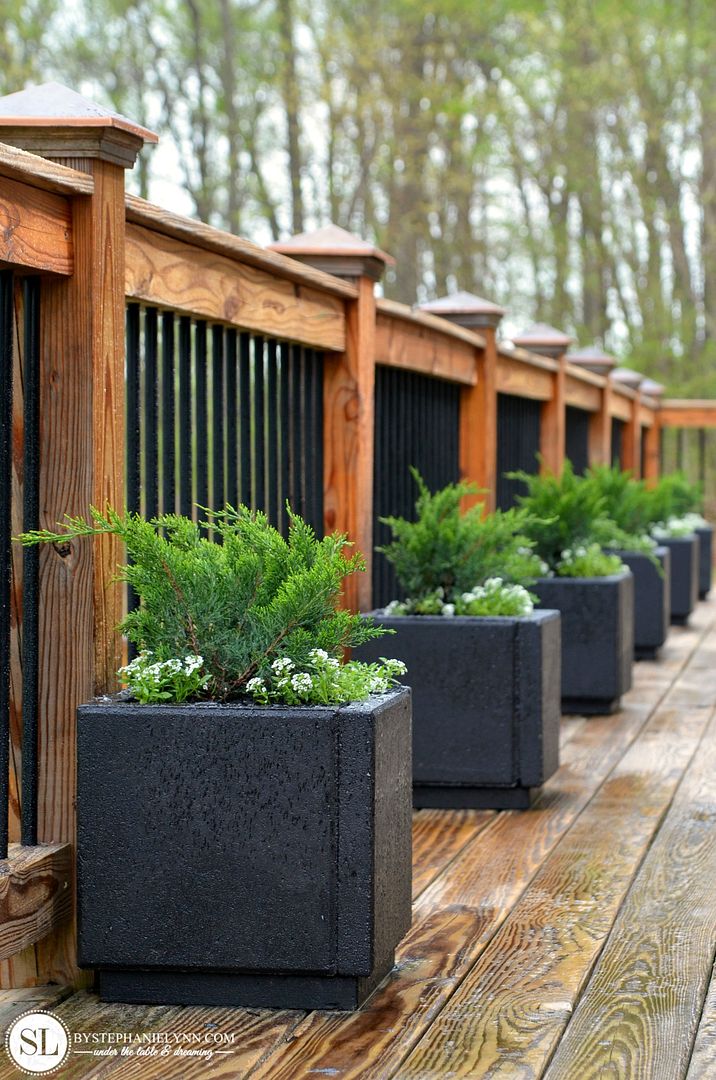 Have you ever considered Planting Container Evergreens?

The Miracle-Gro® Potting Mix used for our Patio Paver Planters was conveniently picked up at our local Walmart. The larger 2 cubic foot package has been moved to the outside garden center.  This premium potting soil is specially formulated for containers and is the best way to grow plants twice as big, versus unfed plants. Start Things Off Right with Miracle Gro,
then sit back and enjoy the beauty – all season long.