Drilled Craft Pumpkin Luminaries | #michaelsmakers – It's the beginning of September and I can already feel the chill in the air this morning. While we still have a couple more weeks until the official beginning of fall, that is enough for me to begin thinking about changing leaves, autumn activities and, of course, all things pumpkin!
It will be a few more weeks before these festive beauties are ready to be harvested at our local roadside stand, so we couldn't resist bringing a couple of craft pumpkins home from the Michaels 'pumpkin patch'.
Sure we love our traditional annual pumpkin carving but being able to save that pumpkin design you create for years to come is pretty wonderful too!
This year I decided to pull out the power tools and turn our pumpkins into some Drilled Craft Pumpkin Luminaries as part of the Michaels Makers September Challenge.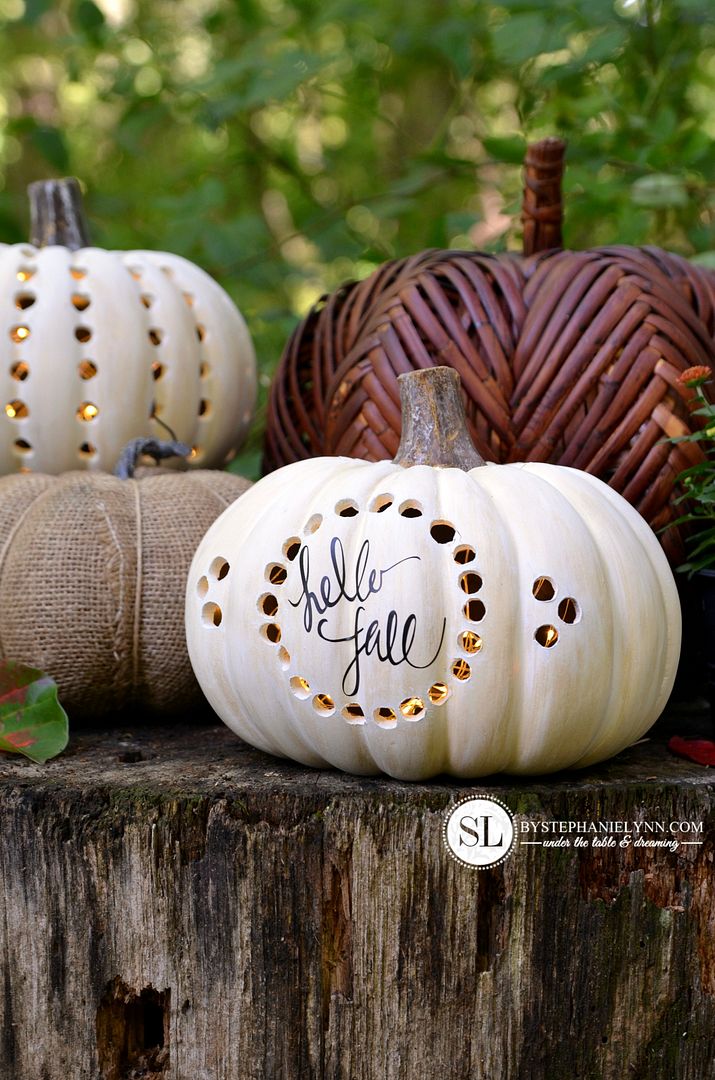 These Drilled Craft Pumpkin Luminaries do not require any special crafting skills
and are incredibly easy and fun to make.
Once you've chosen a pattern or design, your power tool takes care of the rest
and the possibilities are pretty endless.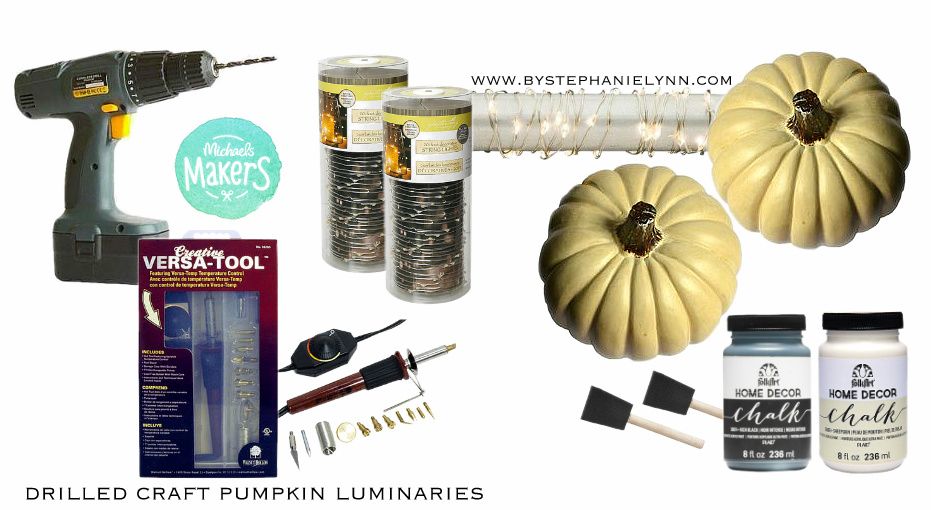 Drilled Craft Pumpkin Luminaries 
Materials Needed:
Craft Pumpkin – 9 inch, cream used in this tutorial
Creative Versa-Tool
Rich Black Chalk Paint
White Adirondack Chalk Paint
LED String Lights
Additional Supplies: Pencil, Eraser, Hand Drill, Various Size Drill Bits, Small Paint Brush, Foam Brush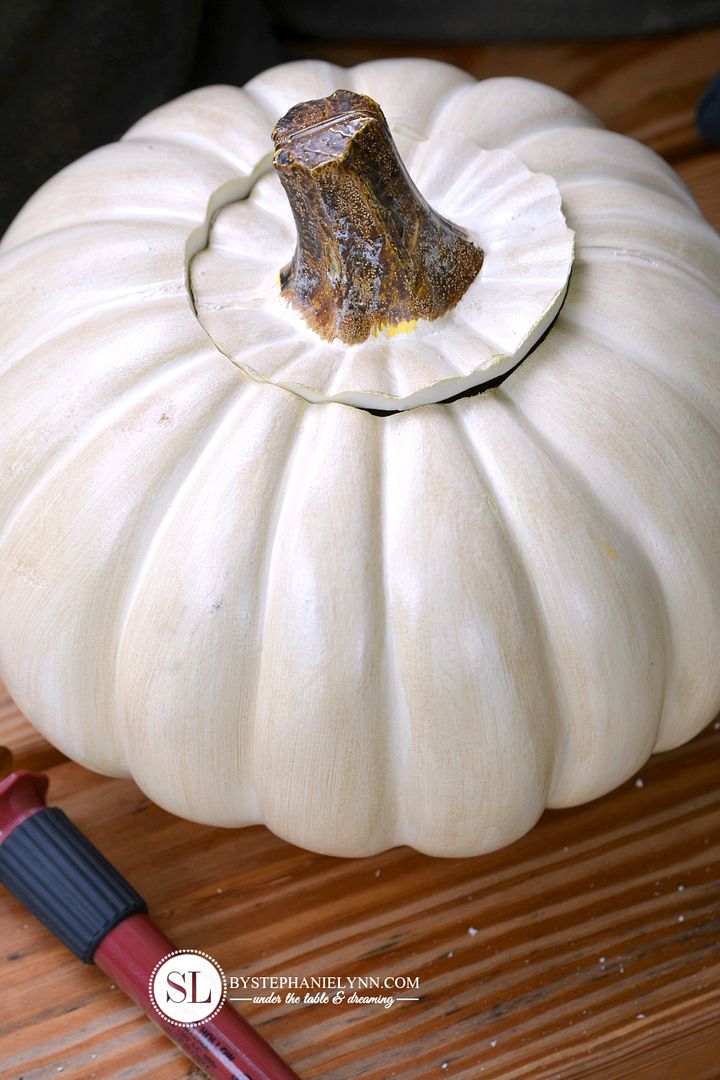 Step One: Cut an opening in the top of the craft pumpkin.
To create the cutting guidelines, place a small bowl or cup on top of the pumpkin and trace around it with a pencil.
Cut through the pumpkin, following the guidelines, using a Versa-Tool. This multi-purpose tool is mainly used for woodburning and can be found in the unfinished wood section. Simply plug the tool in, let it heat up, then carve.
The Versa-Tool hot knife attachment cuts through the craft pumpkins like cutting through butter. A must have tool for carving!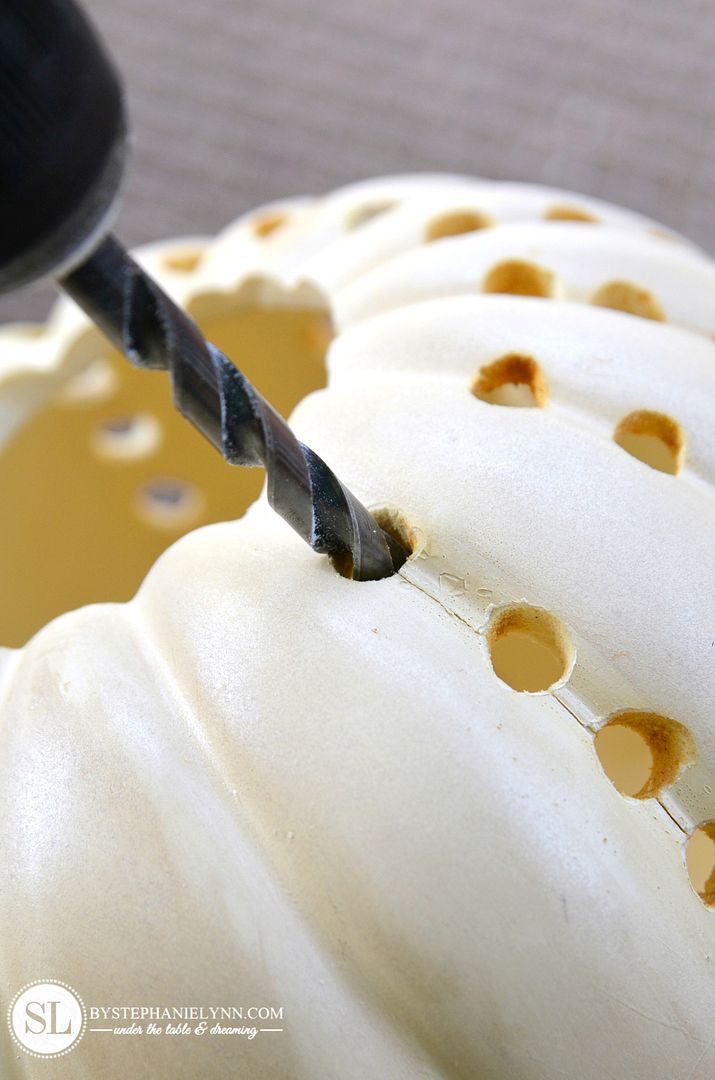 Step Two: Select a pattern and begin to slowly drill through the pumpkin with a hand drill.
• Do not worry if the holes are not perfect. They will be cleaned up in the next step •
This process is best done outdoors for easy cleanup.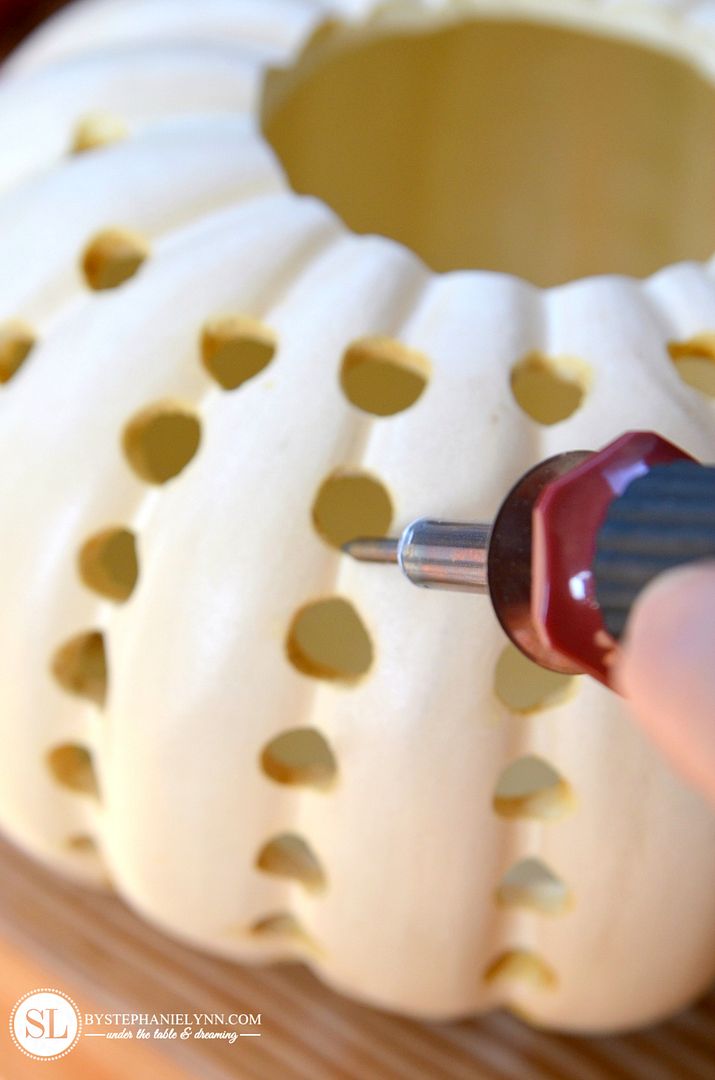 Step Three: Clean up each of the holes with the Versa-Tool flow point attachment.
This step will help to remove any frayed foam pieces and smooth out the roundness of the holes.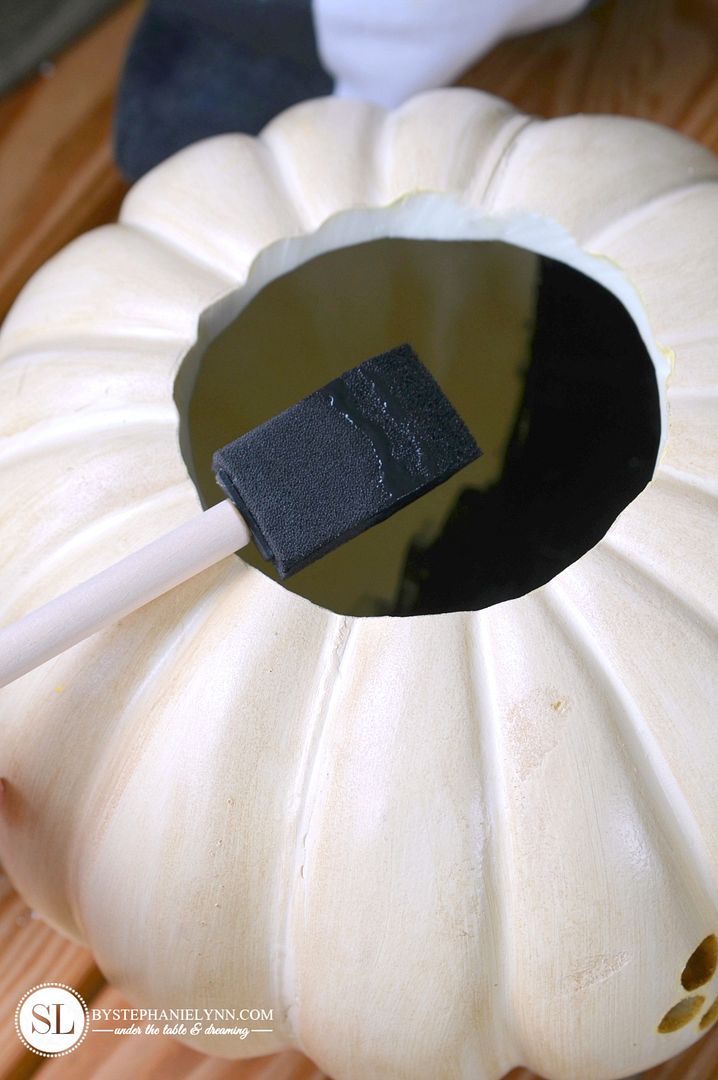 Step Four: Paint the inside of the pumpkin with Black Chalk Paint.
This will help conceal the battery pack for the LED String Lights.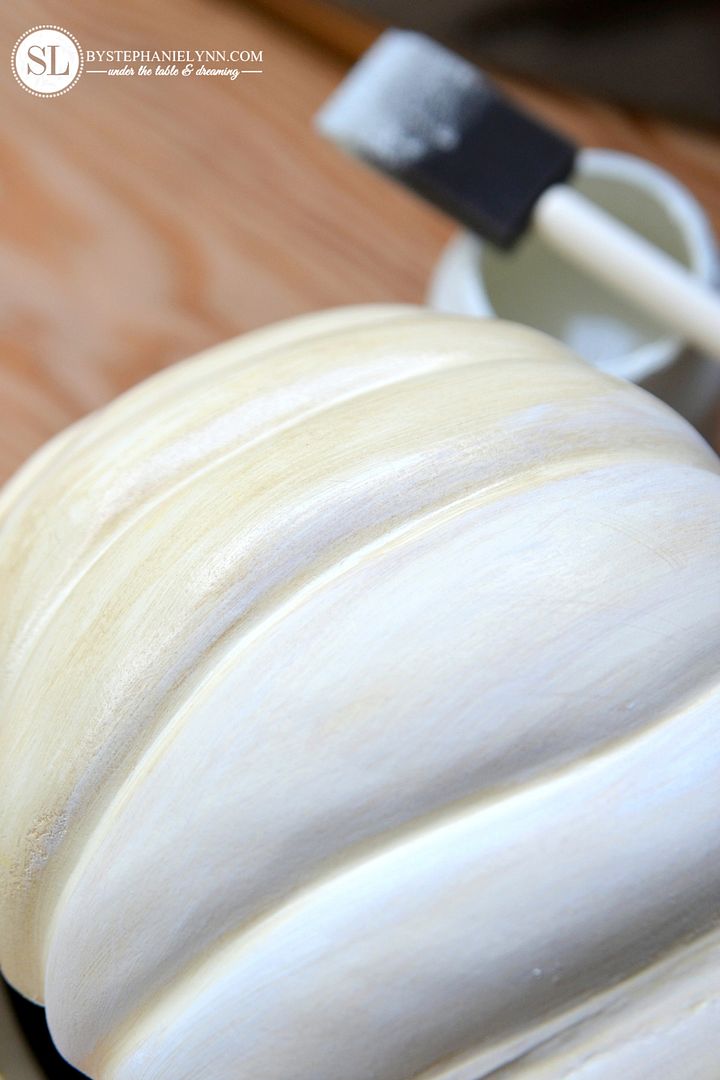 Step Five: Touch up each drilled hole with White Chalk Paint and dry brush the entire pumpkin.
The combination of the drill and Versa Tool will discolor the exposed foam of the pumpkin. This can easily be fixed by using a small paint brush and white chalk paint to touch up the inside of each hole.
To complete the look and give the pumpkin a matte finish, drybrush the entire pumpkin with a light coat of White Chalk Paint.
• Drybrush is a painting technique in which an applicator that is relatively dry, but still holds paint, is used. The resulting brush strokes have a characteristic scratchy look that lacks the smooth appearance that paint commonly has •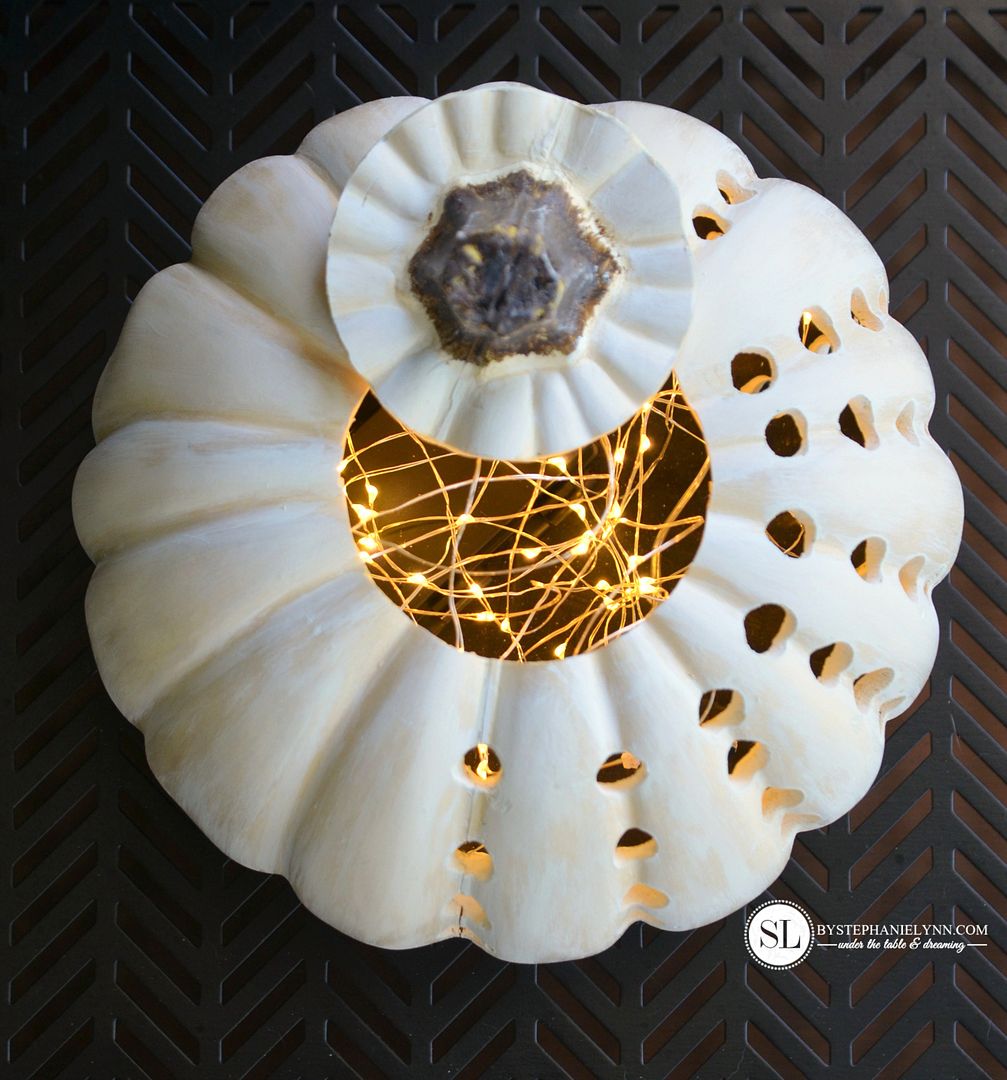 Step Six: Once the paint has dried, insert the LED String Lights into the open cavity of the pumpkin.
These particular LED String Lights are battery operated and have a 4 hour timer for convenience.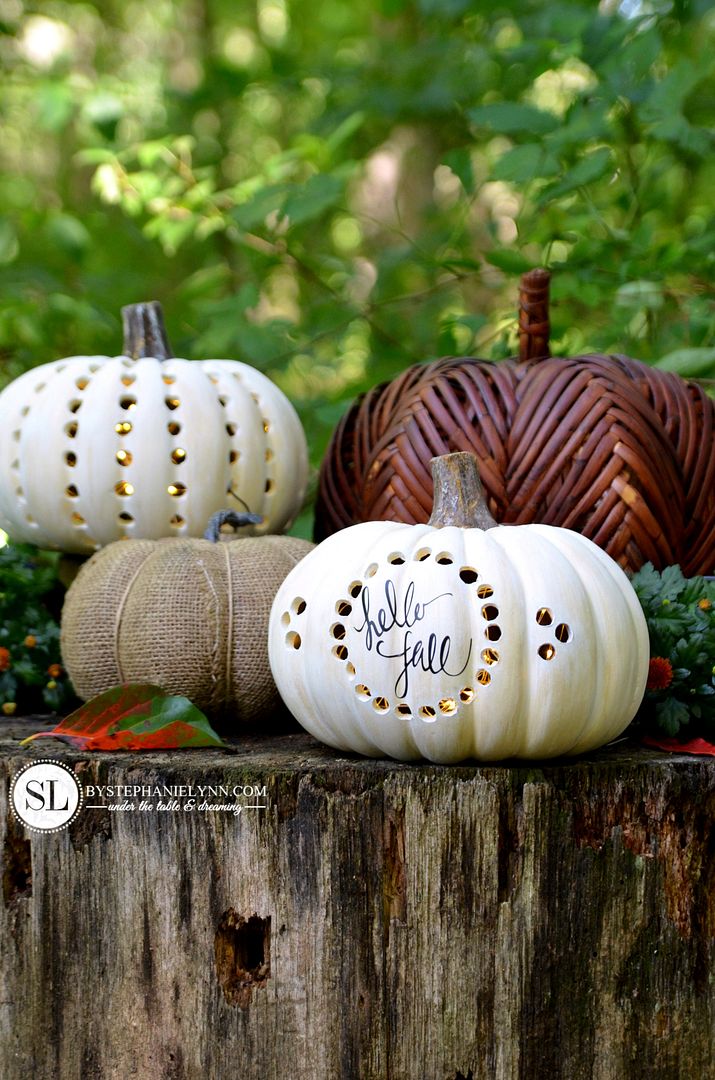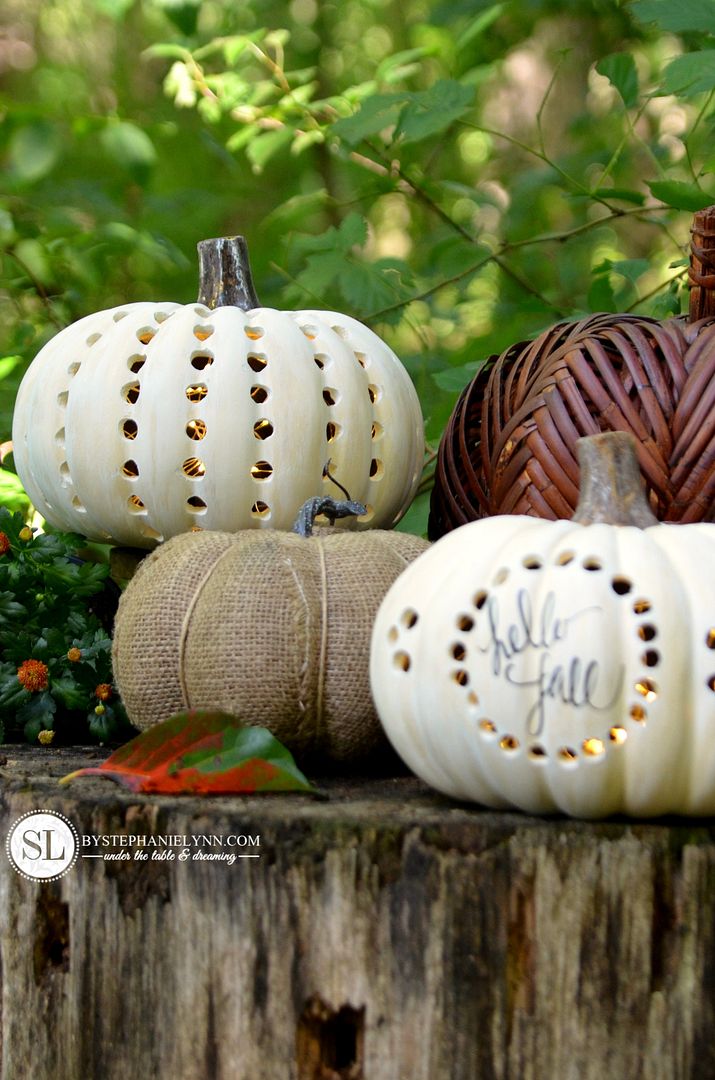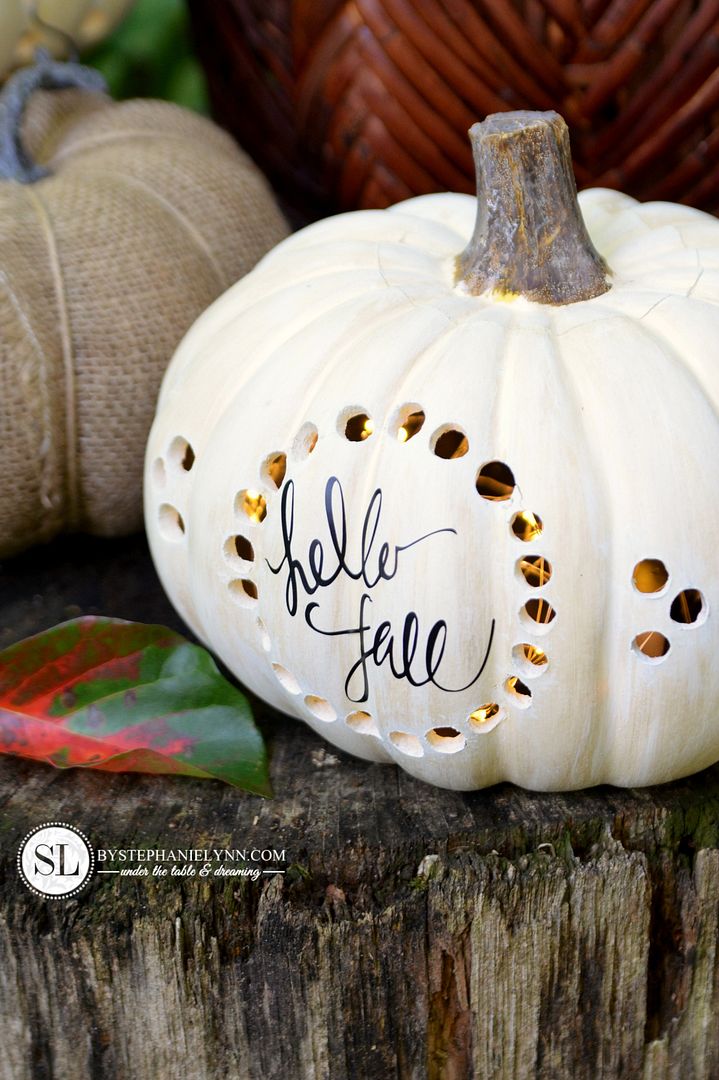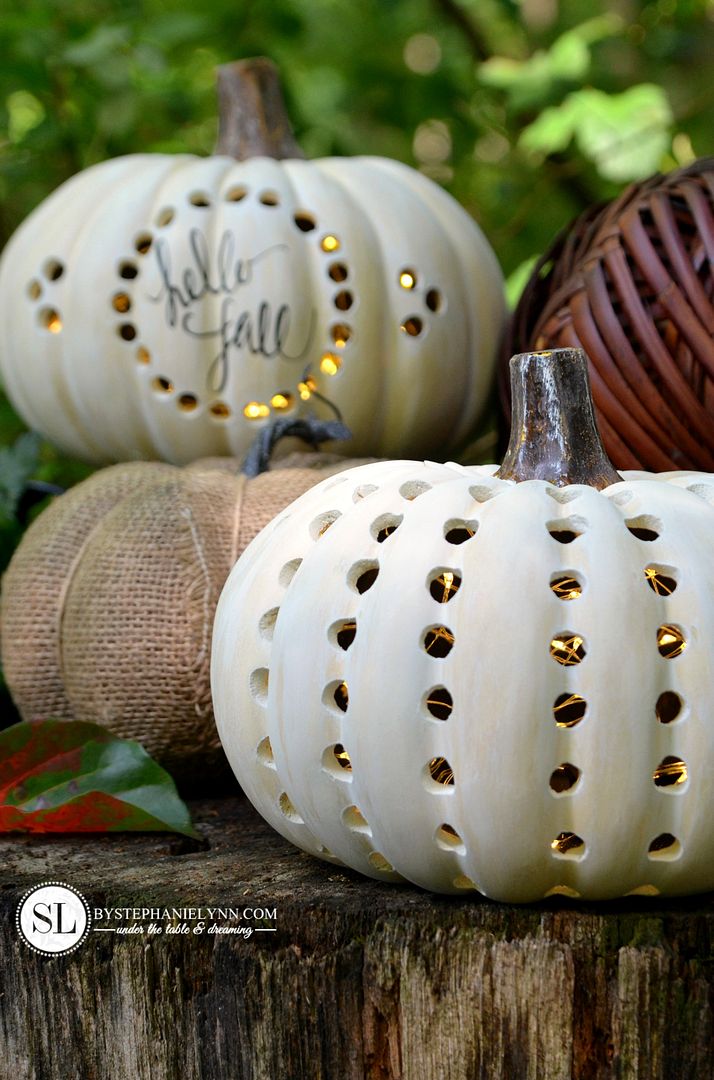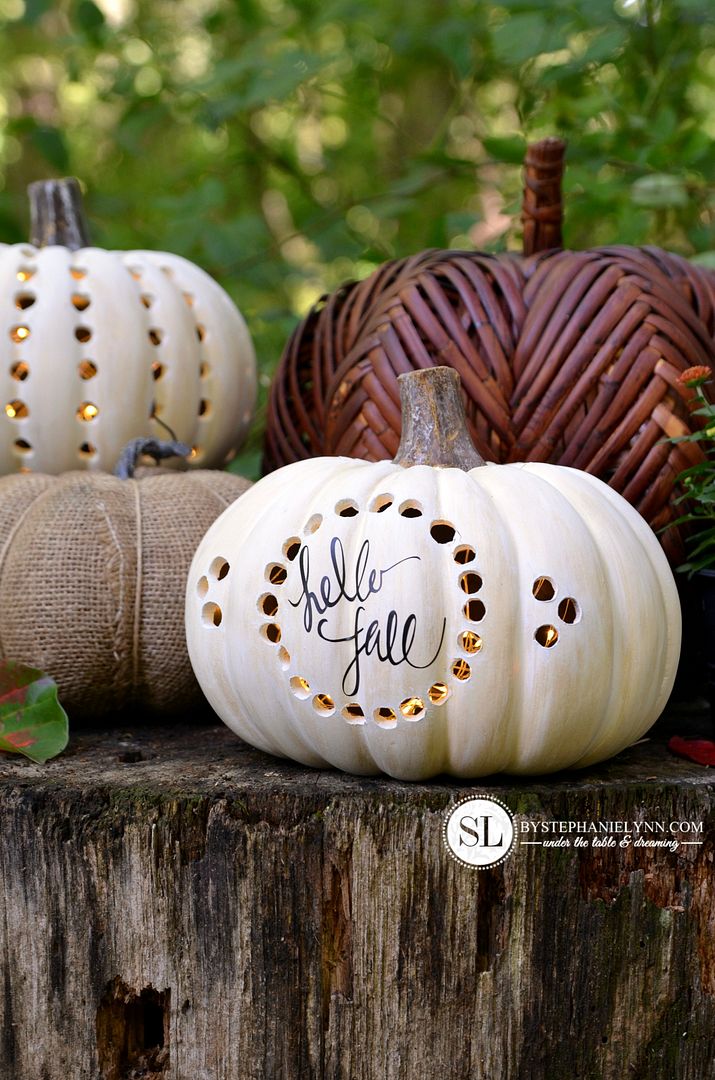 We love craft pumpkins for all of their many uses and the fact that we can use them year after year. Check out our design ideas from previous years below!

Craft Pumpkin Candy Holders


Craft Pumpkin Candle Holders 


And be sure to checkout all of the other Michaels Makers Craft Pumpkin Creations
on the Michaels blog.
An InLinkz Link-up

This post is brought to you by Michaels
. The opinions read here are entirely my own. In case you haven't noticed, Michaels stores are overflowing with pumpkins! We love craft pumpkins for all of their many uses and the fact that we can use them year after year. Not only do they have orange, chalkboard, black and cream pumpkins, this year they have added glow-in-the-dark, concrete and diorama pumpkins. They are also carrying a teal pumpkin to represent the Teal Pumpkin Project. Happy Fall & Happy Crafting!