Fall Coffee Bar – coffee & crafts crafting party | This post has been compensated by #CollectiveBias and its advertiser and has been sponsored by Starbucks® as part of an Influencer Activation. The story and opinions read here are entirely my own. I have received compensation and complimentary products to facilitate my review. Keurig, K-Cup, Keurig Hot, and the K logo are trademarks of Keurig Green Mountain, Inc., used with permission ~ #StarbucksCaffeLatte #MyStarbucksatHome
Fall has finally arrived and as our busy summers come to a close, crafting season is upon us!
This time of year I can always count on my girls to set aside a few hours every couple of weeks
for a fun night of crafting.
No matter how jam-packed the upcoming months tend to be, there's nothing like taking a moment for yourself and gathering with like-minded souls to create, make and connect.
Crafting is always fun, but crafting together = magic!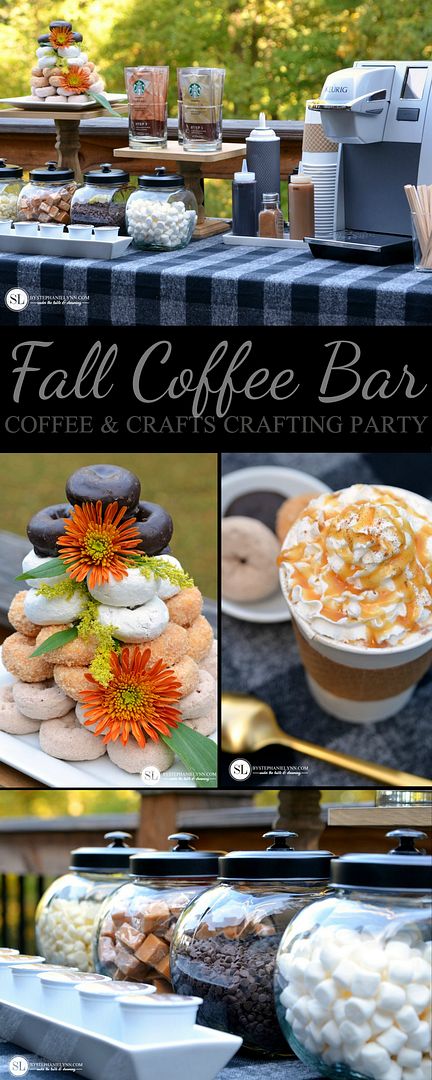 This month we kicked off the season with a Coffee & Crafts themed crafting party.
We all love our Keurig and Starbucks® coffee and now we can enjoy our favorite lattes, in the comforts of our own homes,
with the new Starbucks® Caffé Latte K-Cup® pods!
All of the details for this Coffee & Crafts Crafting Party can be found below,
along with the full party set up, two simple and fun craft tutorials
and, of course, the in-home Fall Coffee Bar, featuring Keurig and Starbucks® coffee.
If you have ever thought of hosting your own crafting party,
or simply gathering the girls for an in-home latte coffee bar, I hope you'll be inspired!
The Fall Coffee Bar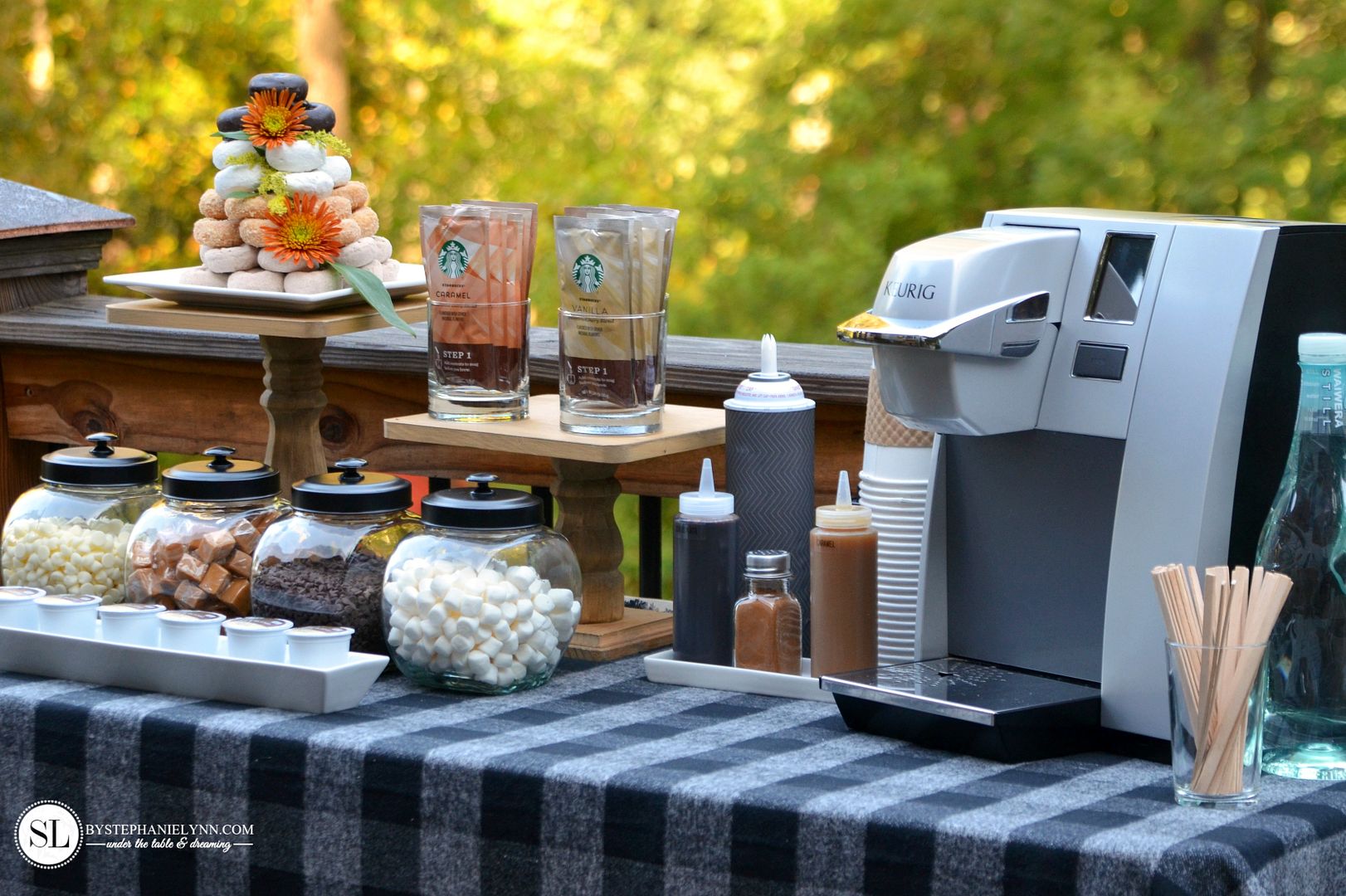 Every crafting party calls for some tasty treats and beverages.
This self-serve Fall Coffee Bar takes the stress out of entertaining,
and allows you to spend more time crafting and enjoying your guests.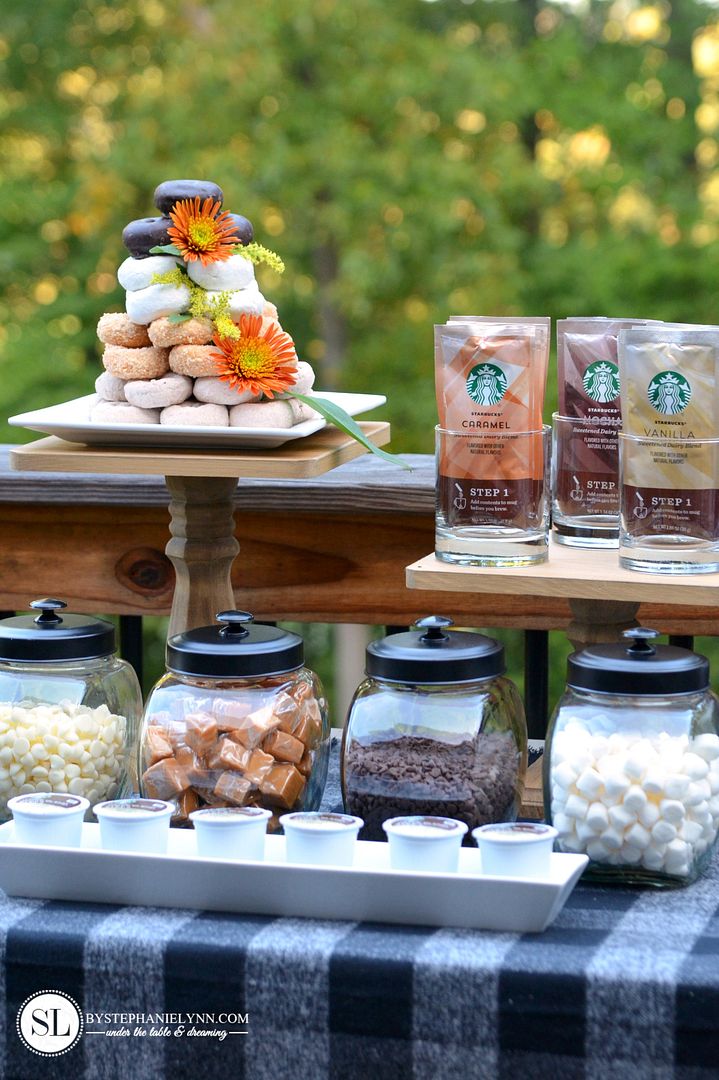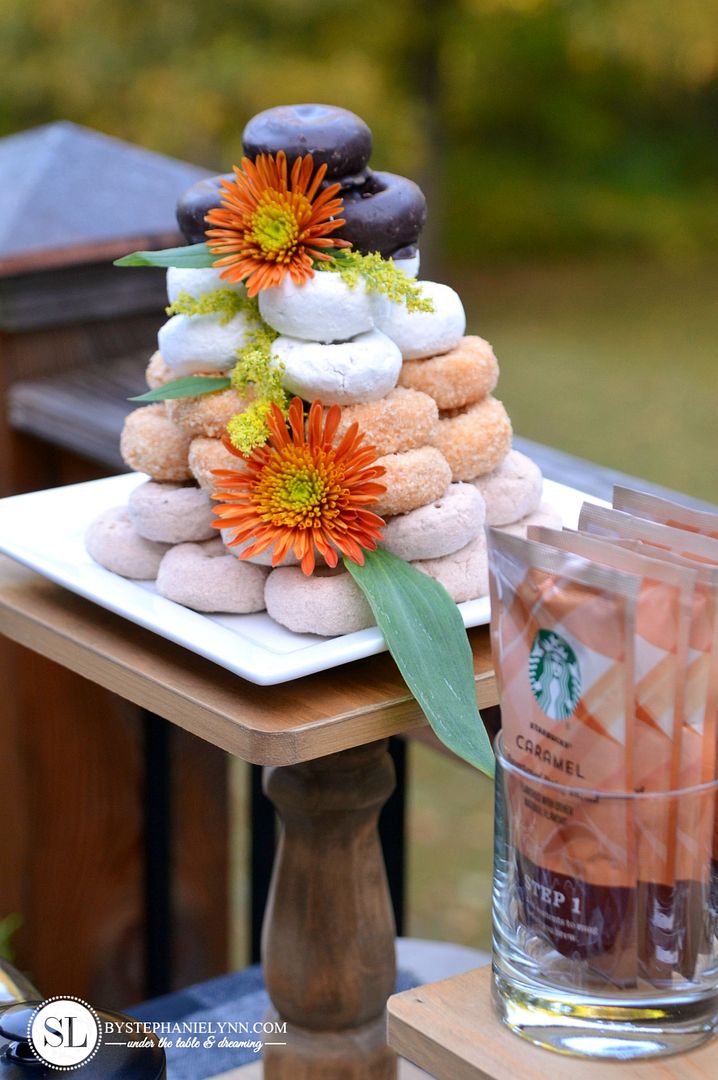 Here we have served our lattes with one of coffee's favorite companions…doughnuts!
• The tutorial for the Wooden Cake Stands can be found here: DIY Cake Plate Dessert Stand •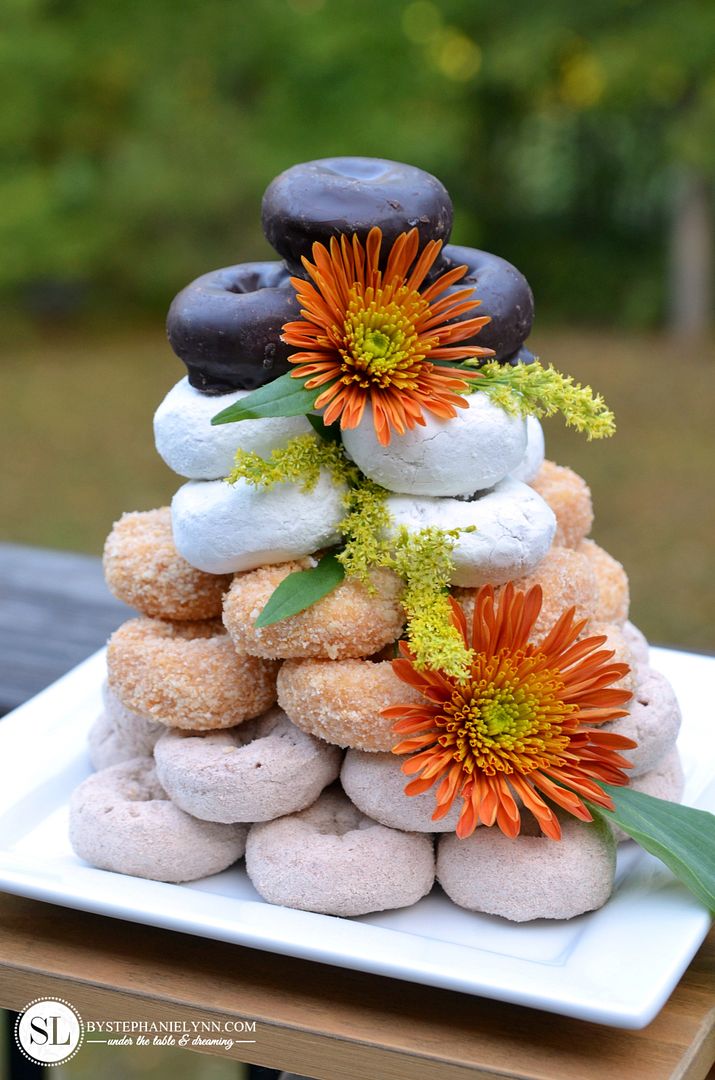 This simple and impressive display of mini doughnuts takes just minutes to assemble.
Simply grab four bags of your favorite mini doughnuts (we used pumpkin spice, caramel apple, powered, and chocolate).
Begin by arranging the doughnuts in a circular pattern to form the base.
Continue stacking the doughnuts, in additional smaller layers, until a tower is formed.
Add a few fresh flower buds and leaves for decor.
Of course the stars of this self-serve bar are the new Starbucks® Caffè Latte K-Cup® Pods.
These Caffe Latte Flavor Packets and K-Cup® Pods allow you to whip up your favorite latte flavors, that only Starbucks® can create, right at home.
They are available in three Starbucks® signature flavors:
classic, creamy Caramel • rich and chocolaty Mocha • smooth and creamy Vanilla
plus two additional beloved Starbucks® seasonal flavors:
Pumpkin Spice and Peppermint Mocha, available for a limited time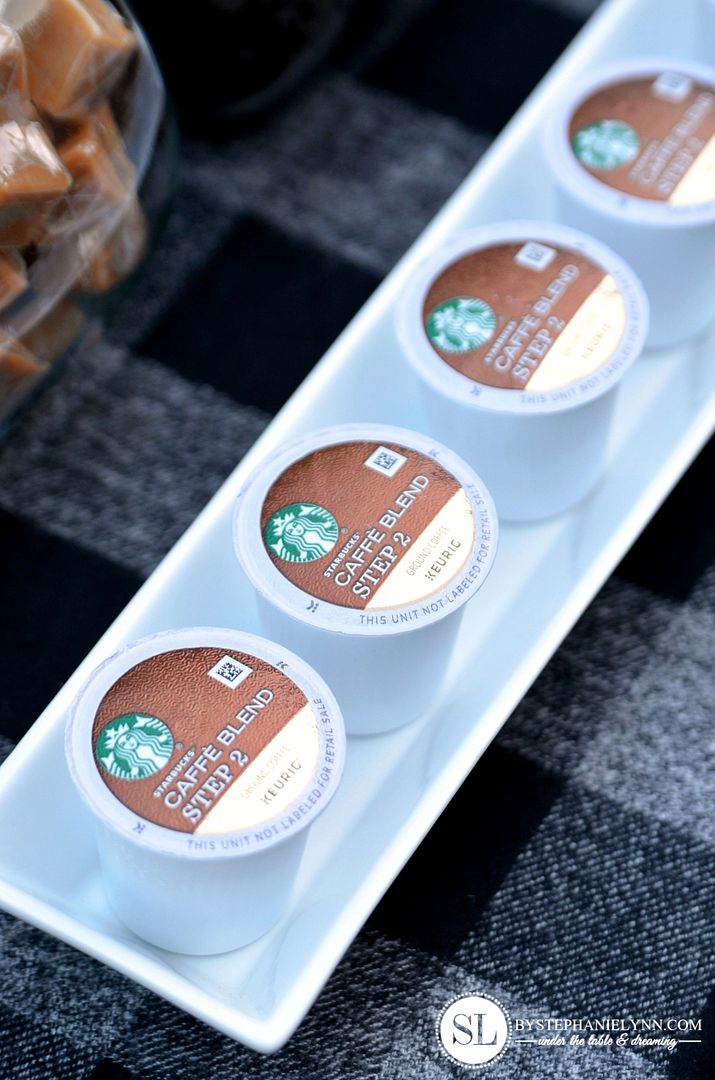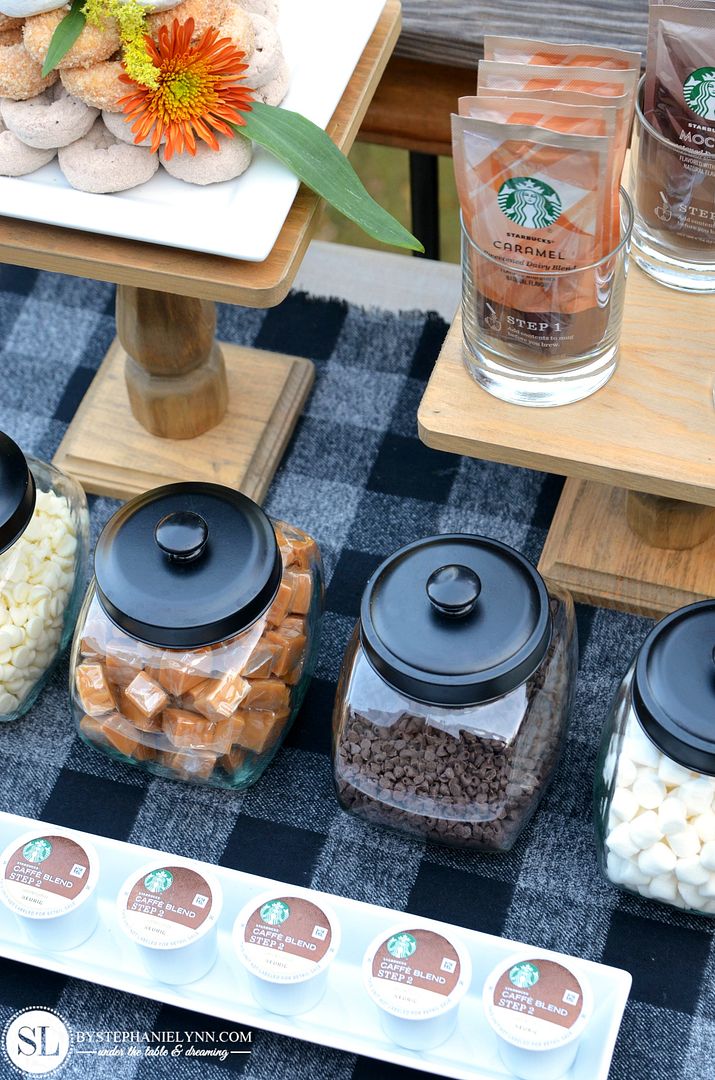 Every coffee bar needs some toppings and mix-ins for a little added fun.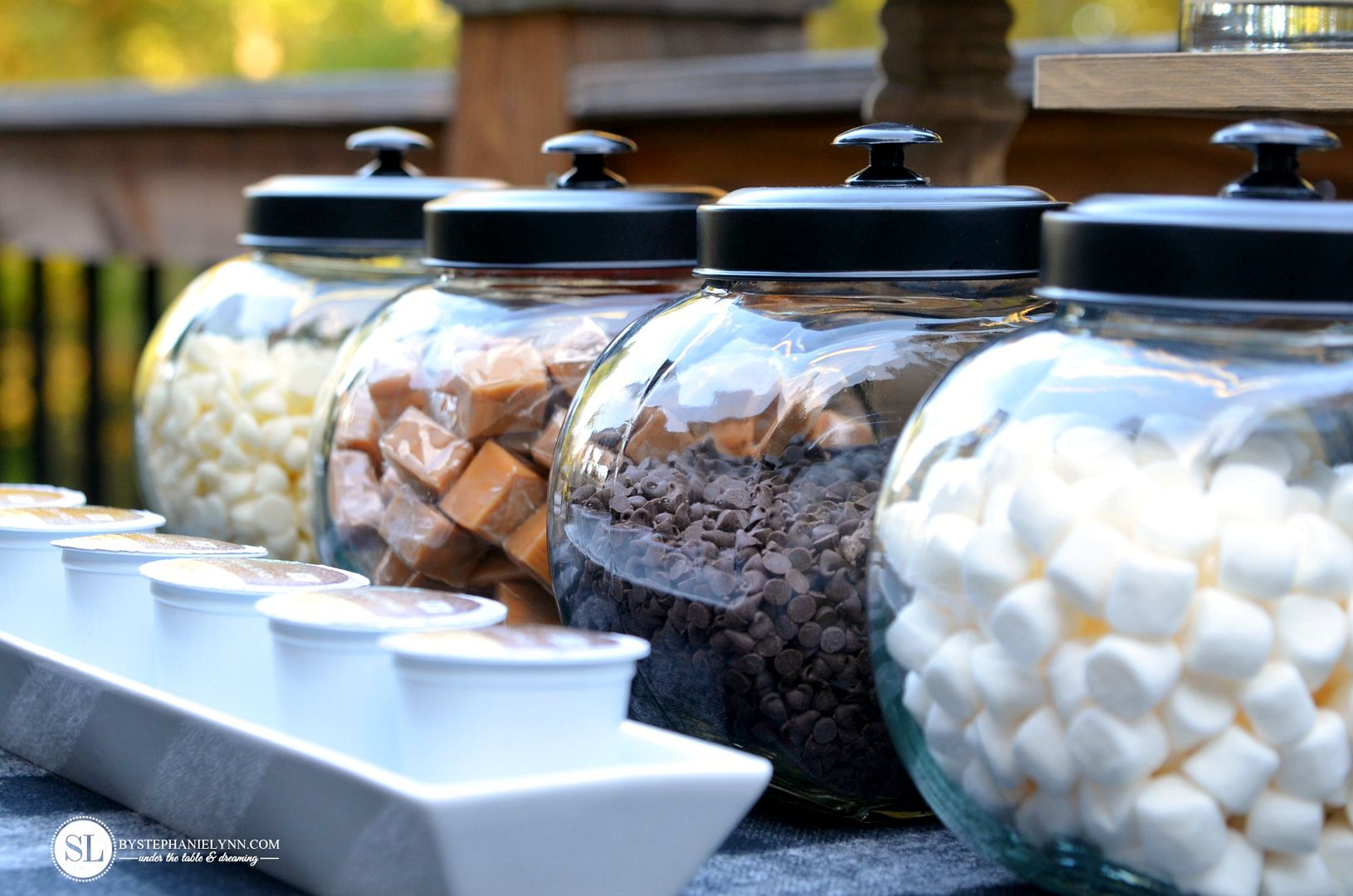 Here we have added vanilla chips, caramels, chocolate chips and marshmallows to compliment the latte flavors.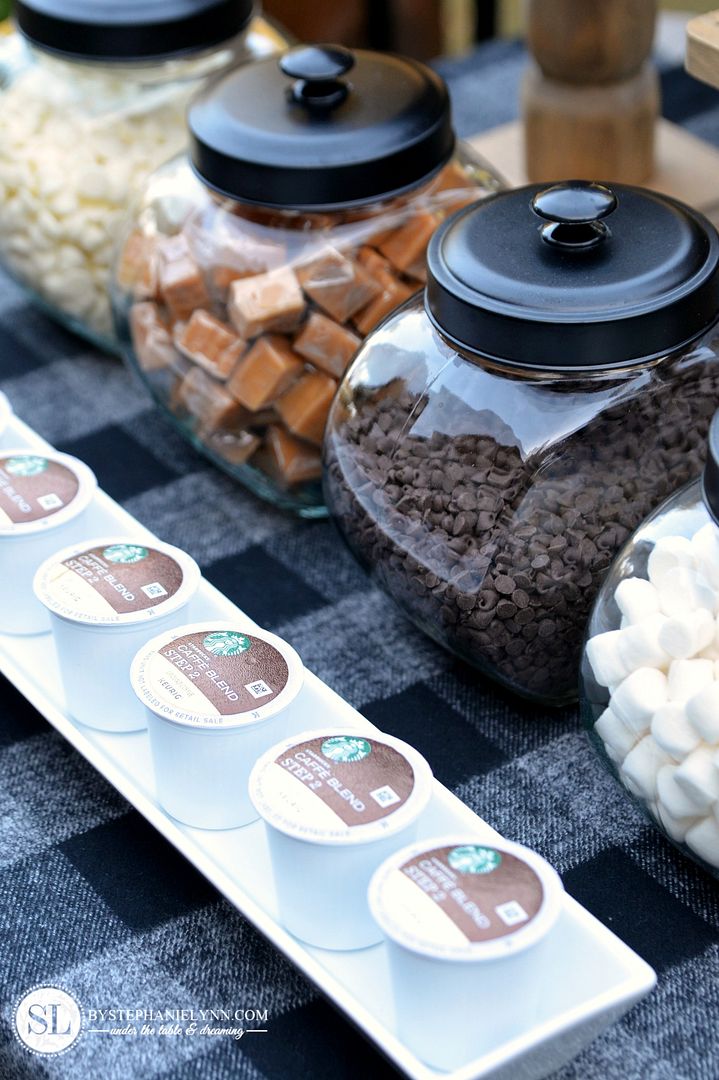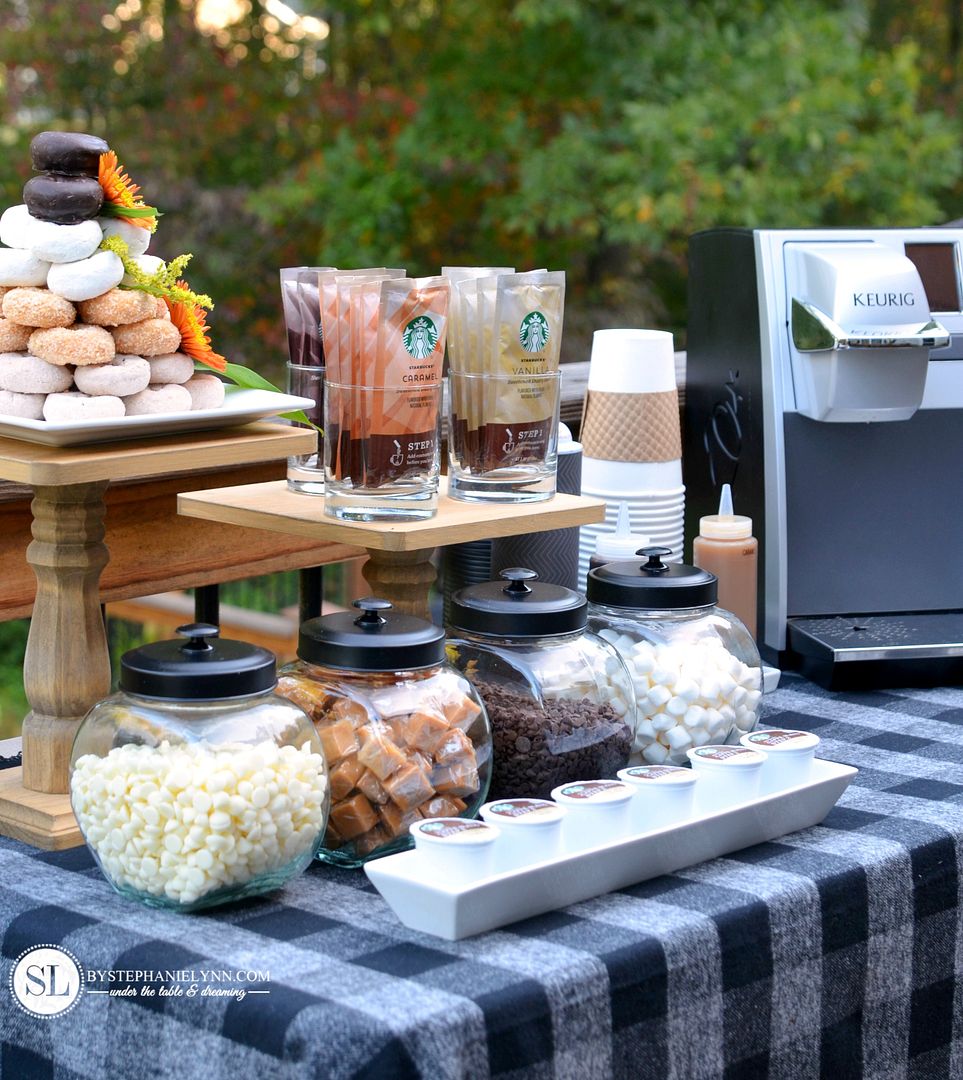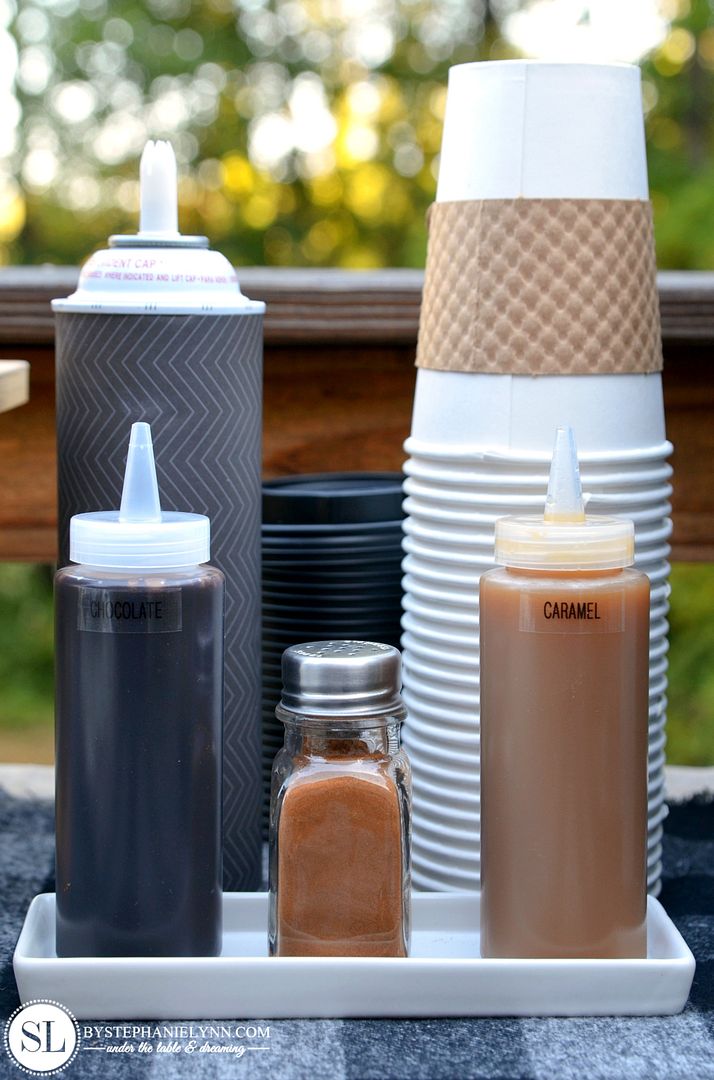 This Fall Coffee Bar also included chocolate and caramel sauce, along with cinnamon and whipped topping.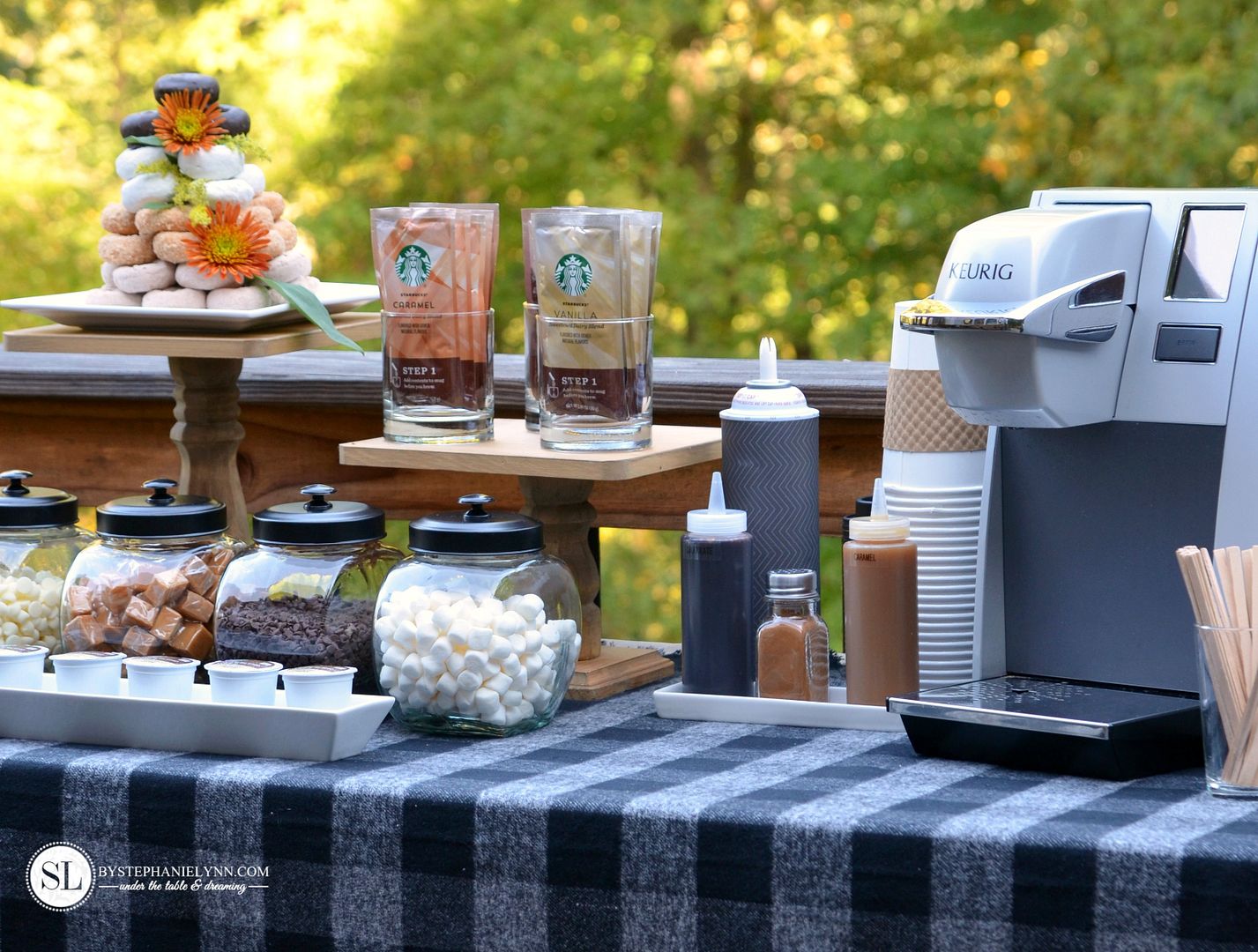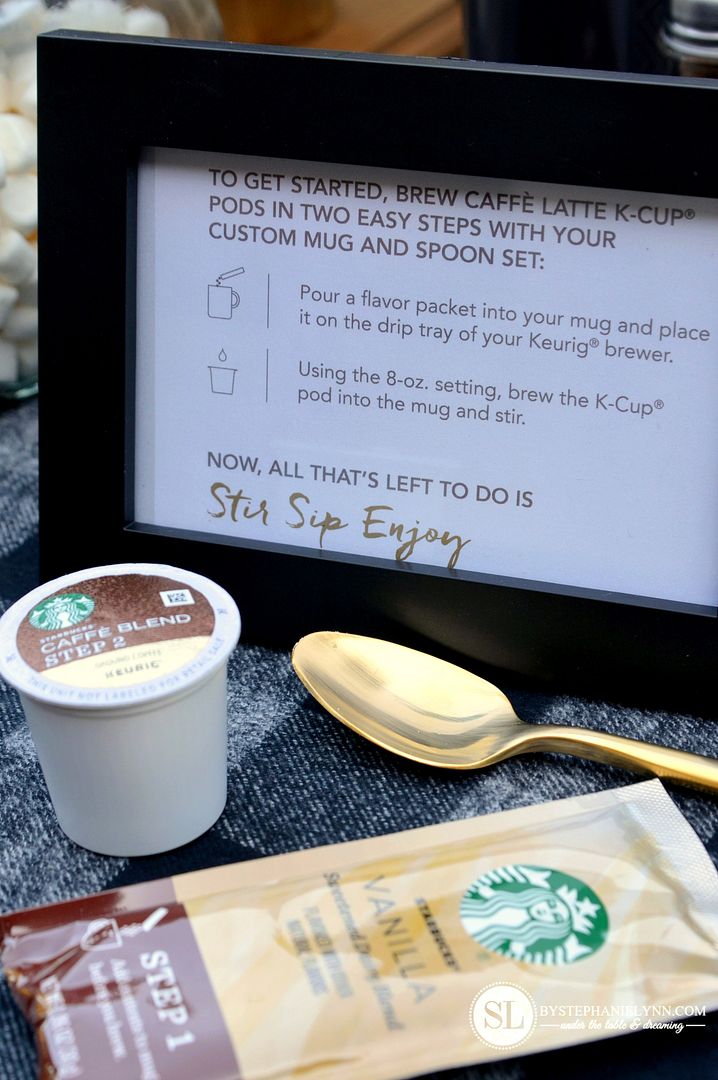 Each box of Starbucks® Caffè Latte K-Cup® Pods include flavor packets (made from milk with no artificial ingredients), along with Caffe Blend K-Cup® pods.
There is a two-step process to make the beverage.
Step 1 – simply pour the flavor packet into your favorite mug.
Step 2 – brew the Caffe Blend K-Cup® pod in your Keurig brewer, using the 8ounce setting, and stir to enjoy.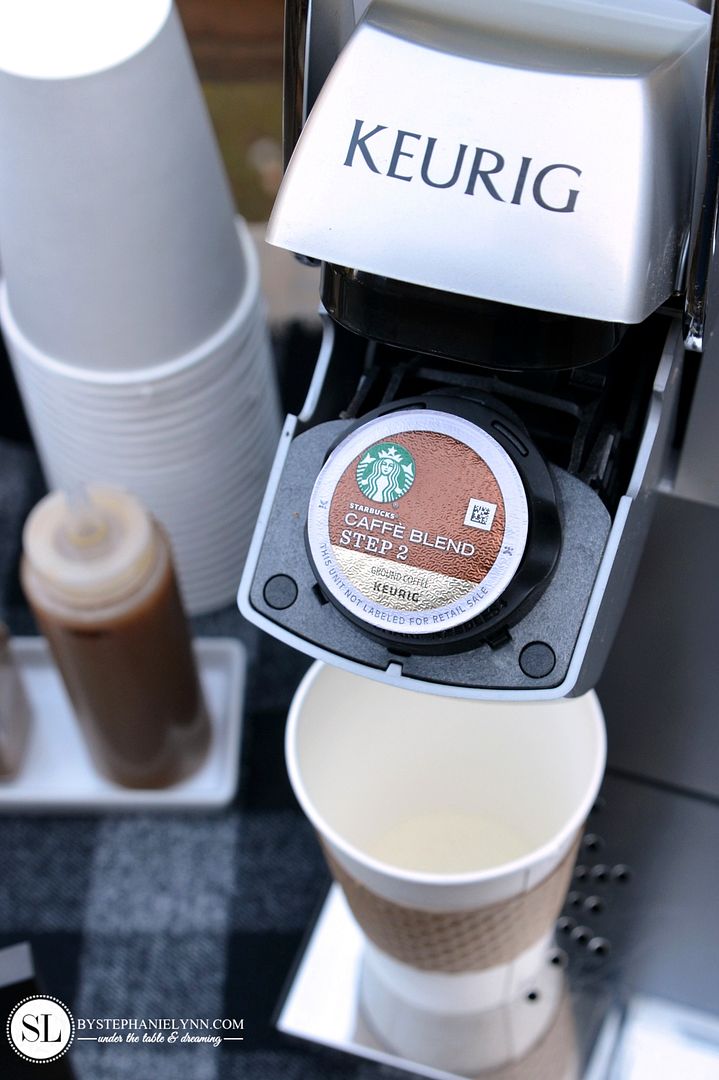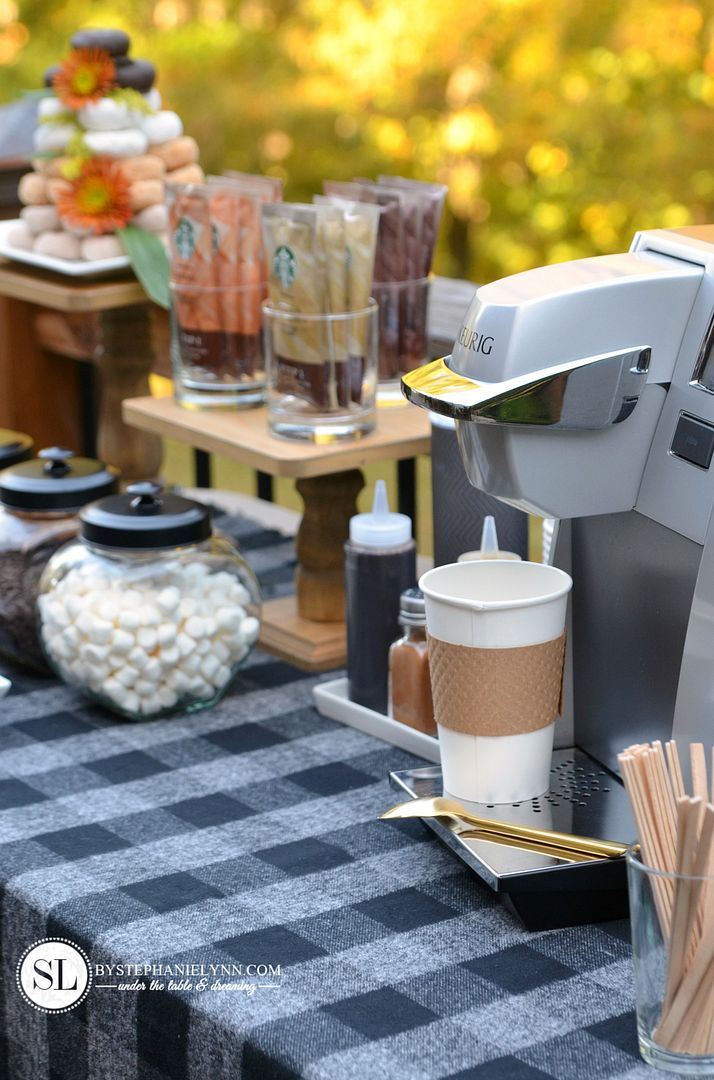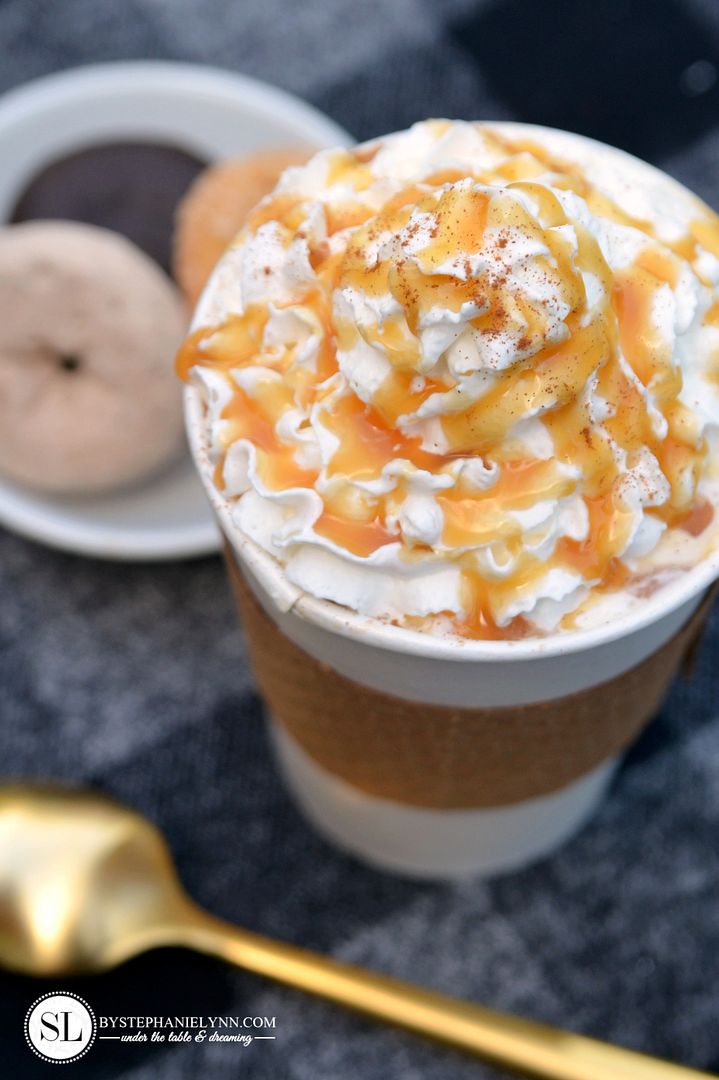 The Crafting Party Set Up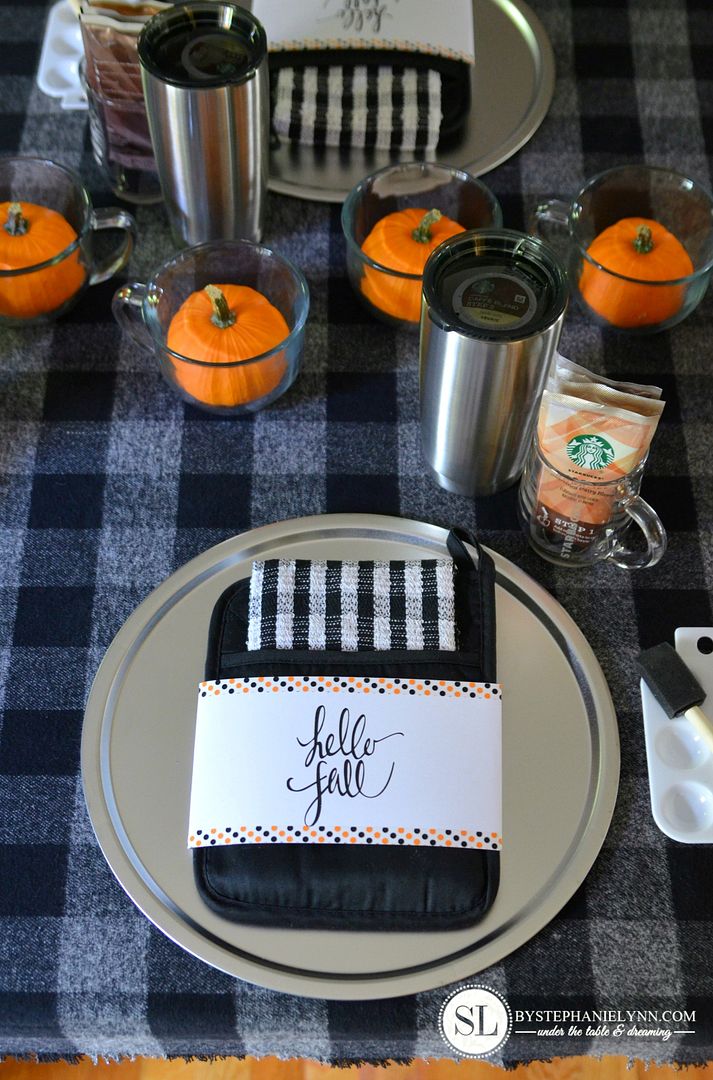 Prior to the guests arriving, gather all of the supplies to ensure you have everything you need for your projects.
I like to either set up supply stations or actually set the table, like I did here for our Coffee & Crafts Crafting Party.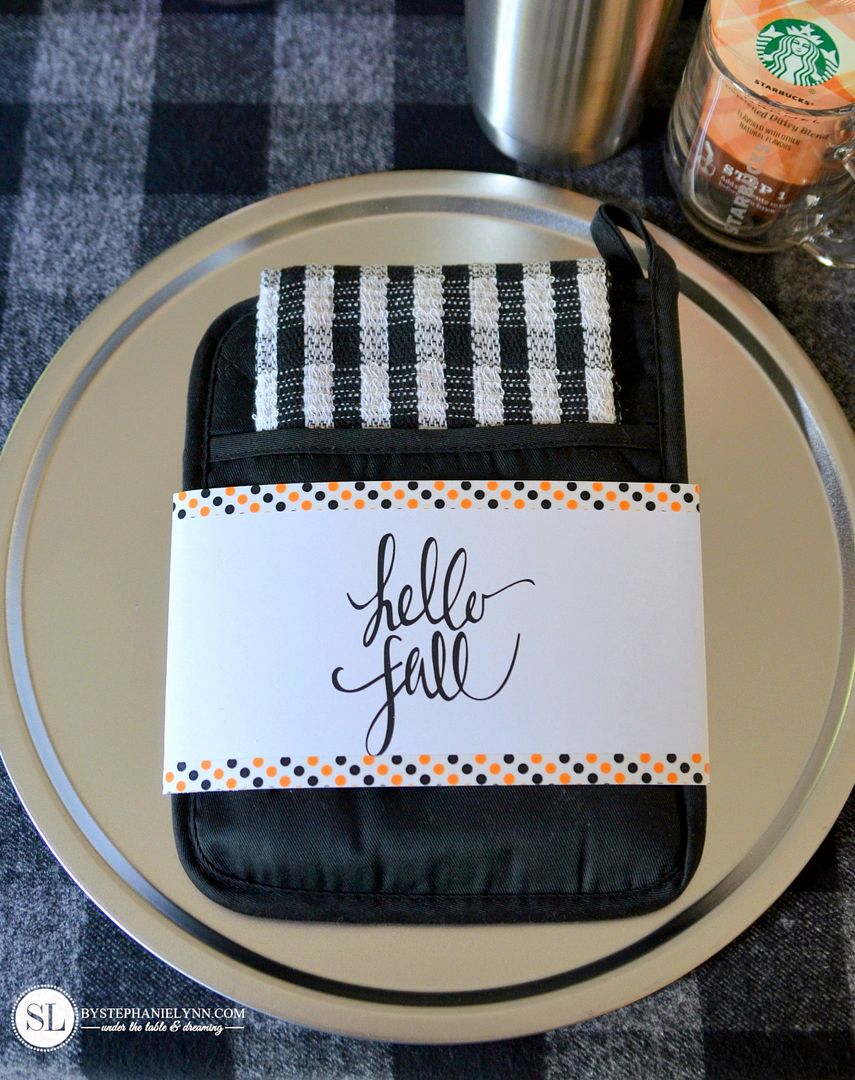 Inexpensive pizza pans are a favorite must-have for crafting nights. They not only protect the table top,
but create a perfect individual workspace for each guest.
Here, they were topped with some favors for each guest to take home; pot holders and dish towels.
• The Hello Fall Printable Wrap can be downloaded here: Hello Fall Printable Wraps •
simply print on cardstock, cut, fold and embellish with washi tape (optional)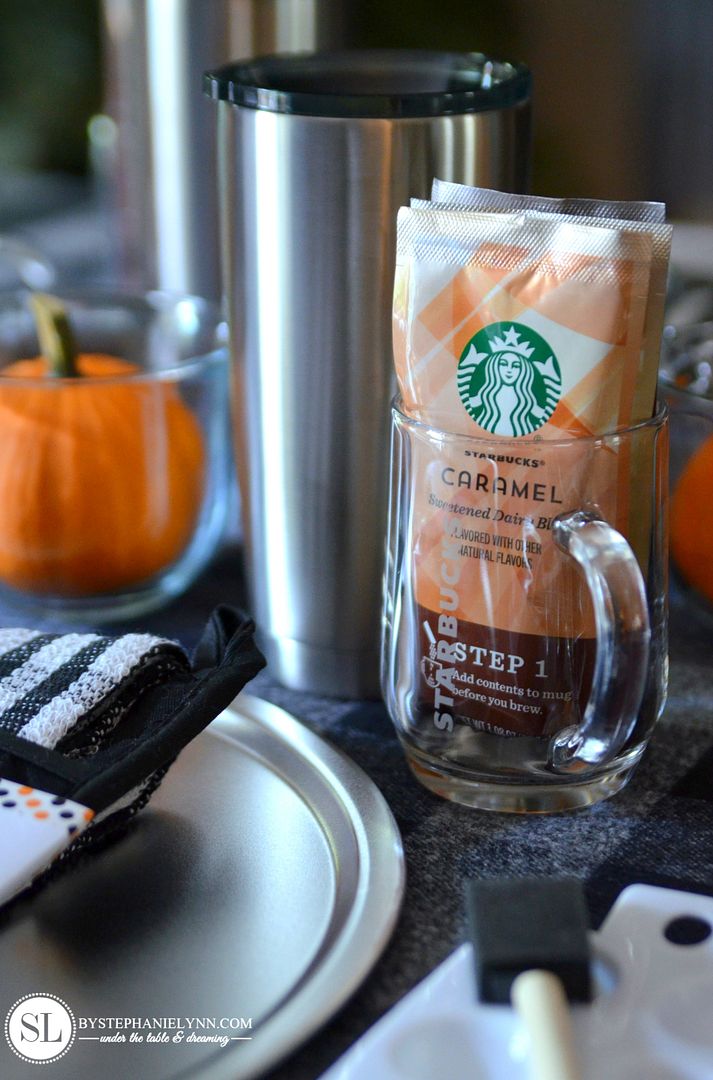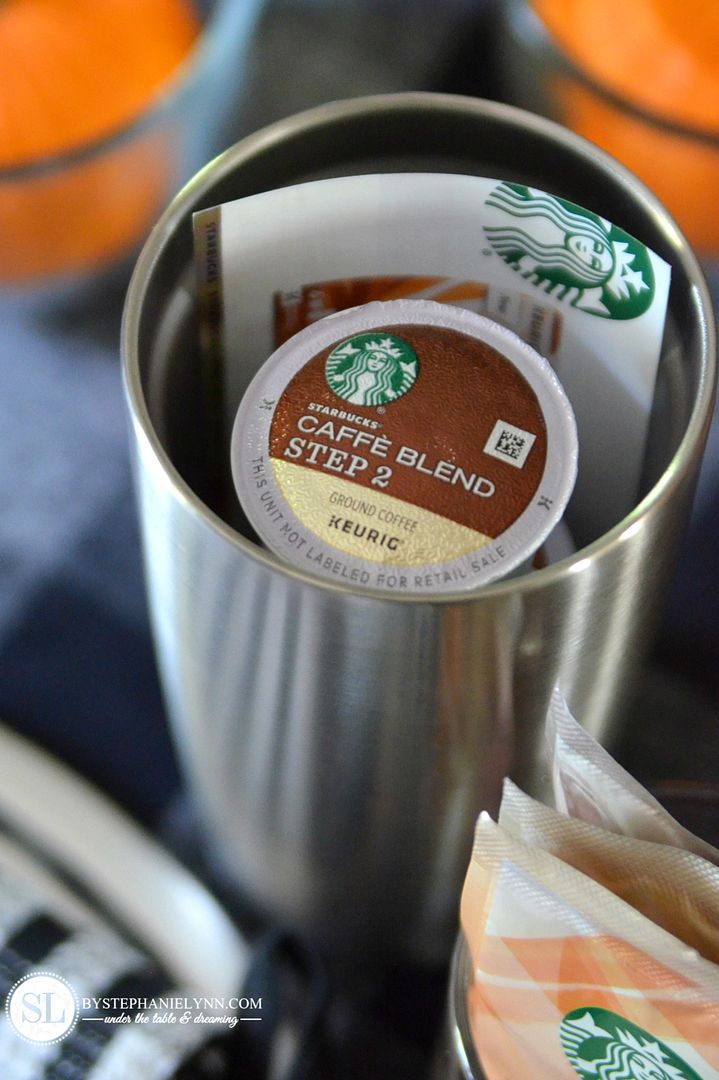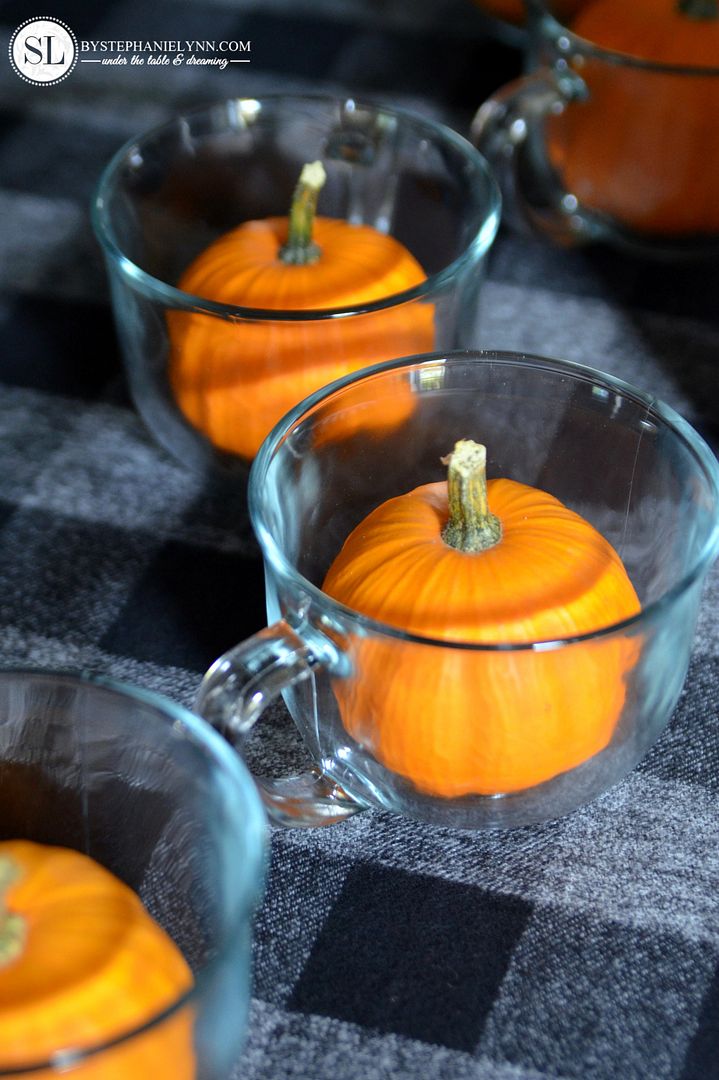 Think outside the box when displaying the crafting supplies.
Here our glass mugs doubled as a centerpiece with the addition of a few inexpensive mini pumpkins – more goodies for the guests to take with them!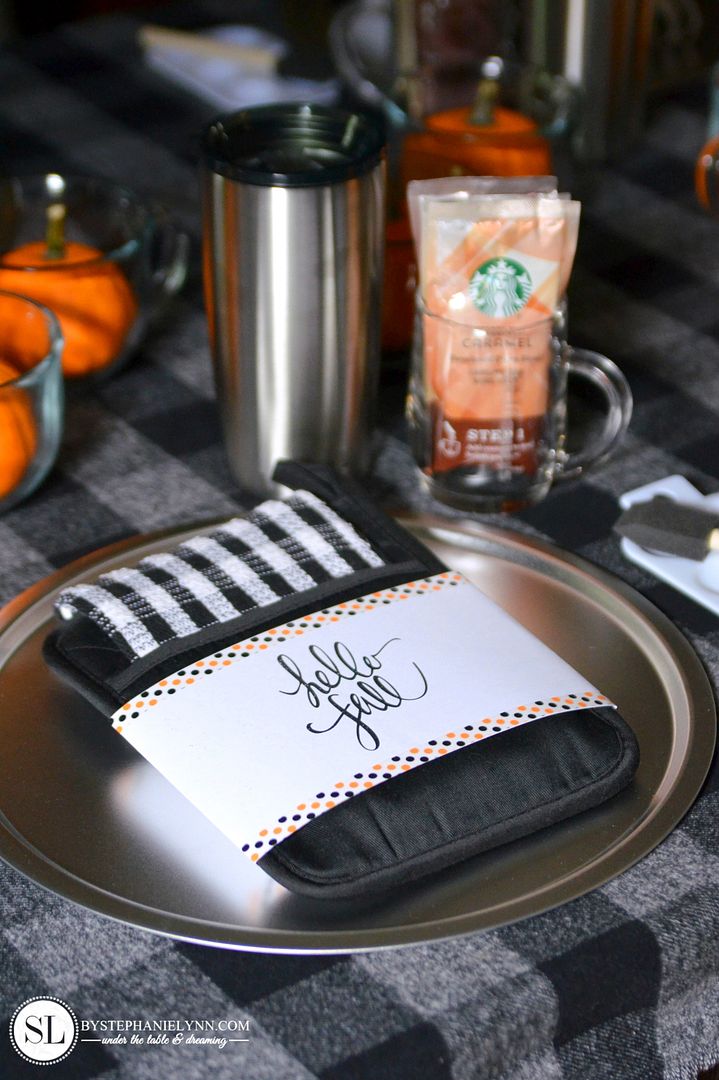 Two fun and simple crafts were on our agenda for the night;
Etched Glass Coffee Mugs and Monogrammed Stainless Tumblers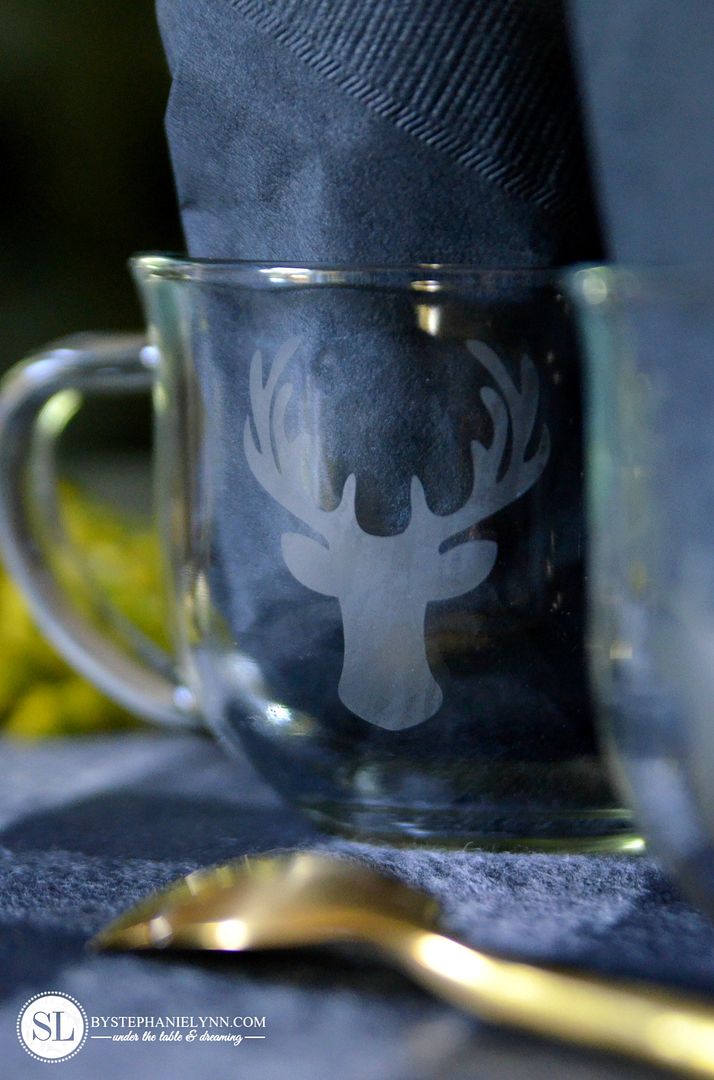 Craft No. 1 - Etched Glass Mugs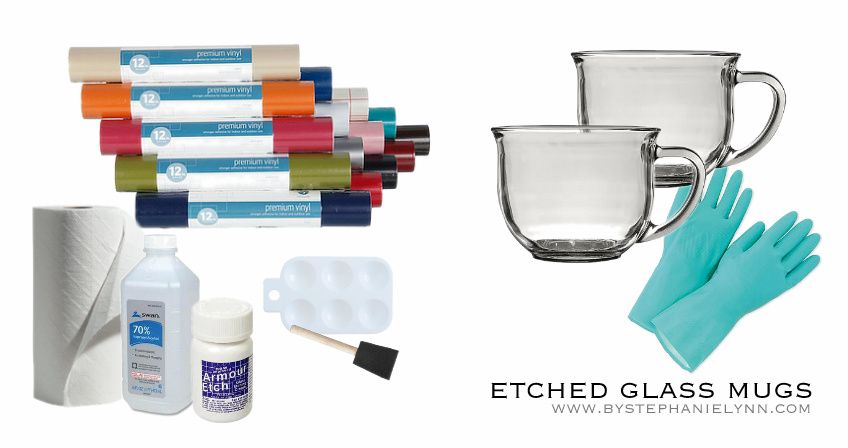 Etched Glass Coffee Mugs
Materials Needed:
Glass Mugs
Isopropyl Alcohol
Armour Etch
Cut Vinyl, Contact Paper, or Adhesive Stickers
Additional Supplies Needed: Paper Towels, Foam Brush Applicators, Rubber Gloves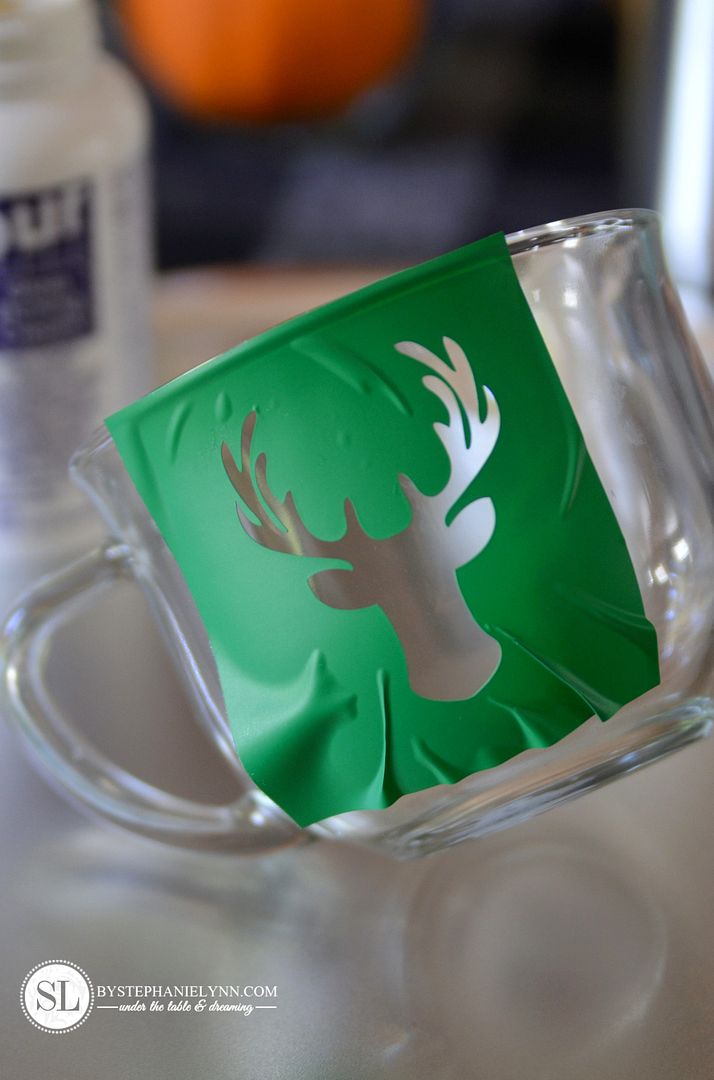 Step One: Choose a design. Simple designs, letters or wording work best.
Step Two: Cut the design out using vinyl, contact paper or simply use pre-purchased adhesive stickers. Our vinyl was cut using a Silhouette Digital Cutter, though it is not necessary.
Step Three: Wipe the mug clean with (rubbing) alcohol to remove any oils or fingerprints from the glass.
Step Four: Adhere the vinyl to the glass. If using vinyl, use transfer paper. Since the mugs are curved some of the vinyl will buckle. As long as the area around the cut out is completely sealed to the glass, the etching will work.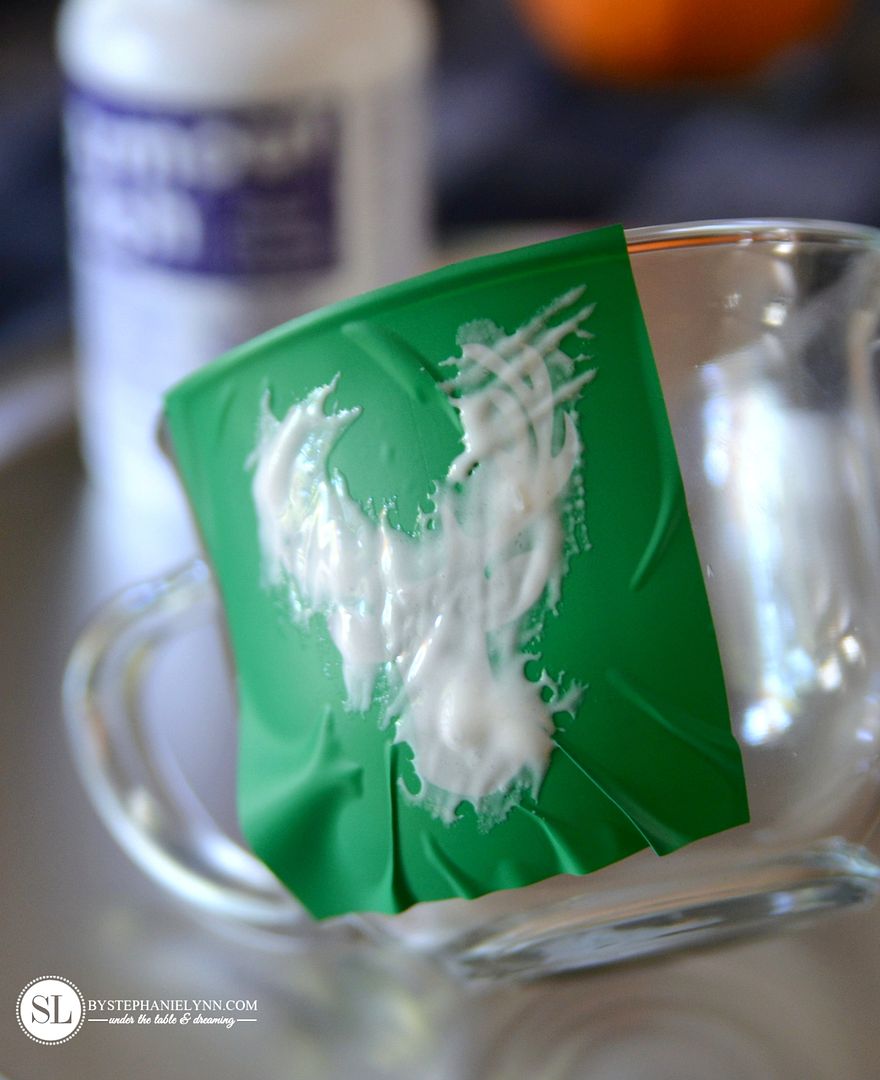 Step Five: Shake the etching cream to mix and apply a generous amount on the area to be etched. Use caution with the cream, as directed on the label, not contacting your skin or other surfaces. Use rubber gloves as needed.
Step Six: Leave the etching cream on for three minutes, then hold the mug under warm water to rinse completely.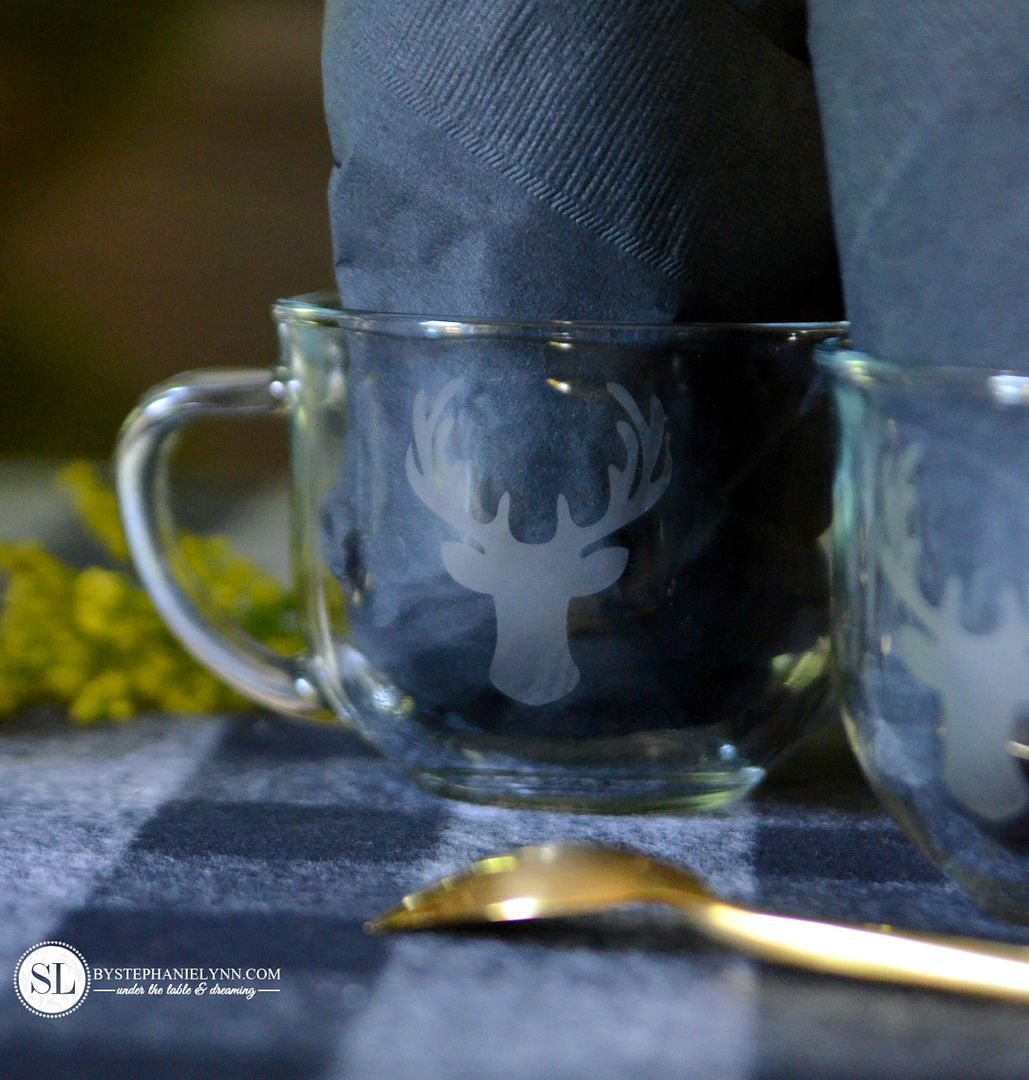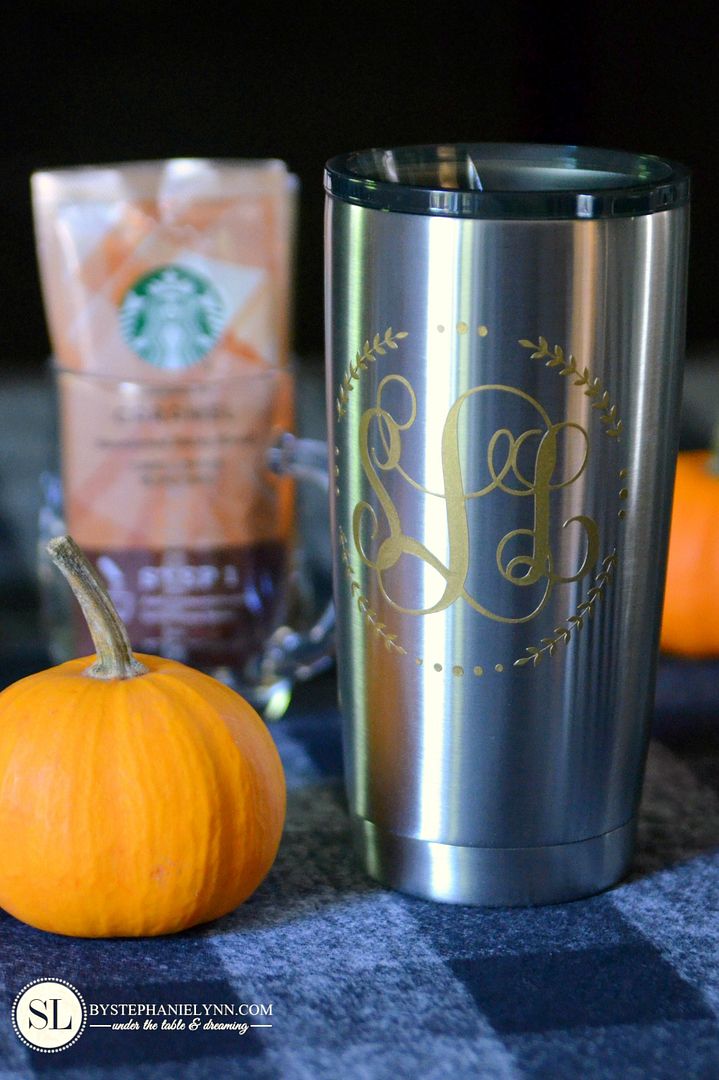 Craft No. 2 - Monogrammed Stainless Tumblers
This was another quick, easy and simple craft using stainless tumblers and cut vinyl.
If you do not have access to a Silhouette Digital Cutter, pre-cut letters and monograms can be purchased at your local craft store to embellish.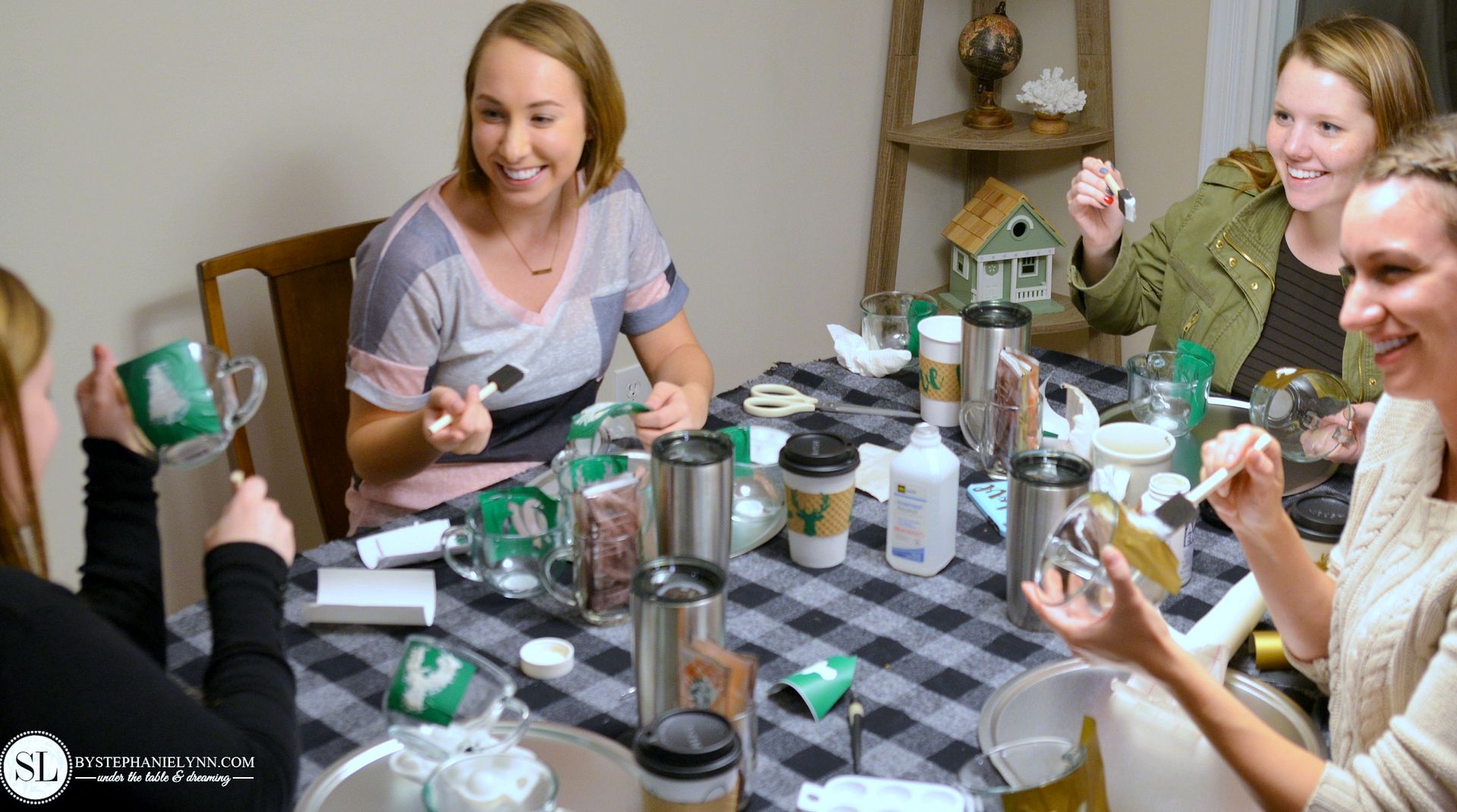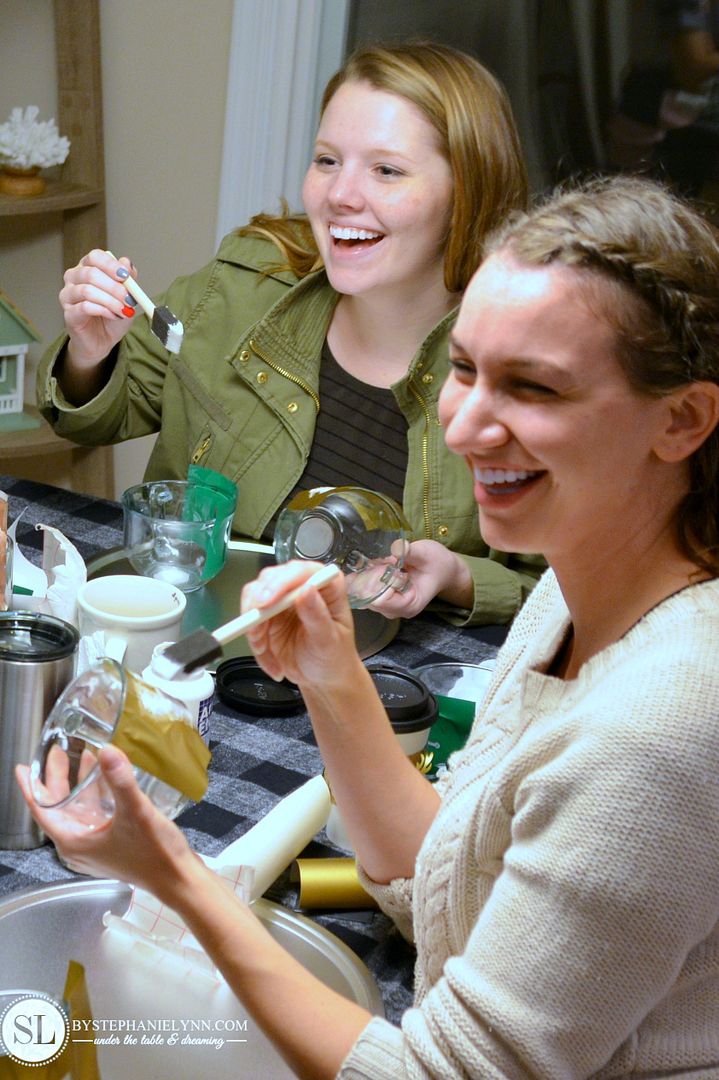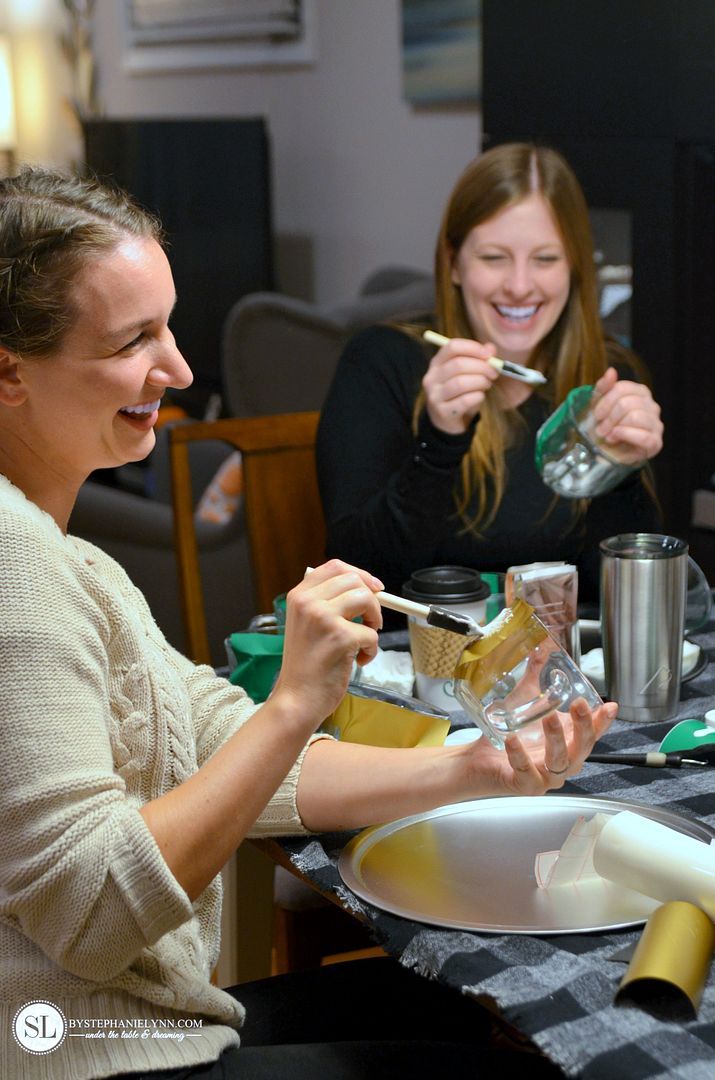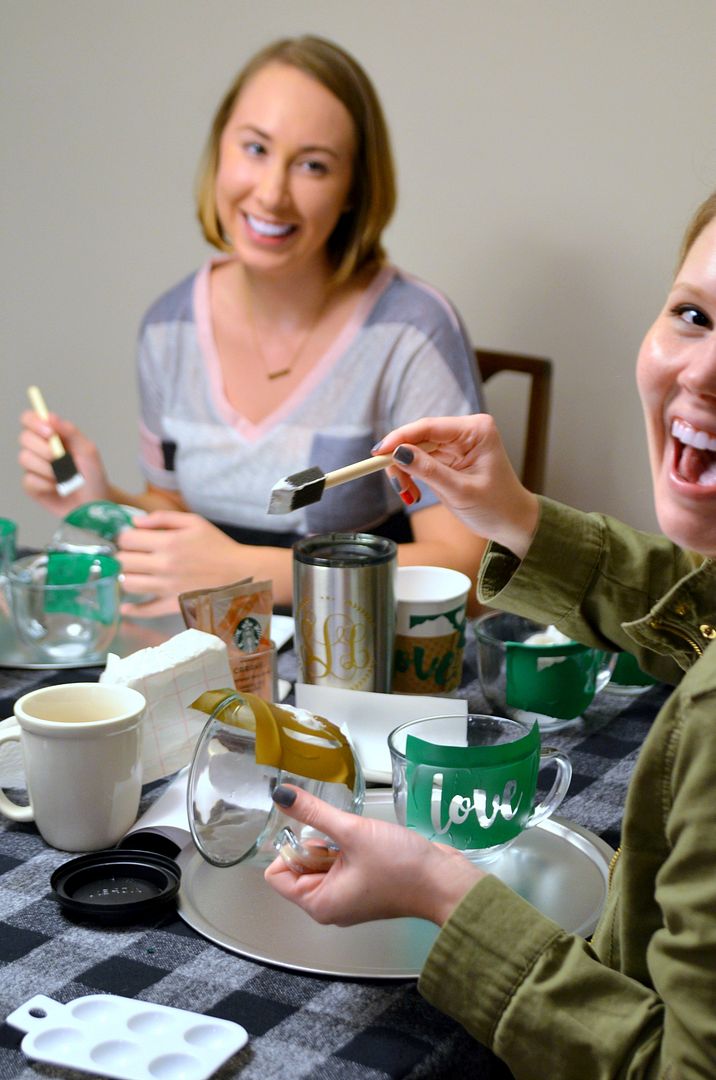 Do you love your Keurig and Starbucks® coffee?
What will you be crafting this fall?

2016 Starbucks® Corporation. All rights reserved. Keurig, Keurig HOT, K-Cup and the K logo are trademarks of Keurig Green Mountain, Inc., used with permission.