Mojito Bar | outdoor summer entertaining – #michaelsmakers
The season for outdoor entertaining has arrived!
Serve up one of summer's signature favorites with a refreshing Mojito Bar.
Whether you are relaxing with your guests poolside or entertaining on the deck, there are so many reasons to host a build-your-own drink bar this season.
This fun and interactive party option gives your guests the opportunity to be their own mixologist for the day – assembling and customizing their own drink creations.
Even the most novice mixologist can 'Muddle Their Own' Mojito!
For the host, the only work is gathering the supplies and setting it up. Drink Bars are an easy option for getting creative and creating a festive focal point that can be dressed up for any occasion. In addition, the drink bar will run itself, allowing extra time for mixing and mingling with your guests.
This Summer Mojito Bar was put together as part of the Michaels Makers July Challenge,
brought to you by Michaels.
From display ideas to free party printables, below are all of the details you'll need to set up your own Mojito Bar this summer season.
Mojitos are refreshing minty cocktails that are easy to make and pair perfectly with the warmth of the summer sun.
A classic Mojito consists of five basic ingredients: fresh mint, simple syrup, lime juice, white rum, and sparkling mineral water.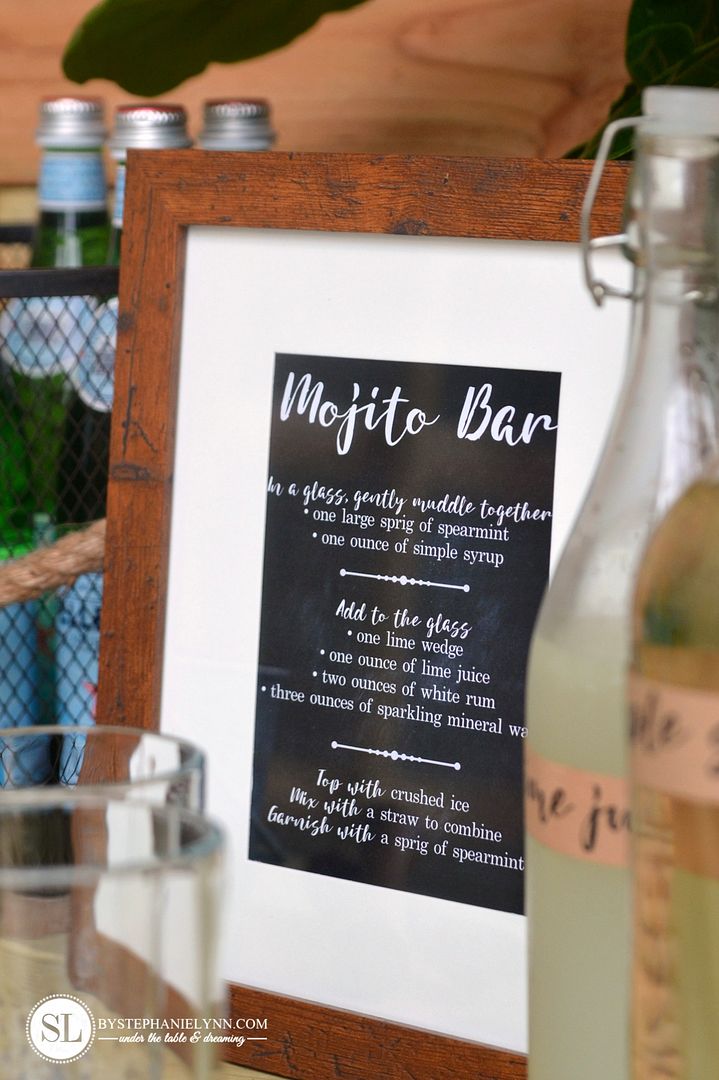 Although the concept of a 'build your own' drink bar gives guests the opportunity to create their own special concoctions, a copy of our favorite classic recipe was provided for the Mojito Bar.
The free printable, which can be found below, was simply printed and placed in a Honey Belmont Frame.
Mojitos should be served in tall glass tumblers, typically a highball glass.
Keep in mind the glassware used should be able to contain at least 8 to 12 ounces of fluid.
Here, Harlow Cooler Glasses
 were set out and displayed on a Galvanized Metal Charger, for the guests.
Fun, non-traditional accessories are an easy way to dress up any bar and set the tone for your occasion.
A simple Galvanized Bucket was used to hold the ice for our Mojitos, along with one of our favorite Flat Bottom Ice Scoops.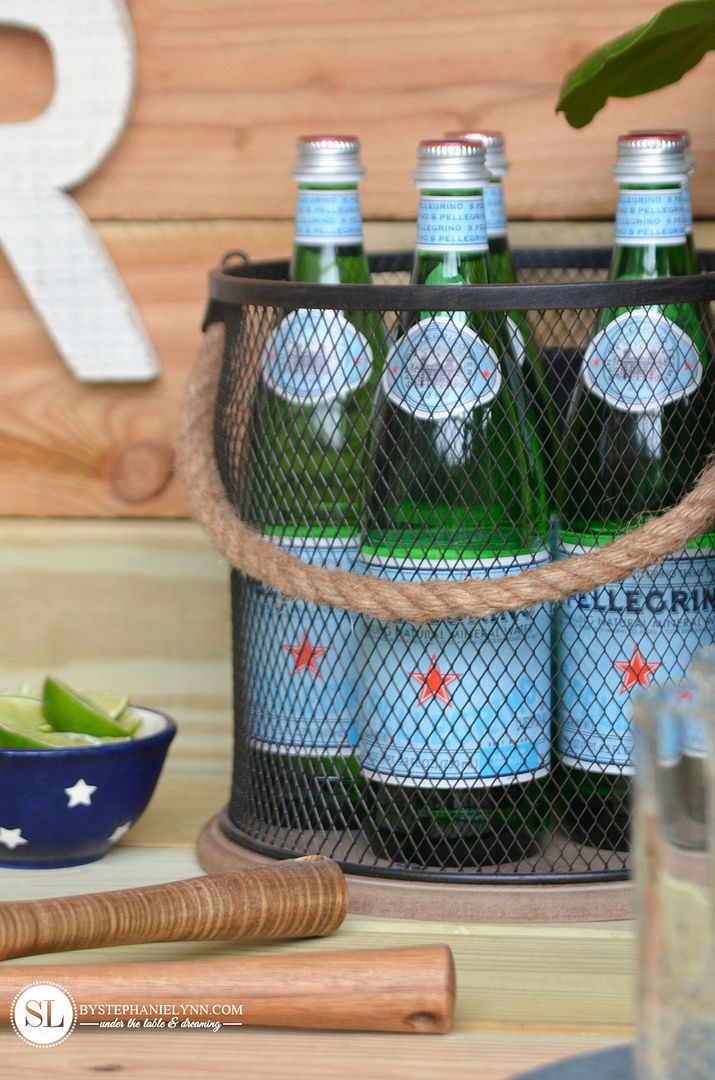 Metal and Wood Mesh Baskets, from Michaels Costal Prep Collection, were used to display and contain the larger glass bottles of mineral water and spirits.
You can't go wrong with a classic stars and stripes theme, which works well all summer long.
Navy and Cream Stars and Stripes Bowls, from Michaels Summer Heritage Collection, held all the limes for the bar.
A simple backdrop for the Mojito Bar was created with a display of White Washed Wooden Letters and Burlap Flag Banners.
Both were found in-store at Michaels and tacked to the wall with thumbtacks.
If you are looking to hang the letters without creating any pin holes, I highly recommend this mounting putty. We used it for the wooden alphabet in our school room and it is still holding strong after 5 years!
Creating a fun message, like Open Bar, with the letters is an inexpensive addition to your party-ware supplies that will work for any year-round occasion.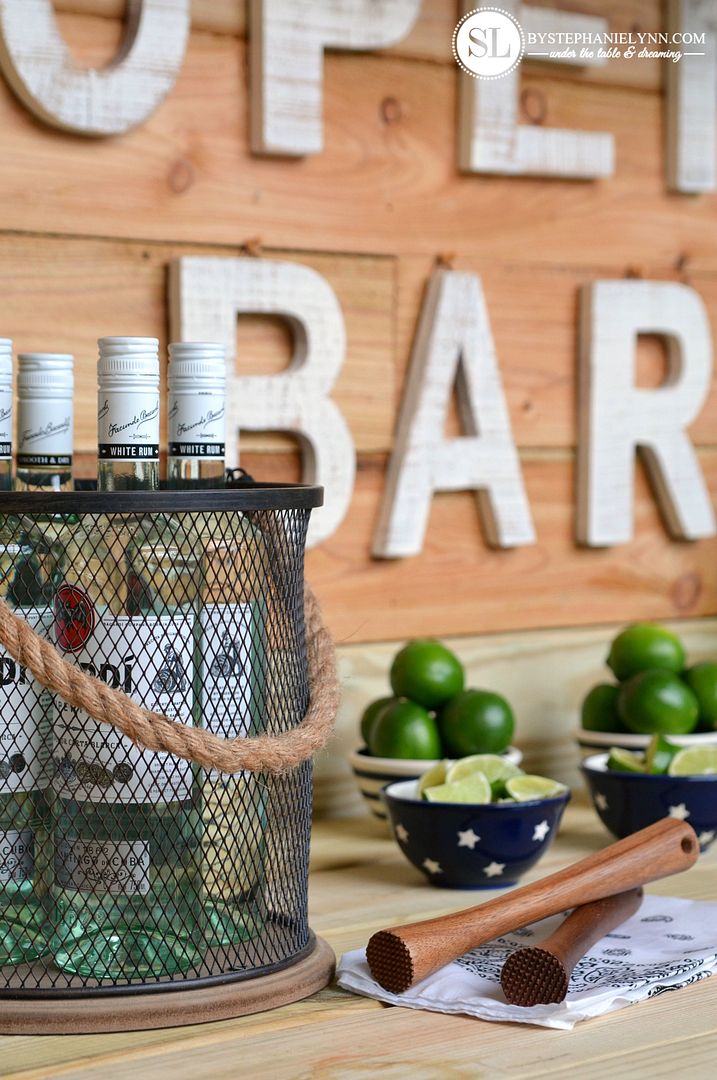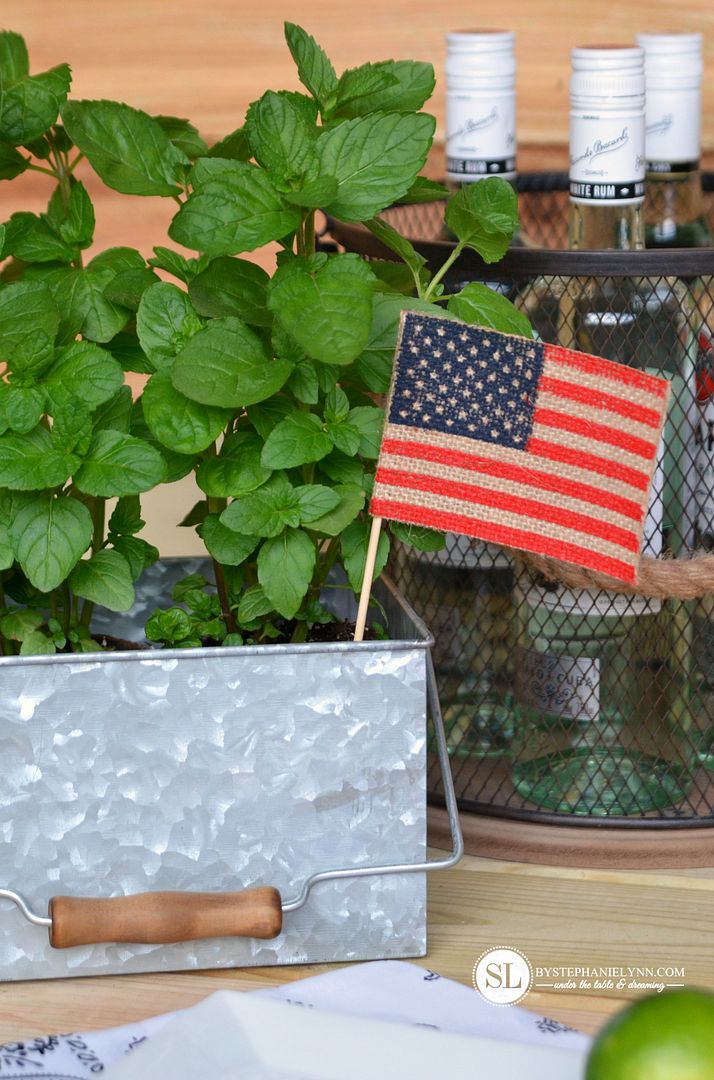 Fresh Mint is a necessity for any Mojito Bar.
Here, we displayed a couple of live plants in a second Galvanized Bucket.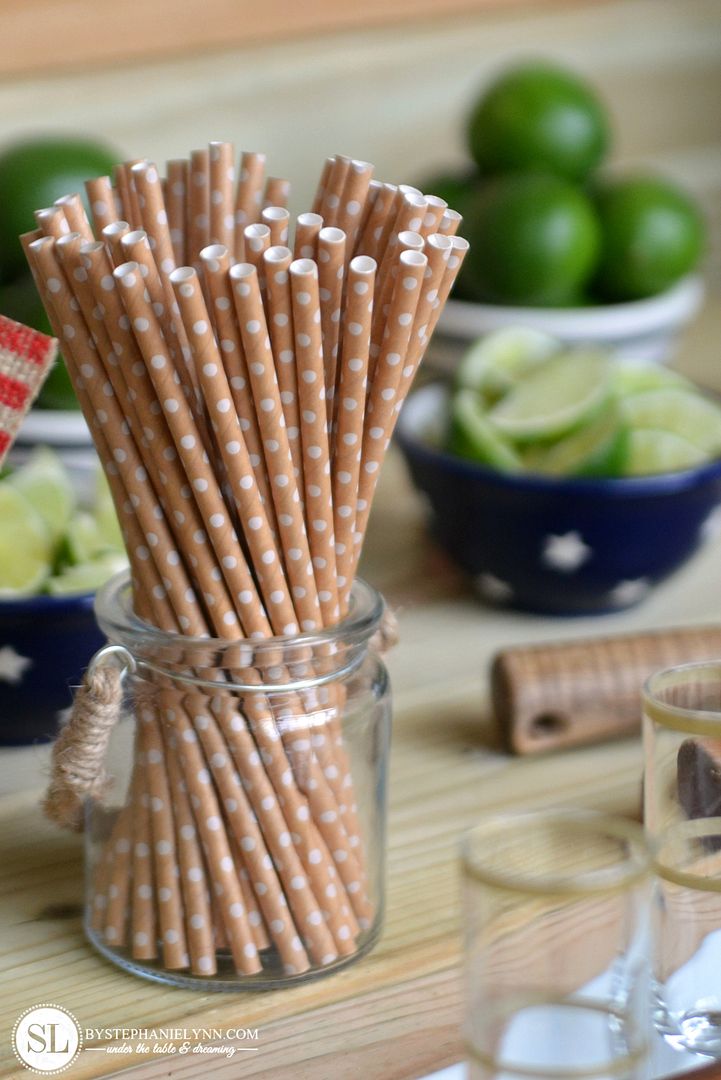 Decorative straws not only add a little pattern to your bar set up, but double as drink stirrers.
The straws can be found in just about every color of the rainbow. Polka Dot Kraft Paper Straws were used here.
Since our Mojito recipe required two different liquid measurements (1 ounce & 2 Ounces), Gold Washsi Tape was used to mark guidelines on a couple of Plain Shot Glasses.
This way the same shot glass can be used to measure the simple syrup, lime juice, rum and sparkling mineral water.
Decorative glass bottles were used to serve the simple syrup and lime juice.
Printable bands, which can be found below, were printed on Kraft Cardstock and wrapped around each bottle to label the contents.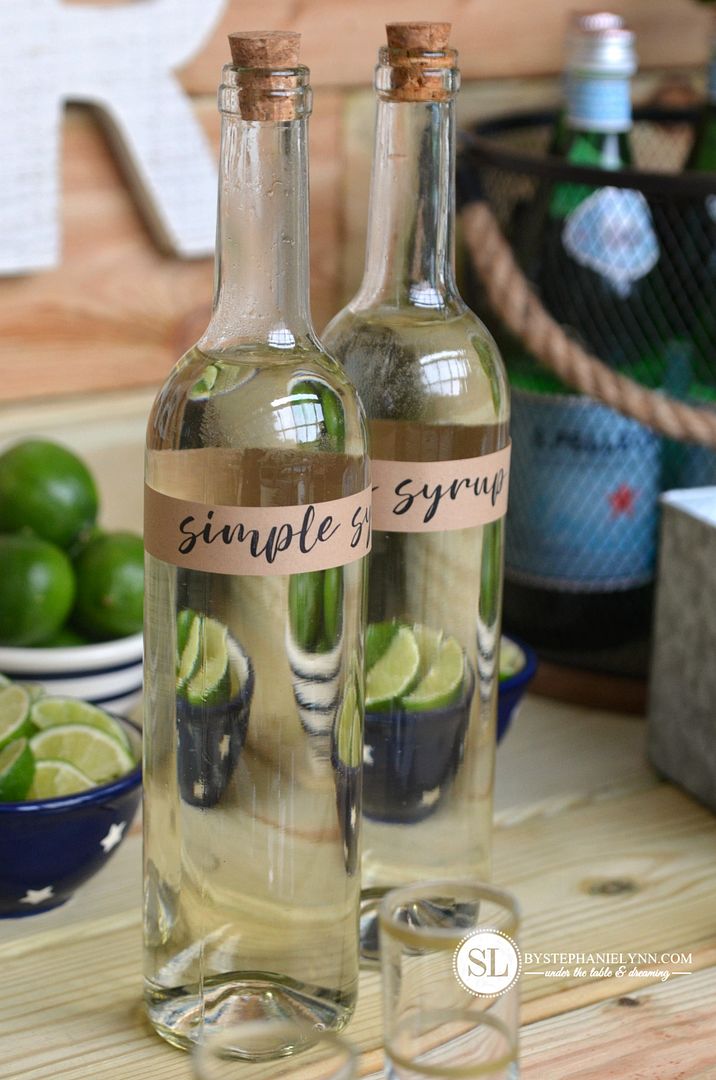 Homemade Simple Syrup is incredibly easy to make. Our favorite recipe is listed below.
Glass Wine Bottles were used to store the syrup.
And these versatile Glass Bottles were used to store the freshly squeezed lime juice.
• Get The Look •
Galvanized Rectangle Bucket with Wooden Handle
Flat Bottom Ice Scoop
White Paisley Bandana
White Rimmed Platter
Harlow Cooler Glasses

Honey Finish Belmont Frame with Mat
Mojito Bar Printable – below
Glass Wine Bottles with Cork Stopper
Glass Bottles with Swing Top Stopper
Burlap American Flag Banner – Michaels In-Store
White Washed Wooden Letters – Michaels In-Store
Acacia Wood Muddler
2 Ounce Heavy Base Shot Glasses
Gold Washsi Tape 
Navy Striped Bowls – Michaels In-Store • Summer Heritage Collection
Navy Star Bowls – Michaels In-Store • Summer Heritage Collection
Metal and Wood Mesh Baskets – Michaels Coastal Prep Collection
Galvanized Metal Charger
Printed Kraft Paper Straws
Glass Container with Jute Handle – Michaels In-Store • Summer Garden Collection

8X10 Printable Mojito Bar Sign
5X7 Printable Mojito Bar Sign
Printable Mojito Bar Drink Labels
Mojito Bar | outdoor summer entertaining
Author:
www.bystephanielynn.com
Recipe type:
Simple Syrup Recipe
Ingredients
2 Cups of Pure Cane Granulated White Sugar
2 Cups of Boiling Water
Instructions
Bring water to a boil.
Pour two cups of white sugar into a glass bowl.
Add 2 cups of boiling water and stir to combine.
Continue stirring until all of the sugar has dissolved and the liquid is clear.
Let cool and pour into a decorative container for serving.
Store the simple syrup in the fridge until you are ready to use.

Be sure to checkout all of the other Michaels Makers Pool Party Ideas
on the Michaels blog.
This post is brought to you by Michaels
. The opinions read here are entirely my own. Whether you're looking for fun décor, activities for your kids or cute party supplies, Michaels has everything you need to MAKE summer fun! Looking for more inspiration? Make sure you visit Michaels' blog, The Glue String, to see the rest of the Michaels Makers' summer fun project ideas. ~ Happy Summer!