Grilled Corn on the Cob | with garlic, hot sauce, & herb butter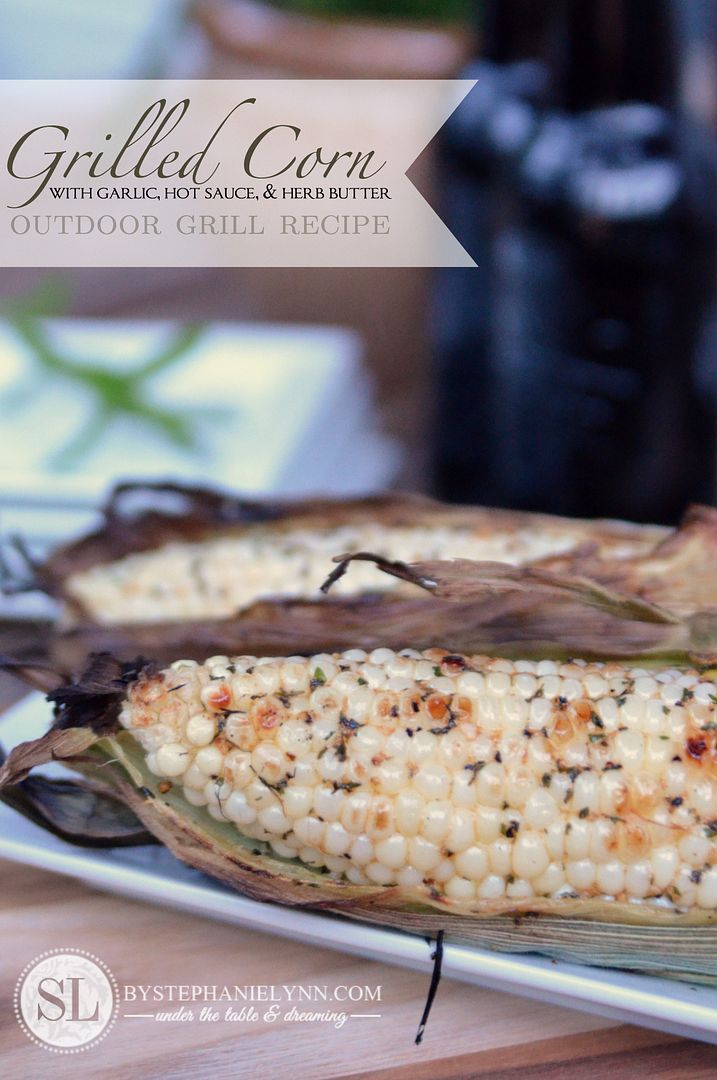 Author:
www.bystephanielynn.com
2½ Teaspoons of Minced Garlic (approximately 5 cloves)
1 Stick of Unsalted, Real Butter (1/2 cup)
1 Teaspoon of Agave Nectar
1 Teaspoon of Ground Cumin
1 Teaspoon up to 2 Tablespoons of Hot Sauce
1 Tablespoons of Dried Cilantro (or 3 Tablespoons of Fresh Chopped Cilantro)
⅛ Teaspoon of Dried Tarragon (or ⅜ Teaspoons of Fresh Chopped Tarragon)
1 Teaspoon of Dried Lemon Peel or Finely Grated Lemon Zest
Salt and Fresh Ground Pepper to taste
6 Ears of Fresh Corn on the Cob
In a small sauce pan heat the butter and garlic over low heat on the stovetop. Stir and remove from the heat once the butter has completely melted, approximately 5 minutes.
Stir in the agave, cumin, hot sauce. Add in the cilantro, tarragon, lemon peel. Season with salt and pepper.
Preheat grill to 350° (medium heat).
Peel back the corn husks, keeping them intact, and remove the silk. Brush each ear completely with the seasoned butter mixture and fold the husks back over the corn. Set any of the remaining butter mixture aside.
Grill the corn over moderate heat for 10-15 minutes, turning often. Some of the husks may become very charred - don't worry, the kernels will not be affected as they are protected by the husks.
Just before serving, peel back husks and brush with the remaining seasoned butter mixture.
Recipe by
bystephanielynn
at http://www.bystephanielynn.com/2014/07/grilled-corn-on-the-cob-with-garlic-hot-sauce-herb-butter.html