No Bake Cheesecake Mousse with Chocolate Peppermint Pattie Sauce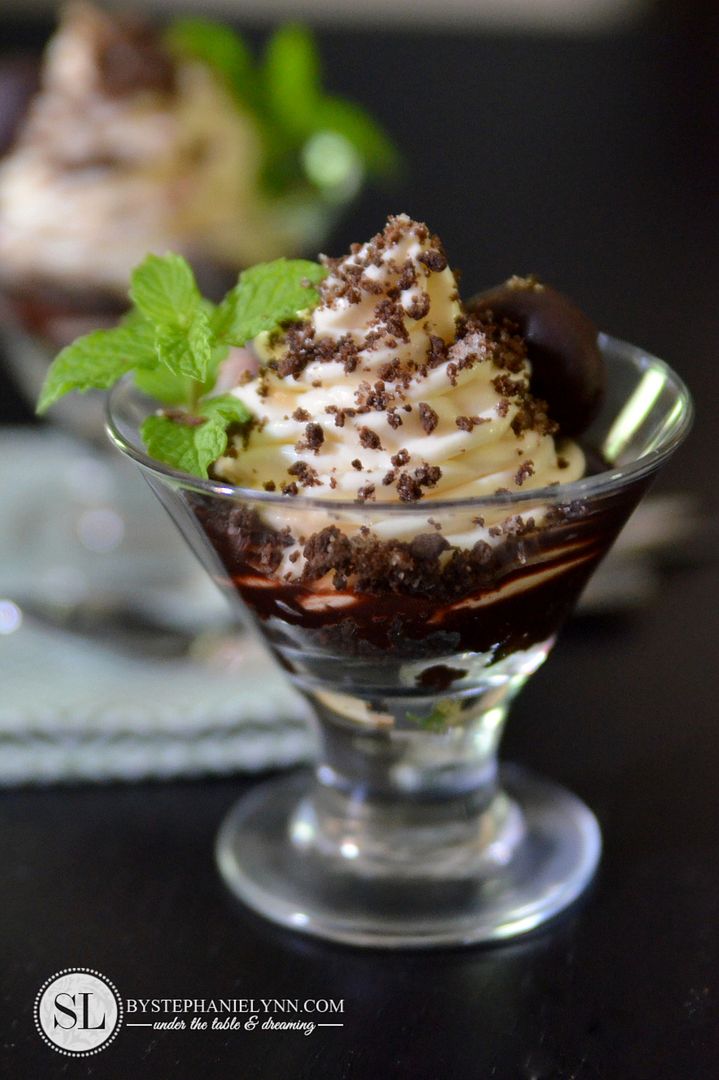 Author:
www.bystephanielynn.com
1 Package of Cream Cheese (8 Ounces), softened
½ Cup of Powered Sugar (confectioner's sugar)
1½ Teaspoons of Pure Vanilla Extract
½ Teaspoon of Grated Lemon Peel
¾ Cup of Heavy Whipping Cream, whipped
1 Cup of Chocolate Animal Crackers, crushed
4 Teaspoons of Sugar
2 Tablespoons of Butter, melted
1 Cup of York Mini Peppermint Patties
½ Cup of Heavy Whipping Cream
Prepare the 'whipped cream' by placing the heavy whipping cream in a stand mixer (or metal bowl and hand mixer) and mixing on medium speed for approximately 9 minutes, or until firm peaks form. Set aside.
In a large bowl, mix the cream cheese, powdered sugar, vanilla and lemon peel until fluffy.
Fold in the prepared whipped cream.
Place the mousse mixture in a decorator bag (or plastic baggie) and put it in the refrigerator to chill for 15 minutes.
Combine the crushed animal crackers, sugar and melted butter together in a small bowl and mix well. Set aside.
In a small saucepan heat the heavy whipping cream and York minis over medium low heat. Continuously stir until all of the chocolate pieces have melted. Remove from heat and let stand to thicken.
Divide the chocolate crumbles into the bottom of 8 dessert dishes.
Drizzle the chocolate peppermint sauce on top of the crumbles.
Pipe the cheesecake mousse into each dish and place back into the fridge.
Prior to serving, drizzle some additional chocolate peppermint sauce on top of each serving and top with a York Mini.
Recipe by
bystephanielynn
at http://www.bystephanielynn.com/2014/07/no-bake-cheesecake-with-chocolate-peppermint-pattie-sauce.html