Easy Chicken and Rice Turnovers | chicken pot pie pastry puff recipe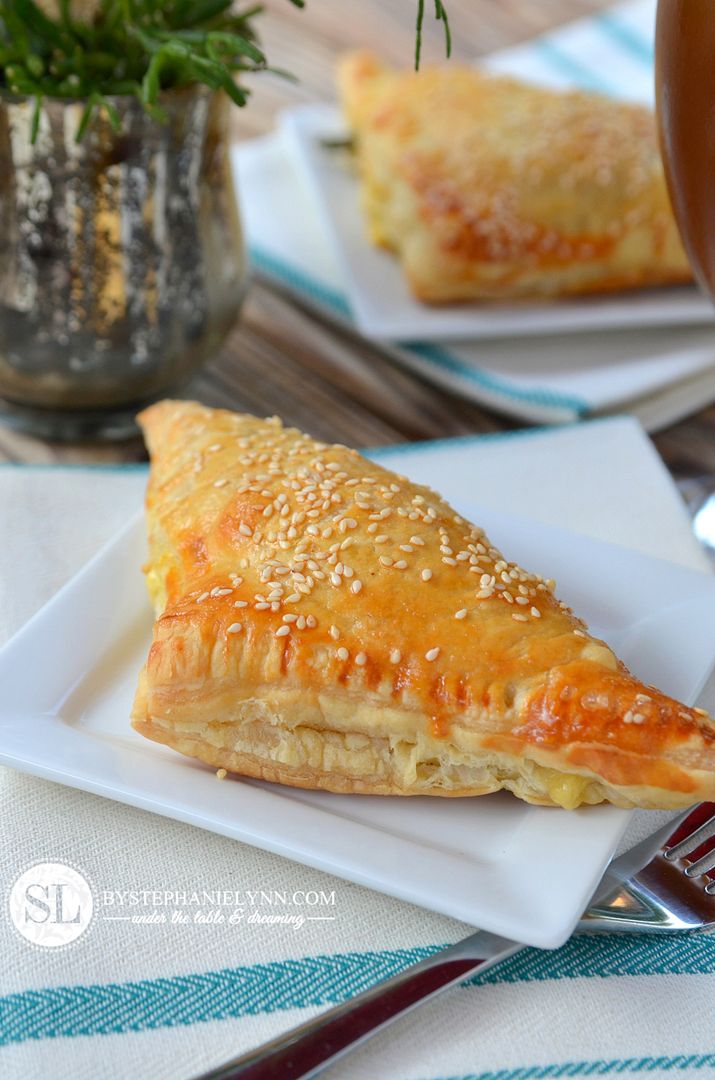 Author:
www.bystephanielynn.com
4 Cups of Prepared Uncle Ben's® Original Converted® Brand Rice
1 Pound of Cooked Chicken Breast, chopped
1 (10¾ ounce) Can of Cream of Chicken Condensed Soup
½ Cup of Milk
8 Ounces of Frozen Mixed Vegetables
Salt & Pepper to Taste
2 Sheets of Prepared Puff Pastry Dough, thawed
1 Egg Yolk
Sesame Seeds or Poppy Seeds (optional)
Prepare the rice according to the box directions. Use the calculations for 4 servings (which equals 4 cups of cooked rice). Also cook the chicken as desired. I like to boil or poach skinless, boneless chicken breasts for casserole filling such as this. It takes just a few minutes and the chicken stays moist and tender.
Preheat the oven to 375°.
In a small bowl whisk together the cream of chicken soup and milk, set aside.
In a large bowl mix together the rice, chopped chicken, and frozen vegetables. Stir in the cream of chicken soup mixture and season with salt and pepper.
On a clean, smooth, lightly floured surface unfold the pastry puff sheets. Use a rolling pin to roll each sheet of dough into a 12 inch X 12inch square. Then cut the dough into four even squares.
Scoop approximately ¼ cup of filling onto the center of each dough square. Fold the dough squares (opposite corners together) to form a triangle. Seal the outer open edges by firmly pressing them together and crimp with a fork.
Carefully place the turnovers on a baking sheet with lined parchment paper.
In a small bowl whisk the egg yolk and brush a lightly layer on the surface of each turnover.
Bake 20 to 30 minutes, until the pastry has turned golden brown.
Recipe by
bystephanielynn
at http://www.bystephanielynn.com/2014/08/easy-chicken-and-rice-turnovers-chicken-pot-pie-pastry-puff-recipe.html