Onion Crusted Meatloaf and Potato Bites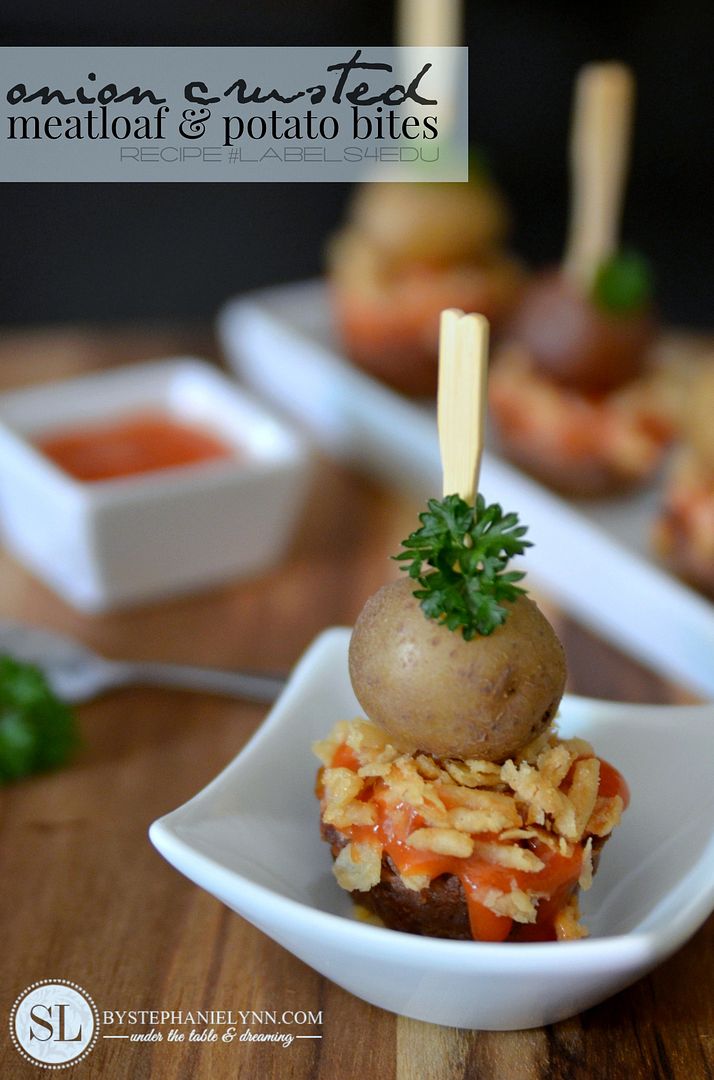 Author:
www.bystephanielynn.com
1½ pounds of Lean Ground Beef
1 can (10¾ ounces) of Campbell's® Condensed Tomato Soup, divided in half
1 small can (2.8 ounces) of French's® French Fried Onions, divided in half
1 small Carrot, grated
1 Egg, beaten
1 Tablespoon Worcestershire Sauce
1 Teaspoon of Garlic Powder
½ Teaspoon of Dried Basil
½ Teaspoon of Dried Thyme
Salt and Pepper to Taste
48 Baby Potatoes, red or yellow
Preheat the oven to 400°. Throughly grease each cavity of a miniature cupcake pan and set aside. (cooking spray can be used)
In a large bowl mix together the ground beef with ½ of the tomato soup and ½ of the fried onions. Add in the grated carrot, egg, worcestershire sauce and spices, and mix well.
Divide the mixture into the cupcake pan, firmly pressing into each cavity.
Bake for 20-25 minutes or until the meatloaf cups are cooked through. Let sit for 5 minutes in pan prior to removing.
While the cups are baking, prepare the baby potatoes. These can be boiled on the stove top or roasted in the oven. To boil - fill a small saucepan with water and add in the potatoes. Bring them to a boil on the stovetop and continue boiling until the potatoes are fork tender, about 15-20 minutes. To roast - preheat the oven to 400°. Place potatoes on a baking pan on the center rack of the oven and roast 20 minutes, until just tender. Season as desired.
To assemble, top each mini meatloaf cup with a teaspoon of the remaining tomato soup and sprinkle with some crushed fried onions. Use a wooden toothpick to secure the baby potato on top.
Be sure to use a nice lean ground beef for the meatloaf mixture. The beef will shrink when cooked so firmly pack the cupcake cavities so the meat will hold its shape.

Meatloaf mixture makes approximately 48 miniature cups. A larger sized cupcake pan can also be used.
Recipe by
bystephanielynn
at http://www.bystephanielynn.com/2014/08/onion-crusted-meatloaf-and-potato-bites-campbells-labels-for-education-labels4edu-cbias.html