Herb Roasted Chicken - paleo & gluten free recipe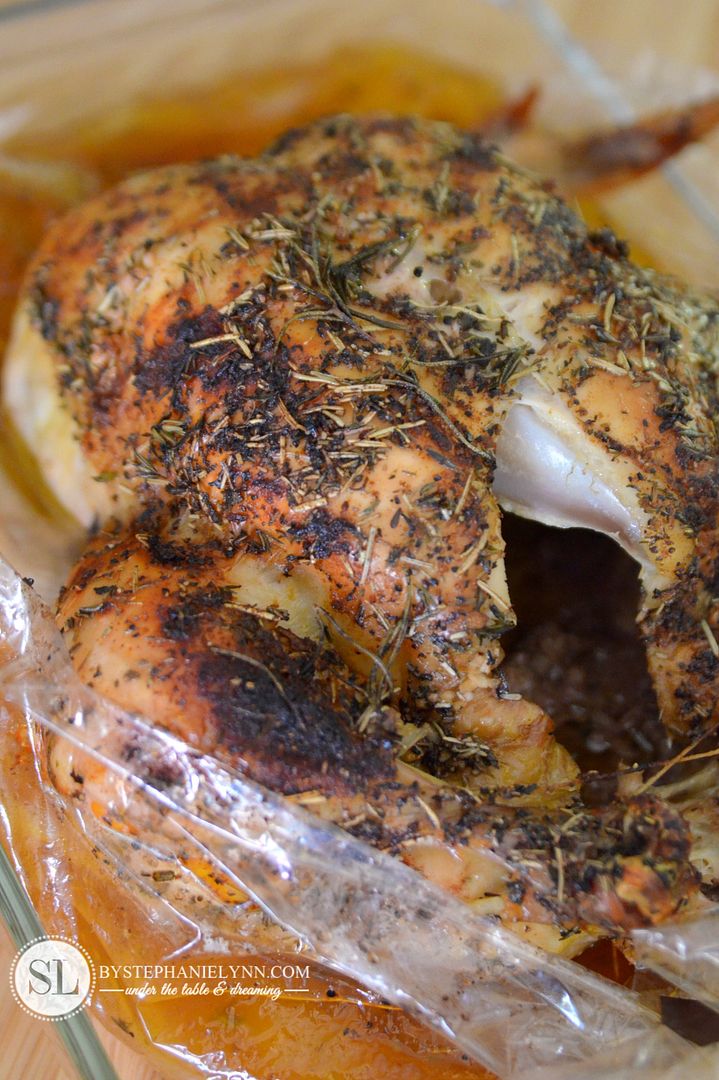 Author:
www.bystephanielynn.com
Reynolds Oven Bag
1 Tablespoon of Coconut Flour or Almond Meal
Whole Chicken Roaster
1 Onion, quartered
⅛ Cup of Lemon Juice
2 Tablespoons of Olive Oil
1 Teaspoon of Thyme (or 1 tablespoon of fresh thyme)
1 Teaspoon of Rosemary (or 1 tablespoon of fresh rosemary)
½ Teaspoon of Sage (or 1½ teaspoons of fresh sage)
Sea Salt & Freshly Ground Pepper to taste
Paprika
Preheat oven to 350°.
Remove the giblets from the chicken and rinse thoroughly. Pat dry with a paper towel.
Open the oven bag, lay it in a roasting dish and sprinkle the coconut flour inside the bag, on the bottom.
Place the chicken inside the bag along with the quartered onion.
Whisk the lemon juice, olive oil, thyme, rosemary & sage together in a small bowl.
Brush the marinade onto the chicken then sprinkle with salt, pepper and paprika.
Seal the bag with the Reynolds tie. Cut six ½ slits in the top of the bag to allow the steam to escape. Tuck the ends of the bag in the pan.
Place the pan in the oven and bake 1 to 1¼ hours for a 3½ to 4 pound chicken or 1¼ to 1½ hours for a 4 to 7 pound chicken. The internal temperature should read 180° with a meat thermometer.
Carefully cut open the top of the bag and allow the chicken to rest for 10-15 minutes.
Recipe by
bystephanielynn
at http://www.bystephanielynn.com/2014/09/herb-roasted-chicken-and-vegetables-paleo-gluten-free-recipe.html