Fried Chicken Dinner Party | Casual Summer Entertaining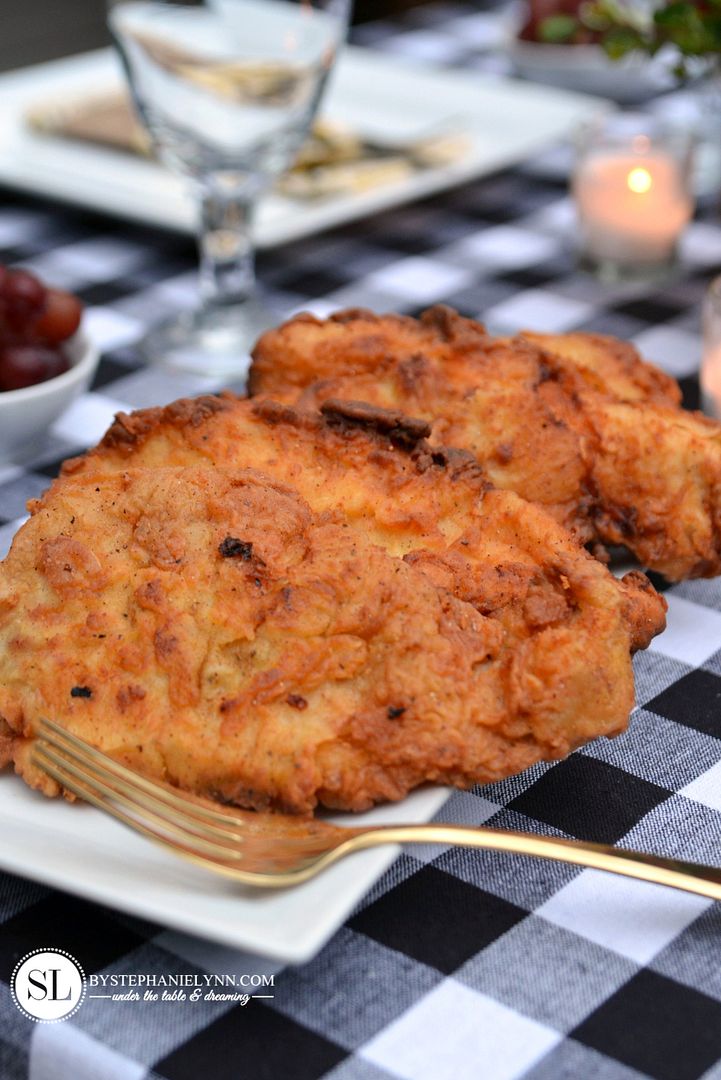 Author:
www.bystephanielynn.com
Recipe type:
Sweet Tea Brined Fried Chicken
4 Cups of Gold Peak Sweet Tea, approximately two 16.9 ounce bottles
1 Small Onion, thinly sliced
¼ Cup of Kosher Salt
2 Cloves of Garlic, minced
Fresh Ground Pepper
4 Cups of Ice
3 Pounds of Chicken
3 Cups of All Purpose Flour
3 Tablespoons of Season All
1½ Cups of Buttermilk
⅓ Cup of All Purpose Flour
2 Egg Yolks
Fresh Ground Pepper
Canola or Peanut Oil
Combine the sweet tea, onion, salt and garlic in a large saucepan and simmer on the stovetop for 5 minutes, stirring until the salt is completely dissolved.
Remove the pan from the heat and add in the ice. Set aside to cool completely.
Place the brine mixture into a large plastic bag, add in the chicken and seal.
Set the bag in a bowl and refrigerate for at least 4 hours, up to 24 hours.
Remove the chicken from the brine and pat dry paper towels. Set aside, at room temperature for 30 minutes.
In a large bowl, combine 3 cups of flour and the season all.
In a separate bowl, combine the buttermilk, ⅓ cup of flour, egg yolks and pepper.
Heat the oil in a deep fryer to 300°F.
Dip the chicken into the dry flour mixture. Shake off the excess flour, dip in the buttermilk mixture, then back into the flour mixture.
Carefully place the chicken into the fryer, making sure not to overcrowd the pan. This may require a couple separate batches of frying.
Fry the chicken, completely submerged in the oil, for 15-18 minutes - or until the internal temperature reaches 165°. Keep in mind white meat will cook faster then dark meat.
Remove the fried chicken and place on paper towels to drain.
Serve or cool to room temperature and place in the refrigerator for up to 24 hours.
Recipe by
bystephanielynn
at http://www.bystephanielynn.com/2016/06/fried-chicken-dinner-party-summer-entertaining.html