Baked Shrimp Macaroni and Cheese Recipe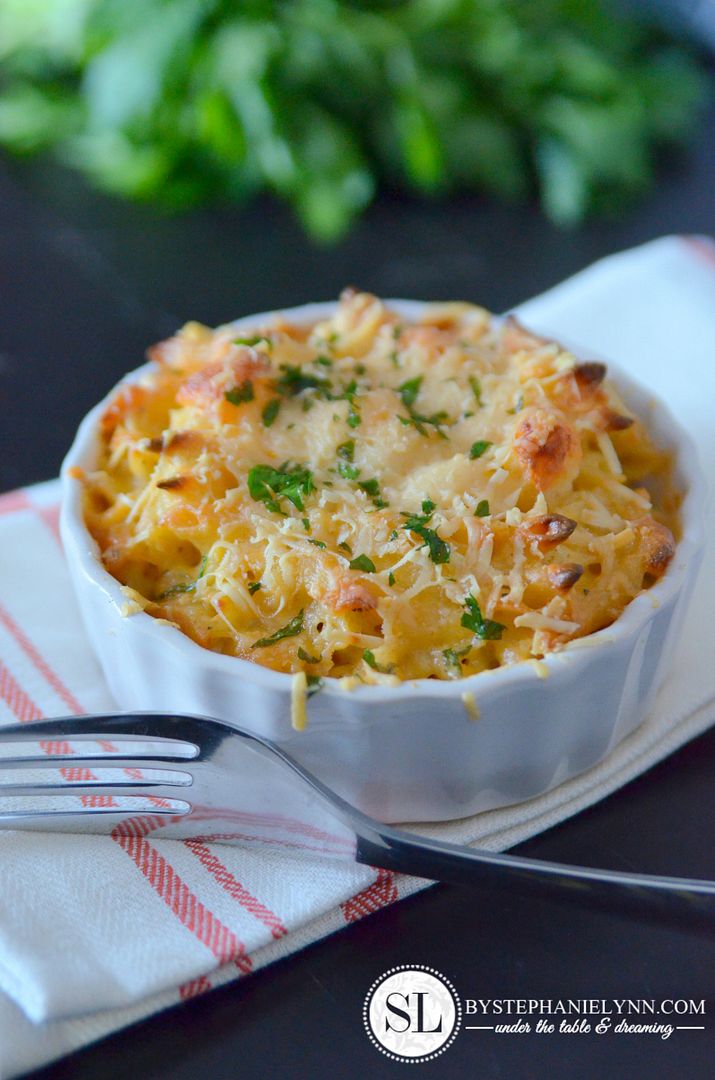 Author:
www.bystephanielynn.com
1 (12oz) Box of Barilla White Fiber Pasta
1 Pound of Cooked Shrimp, peeled and chopped
3 Tablespoons of Unsalted Butter
3 Tablespoons of All Purpose Flour
3 Cups of Milk
1 Teaspoon of Onion Powder
1 Teaspoon of Garlic Powder
⅛ Teaspoon of Cayenne Pepper, or more to taste
Kosher Salt and Fresh Ground Pepper, to taste
8 Ounces of Extra Sharp Cheddar Cheese, shredded
8 Ounces of Asiago Cheese, shredded
4 Ounces of Parmesan Cheese, shredded
Fresh Parsley, chopped
Heat the oven to 350° F.
Bring a large pot of lightly salted water to a boil, then stir in pasta. Cook for 6 minutes then drain.
Melt the butter in a large saucepan over medium heat. Whisk in the flour. Continue whisking until the roux gently bubbles, about 2 minutes. Slowly add the milk, a little bit at a time, whisking until smooth between each addition. Once the roux forms a thin paste, whisk in the remaining milk. Bring the mixture to a boil over medium-high heat, then reduce to a simmer and cook for 10 minutes.
Remove the pot from the heat and add in the onion powder, garlic powder, cayenne pepper, salt and pepper.
Working with about one cup of cheese at a time, add a combination of the cheddar, asiago, and parmesan cheese to the mixture - Whisk until smooth between each addition. (reserve a small amount of cheese to sprinkle on top before baking)
Pour the cheese sauce over the cooked penne and mix well to coat the pasta, then stir in the shrimp.
Spoon the macaroni into a 2 quart baking dish or individual ramekins, lightly coated with cooking spray. Sprinkle with reserved cheese and fresh parsley.
Bake for 20 minutes, or until the top is lightly brown.
* I usually purchase pre-cooked shrimp from the seafood counter for this dish to save some time. They come already cleaned and deveined - the only thing you need to do is rinse them and remove the tails.
Recipe by
bystephanielynn
at http://www.bystephanielynn.com/2013/11/baked-shrimp-macaroni-and-cheese-recipe.html