Turkey Rolls - Everyday Thanksgiving Casserole Roll Ups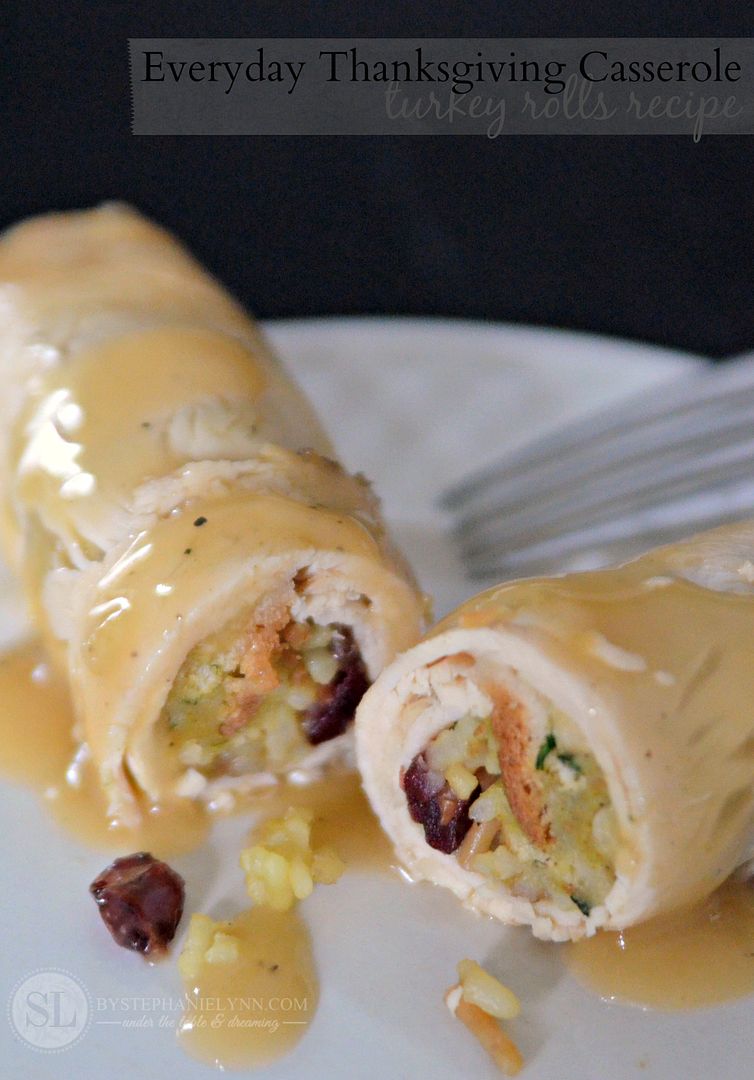 Author:
www.bystephanielynn.com
1 Package of Knorr® Rice Sides - Creamy Chicken flavor
½ Cup of Dried Cranberries
1 (6oz.) Package of Stuffing Mix
1 Cup of Hot Water
1½ - 2 Pounds of Sliced Deli Turkey (sliced ¼ inch thick)
1 (12oz.) Jar of Gravy
Preheat the oven to 350°.
Prepare Knorr® Rice Sides according to the package directions. During the last 5 minutes of cooking, stir in the dried cranberries.
While the rice is cooking, combine the Stuffing mix with ½ cup of hot water. Set aside for 5 minutes.
Spoon a scoop of the rice, along with a scoop of the stuffing, onto the turkey slices.
Roll up each turkey slice and place seam side down in a baking dish.
Pour gravy over turkey rolls.
Bake for 20 minutes.
Makes approximately 16 Turkey Rolls.

Alternate Casserole Method: Prepare the rice and stuffing as detailed above. Cut the turkey slices into strips. Mix the turkey, rice and cranberries together and place in casserole dish. Top with the stuffing mixture and bake 20 minutes or until the top is golden brown. Serve with warm gravy.
Recipe by
bystephanielynn
at http://www.bystephanielynn.com/2014/03/turkey-roll-recipe-everyday-thanksgiving-casserole-roll-ups-2.html